Other than Columbia and Beaufort, SC I hadn't explored too much of South Carolina before being hosted for a visit to the Old 96 District. This special part of western South Carolina is where rural Old South's rich history and off-the-beaten-track appeal blends seamlessly with new restaurants, boutique hotels, craft breweries, and distilleries. I think you'll love it as much as I did.
Abbeville
My first stop was to downtown Abbeville to see the 1908 Abbeville Opera House which in its heyday served as a tour stop for traveling road companies performing vaudeville, minstrel, burlesque and Broadway shows. The stately elegance of its exterior hints at what's inside, and it doesn't disappoint; it has been restored to its turn-of-the-century grandeur and continues to host productions (although of a different variety).
Would you believe it still uses its original rope-pulled rigging systems? How cool is that?!
The Abbeville Opera House is open to the public for self-guided snooping, so get in there and take a look. The old-timey signs for proper behavior are a hoot, so be sure to wander around and read some of them.
On either side of the Opera House are the Abbeville County Courthouse and the historic Belmont Inn, both of which are full of character and history.
Abbeville itself is picturesque and charming and the downtown square is full of cute shops to explore.
---
Since South Carolina has such a colorful moonshine history, I made a point to stop in the Red Likker Barn to see what modern-day moonshine tastes like (not that I know anything about early-day white lightning).
The Red Likker Barn looks exactly like its name implies it would, and it beckons visitors to stay a while with a cozy porch lined with rockers.
The tasting concept at Red Likker Barn is unique in that customers pay $5 for a commemorative shot glass and get up to 6 tastings. Nothing is pre-mixed until tasting time, and since the mixers are chilled, it's super refreshing! I may or may not have gone home with some 90-proof shine and a couple of bottles of blackberry and peach cider mixers.
---
One place I didn't have time to visit in Abbeville was the Burt-Stark Mansion which is open to the public for tours on Fridays and Saturdays. (Call to verify tour times.) This was where Jefferson Davis held his final Council of War and admitted the Confederacy was dead.
Edgefield
Just like Abbeville, Edgefield has a charming downtown square worth exploring, but before you park and play all afternoon, pay a visit to the National Wild Turkey Federation & Winchester Museum. Yes, it's a whole museum dedicated to the wild turkey, and you won't find anything else like it IN THE WORLD.
One story the museum tells is how the wild turkey nearly became extinct from overhunting during the Great Depression. We started with 10 million gobblers and by the end of the Depression, there were a mere thirty thousand left! Thanks to the NWTF and monumental conservation efforts, the wild turkey population hovers at just over 6 million now.
Along with some fascinating facts, you'll pick up a healthy dose of the weird and quirky. In fact, there's a whole section of the museum dedicated to turkey oddities! You probably knew about turkey wattles (under the neck) and maybe even snoods (the floppy red skin hanging down over the beak), but did you know certain male turkeys have beards hanging from their chests?
Sometimes they have several beards, and the beards grow longer with age. There's a 5-bearded specimen in the museum, and you'll also hear that one fellow had nine of those seemingly useless beards! And get this… 1 in 5 females have them too!
I know wild turkeys and domestic turkeys both find themselves on Thanksgiving tables, but are you curious about which tastes better? I was told the breast meat of a wild turkey tastes better than a domesticated turkey (you don't eat the dark meat of wild turkeys). I'm game (see what I did there) to give it a try! Are you?
Also at the museum is an impressive collection of turkey calls including the world's largest box call, wing bone calls, mouth calls, friction calls and this gorgeous carved ivory call.
I could go on and on about all there is to see at the Wild Turkey Museum, but I don't want to spoil it all. You need to go see it for yourself.
---
When you leave the museum, head back to downtown Edgefield and stop at The Phoenix Factory's Old Edgefield Pottery for a look at the 200-year-old tradition of pottery-making unique to this area of South Carolina. What set Edgefield pottery apart was the fact every piece was designed to be utilitarian and they were created with lead-free alkaline glazes discovered by Abner Landrum. He prevented more than a few poisonings, I'm sure. Thanks, Ab!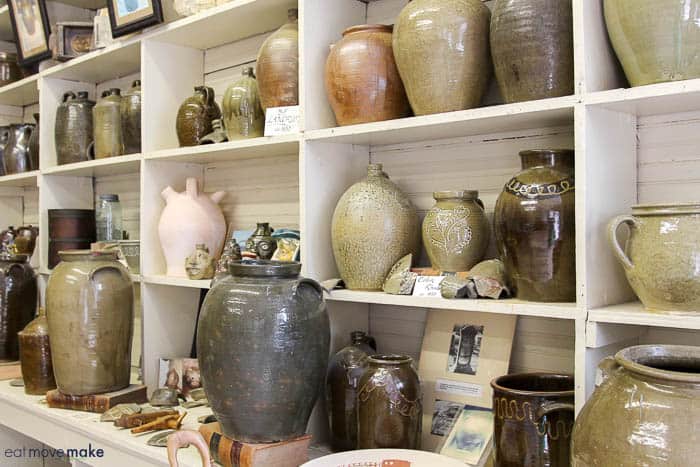 Master Potter Just Guy still hand throws local clay and fires it in a wood-burning Groundhog Kiln. A section of the studio is devoted to early examples of Edgefield pottery, and he'll happily tell you the fascinating stories behind them.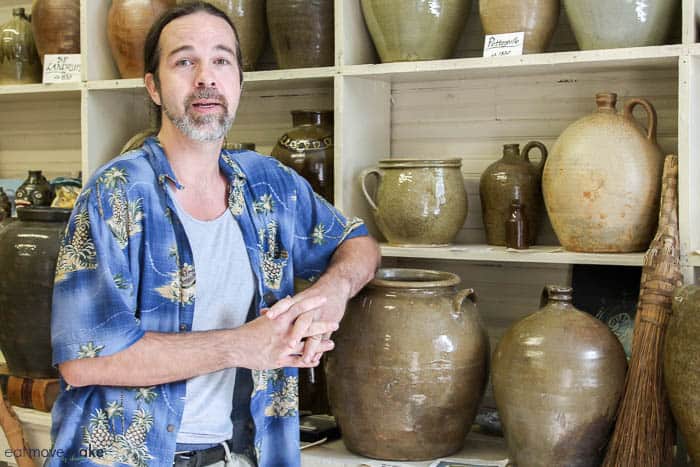 Of course, you'll find Justin's own handiwork for sale in the studio as well. Beautiful, huh?
---
For lunch, walk across the square and grab a bite to eat at the Old Edgefield Grill, a Victorian-style brick house turned restaurant with original pressed tin ceilings and pocket doors. The southern hospitality flows freely here and the menu offers an abundance of fresh seasonal and farm to table items.
When in South Carolina, trying pimiento cheese is a must, so order the fried green tomatoes as an appetizer and share.
When I visited, I ordered the Craisin salad as my entree, and to say the toppings were generous would be, well… true.
---
After lunch, stroll over to the Carolina Moon Distillery (a stop on the Old 96 Satisfy Your Thirst Tour) for a tasting of their spirits and moonshine cocktails.
It all started when two buddies with a passion for building stuff got a "we should try building a still" idea, and did it. The spirits (or should I say the "drinkable" spirits) came years later, and although they still sell moonshine, it's making new-age spirits that they love the most.
The #1 seller is the Old Tom 5-year bourbon barrel-aged whiskey, and although I wasn't much of a whiskey girl at the time, it was darn good.
I also tried the 2nd best seller – May Lady Peach Rum (cuz I'm a rum girl through and through). I was told to smell it, take a tiny sip, eat a piece of chocolate and then sip again. The peachy flavor exploded so much that I bought myself a bottle to take home. Loved it.
Now if you'd rather not taste the alcohol, go for one of their cocktail mixers. The blackberry moonshine lemonade and the strawberry vodka cocktail are so good they're dangerous. Of course, if you're hardcore, you may want to go straight for the Rabbit Spit. Or not.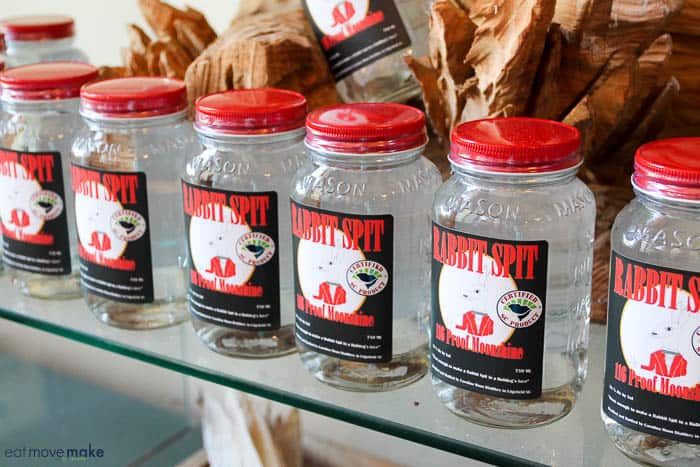 ---
Before you leave town, wander across the square to the Edgefield General Store. It's a really fun shop with an old-timey design but a thoroughly eclectic mix of retail items.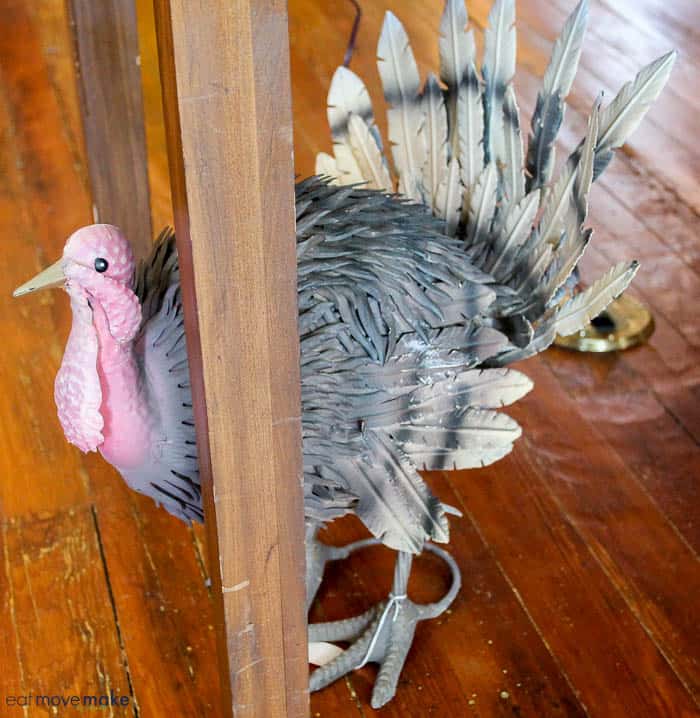 Greenwood
Greenwood is where the annual South Carolina Festival of Flowers takes place, an event worth adding to your next year's travel calendar. (Read the post to see why!) But, you know what they say… "there's always something blooming in Greenwood," so no matter when you visit, there's something to see.
Spend a couple of hours soaking up the beauty of the rolling countryside at Emerald Farm, a family-friendly working goat farm. Visit with the goats and ducks, admire the over 20 peacocks, ride the working train and view the model trains, relax in the shade of the giant oak and fruit trees, try samples and shop for the famous Saanen goat milk soaps, lotions, and other products and stroll through the herb garden. It's a place where you can slow down and enjoy the simple things.
I had the chance to chat a bit with Kathy, who owns the farm. She told me she began making the goat soap on a dare from her husband. Not one to back down from a challenge, she figured out an inexpensive and ingenious way to make her first mold by using Plaster of Paris and silicone rubber and created a pure and simple goat milk soap people could feel good about using.
The signature bar is the lavender bath bar, but the soap is now made in a variety of scents and custom shapes.
---
Another must visit when in Greenwood SC is the Mays House Museum where you can learn about one of our country's most influential Civil Rights leaders (Dr. Benjamin E. Mays). His story is remarkable and not widely known, and the best way to hear it, see it and feel it is through a tour that can be arranged in advance.
There are three buildings on the historic site: his childhood home, a schoolhouse, and a museum. If you take the tour (which I highly recommend), you'll learn that Dr. Mays was the eighth child of tenant farmers and ex-slaves (his mother was illiterate, and his father could read but not write) and he lived a very rural and segregated life. He became driven to rise up from that life and undo the injustice of segregation, but he never looked back on his past with regret.
He's best known for being president of Morehouse College in Atlanta, but you may not realize that he was an advisor to Presidents Kennedy, Johnson and Carter and a profoundly influential mentor to Dr. Martin Luther King Jr.
I was blown away at what he overcame and how much change he affected during his life.  He was an extraordinary person.
Fun fact: Dr. Mays shared a quiet and very special (not illicit) relationship with Gone With the Wind author, Margaret Mitchell. It's fascinating, so ask about that on your tour.
---
For dinnertime, you'll want to visit The Mill House. On the way to your seat, you'll notice a pizza on just about every table. Pay attention to this. I'm sure their menu is full of good stuff, but the pizza is where it's at. Order some. It's brick oven pizza and it's so.dang.delicious.I.could.die.
Oh, and Good Times Brewing is right there too, so the obvious choice is pizza and beer. Gold. Solid gold.
---
You might be wondering where to stay when exploring The Old 96 District. I stayed at Inn on the Square, a full-service luxury boutique hotel right in the heart of walkable downtown Greenwood, and it was exceptional. The room, amenities, hospitality, and location were completely ideal!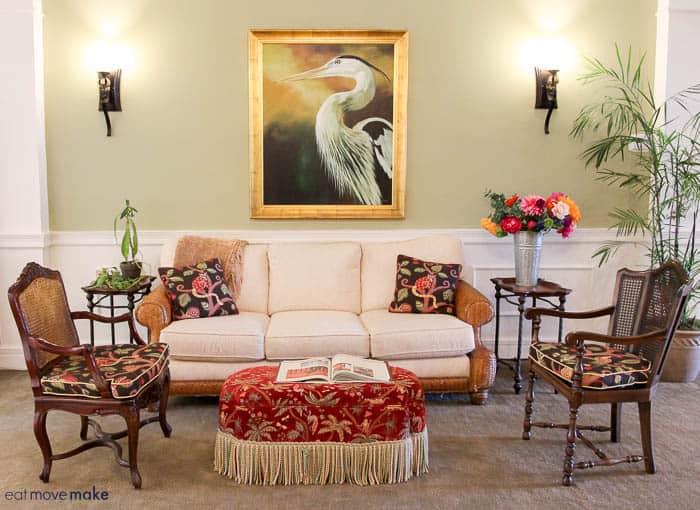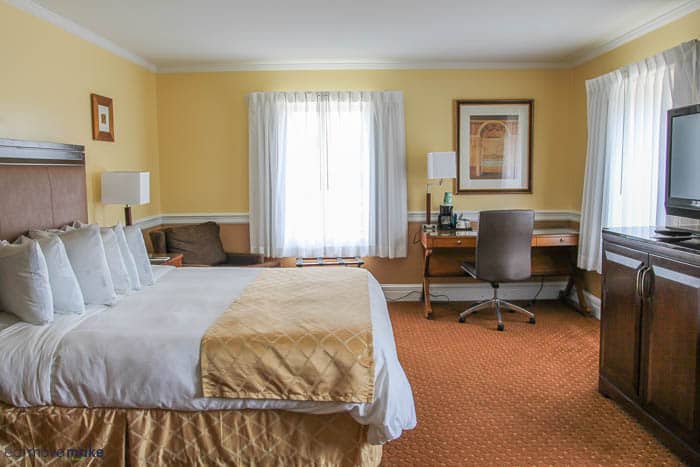 The Old 96 District of South Carolina offers the perfect mix of old and new for visitors who enjoy a little bit of everything. Reach out to the Old 96 District Tourism Commission for help in planning a trip, and I highly recommend you make the trip during the annual South Carolina Festival of Flowers in June. And don't miss Bishopville, SC's wonderful Pearl Fryar Topiary Garden.
More South Carolina Travels