We woke up super excited for our first day in New Orleans! Since we were staying at a hotel on Canal Street, the JW Marriott, we were located within walking distance of so many city attractions and restaurants — a beautiful thing.
We took a leisurely stroll to Jackson Square and the French Quarter. Be sure to spend some time here; it's gorgeous! It's also the perfect spot from which to start a carriage ride.

Our first stop of the day was Cafe Du Monde, just across the street from Jackson Square. It's always packed with people, but don't let that deter you. You'll find a seat within a minute or two.
Cafe Du Monde draws people in for these delectable beignets, served three to an order and generously sprinkled with powdered sugar.
This was my daughter's first taste of beignets, so I let her have two of the three, and she didn't let a gram of that powdered sugar go to waste! She also enjoyed a cup of Cafe au Lait with her fried fritter treats.
After breakfast, we walked across the street to Jackson Square in order to visit The Cabildo, The Presbytere and St. Louis Cathedral.
The Cabildo (which means city council) celebrates the history of the people of Louisiana. So many diverse cultures make up the population, so the exhibits are really interesting.
Did you know: The Cabildo is the site of the Louisiana Purchase transfer!
I'm pretty sure my daughter's favorite display was this celestial globe.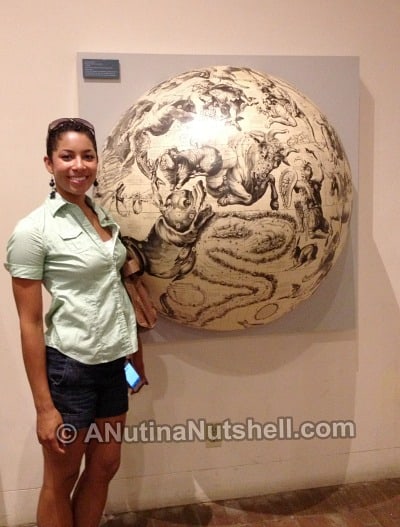 She also enjoyed reenacting some historically classic poses.
And making pretend music on the drums.
There is so, so much to see in this museum and we spent about an hour there, but we finally left and walked next door to peek inside the St. Louis Cathedral.
Then we decided to take a museum break, so we strolled through some of the stores in the area.
My daughter bought a couple things in the Tabasco Store while I tried to recover from tasting one of their hotter sauces.
We also must have tried thirty different kinds of sauces in the Pepper Palace. They encourage you to keep on tasting… so we did.
We happened upon this relaxing statue so my daughter stopped to relax as well.
Next we went into The Presbytere museum. There is an enormous section of the museum devoted to Hurricane Katrina and it's extremely well done. It's both a showcase of the facts and a poignant reminder of the disastrous event in New Orleans history.
This garage door can't help but call forth emotion when you look it, and there was another exhibit with a Katrina victim's daily journalings scribbled across the walls of his home. My daughter and I read every bit of it. ( It was peppered with bad language which is why I don't have a photo here but it was quite powerful and affecting.)
The other major section of The Presbytere celebrates Mardi Gras and the many costumes and traditions that surround it.
After leaving the museum, we walked around the corner and down Decatur Street to the home of the original muffuletta, Central Grocery Company. Neither one of us had ever tried a muffuletta sandwich before and what a fabulous first meal in New Orleans. Muffulettas are crazy good!
After lunch we walked to the French Market which was very nearby and casually meandered through the wide assortment of goodies for sale.
Whether you want souvenirs, clothes, jewelry or food, it's all at the French Market and the prices are super reasonable.
My daughter found the cutest hat which she wore for most of the remaining time in New Orleans. It looked so cute on her!
After we'd finished shopping and since it was a super hot day, we decided to head back to the hotel for a rest, but first we had to stop at Napoleon House for a Pimm's Cup, their signature drink.
You must get one, you must! With a mixture of Pimm's #1, lemonade, Sprite and a cucumber garnish, it's a light and refreshing cocktail and we absolutely loved it!
After our sips, we went back to the hotel and while my daughter had planned on taking a quick dip in the hotel pool, we both fell asleep for a nice long afternoon nap.
When we woke up, we were ready for dinner so we walked across Canal Street to Bourbon St and made our way to the Bourbon House restaurant.
We enjoyed some blackened yellowfin tuna and a grilled chicken 'Bourbon House' salad, and everything was just delicious. We were also seated right by a huge window so we could people watch (and there's a lot to watch, believe me).
After dinner, we wandered Bourbon Street for a little bit, but then we went back to the JW Marriott and crashed from our full day of fun? And it was just the first day!!!!
Stay tuned for our day 2 adventures…
Thank you to the New Orleans Tourism Marketing Corporation for the trip planning assistance at www.followyournola.com and for making this NOLA trip possible.