When you think about things to do in Huntsville, AL, you probably think of the U.S. Space & Rocket Center (which is phenomenal), but if you think that's all there is to Huntsville, you're wrong! I overlooked Huntsville for years because I made that assumption.
On my most recent visit, I uncovered some terrific hidden gems and oddities as I explored the area, making the stay all the more memorable. Keep reading to discover the best things to do in Huntsville, AL, including my newly discovered secrets.
Accommodations were provided as part of a travel conference. My experiences and opinions are my own.
Blast Off at the U.S. Space & Rocket Center
1 Tranquility Base, Huntsville, AL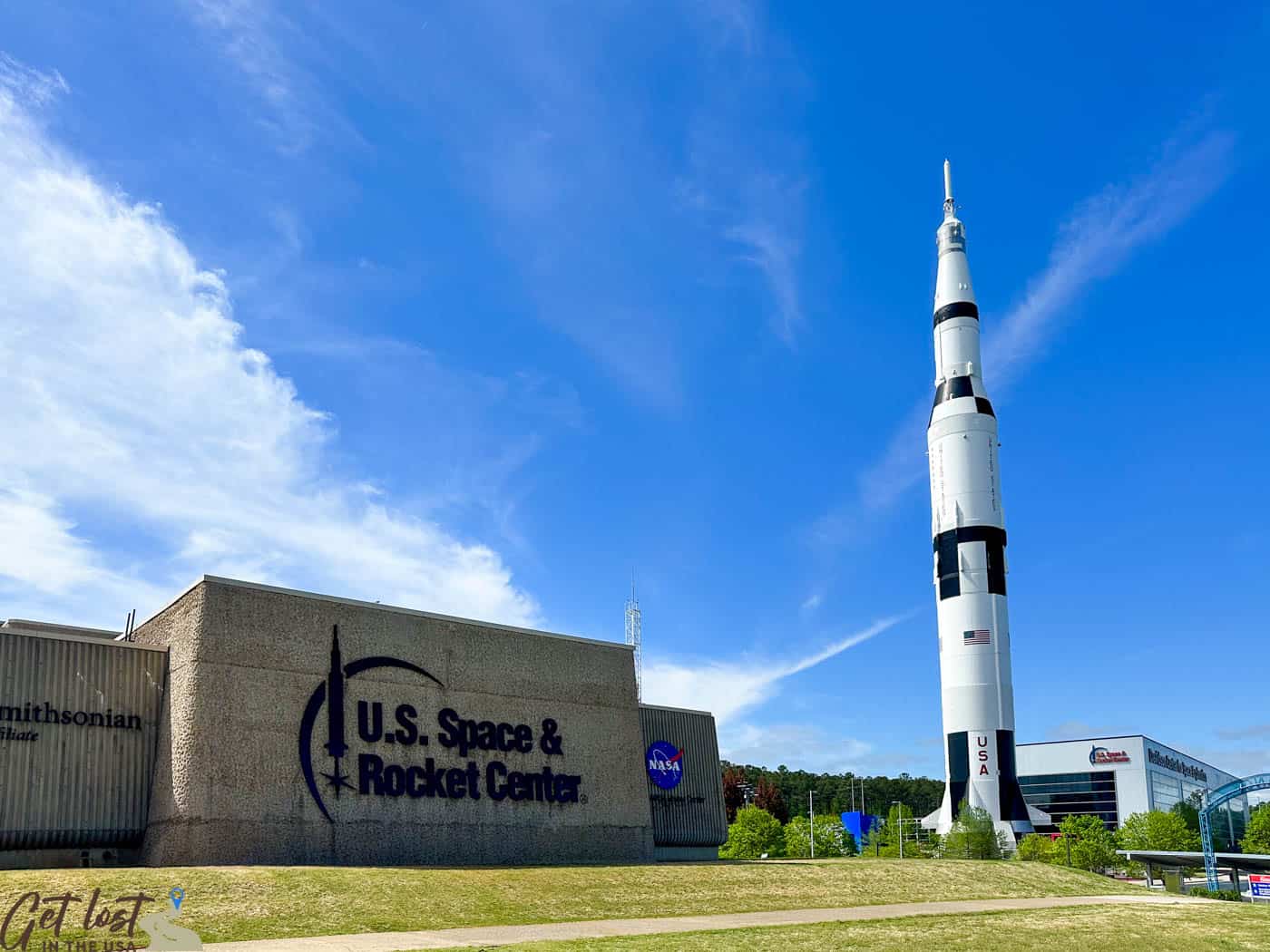 It seems only fair that we kick off the list of fun things to do in Huntsville, AL, with the obvious—The U.S. Space and Rocket Center. It's Alabama's most visited attraction and the largest space museum in the world. And, of course, it's why Huntsville is nicknamed the 'Rocket City.'
The center offers a range of captivating space exploration activities, including hands-on exhibits showcasing rockets' evolution and space technology's development, highlighting Huntsville's pivotal role in the space program. Visitors can experience the thrill of astronaut training through simulators, learn about the history of iconic missions like Apollo 11, and even view genuine space artifacts up close.
The U.S. Space & Rocket Center is also home to Space Camp, an immersive program where attendees engage in astronaut training simulations, rocket building, and teamwork challenges. When my children were younger, we did this as a family!
Grave of Miss Baker (Roadside Attraction)
While at the U.S. Space and Rocket Center, stop by the grave of Miss Baker, the first animal to return alive after flying into space. Although the whole concept of animal testing is a big "ick," that's what was done at the time, and thankfully, this sweet little squirrel monkey came back to earth alive. Her gravestone is outside the entrance, so you can see it without buying a ticket if you've already been to the space museum. Her husband, George's grave is next to hers.
Stroll through the Huntsville Botanical Garden
4747 Bob Wallace Avenue, Huntsville
You'll be enchanted no matter which path you take to wander through this garden of paradise in Huntsville. From vibrant blooms to tranquil greenery, the diverse flowers and plants are captivating—azaleas, trilliums, dogwoods, herbs, aquatic gardens, the Purdy butterfly house, and more. There's also a Children's Garden and nature trails to explore.
Huntsville Botanical Garden also hosts special events. There are butterfly releases, dog nights, seasonal festivals, and family campouts. They also designate special picnic areas for Family Picnic Nights,
Pro Tip: A visit during the golden hours of the late afternoon leading into dusk can be particularly stunning!
Read More: The Magical Spaces of Hopelands Gardens in Aiken SC
Burritt On The Mountain
3101 Burritt Drive, S.E., Huntsville
At the heart of this open-air mountaintop historic park is Dr. William Henry Burritt's 14-room mansion. It was built in the 1930s in the shape of a Maltese Cross. He insulated his eccentric home with bales of wheat straw, which started a fire before he could move in! The mansion was rebuilt, and Dr. Burritt lived there until his death when he willed his property to the city of Huntsville to be used as a museum.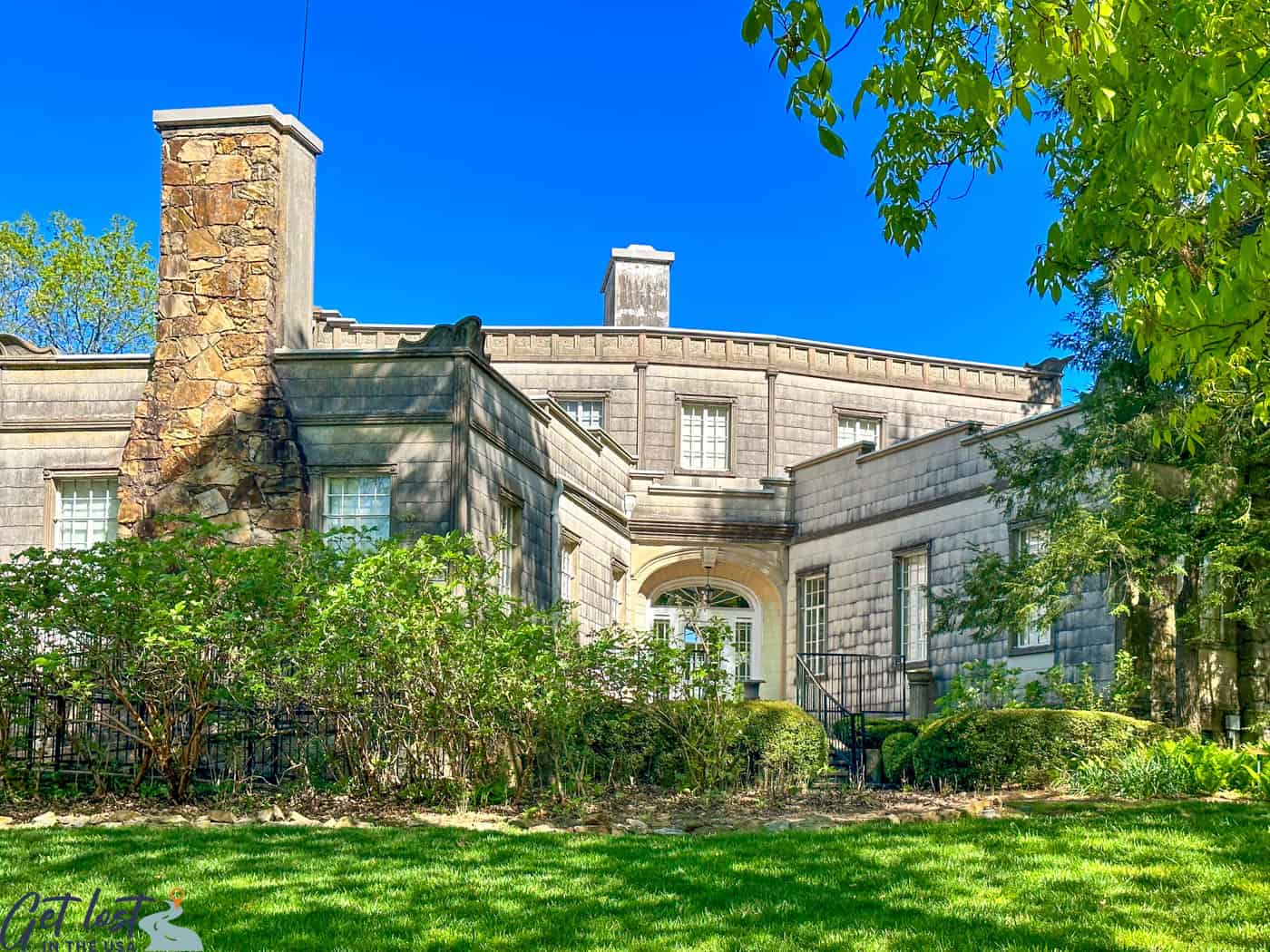 Admission to Burritt on the Mountain includes a self-guided tour of the Burritt Mansion, the Historic Park, the barnyard, and nature trails. Visitors are also welcome to try the historic game of letterboxing (inquire at the Welcome Center). Letterboxing uses a series of clues and sometimes a compass to find the letterbox rather than GPS coordinates.
And don't forget the view! The mansion sits atop Round Top Mountain, and the grounds provide an awe-inspiring panoramic vista of Huntsville and the Tennessee Valley.
Explore Big Spring International Park
200 Church St., Huntsville
Big Spring Park is my favorite place on my list of things to do in Huntsville, Alabama, because that's where I fell in love with the city. The highly picturesque urban park in downtown Huntsville is centered around a historic spring, water features, canals, and lush greenery and is home to ducks, geese, and koi.
It's one of the best places in Huntsville to just relax and decompress. It's so serene and relaxing.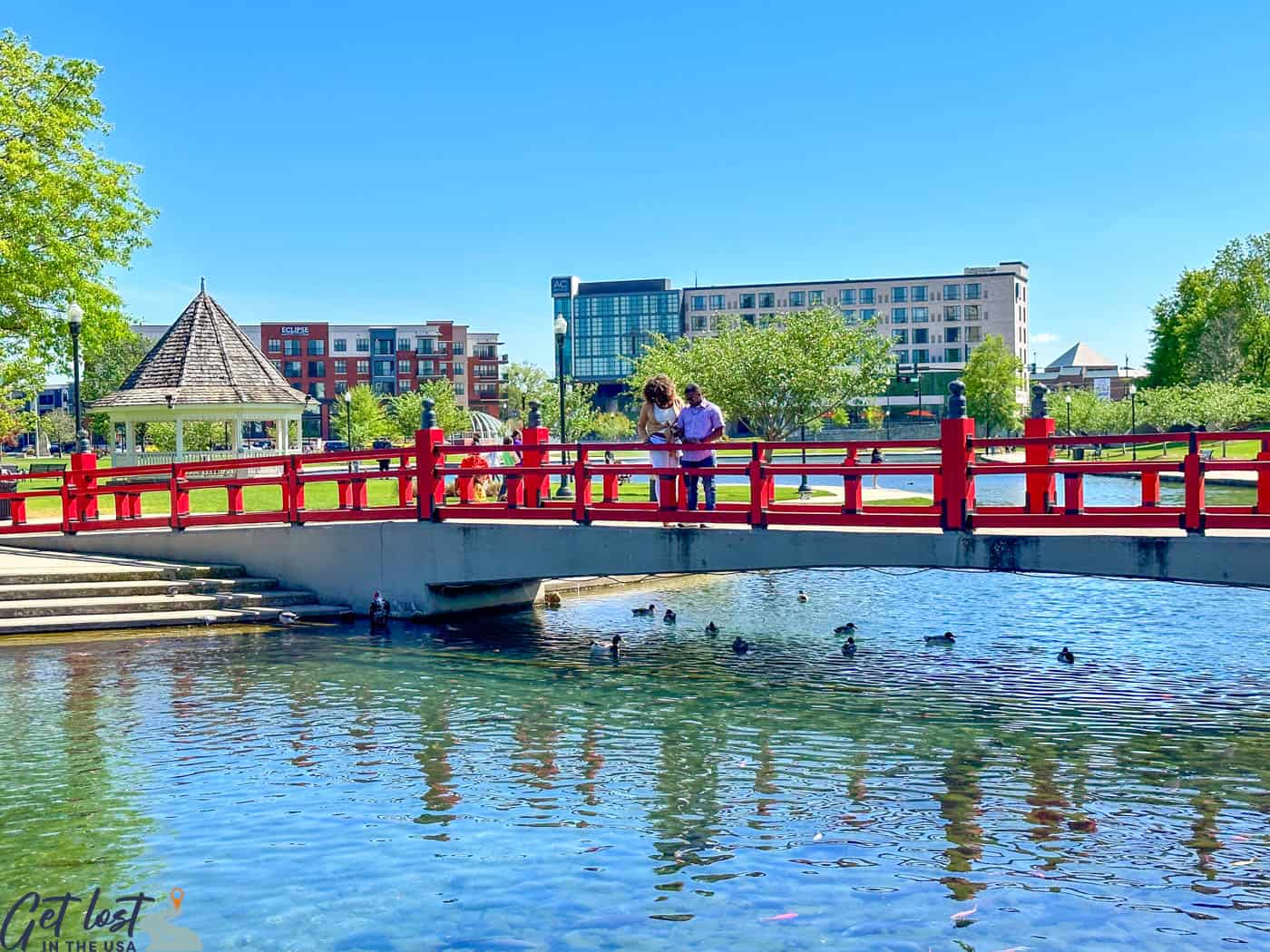 Tour the Weeden House Museum & Garden
300 Gates Ave S.E., Huntsville (in the Twickenham Historic District—beautiful historic homes here!)
Open to the public Tuesdays-Saturdays. Guided Tours 10 am & 1 pm.
This one may surprise you with how much you enjoy it. The guided tour is exceptional; it's not so much about period furnishings and blah blah blah—though it is a beautiful home. It's more about Maria 'Howard' Weeden's story, and it's fascinating!
I won't spoil it for you, but she was a remarkably talented artist and poet, and her artwork is displayed throughout the house. She sketched and painted true-to-life portraits of African-Americans, capturing their stories with remarkable depth and sensitivity.
Go On a Scavenger Hunt
Set off on a whimsical "Lucky Duck Scavenger Hunt" adventure in Huntsville! Search for the cute little bronze ducks hidden around the city, and if you find all 15 ducks, you'll waddle away with a delightful prize.
Harrison Brothers Hardware
124 Southside Square, Huntsville
It's like walking into a time capsule when you step into Harrison Brothers Hardware. It's no longer an active hardware store, but they're still using the original 1907 cash register that the founders, James and Daniel Harrison, started with!
You'll also find vintage photos, receipts, ledgers, and mementos that take you back to its 1897 beginnings.
The store still sells pottery, cast iron cookware, and garden tools, but you'll also find old-fashioned candies, gourmet foods, housewares, books, children's toys, and seasonal gifts—all made in America.
Eggbeater Jesus (Roadside Attraction)
First Baptist Church Huntsville. 600 Governors Drive S.W., Huntsville
Eggbeater Jesus—who looks more like Whisk Jesus to me—is officially named "Cosmic Christ" and was created from a million tiles and installed in the late 60s. Unfortunately, the artist used the wrong adhesive, and the tiles started falling off almost immediately and continued to fall off over the next 40 years or so. Eventually, the church commissioned a redo of Eggbeater Jesus, and he's now made of 4 million tiles!
Explore the Lowe Mill Arts & Entertainment Complex
2211 Seminole Drive SW
Public Hours: Wednesday – Saturday: 11 am – 7 pm
This creative haven in a sprawling historic textile mill houses an eclectic mix of working artists' studios, galleries, and unique boutiques. You'll find glass, sculptures, paintings, mixed media, textiles, jewelry, and beyond. There are also culinary artists so you can try pizza, chocolates, mead, tea, coffee, and even gourmet ice pops!
Meander through the labyrinth of corridors, pop into artist studios, gaze at the galleries, and grab a bite to eat. It's the perfect place to spend an afternoon.
Lowe Mills also hosts special events, workshops, an outdoor market, and live music, so there's always something new to do.
Take a Cigar Box Guitar Lesson
(Also inside Lowe Mill Arts & Entertainment Complex, but it's so unique I wanted to feature it on its own.)
Hours: Wed/Thurs: 11-3, Fri: 1-5, Sat: 11-6
If you're looking for a unique experience, try playing a cigar box guitar! Every Saturday from 12–2 pm, the Cigar Box Guitar Store in the Lowe Mills Arts & Entertainment Complex offers FREE instruction. Participants can stay for a few minutes or the whole two hours. It's super fun and surprisingly easy to learn!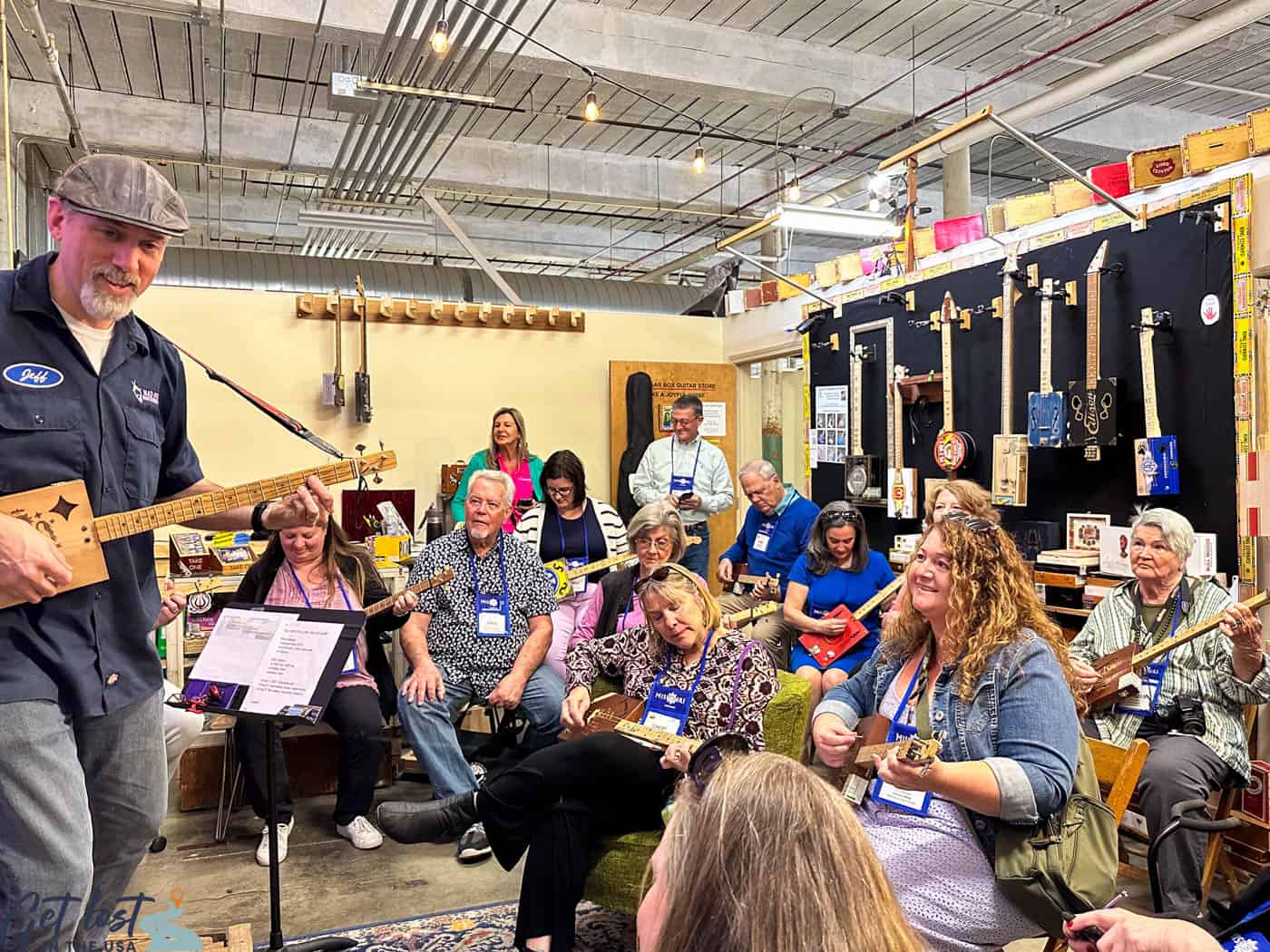 You may purchase a cigar box guitar or buy one of the build-your-own kits. They even custom-design guitars for you.
They also offer private group guitar-building classes and occasionally organize public workshops to teach the art of crafting these remarkable instruments.
Go On a Silver Safari of Animal Sculptures
The Huntsville Museum of Art in Big Spring Park is home to the world's most extensive collection of Buccellati silver creations. The permanent collection consists of an engaging menagerie of animals crafted by Buccellati in Italy. The museum has other fabulous exhibits, but I can't deny the silver zoo was my favorite gallery.
Explore the Downtown Huntsville Secret Art Trail
Downtown Huntsville has a Secret Art Trail with over 20 murals and sculptures on display. Although there is a map of the locations, it's almost more fun to wander around and see what you can find. Hint: Look in alleys and parking garages too.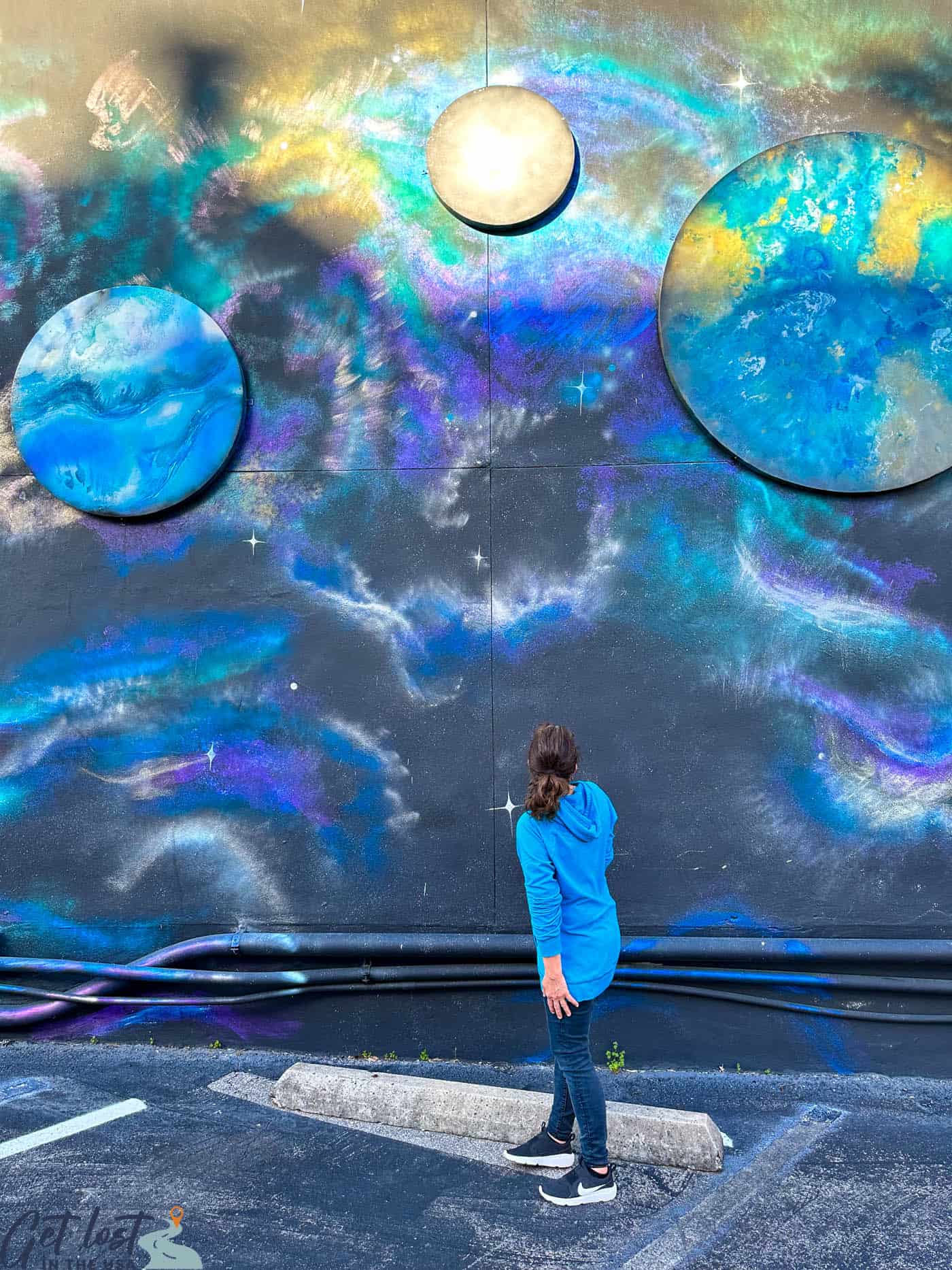 Have a Proper English Meal at The Poppy & Parliament
117 North Side Square, Huntsville
The Poppy & Parliament, a pub, gourmet store, and butcher shoppe is a great place to have an authentic British meal experience. The upscale English and Irish fare menu includes favorites like English Fish and Chips, Bangers, and Mash and Toad in the Hole.
Sunday brunch offerings include a Full English Breakfast of Shane's grilled Cumberland sausages, grilled bacon, pan-fried mushrooms, grilled black and white puddings, sautéed potatoes, roast tomato, Heinz baked beans topped with two soft fried eggs, and fried bread.
Check Out the Larger-than-Life Sculptures (and a Show!)
Wander through Apollo Park to see the giant sculptures, then catch a show at Huntsville's brand-new 8,000-seat Orion Amphitheater for world-class entertainment with state-of-the-art acoustics. Slated entertainers include The Smashing Pumpkins, Brandi Carlile, Luke Bryan, and James Taylor.
You can also visit the sculptures when not seeing a show. Apollo Park is a public park open year-round for people to enjoy. (Note: the campus is closed during concerts.)
Take a Huntsville Ghost Walk
Take a spine-tingling ghost tour in Huntsville and step into the eerie side of the city's history! Wander through haunted streets and historic sites as you hear tales of restless spirits and mysterious occurrences. Whether you buy into this kind of stuff or not, the stories are always fun.
Read More: Huntsville Alabama Ghost Walk + Ghost Tour Tips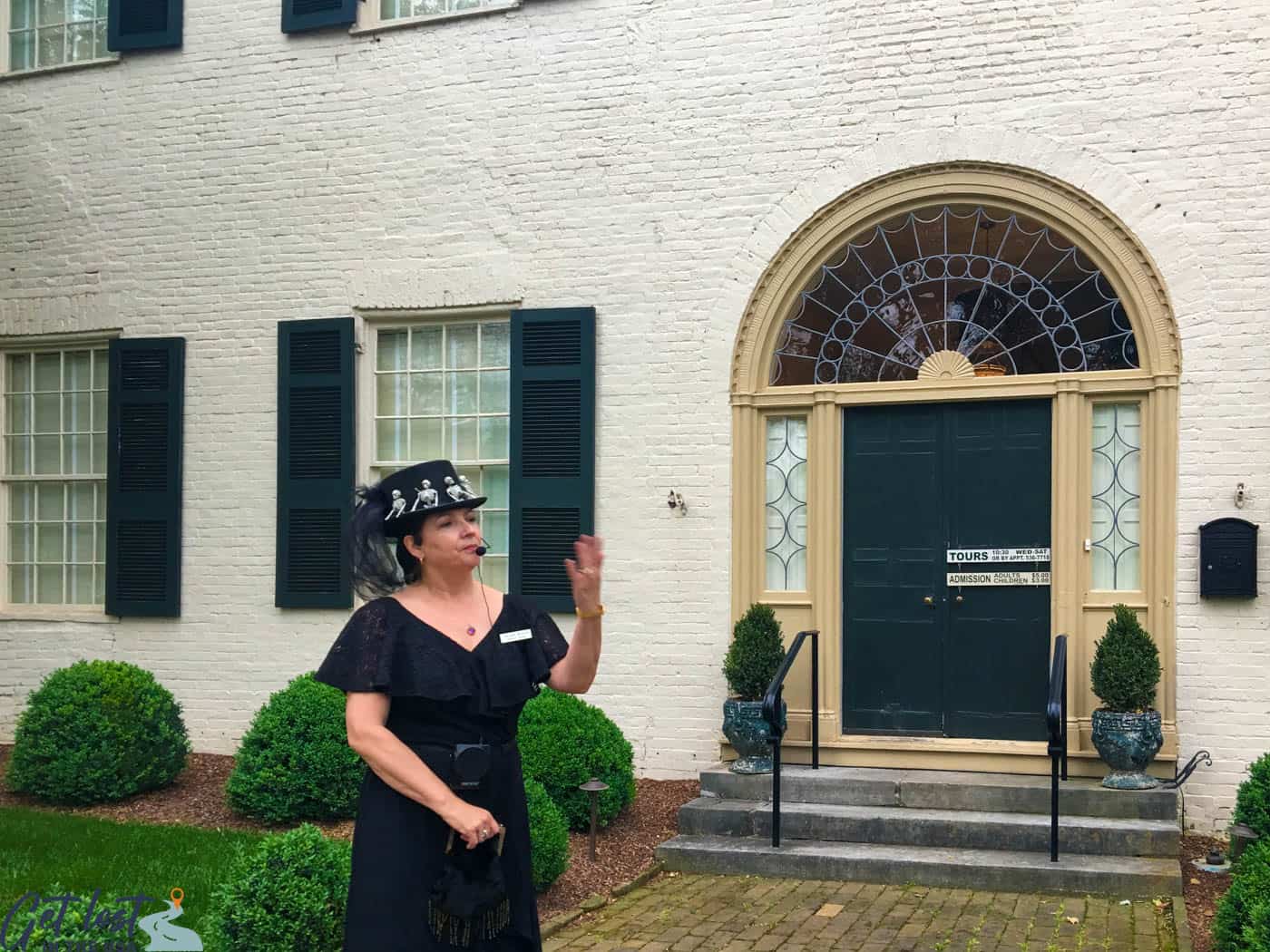 Play a Free Game of Putt-Putt (Seasonal)
This fun annual event brings a mini-golf course to the streets of downtown Huntsville for a limited time. Each of the 18 holes is sponsored by a local business on the square. Clubs and balls can be picked up and returned at BeeZr Gastropub. Keep an eye on the Downtown Huntsville Facebook page for news on upcoming events.
Other Things to Do in Huntsville, AL on My Bucket List
I haven't had time to visit the following Huntsville attractions (YET!), but I've got a bucket list going for my next trip to Northern Alabama. Have you been to any of these tourist attractions or tried some of these outdoor activities? Do tell! (When I go, I'll add them to the above section with details.)
Monte Sano State Park
Land Trust of North Alabama (Green Mountain Nature Preserve, Madison County Nature Trail)
EarlyWorks Children's Museum (interactive exhibits, educational programs, please touch museum!)
Historic Huntsville Depot
Alabama Constitution Hall Park
Hays Nature Preserve
North Alabama Railroad Museum
U.S. Veterans Memorial Museum
Marshall Space Flight Center at Redstone Arsenal (currently not offering tours)
Bridge Street Town Centre
Where to Stay in Huntsville