Branson, Missouri is famous for its abundance of live entertainment options and millions of tourists have been drawn to this small Ozark mountain town over the years to enjoy Branson's special brand of family-friendly fun. As you drive along its famous Highway 76 strip, you'll notice dozens of entertainment venues, which begs the question: how do visitors decide which Branson shows to see?
I recommend starting on Explore Branson's website here, where you'll find options for kids, magic, acrobatics, comedy, musical theater, dinner shows, tributes, Christmas and so much more. Just choose one or two favorite categories to narrow down the myriad of show options.
After that, you can get a better picture of what each show is like by reading reviews. Honestly though, the Branson shows have been running for long enough that they're probably a safe bet as long as you pick a genre you enjoy!
When my daughter and I visited Branson on a press trip last year we had the good fortune to see the below three shows, and can vouch that each of them was excellent and totally worth seeing!
3 Branson Shows Worth The Ticket Price
Legends in Concert
This award-winning live tribute show stunned us with world-class performances by the likenesses of Michael Jackson, the Blues Brothers, Aretha Franklin, Brooks & Dunn and Elvis Presley (artists rotate frequently).
Each of the songs was backed by elaborate sets, special effects, advanced lighting and sound, fabulous costuming and magnificent choreography. The talent is extraordinary — each of the singers looked like their namesake and more importantly, sang like them. We were really impressed! Our favorite? The Blues Brothers.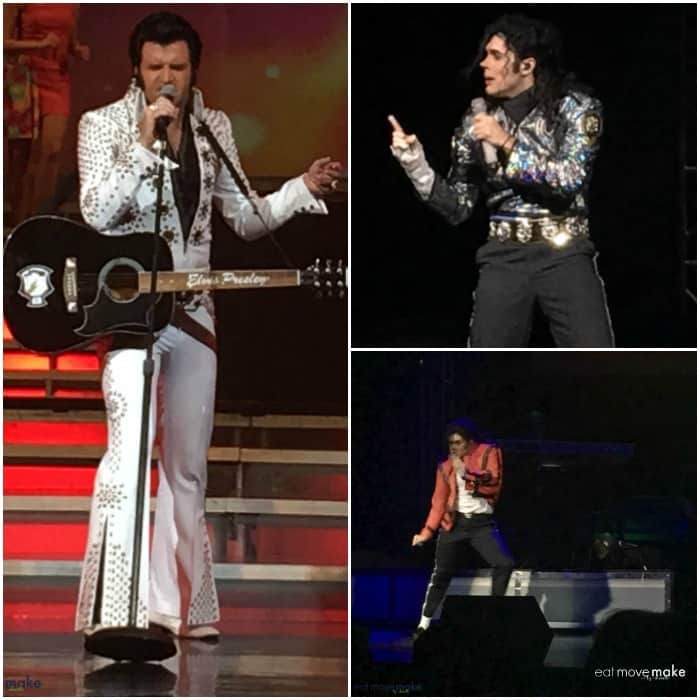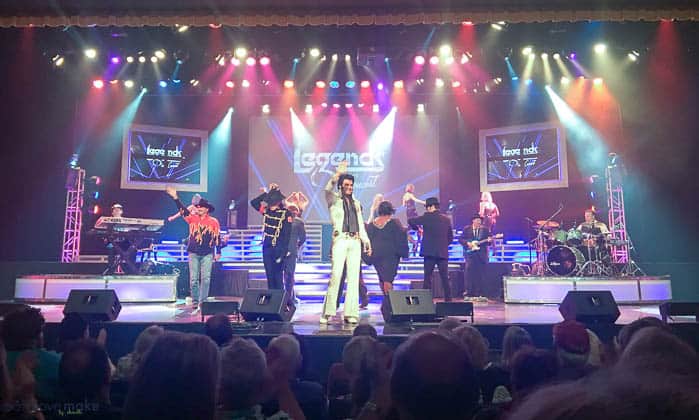 Million Dollar Quartet
This show is based on the smash-hit Broadway musical about one of the most famous impromptu rock 'n' roll jam sessions ever recorded. Through a twist of fate Elvis Presley, Jerry Lee Lewis, Carl Perkins and Johnny Cash found themselves together at Sam Phillip's recording studio, Sun Records, and you can witness the explosion of musical talent in this engaging musical filled with some of the artists' greatest hits.
A really fun show! We especially loved the performer who played Jerry Lee Lewis (pictured below left).
Liverpool Legends
The musicians in this tribute band were hand-picked by Louise Harrison (George's sister), so it's unlike any other Beatles tribute you may have seen. The voices and mannerisms are dead-on and the show does the Fab Four and their classic music collection complete justice. If you love the Beatles, it's a can't miss Branson show!
Have you seen any of these Branson shows? If you've seen any other Branson MO shows you'd recommend, we'd love to hear about it!