Nothing I've ever experienced as a travel blogger compares to the magic of seeing dark skies. Being in a place completely devoid of light pollution and basking in the infinity of the universe above is EVERYTHING.
When visiting Cherry Springs State Park in Potter County, PA, home to the darkest skies east of the Mississippi and an official International Dark Sky Park, I was caught off guard with emotion when gazing at the dark and expansive heavens speckled with stars. It brought me to tears at the moment, and the memories still do.
Dark skies will take your breath away.
All the stargazing I've done in my life can't even compare to what it was like to stargaze in a dark sky environment. I was sitting inside a real planetarium.
The infinity of the skies with the cloudy haze of the Milky Way, shooting stars and easy-to-spot constellations was mesmerizing. I even had the chance to clearly see Saturn's rings and the deep craters of the moon. Mind-boggling!
Viewing dark skies at Cherry Springs State Park was one of the coolest things I've ever done, by far. If you're on the west coast, check out Antelope Island for a dark sky experience.
Plan Your Dark Skies Visit to Cherry Springs State Park
⭐ Having been designated as an IDSP (International Dark Sky Association Park) in 2008, Cherry Springs State Park has long since found its groove when it comes to showcasing its dark skies. The park offers ongoing public programs on the airfield: lunar viewing events, laser-guided night sky tours and photography workshops (see schedule here).
⭐ There are also several larger scale astronomical events, the Perseid meteor showers during the summer being the park's biggest annual event and two major stargazing parties: the Cherry Springs Star Party in June and the Black Forest Star Party in October. (Both star parties are fee-based.)
⭐ Sponsored by regional astronomy clubs, the star parties bring together hundreds of astronomers who set up high-powered telescopes and camera equipment to capture and record the celestial bodies in all their splendor.
⭐ The public can buy tickets to the events and wander through the astronomers' field where there are people who welcome questions and offer peeks at the sky through their telescopes. (That's where I saw Saturn's rings and the moon.) Astronomers and astrophotographers range from casual to serious to professional; if you have a chance to chat with any of them, it's well worth it! (Blinking lights indicate which sites are open to visitors.)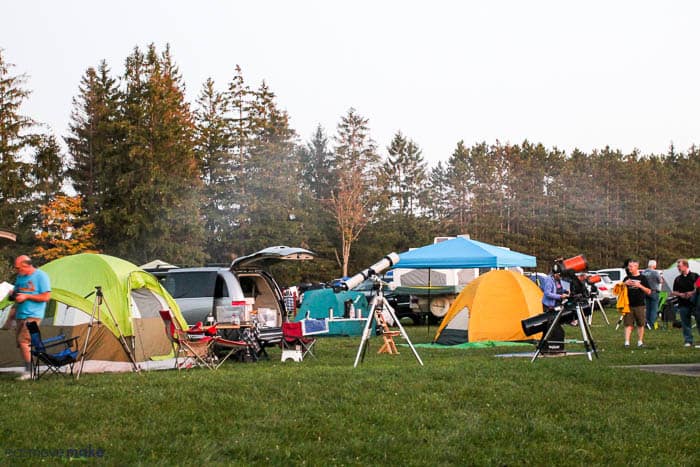 ⭐ Pets are not allowed at the star events for safety reasons.
⭐ There is no white light permitted, so cell phones and flashlights need to be covered with red cellophane.
⭐ Cherry Springs State Park has 30 rustic campground sites. (Reserve a site here.) Additional campsites can be found at Lyman Run State Park.
⭐ If visiting during one of the star parties, I suggest getting to the park when it's still light out to get your bearings and chat with people on the astronomers' field. We stopped to talk to a group of beginning astrophotographers, including Andrew Romond, whose goal was to polar align his scope so he could track and photograph objects in the night sky using long exposures. Although astronomy is just his hobby, he managed to capture some spectacular images during the Black Forest Star Party.
⭐ Photos can't capture the true essence of what you see with your eyes, but if you want to try, I recommend taking a nightscapes photography workshop with Curt Weinhold who took the dark sky photos I'm showcasing in this post.
⭐ Check the clear sky chart to help you choose the optimal time to visit, but in general, the best stargazing happens in the fall and winter. Some nights are so clear you can see the shadow of the Milky Way on the ground!
⭐ Ranger tip for sky gazing at home: Sign up for ISS email alerts to be notified when the International Space Station will appear in the sky near you.
⭐For more information on Cherry Springs dark skies, check the "Ultimate Guide to Cherry Springs Stargazing" on the park website and connect with Visit Potter-Tioga County Visitors Bureau for help in planning a trip to the area.
You simply can't understand how magnificent dark skies are until you experience them. I promise you it's something you'll never forget!
Related Posts