Have you discovered all the fun things to do in in Bentonville, AR? If you're looking for a destination that's full of surprises and off-the-beaten-path experiences, Bentonville, Arkansas should definitely be on your radar.
This hidden gem of a city is bursting with activities, from world-class museums and art galleries to outdoor adventures, trendy restaurants, and unique shopping opportunities. And it's all wrapped up in southern charm.
So, let's explore the best things to do in Bentonville!
Dine at the Iconic Fred's Hickory Inn
I was thrilled to begin my Bentonville culinary and travel experience with dinner at this well-loved restaurant. In fact, it's the oldest restaurant in the county, though the original structure was destroyed in a fire.
The buffet of appetizers included the signature meatballs and dry-rubbed ribs.
Those ribs, y'all… dang good.
Connected to the restaurant is a cozy cabin bar which also happens to be the very place where Arkansas' own Bill Clinton announced his run for the presidency.
After dinner, we went back to our nearby hotel for the night – the quiet and comfy Four Points by Sheraton hotel.
They have the best pillows, by the way. I slept like a baby every night!
Explore Downtown Bentonville
The heart of Bentonville is undoubtedly in its quaint and charming downtown square. Not only is it incredibly picturesque, but the square also boasts a plethora of restaurants, shopping, and the must-mention Walmart Museum.
As I mentioned, the foodie scene in Bentonville is on point, and I started the day with a fabulous breakfast at the Pressroom.
Since Bentonville (and Northwest Arkansas in its entirety) is extremely bike-friendly, I wasn't surprised to see a nod to cycling in the form of bike art. In fact, I would see it in nearly every business over the next couple of days.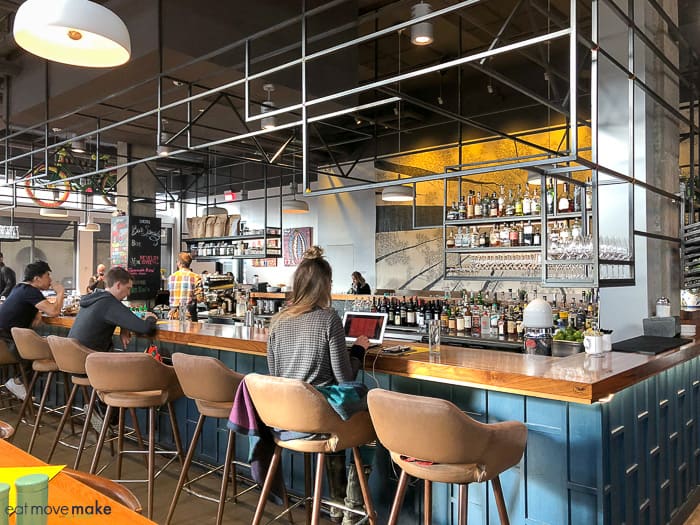 Check out the Meteor.
After breakfast, we walked over to the Meteor, a live music, special events venue and… guitar gallery.
How fun is this ceiling of guitars?!
Hunt for Murals
Following the presentation and inspired by the bike art I'd seen already (which would make a fun art trail on its own) I wandered around downtown looking for murals and neon signs. I love exploring street art and I definitely got my fix of it around the square and in the Arts District.
Have Lunch at The Pedaler's Pub
I was tickled to find more bike art outside and inside The Pedaler's Pub where I met up with my group for lunch. I just love that Northwest Arkansas is such a haven for bike enthusiasts!
I ordered the Pedaler's Favorite salad and ate nearly every bit of it.
Just delicious!
There were also plates of loaded fries and curry chips to pass around.
Discover Crystal Bridges Museum of American Art
Our afternoon was spent at Bentonville's crowning jewel, Crystal Bridges. It's one of the most amazing museums I've ever seen in both design and breadth of the collection. It's truly a world-class museum and quickly gaining notoriety as a must-visit art destination.
Even if you're not a museum person, I promise you Crystal Bridges will turn you into a fangirl or fanboy.
It's that beautiful. Even on a cloudy day!
I found the exhibits evoked curiosity and provoked thought. I thoroughly enjoyed my spin through the galleries!
I was so happy to see the Kindred Spirits painting in the gallery just off the lobby. Last time I visited, the painting was out on loan, but it just came back a few days ago!
After I'd explored inside, I headed outdoors to see the art along the Greenway trail. It was bitterly cold during my visit, but I just had to get up close to those fall colors!
Actually, I had planned to cycle the Greenway that afternoon, but with temperatures in the 40s and a steady rain, that just wasn't going to happen. I'm a tough cookie, but not that tough!
Visit the Museum of Native American History.
So I went to the Museum of Native American History, which I soon realized was one of Bentonville's hidden gems. And it's FREE.
A vast and impressive collection of artifacts spanning the Paleo period to about 1920 educates visitors on the lives and ingenuity of the first Americans.
Upon entering the museum, I was greeted by Tusker, the giant wooly mammoth.
We were given tour wands to explore the museum at our own pace and could stop at any of 140 different listening stations.
One of my favorite finds was the sweetwater biface blade, believed to be one of the thinnest flint artifacts ever found.
I also found this tanned buffalo hide fascinating. Beginning in the center and spiraling out, it's decorated with symbols representing each year.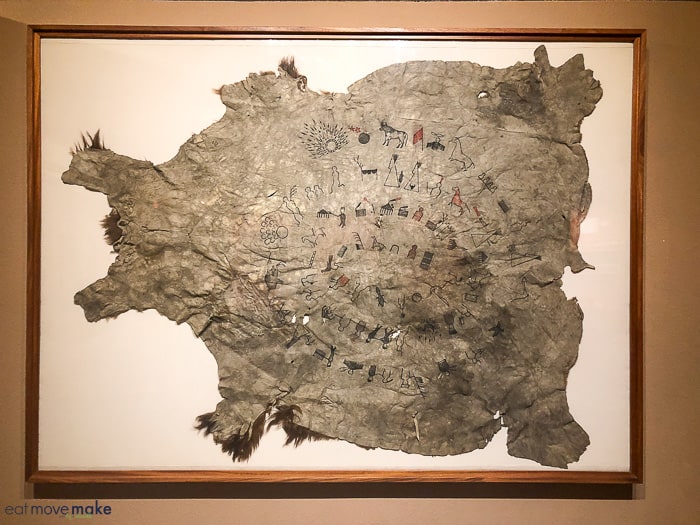 Peek at the Peel Mansion
After leaving the MONAH, we went to the Peel Mansion which is oddly enough, located right at the edge of a Walmart parking lot. However, once you enter the property enclosed by trees, it feels like you're on a private estate. It's a wonderful peek into period history and there are some fun ghost stories!
Have Dinner at Hive
For dinner, we went to Hive, the restaurant inside Bentonville's 21C boutique hotel. I had housemade Campanelle with lemon, roasted garlic, white beans, and cornbread croutons.
I'd never heard of high south cuisine before visiting Bentonville, but it could be described as elevated rustic Ozark cooking with locally-sourced ingredients paired in unexpected ways. Many of Bentonville's restaurant chefs are behind the movement, so there are a multitude of places to go to taste and savor it all.
I thoroughly enjoyed my intro to this style of cooking at the Hive.
Tour Brightwater Culinary School
We began our morning with a visit to Brightwater, a culinary school with programs in: beverage arts, baking and pastry arts, and culinary arts. Other than the fact it costs a fraction of the price of other culinary schools, it's also the only one in the U.S. where students leave the beverage arts program certified in coffee, beer and wine.
After enjoying a Buttered Biscuit breakfast, we were given a tour of the facilities.
Then we attended a culinary panel discussion with chefs from four Bentonville restaurants. It was really interesting to hear them talk about "High South cuisine" and the innovations and changes happening on the Bentonville foodie scene!
During the presentation, it kept coming up that Eleven at Crystal Bridges was serving the most incredible beans and cornbread on their menu. Since that was our next stop, at least half of us ended up ordering that for lunch and it did not disappoint… especially the honey butter on the cornbread!
Explore 8th Street Market
After lunch, we headed back over to the 8th Street Market, one of the most happening parts of town.
It's where Brightwater is located, but it's also home to The Holler – a hangout spot with a 70's retro vibe and a shuffleboard court.
Yes, shuffleboard is cool again, and I'm basing that on the fact even the college-aged kids were into it!
Next to the shuffleboard, Bike Rack Brewing was serving up cold beer and burgers.
Also at the market was a charcuterie with cured meats and cheeses.
And the pièce de résistance – Markham & Fitz – home to the most delightful chocolate confections and to the most amazing chocolate chip cookie I've ever tasted.
It's a brown sugar bourbon chocolate chip cookie, and it's the best cookie you'll ever have.
I kid you not.
Have Dinner at The Preacher's Son
After a nap break, we had the chance to visit The Preacher's Son for dinner, a restaurant that had been highly touted by everyone in our group who'd eaten there already, so I was really looking forward to it!
The restaurant is inside a refurbished church so the ambiance is everything.
Chef Matt Cooper was my favorite panelist at the culinary Q&A so I was looking forward to seeing his spin on high south cuisine, especially since he referred to himself as just an "ok" chef. Matt (and yes, he's a preacher's son) is serving creative combinations like roasted cauliflower with chimichurri sauce and burrata with shaved beets.
And my entree of gnocchi with sweet potato was so delicious it made my heart sing. It was definitely my favorite meal in Bentonville.
Having heard there was a speakeasy in the basement, we couldn't leave without checking it out. It had a really cozy, cool vibe and quickly became a favorite hangout for our group while we were in town.
Take in a concert at The Record.
The final event of the evening was a concert at the Record, a live music venue in a really cool space just off the downtown square.
And with that, it was a wrap on my fall trip to Bentonville, but I know there's so much more to see, do and taste, so I'll be back! It's a city on the move, and I can't wait to see what's ahead. Plus, I need to get out there on those bike trails next time!
Plan your trip to Bentonville and Northwest Arkansas today! Contact VisitBentonville.com for a travel guide and trip planning advice.
More Travel in the USA