Autumn is in full swing and there are oodles of ways to have fall fun in Hendricks County, Indiana. Conveniently located just 10 minutes west of Indianapolis, Hendricks County makes a great day trip or weekend getaway destination.
Scarecrows on Display in Danville
Stroll around the downtown Danville Courthouse Square throughout the month of October to see all the scarecrow displays created by local businesses. Whether you're two or ninety-two, the straw-stuffed characters are sure to make you smile.
Beasley's Orchard
This third-generation family-owned farm has something fun happening all throughout the fall season, so you may want to visit more than once to enjoy everything.
Be sure you stop by the farm market to select some fresh apples and produce, try the award-winning apple cider, or pick up some sweet treats and bakery items.
I tried the apple cider, and it's incredibly delicious. Lots of farms use UV pasteurization on their apple cider, but Beasley's apple cider is not pasteurized and they're winning awards, so they're obviously doing something right! It's also 100% apple juice with no added sugar and no preservatives. Bring some home!
Beasley's Orchard Corn Maze
Last year's theme was Circle City Sports. The 8-acre design gave a nod to the many Indianapolis area sports teams! I can't wait to see what this year's theme is!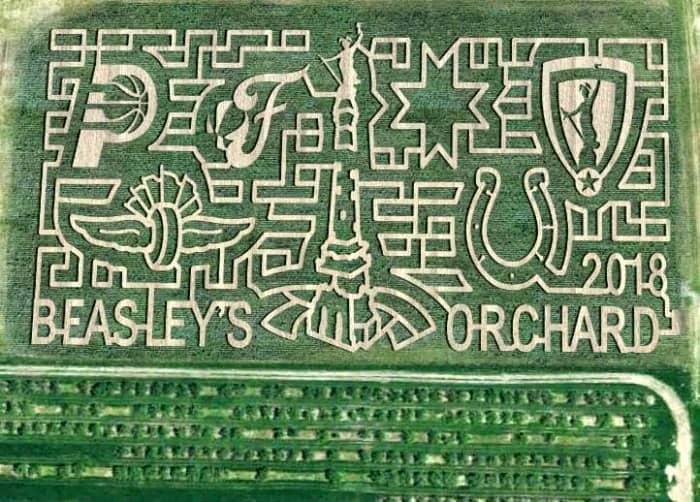 U-Pick Apples all season long
Apple picking season is well underway, and new varieties are available each week. Whether you want apples for eating or making applesauce, apple butter or apple desserts, you'll find what you need at Beasley's Orchard. Apples fresh from the orchard have a flavor like you wouldn't believe!
Heartland Apple Festival
This family-friendly festival includes hayrides to the pumpkin patch, puppet shows, face painting, balloon magic, a family activity area, live music, arts and crafts vendors, food galore and for the adults, wine tastings from local wineries. There are also apple cannons!
Dog Daze at the Maze
It's a special day for the furry friends in your family. Bring your dogs to the maze at Beasley's and let them help you find your way out. Lots of exercise, fun and laughs for everyone.
Happy Halloweekend
Wear a costume if you'd like (there's a contest) and enjoy festive Halloween fun on the last weekend before the holiday.
Plan Your Visit to Beasley's Orchard
Market Hours: Daily 9am- 6pm
Address: 2304 East Main Street Danville, IN 46122
Website
McCloud Nature Center
If you love the unspoiled outdoors, you'll love McCloud Nature Center. The nature center is home to interactive exhibits on local plants, animals, bugs and more and there's a large bird-watching observation area as well.
The park is relatively new, but already has fabulous special events and programming in place including plein air painting, the reason I was visiting. There's a marvelous old truss bridge across the creek which was to be the setting of our art experience with The Purple Palette. Sadly, we were rained out from sitting on the bridge, but we set up shop in the bird viewing area and had a fantastic time.
Outside there are over six miles of easy to moderate trails broken up into smaller sections. They'll take you through forest, prairie, a honeybee observation area, a frog pond and to Walnut Bend Creek and the bridge. During the fall, there's also a grasshopper-themed corn prairie maze to explore!
And don't miss the Fall Colors Festival on October 20, 2018 with hayrides, yard games, face painting, pumpkin painting, archery, tree climbing and more!
Plan Your Visit to McCloud Nature Center
Hours: Daily 6am – 10pm
Address: 8518 Hughes Rd, North Salem, IN 46165
Website
Natural Valley Ranch
Sign up for a guided horseback ride (30, 60 or 90-minute options), hit the hiking trails, go fishing or hang out with the adorable farm animals at Natural Valley Ranch. You can even spend a night on the ranch in a country cottage large enough for 12-16 people.
I had intended to go horseback riding when I visited the ranch, but the rain interfered with those plans. I still enjoyed visiting with the animal friends though.
For more help in planning your fall fun in Hendricks County, Indiana, connect with Visit Hendricks County.
Related Posts