Since I'm originally from Southwest Michigan, I've been to South Bend Indiana (and Mishawaka) hundreds of times to eat and shop, but I never took the opportunity to see what makes South Bend so uniquely special, and I had the chance to see just that when I visited on a FAM trip a while back.
The city has been reinventing itself over the last few years, and it's so exciting to see it coming alive in new ways! It's well worth a visit — so many fun things to do in South Bend Indiana! So let's see, do, sip and eat!
Visit Notre Dame
Because most people think of South Bend as the home of Notre Dame, we'll start there. Whether you're a Fighting Irish fan or not, this is one heck of a beautiful campus and well worth visiting and touring.
Oliver Mansion
The Oliver Mansion (also known as Copshaholm, named after the Oliver's Scottish hometown) was built for the Oliver family, founders of the best-selling plow in the world. It's located on Washington Street, the most fashionable city to live on at the time it was built. The mansion was built in Queen Ann Romanesque style and is still filled with the family's furnishings and available for tours.
Studebaker National Museum
Studebaker was an American wagon, buggy and automobile manufacturer based in South Bend, and the museum displays a fabulous historical collection of vehicles. I could catch a special exhibit about Abraham Lincoln while I was there, and even though the exhibit has ended, the museum still houses the barouche that Lincoln rode in on his way to Ford's Theater the night he was assassinated.
Fun Fact: Studebakers didn't all have a singular and distinctive hood ornament or grill design. They were all different! That's rare for an automaker, right?
Taste & Tour the Indiana Whiskey Company
The Indiana Whiskey Company opened as the first whiskey distillery in the state about two years ago. They pride themselves on the fact that everything used to make their products comes from within Indiana. They make small-batch silver sweet corn whiskey (clear) and bourbon whiskey (brown) in a one-of-a-kind copper handmade still. We had the chance to see how it's made, and to label and bottle some white whiskey. Oh, and taste some too!
Did you know? The only difference between whiskey and bourbon is that bourbon includes an extra step of being barrel-aged for 6 months.
Indiana Whiskey Company whiskey is only available within the state of Indiana, so be sure you get a souvenir bottle when you're there!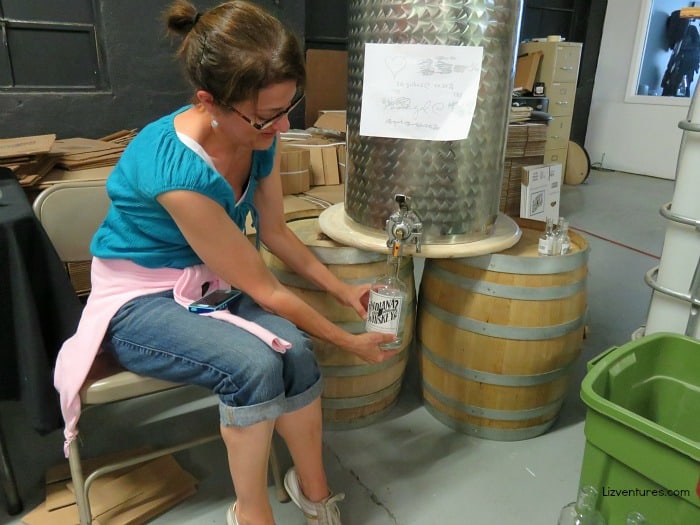 Tour the South Bend Chocolate Factory & Museum
Who doesn't love chocolate and candy? Stopping here for a tour and to browse the chocolate museum is a great family activity. Our tour guide was really great with kids!
We learned about where chocolate comes from, and then we went into the factory to see where it's made, dipped and packaged. Everyone had the chance to taste a sample, and then those on the paid tour ($4) had the chance to make chocolate dipped spoons and get a goody bag.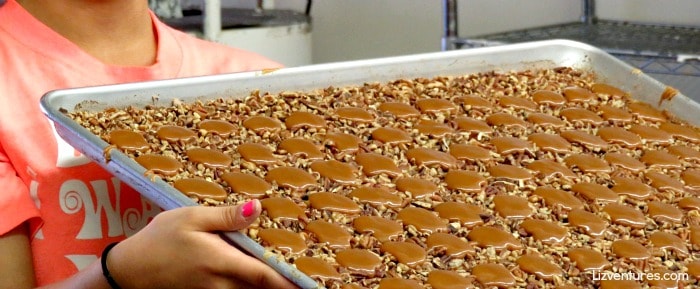 Shiojiri Niwa Japanese Gardens
Shiojiri Niwa is one of the few Japanese Style Gardens in Indiana, and although it's small, it's still well worth a visit. It celebrates a special sister relationship between Mishawaka and Shiojiri Niwa Nagano Prefecture, Japan.
White Water Rafting
It might blow your mind, but you can actually go white water rafting in downtown South Bend on the East Race Waterway. It takes about 5 minutes from start to finish, and unless you have guides (like we did), you're gonna get wet, so be prepared, but it's super fun! We loved it!
Heads up: Be sure you have closed-toed shoes on, and bring a change of clothes. You also need to be 54″ tall to ride, and anyone under the age of 16 needs to be accompanied by an adult.
River Lights
There's something magical and mesmerizing about the way light, color, movement and water play with each other, so a trip to River Lights in South Bend is an absolute must for visitors.
Softly colored and changing lights illuminate the river and its rushing rapids, and on either side of the river banks there are interactive light sculptures that accentuate the display. The light show was created to help celebrate South Bend's 150th anniversary, and it has quickly become a well-loved downtown attraction.
Potowatomi Zoo
Although I didn't visit the zoo on this particular trip, a wonderful reader reminded me that it's a must-see in South Bend and well worth a visit. I agree, so I'm adding it to my list. It's the oldest zoo in Indiana and features more than 400 animals! I took my kids there many, many times during the years we lived in the area.
Restaurants in South Bend
Tippecanoe Place Restaurant
This extraordinarily beautiful mansion was originally the home of Clement Studebaker, and now houses one of South Bend's most iconic restaurants. I've been dying to eat there ever since high school. It was the place to go for prom.
As it turns out, it was totally worth the wait as the food was superb, and the historic home's interior was just as beautiful inside as outside.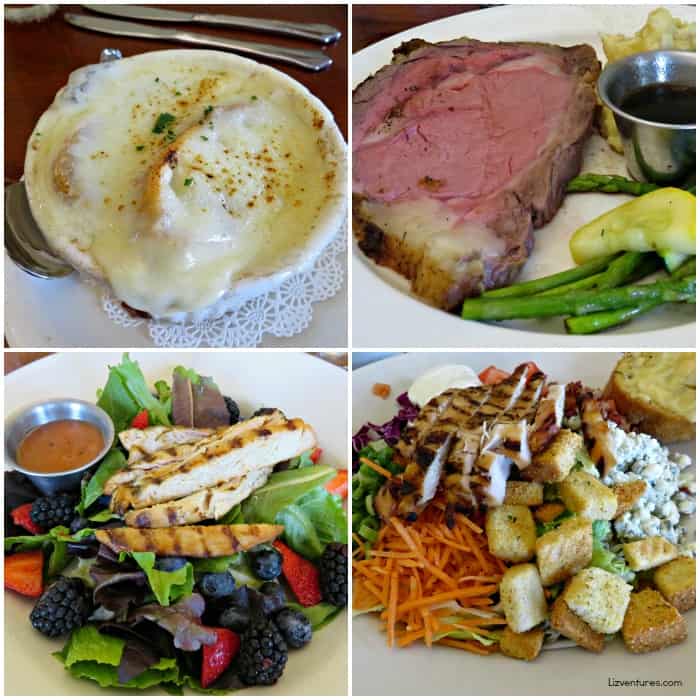 Café Navarre
Located inside a converted historic bank building, the restaurant is an architectural masterpiece and a culinary delight. The modern American cuisine reflects French, Italian and Spanish influences. It's no wonder it has quickly become a South Bend hot spot.
LaSalle Grill
This South Bend modern America bistro has earned the 4-Diamond Award 19 years in a row, and after dining there it's obvious why. The food was utterly amazing, the atmosphere was upscale but relaxed and the service was phenomenal.
South Bend Brew Werks
We enjoyed Sunday brunch at South Bend Brew Werks and since I had been told the waffles were a specialty, I couldn't resist trying the cranberry stout waffle with pear and apple compote and maple cream. I loved it!
But what struck me more than anything was the passion owner Drew Elegante has for South Bend. Everything he does with his brew pub is designed to improve the community and help it thrive. For instance, the Beer 4 Good program (which has already raised over $16,000) is a program that allows patrons who order craft brews to choose a donation recipient from one of three carefully chosen community partners.
Where To Stay
The Inn at Saint Mary's is a boutique hotel located on the campus of Saint Mary's, adjacent to Notre Dame. Although the exterior may seem average, you'll begin seeing what makes it so special when you walk through the lobby doors. The lobby is beautiful! I had a room on the second floor, and I always took the spiral staircase rather than the elevator because looking out over the light and airy lobby made me smile every single time I saw it.
Every morning included a hot breakfast buffet, and the food was really, really good. It's not a typical hotel breakfast…trust me. I'm not much of a breakfast eater, but I went every single morning to fill a plate. I would definitely stay here again on a future visit, but not just because of the breakfast. The room was cozy, comfortable and very pleasant! I totally enjoyed my stay.
South Bend is a convenient pit stop between Chicago and Detroit, so if you ever make that drive, consider adding on a day or two to spend there. Or you can make it your destination like I did. No matter how or why you get there, be sure to visit South Bend!
Which places on my list of things to do in South Bend Indiana would be on your must-do list?
More Travel Fun in the U.S.