The roots of American music are deeply entrenched in cities like Memphis, Detroit and New Orleans, but if you've seen the Muscle Shoals documentary you know that some of the most famous rock and roll songs and grittiest rhythm and blues came straight out of Muscle Shoals, Alabama.
This music legacy drew me to the area initially, but there are lots of things to do in the Florence, Alabama, and Muscle Shoals area whether you're there for the musical heritage or not.
Until I visited, I didn't realize that the Shoals isn't a nickname for Muscle Shoals but rather a collective name for the quad-cities of Florence, Muscle Shoals, Tuscumbia and Sheffield.
The curious spelling of "muscle" in Muscle Shoals probably comes from early immigrants who changed the spelling of the "mussels" that once lined its shores on the Tennessee River.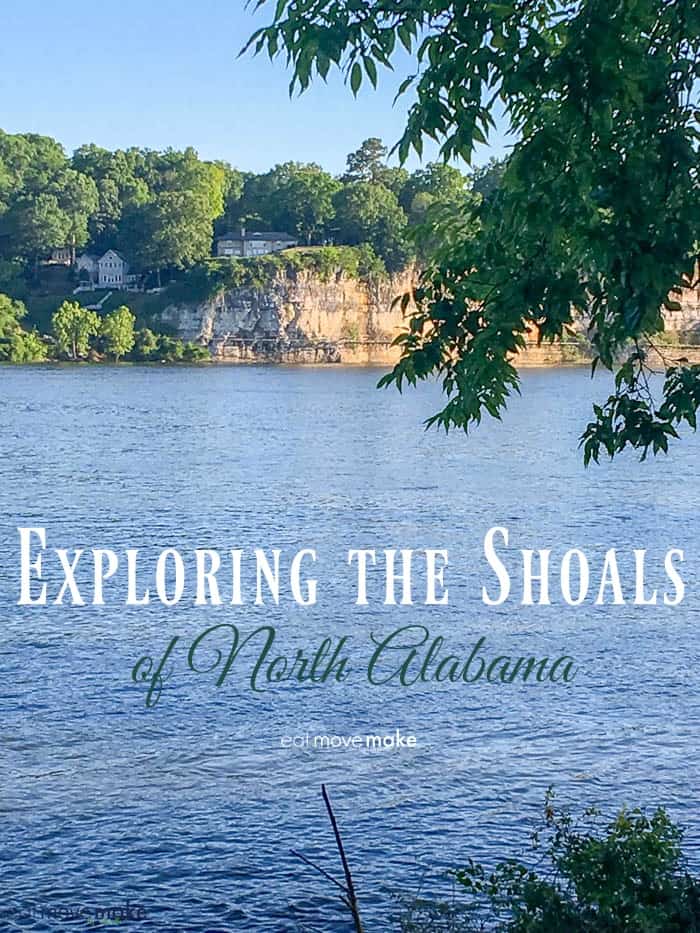 Muscle Shoals Sound
The recent release of the Muscle Shoals documentary has brought a deluge of visitors to the area, and the studios have developed tours to help tell those stories and let people see firsthand where that unforgettable Muscle Shoals sound began.
Fame Studios (Muscle Shoals) – Take a tour of the legendary studio and birthplace of the Muscle Shoals sound. Some of the greatest songs of all time were recorded here with the Muscle Shoals Rhythm Section including artists such as Aretha Franklin, Wilson Pickett, Etta James, Duane Allman, Otis Redding and Alabama. The studio was founded by Rick Hall, whom many consider the "father of the Muscle Shoals sound."
Muscle Shoals Sound Studios (3614 Jackson Highway) (Sheffield) – The Muscle Shoals Rhythm Section, aka the "Swampers" left FAME to start up this studio which is now on the National Register of Historic Places. The studio recorded music from artists such as the Rolling Stones, Lynryrd Skynyrd, Paul Simon and Rod Stewart. When Cher recorded her sixth album titled 3614 Jackson Highway, the address became a nickname for the studio. Public tours are offered daily.
Cypress Moon Studios (Sheffield) – Muscle Shoals Sound Studio moved to this location in the late 70's, and artists like Bob Dylan, Bob Segar, Lynyrd Skynyrd and Jimmy Buffet recorded here. Now renamed, the studio serves primarily as a film and music production company. Tours by appointment.
Alabama Music Hall of Fame (Tuscumbia)- This museum celebrates the state's native musicians and is home to Alabama's tour bus, a 12-foot jukebox and the "Golden Country Car," a 1960 Pontiac convertible encrusted with more than 500 silver dollars, 12 silver guns and Texas Longhorns as a hood emblem. It's NUTS, but definitely a must-see!
W.C. Handy Birthplace and Museum (Florence) – Visit the cabin where W.C. Handy "the father of the Blues" was born, and visit the museum which houses an amazing collection of memorabilia including the original sheet music of "St. Louis Blues" and the piano on which it was composed.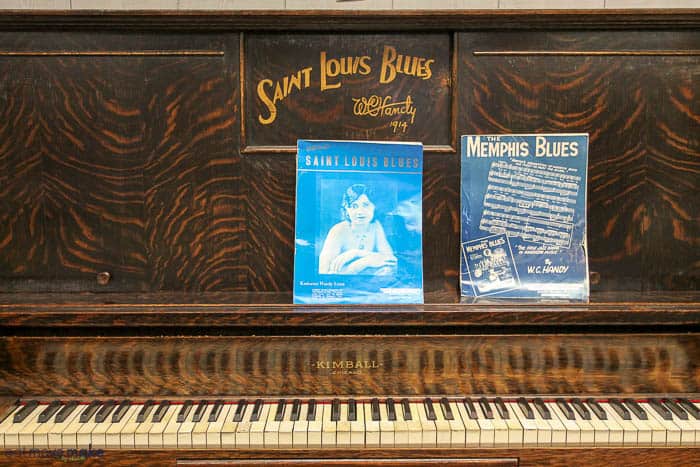 Listen to live music – Check here for who's where and when but rest assured there's always live music in the Shoals.
Famous Places
Ivy Green (Tuscumbia)- Helen Keller's Birthplace, now on the National Register of Historic Places includes original furnishings, personal mementos and the actual well-pump where she learned to spell "water".
Frank Lloyd Wright's Rosenbaum House (Florence) – Take a tour of the only Frank Lloyd Wright structure in Alabama. The Usonian designed-home was built in 1939 from cypress, glass, and brick and it's quite fascinating to see the original furnishings, narrow hallways and minimalistic layout. It's not a house for hoarders!
Indian Mound Museum (Florence) – Standing at 42 feet high, the Florence Indian Mound is the largest domiciliary mound in the Tennessee Valley area.
Belle Mont Mansion (Tuscumbia) – This stunning example of Palladian-style architecture has a U-shaped floor plan opening to a courtyard. The architecture is believed to have been influenced by Thomas Jefferson's Monticello.
Pope's Tavern (Florence) – Once a stagecoach stop, tavern, inn, Civil War hospital and later a private residence, it's also believed to have been a stop for Andrew Jackson on his way to the Battle of New Orleans. A collection of period memorabilia is now housed in the museum.
George H. Carroll Lion Habitat (Florence)- Visit the University of North Alabama mascots Leo III and Una (get it?) in their campus home. They're so regal!
Outdoor Oasis
Wilson Dam (Muscle Shoals) – The navigation lock is one of the highest single lift-locks in the world and it's open to visitors Fridays, Saturdays, Sundays and federal holidays.
McFarland Park (Florence)- On any given day, you'll see a rainbow of hammocks throughout this tranquil park. Don't be surprised if you find yourself buying a hammock and a good book and joining them.
River Heritage Park (Florence) – Stroll along the beautifully landscaped Walk of Honor pathway or take the kids to the splash pad. The park is next to the river and adjacent to the Marriott Shoals.
Old Railroad Bridge (Sheffield) – This metal railroad bridge is the oldest railroad bridge in Alabama and once carried trains across the Tennessee River. Now the bridge stops mid-air and serves as a pedestrian walkway and scenic Tennessee River overlook. It's the perfect sunset spot!
Tom's Wall (Te-lah-nay's Wall) (Florence) – This touching memorial is built of rocks, each representing the steps Tom Hendrix's grandmother took in her attempt to return to the Shoals after being forced to walk the Trail of Tears to Oklahoma. The variation in rock sizes reflect the difficulty of the obstacles she faced on her journey. The largest un-mortared wall in the United States is a must-see.
Cane Creek Canyon Nature Preserve (Tuscumbia) – Enjoy a hike through canyons with waterfalls, wildflowers, cascading creeks and interesting rock formations.
Florence Harbor Marina (Florence) – A peaceful place to stroll, boat, fish or have dinner.
Quirky Finds
Coon Dog Cemetery (Cherokee) – This one of a kind burial site for hunting dogs began when Key Underwood laid his faithful coon dog companion Troop to rest in 1937. Don't even think about burying anything but a coon dog here.
Forks of Cypress (Florence) – Named for the convergence of Big and Little Cypress Creeks, this once stunning plantation home was the only Greek Revival house in Alabama to feature a two-story colonnade around the entire house, composed of twenty-four Ionic columns. In 1966, the home was struck by lightning and burned to the ground. This is all that remains.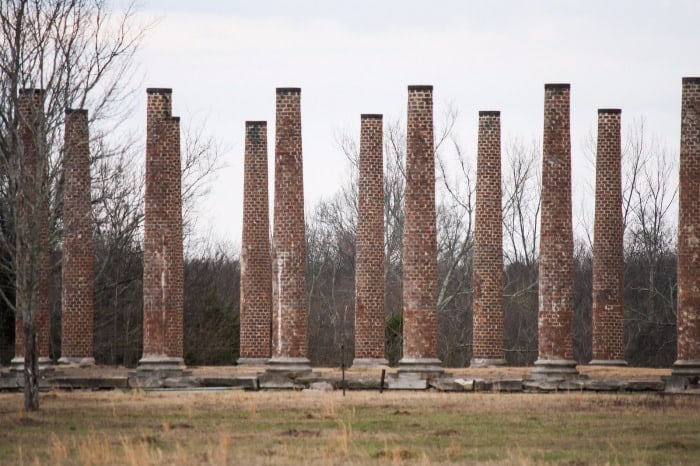 Rattlesnake Saloon (Tuscumbia) – Live music, food and drink under a rock — who can say no to that?
Fairy Doors (Florence) – Mysteriously appearing (and sometimes disappearing), these fairy doors can be found around Florence. Turn it into a scavenger hunt! For hints on where to find them, check this FB page.
Eats and Treats
Trowbridge's Ice Cream (Florence) – You can't visit Florence without trying Trowbridge's signature orange pineapple ice cream.
City Hardware (Florence) – Great atmosphere, great music, great food. This downtown Florence restaurant is a winner.
Stanfield's River Bottom Grille (Florence) – Visit the only restaurant in the Shoals completely surrounded by water, and try the smoked brisket flat if it's available. People (including me) rave about it!
Odette (Florence) – This slightly upscale but comfortable downtown eatery serves elevated American fare with a Southern twist. The house-ground burgers are excellent!
Swampers (Florence) – Get your fix of live music while you eat, and be sure to try the bacon wrapped jalapenos!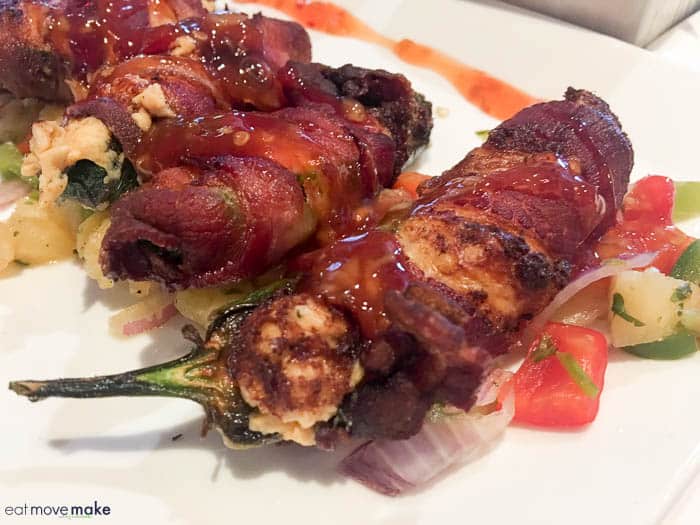 Marriott Shoals 360 Grille (Florence)- Enjoy dinner at this rotating restaurant with an absolutely stunning view of the Tennessee River.
Where to Stay
Not only does the Marriott Shoals have two distinctive restaurants (mentioned above), but the hotel itself is pretty spectacular. Located in Florence, it's the ideal home base as you venture out and explore the Shoals area.
There is so much to see and do in the Florence, Alabama and Muscle Shoals area, so reach out to VisitFlorenceAL.com for help with planning a trip and check out my other posts on nearby Red Bay and Dismals Canyon for more Alabama travel ideas.
Explore More