The Ironworks Hotel in Beloit, WI is one of the coolest luxury boutique hotels I've ever stayed at, and not because the temperature was 4 below when I visited. Although it was.
I loved the hotel so much that I would have been perfectly happy never leaving the room. I did, of course, because there's lots to see in Beloit, but I'm tellin' ya… it hurt me every time I walked out the door.
I mean… just look at my room.
Look at it.
I died, you guys. I was that happy.
The Ironworks Hotel architecture and design pays homage to Beloit's industrial history which began with a foundry called Merrill & Houston Ironworks. The factory produced water wheels and other iron products, and that theme is carried over into the rustic decor.
The essence of yesteryear is captured in the re-purposed industrial furnishings, exposed brick walls and richly colored woodwork, and it harmoniously mingles with all the modern comforts and conveniences today's guests demand.
If you have a room with a river view, you'll see the Ironworks Complex on the opposite river bank with its magnificent murals celebrating the industrial boom.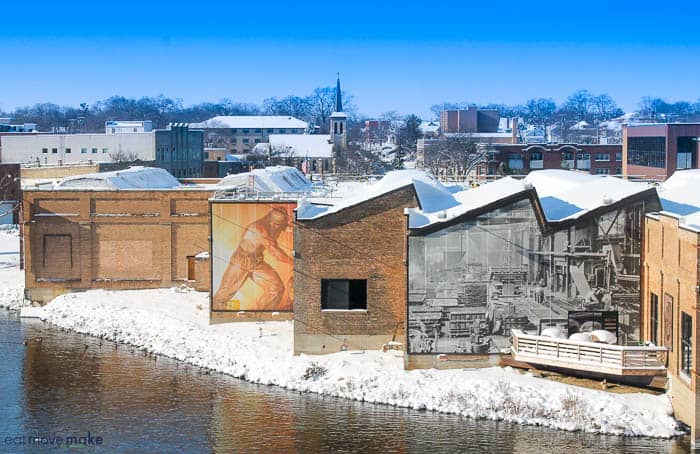 Located in the heart of downtown Beloit, the Ironworks Hotel is the place to stay when visiting the city. Beloit has a very walkable downtown with lots of attractions, restaurants and shopping steps from the hotel.
But if you're hungry and want to stay in the hotel, you'll find the amazing Merrill & Houston's steak joint right there. The restaurant adjoins the hotel through the lobby, and it's beautiful and cozy inside. The walls are lined with photos celebrating Beloit's historical timeline, but you'll remember the incredible steaks and phenomenal service the most. It's a must eat!
I absolutely loved the Ironworks Hotel Beloit for its modern comforts, luxurious feel and uniquely historical decor. It's now one of my very favorite hotels, and I would stay there again in a heartbeat!
Visit the Ironworks Hotel Beloit website for more information and reservations.
More to Explore