I spent last weekend celebrating Mardi Gras Universal Studios Orlando-style, and I had the time of my life! The annual event has the authenticity of a typical New Orleans Mardi Gras, but remains completely family-friendly so that all ages can enjoy it.
This year's Mardi Gras Universal Studios Orlando celebration runs through April 18, and the event and concerts are included with paid admission, so come and have some fun!
Mardi Gras Universal Studios Orlando
Street performers, stilt walkers and dancers entertain all along the streets, and they'll happily stop to pose for photos. The costumes are incredible!
Stroll through the French Quarter Courtyard for a taste of authentic Cajun cuisine like jambalaya, gumbo, Andouille sausage, beignets and King cake while enjoying New Orleans-style music played by live bands straight from Bourbon Street.

And don't miss the spectacular Mardi Gras parade! This year's parade includes 13 different floats, and I had the chance to get a good look at this gator float (the parade's caboose) before it hit the streets.
The floats are created with the famous New Orleans-based Kern Studios, and Jason Horne, the event's creative director, told us that planning begins a year in advance! This year's float themes include traditional New Orleans Carnivale, the King and Queen float, Cultures (like China and India), and Breaking Ground, which is dedicated to travel and innovation.
There are a couple of short choreographed performances along the parade route, and there's lots of interaction with the crowd. It makes it even more exciting!
And of course, there are beads – 1.8 million Mardi Gras beads in total, thrown by the handful from each of the Mardi Gras parade floats. This year I had the chance to throw beads too! My friends and I took a spot on the King and Queen float.
And we threw green, purple and gold beads to spectators. It was an absolute blast! Of course I kept a few of the beads for myself as a memory.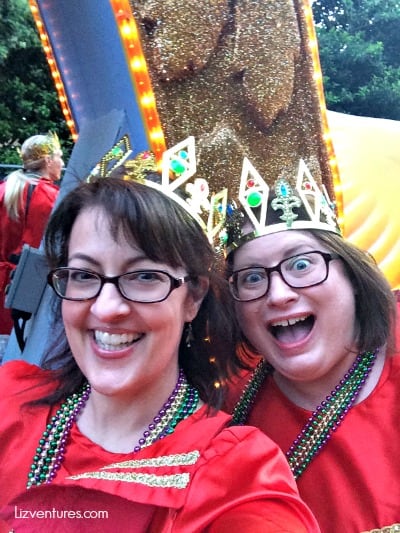 After the parade, we went straight to that evening's music concert. This year there are 16 headliner concerts (click for concert schedule) with popular musicians like Jessie J, Kelly Clarkson, The Band Perry, Trey Songz, American Authors and Yandel.
We were lucky enough to meet MKTO in person and then watch them perform on stage. They were so nice and so talented!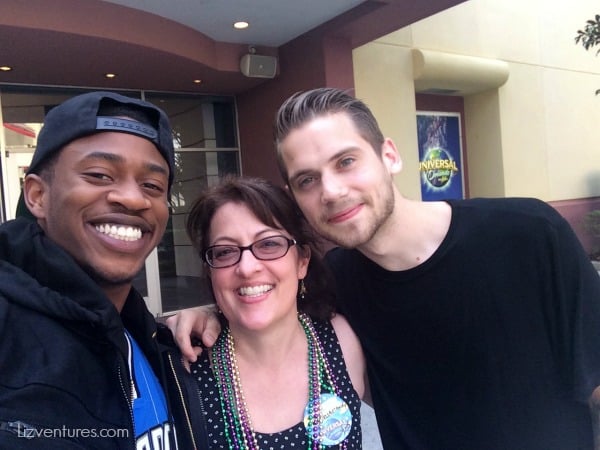 Celebrating at Mardi Gras Universal Studios Orlando was such a highlight, and I hope you get the chance to make a visit to Universal Studios Florida during the festivities. You'll have the best time!
Check out these Universal Orlando tips for help in making travel plans any time of the year!
Accommodations, park tickets and some meals were provided by Universal Studios Florida as part of the #UORGirlsGetaway press event. The opinions and experiences are mine alone.