In December, right before the holidays, my mom and I had the opportunity to travel to Cincinnati to see what it has to offer. Before moving here to North Carolina, you may know that I had lived in Ohio for about ten years, but had never visited Cincinnati. Crazy, right?
We were warmly welcomed to the very hip 21C Hotel with this fantastic gift bag filled with goodies local to Cincinnati.
Our corner suite at the 21C was everything I look for in a hotel – modern, sleek, and fresh. I couldn't stop raving about it once we walked in.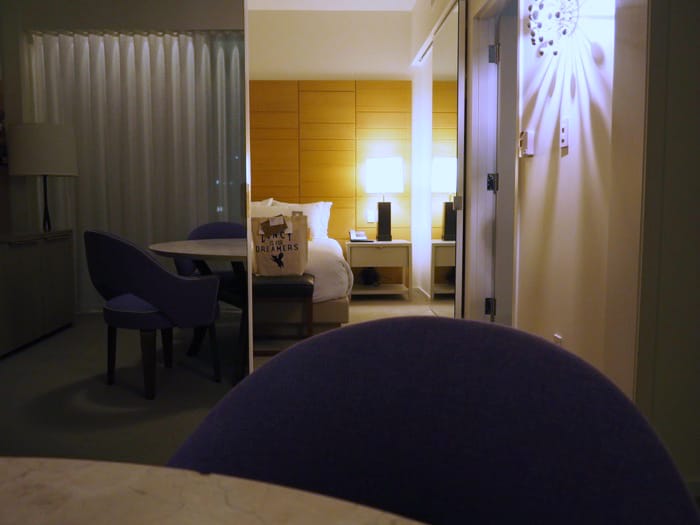 Once we'd settled in, we headed downstairs to the restaurant inside the 21C, called The Metropole. These very cool neon lips beckoned us in…
This was a few weeks before my competition diet began, so I wore my stretchy pants and settled in for an amazing holiday-themed four course meal with a cocktail pairing for each course! My meal at the Metropole included an oyster dish, lamb, quail, and a lightly-sweet peppermint ice cream atop a delicate meringue. I know. It was ridic.
When we checked into the 21C earlier that day, the front desk clerk made sure to mention that on the hotel's lower levels is an art gallery that's open 24 hours a day! So after our huge meal, we decided to explore. Below is one of my favorite pieces. Look at all the glitter! *heart eyes emoji*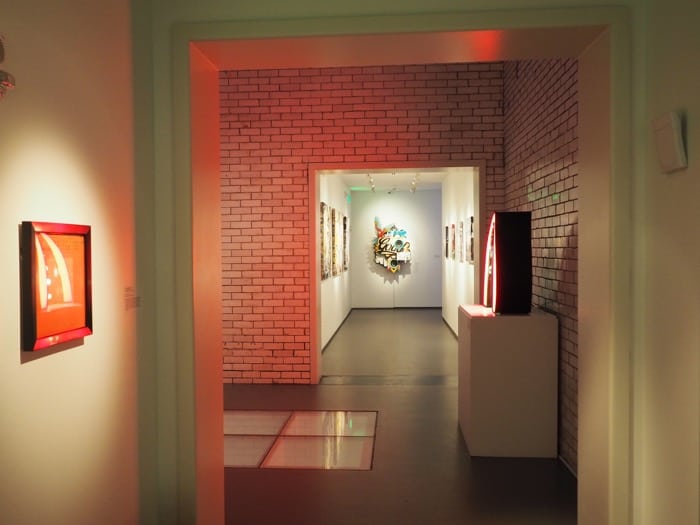 The following morning, we woke up and strolled right around the corner to Collective Espresso, located right inside the Contemporary Arts Center to meet our gracious host, Debbie from the Cincinnati Convention and Visitors Bureau.
I tried their cortado (espresso with milk) at Debbie's suggestion, which was both beautiful and delicious. To go along with it, I had a breakfast hash with roasted root vegetables, a fried egg, and kale.
After breakfast, I set out for a walk through Over-the-Rhine, a very hip neighborhood in downtown Cincy. It was a brisk, but beautiful sunshiney day and there really is tons to see and do in OTR. It's easy to navigate, too, if you walk up and down Vine Street.
I did some Christmas shopping at the boutiques in the area, including picking up this awesome skull sugar spoon for my honey – but mostly window shopping.
Along the way, I stopped for coffee at Happy Belly on Vine, and later had a lunch of fried chicken with spicy honey (and a beer…and mac & cheese) at Cincinnati favorite The Eagle. You can also check out some photos from those two food stops on our Instagram!
Having gone into this trip knowing almost nothing about Cincinnati, I came away thinking about it in an entirely different light. It's full of art, culture, and excellent food and drink, and really is a destination of its own.
Have you visited Cincinnati in the past 10 years? If not, you should! I'm told it's changed so much!