As part of my recent Brunswick Islands NC trip, I climbed the Oak Island Lighthouse on Caswell Beach, and I'm so glad I did.
The extraordinary view of the salt marshes, Atlantic Ocean, Cape Fear River, barrier islands and Old Baldy from the lantern gallery level is totally worth the climb!
The Oak Island Lighthouse is the newest lighthouse in North Carolina, and the next to last one to be built on the East Coast. It may not be as visually striking as some, but when you hear how it was built, you come to appreciate those muted colors.
Older lighthouses were built wider at the bottom and tapered up, but not this one! It was built in a cylindrical shape by continuously pouring cement one foot per hour for seven straight days. Pretty wild!
And see those stripes? They're permanently cast into the concrete walls with three different mixtures of Portland cement. How they managed to change the mixture while continuously pouring is beyond me!
So about that climb….
heebie jeebies.
It was exhilarating but also seriously white knucklin', not because of the 153-foot height — I'm not afraid of heights at all — but because of the staircase!
While most older lighthouses have spiral staircases, the Oak Island lighthouse doesn't. It has ship's ladder steps, steeeeeeeeep ship's ladder steps, and they're freakin' scary. There are only 12 steps in the first set, but then 17 steps before you arrive at each of the next landings, and it's pretty much like climbing a ladder. (131 steps in total)
The reason this lighthouse has ship's ladder steps is because it was designed by the Coast Guard, and they wanted the fastest way up to the light. Lighthouses with spiral staircases require 2 to 3 times as many steps to arrive at the top.
Since the area is such a horribly treacherous area for ships, time is of the essence.
It makes you appreciate those steps when you know the reasoning behind the design, but it's still a bit unnerving to think of anyone hustling to the top on them. I took them one slow and careful step at a time.
To climb, you must wear closed toed shoes, and you're not allowed to hold anything in your hands, carry a purse or wear a backpack. You'll also need to sign a waiver beforehand.
Again… it's worth it (and the climb is free). DO IT!
Because the view…
wow.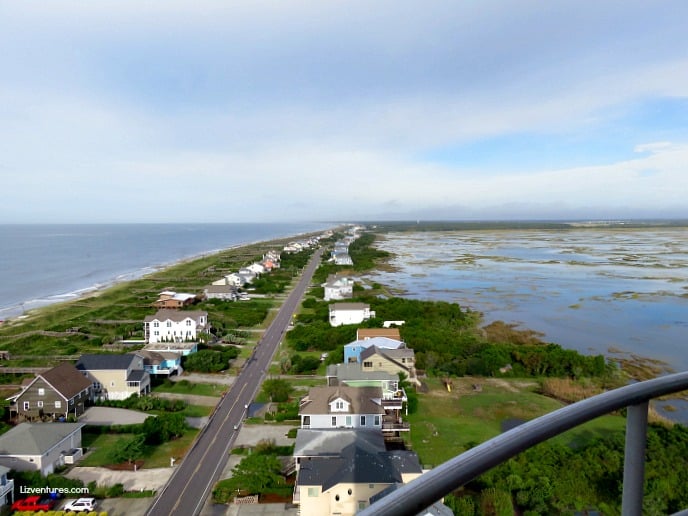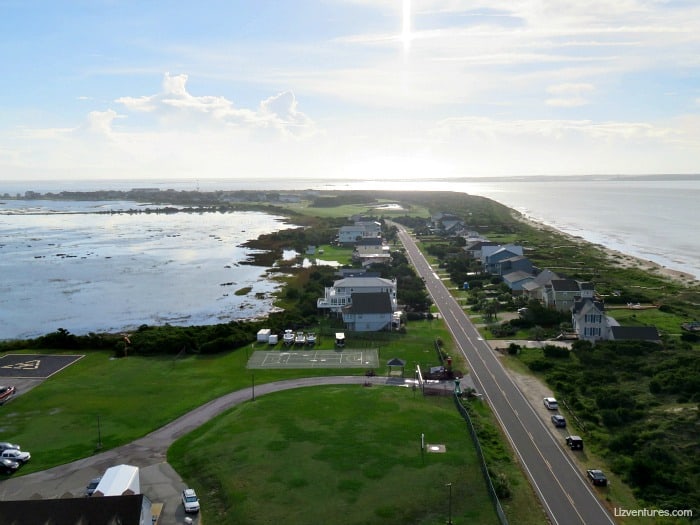 Guests ages 9 and up can take a top tour at no charge, but you'll need to make reservations at least 2 weeks in advance. Tours to the second level (just 12 steps) are available for ages 7 and up during the summer season with specific hours. Visit the website for details.
More Fun in the U.S.