Looking for things to do in the Laurel Highlands in the fall? This seemingly remote mountainous region of Southwest Pennsylvania has some of the state's most beautiful outdoor attractions. All of them can be visited year-round but the region is especially captivating in the fall.
On my recent hosted stay, I had the chance to experience a lot of fall fun in the Laurel Highlands and I thought I'd share my favorite adventures.
THINGS TO DO IN THE LAUREL HIGHLANDS IN THE FALL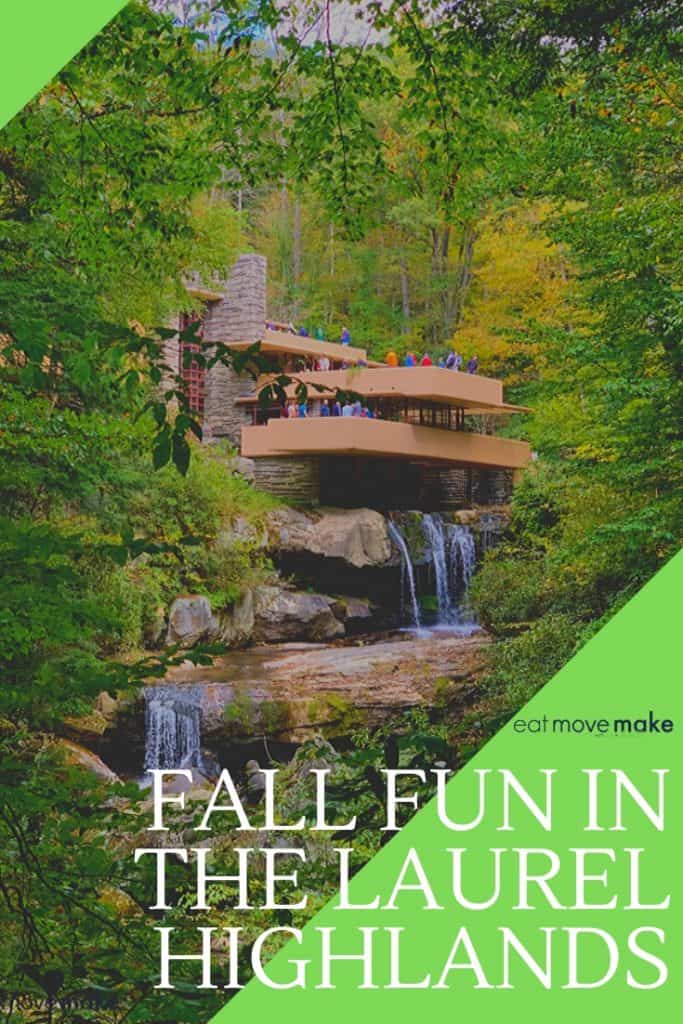 AUTUMNFEST AT SEVEN SPRINGS RESORT
Fall fun in the Laurel Highlands kicks off with the annual Autumnfest celebration at Seven Springs. The event takes place over four weekends in October, each with a different theme.
It's one of Pennsylvania's most popular festivals and I loved it so much that I wrote an entire post about it.
TAKE A SHORT HIKE TO CUCUMBER FALLS
Ohiopyle State Park is full of outdoor adventure, but Cucumber Falls is one of my favorite spots. The massive rock wall over which the 30-foot waterfall plunges is visually countered by soft, lush green forest and the contrast is absolutely stunning.
The water volume of Cucumber Falls was fairly low when I visited due to drought, but my Pennsylvania friends told me it usually spills over a much wider section of the ledge.
No matter what… it's beautiful, and the hike from the parking lot is just a few tenths of a mile.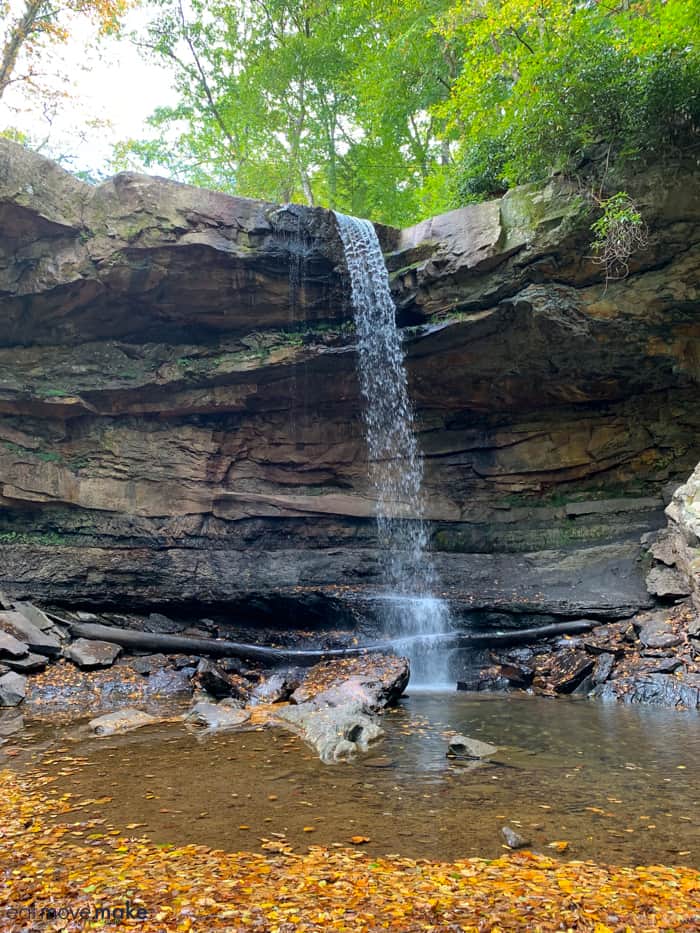 If you clamber over the rocks, you can walk behind the waterfall and seek out different photo angles, but be sure to wear shoes with good traction. The wet rocks and logs can be wobbly and slippery.
One of the logs I stepped on turned over as I was climbing, and it uncovered a pretty orange salamander. He posed briefly before scrambling for a new hiding place.
TAKE IN THE VIEW AT BAUGHMAN ROCK OVERLOOK
It's a beautiful scene looking deep into the vast valley of the Youghiogheny River Gorge 1700 feet below.
From the parking lot on Sugarloaf Road, it's a brief walk to the overlook but you'll need to scale some sloped rocks to get to the viewpoint so it may not be accessible for everyone.
WALK THE 'YOUGH'.
Take a leisurely stroll across the pedestrian bridge in Ohiopyle for a sweeping view of the Lower Youghiogheny River.
For the adventurous, there are a number of whitewater rafting outfitters that will take you out on the rapids for a thrilling ride.
START SIPPIN' ON THE LAUREL HIGHLANDS POUR TOUR.
Fall fun in the Laurel Highlands doesn't end when you come indoors. Get your Pour Tour passport and start sippin' at any of the 31 breweries, cideries, meaderies, distilleries and wineries included on the trail.
Collect stamps or digitally check-in as you visit each location to earn your way to collecting Pour Tour merch! You have until 2021 to complete your passport so there's no reason to sip and run from one to the next.
I visited two stops (so far) on the Pour Tour: Four Seasons Brewing and Greendance Winery.
Four Seasons Brewing Company
With a beer for every season and over a dozen on tap at any given time, there's something for everyone at this cozy brewery in Latrobe.
But if you're not into beer, no problem. Kick back with mead, wine or soda. There's also a limited menu of snack options and food trucks often visit on weekends.
It's a cozy comfortable place to gather with friends and I really enjoyed hanging out there. See what's on tap!
Greendance Winery
I don't know what's more wonderful – the wine or the cuisine at Greendance Winery, but we started with a complimentary wine tasting so I'll talk about the wine first.
I prefer dry wines so they helped me hone in on those for my tasting and I found several I really enjoyed.
A big surprise for me was how much I liked their chardonnay. I usually find them too oaky for my taste, but theirs was fabulous!
But my absolute favorite was the Marquette, an estate wine, and a bottle of it went home with me. I wish I'd bought more than one!
After our wine tasting, we put our dinner orders in at The Cabin and our dessert orders in at Cafe Persimmon.
Guess what came first? Dessert! I had a fresh raspberry pie with a scoop of Oregon Blackberry Cheesecake ice cream, which was to die for.
All of their fruit pies are made from fresh berries straight from their sister farm – Sand Hill Berries and believe me, these confections are worth a trip on their own.
For dinner, I ordered a tomato mozzarella sandwich and it was magnifique.
Everything at Greendance Winery really impressed me, including the grounds.
We took a little stroll through the property to see the wedding venues, gardens, vineyards and countryside.
The old wagon wheel trail is still visible on the hillside. Look for it if you wander outside.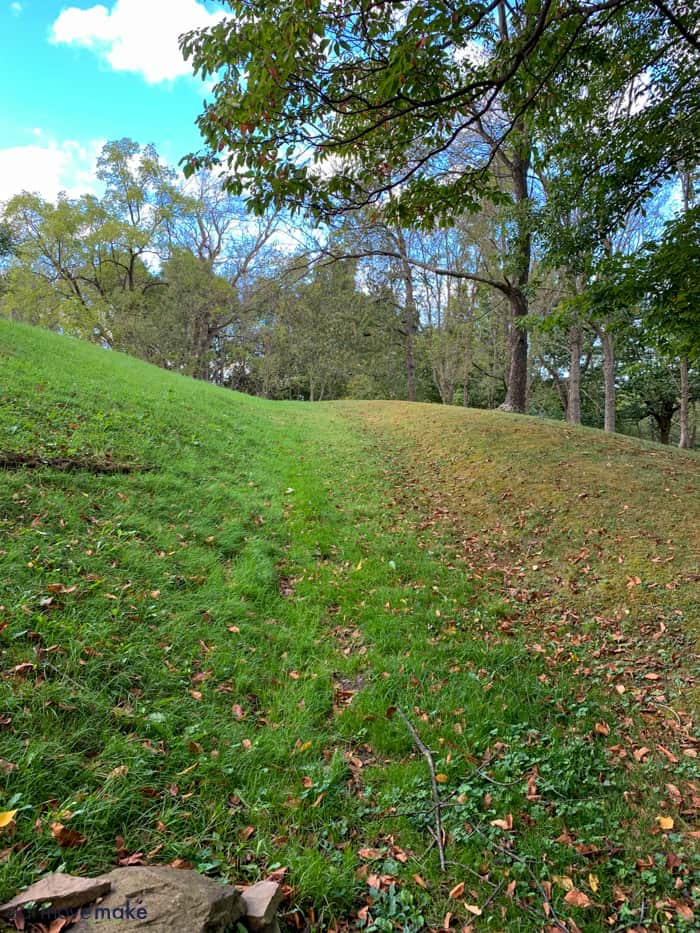 I even saw my first pawpaw tree. I have no idea what the fruit tastes like, but I'm going to have to try one now.
Have you ever had pawpaw fruit?
Whether you visit Greendance Winery for the wine, the food or the atmosphere, it's well worth a trip. (And you can get a Pour Tour sticker in your passport.)
TOUR FRANK LLOYD WRIGHT'S FALLINGWATER
Fallingwater, now a UNESCO Heritage Site, is one of Frank Lloyd Wright's most renowned works and if you enjoy his creations, visiting Fallingwater needs to be at the top of your list of things to do in the Laurel Highlands.
Fallingwater perfectly exemplifies Wright's desire to harmonize art and nature through architecture. The home was built cantilevered over the waterfalls – uniting indoors and out in a cohesive, symbiotic way.
Everything inside the estate remains exactly as it was when it was built as a weekend home for the Kauffmann's, owners of a Pittsburgh department store.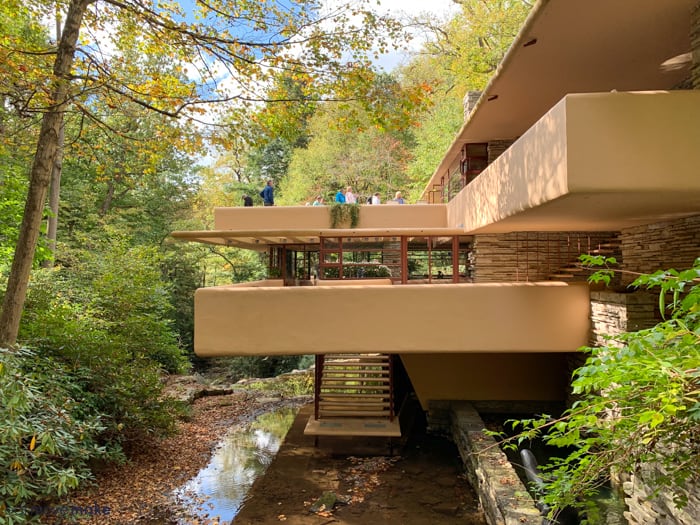 To tour Fallingwater, advance tickets must be purchased. I took the guided house tour (about one hour) but specialty tours are also available for a more in-depth look.
Same day grounds passes can be purchased at the gate but are first come, first serve so call ahead for availability.
Following the tour, guests are invited to walk the exterior grounds. Be sure to take the trail leading to the iconic and much-photographed view below.
If you're hungry, grab a bite at the Fallingwater Cafe. The menu is quite inventive. I ordered a cheddar and scallions tartine – delicious!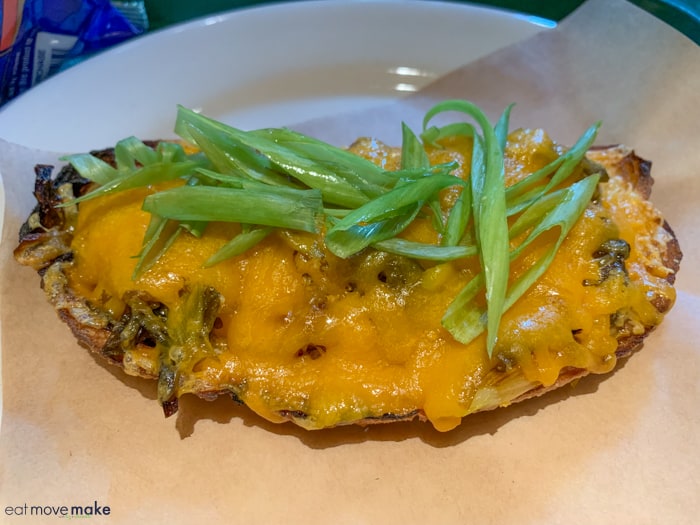 BARBECUE THURSDAYS AT OUT OF THE FIRE CAFE
Before I even talk about the barbecue, order a bowl of the roasted mushroom soup. I'm not a mushroom person at all, but Out of the Fire Cafe is known for this soup so I had to try it.
Omg, it was divine. Absolutely divine. GET IT.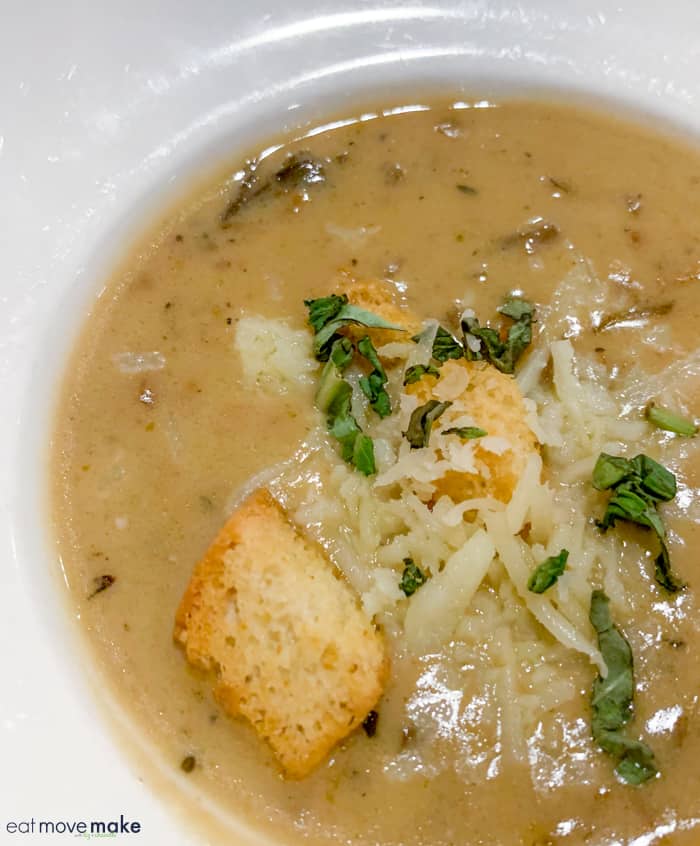 We also ordered the Korean deviled eggs and a charcuterie board for appetizers.
De-lec-ta-ble.
And now I'll talk barbecue. It's only available on Thursdays in October and lawd, is it ever good.
I ordered the backyard barbecue platter with mesquite-smoked pulled pork and brisket. The smoky flavor was perfect and the meat was fall-apart tender. Even the sides were phenomenal.
After reading this list of things to do in Laurel Highlands in the fall, you're probably planning a trip for next year already. May I join you?
You may also want to check out fall foliage in the Poconos, another very beautiful area of Pennsylvania.
Connect with Laurel Highlands Visitor Bureau for more information and a visitor guide.
More Travel Adventures