It may not be ski season just yet, but the ultra-fun Seven Springs Autumnfest event gives the whole family a chance to have a blast at Pennsylvania's popular mountaintop resort long before the first snowflake hits the ground.
With four themed weekends of fun, food and adventure set amidst a vivid backdrop of changing orange, red and yellow leaves, what's not to love?
GET ADVENTUROUS AT SEVEN SPRINGS AUTUMNFEST
Take a scenic chair lift ride for a sweeping view of the slopes, mountain bikers in action, the alpine slide and all the Autumnfest Seven Springs activities.
Ride the alpine slide.
This was my favorite Seven Springs Autumnfest activity even though it's an added cost. It's not a scary ride at all — it's just fun. Joyful fun!
Riders sit on a sled and have complete control over their own speed by pushing or pulling on a lever. Personally, I found that the sled's natural speed through the course was just about spot on. I had the best time!
Pro tip: Plan to take your first (and maybe even second) ride right when Autumnfest activities begin. Lines build up quickly for this popular attraction and wait times could be 20-25 minutes later in the day. STILL worth it.
Get out on the water.
Take a hydro bike, paddleboat or kayak out on the lake for a leisurely afternoon spin.
Stretch yourself in a whole new way with NamastHay goat yoga.
While I didn't take part in goat yoga at Seven Springs due to the timing, I have done it before and it's absolutely hilarious! Try to hold a pose and not laugh when goats are running here, there and everywhere.
Actually, give up and laugh. It's so much fun!
FAMILY ATTRACTIONS AT AUTUMNFEST SEVEN SPRINGS
No matter which themed weekend you pick (2019 included Oktoberfest, Chili and Kids' Halloween weekends), you can count on a petting zoo, pony rides, a hay bale maze, pumpkin patch, a kids' zone, craft show, artisans and horse-drawn wagon rides.
Pro tip: Sign up in the kids' zone for a wagon ride time as soon as you arrive! It's a popular activity.
The petting zoo is hysterical! With the option to feed them by bottle or snack cup, you'll find yourself surrounded by hungry goats, pigs, cows or donkeys in seconds. It's so much fun!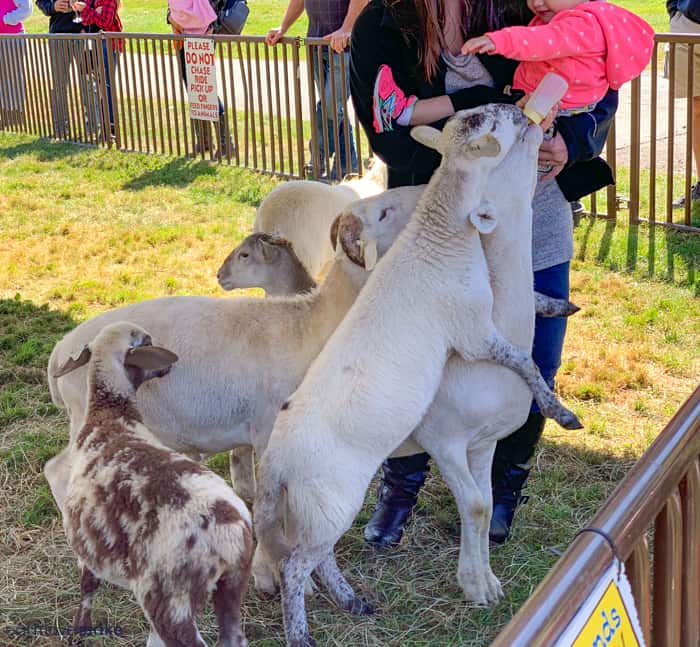 A mama and baby alpaca were in one of the crafter tents. Or maybe they were llamas? I can't keep them straight, but they were cute!
I also spotted a very talented pumpkin carver's booth. I'm guessing he was demo'ing his carving skills throughout the weekend, but he was arriving when I got there.
The hay bale maze is perfect for even the littlest ones because they can see above the hay bales while solving the puzzle.
If your littles are into hands-on fun, they may enjoy painting a pumpkin or whatever else their hearts desire in the kids' crafts area.
Kids can get their wiggles out by jumping on the Eurobungy or climbing the neighboring rock wall.
Photo ops are plentiful, and there's a great spot near the pumpkin patch where a professional can take your portrait.
Or you can use your own camera and be silly like me.
HEAD INDOORS FOR MORE SEVEN SPRINGS AUTUMNFEST FUN!
Go bowling, play a mini-golf game or arcade games, and rack up points for prizes in the Bear Trap Fun Zone Game Room.
Fill up your belly at the Autumnfest Buffet!
I can't believe I didn't take any photos of my very full plate. I guess I was too darn hungry after a morning of festival fun!
The buffet (inside the ski lodge) changes according to the weekend theme, so when I visited during Oktoberfest, there were goodies like spaetzle, bratwurst, carved meat, pork chops, chicken schnitzel, potatoes au gratin, baked corn custard, braised red cabbage, veggies, salads, bread and the most amazing selection of desserts.
---
Are you excited to check out the Autumnfest Seven Springs event? Pin this post to Pinterest for future travel inspiration!
SEVEN SPRINGS AUTUMNFEST
For more information on the Seven Springs Autumnfest weekends, visit the resort's website and contact the Laurel Highlands Visitors Bureau for help in planning a trip.
---
Love quirky festivals? Check out this Mars-themed festival just north of Pittsburgh and the Eliot Ness Festival in Coudersport.
More Travel Fun