If you love hot and spicy food, you won't want to miss the annual ZestFest in Irving TX where everything sizzles! Can you take the heat?
One of the largest events of its kind in the country, ZestFest brings together fans of the hotter things in life for three days of zesty food and entertainment.
I went to ZestFest as part of a press trip so I thought I'd share a little of what you can expect from the hottest festival in Irving, Texas.
What to Do at ZestFest in Irving TX
Feed Your Fire
Aisles and aisles of the 'hottest' products available on the market were lined up in one big room for attendees to taste and buy, and some of them were winners in ZestFest's Fiery Food Challenge which took place earlier in the week.
The prestigious Golden Chile Award is the most coveted prize (after three days of competition), but there are 1st, 2nd and 3rd place winners in each category.
Look for the award ribbons when you're browsing the displays. Those are the definite must-tastes!
I sampled kicked-up versions of everything from salsa and BBQ sauce to peanuts, toffee, chocolate and jelly. The explosions of heat and flavor ranged from mild to "hot damn" and I bought a bunch of my favorites to take home and share.
Atomic Wing Challenge
Dozens of brave (or foolish) souls raced to be the first to finish eight boneless wings bathed in Wingstop's famous Atomic'ly hot habanero sauce and it was a definite sight to see.
Those vying for prizes (a big screen TV or WingStop gift cards) in the Atomic Wing Challenge had to sign a waiver before hitting the stage and they had to make it through a qualifying heat before getting to the final round.
That meant eating a basket of fire more than once!
And not everyone was up to the challenge.
They all started out fine but once the capsaicin kicked in, things got real. Eyes started watering, tears started flowing and fully grown adults turned into whimpering babies.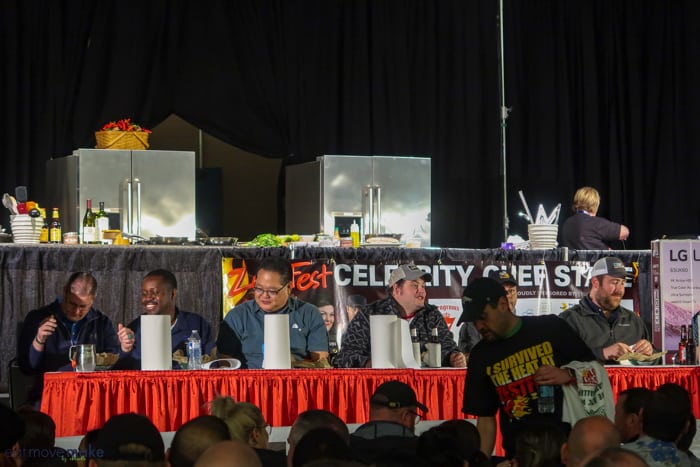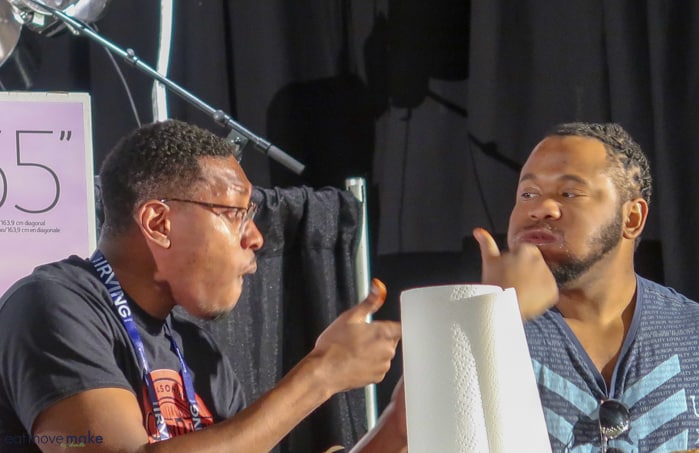 I was totally rooting for this guy (below) who won his qualifying round with ease.
But there was another guy who didn't flinch from the fire and was even faster — Brandon Clark (aka Da Garbage Disposal), a professional competitive eater.
He plowed through those wings and took home the grand prize in 27 seconds.
Need more heat? There's also a PuckerButt Pepper Eating Challenge and an even hotter Melt Your Face Challenge.
Celebrity Cooking Demonstrations
I could have watched cooking demos all day long but then I wouldn't have been able to taste as much. Priorities.
But I did catch Shaun O'Neale, MasterChef Season 7 winner and author of the My Modern American Table cookbook. He prepared Nashville hot chicken while telling stories and answering questions about his MasterChef experience.
Fun fact about MasterChef: When the pantry produce is starting to lose its freshness, the crew can "grocery shop" and take it home so it won't go to waste.
Eddie Deen's Pig Roast at ZestFest
Limited tickets are available for a dinner of whole roasted pig, BBQ ribs, brisket and a variety of side dishes. Tickets also include a beer or soft drink. It's a very popular event and usually sells out.
The food was incredible!
ZestFest takes place over the weekend so each day offers varied entertainment. If you love all things tangy, this is the festival for you!
Get your tickets for the next ZestFest in Irving, TX!
Need a hotel in Irving, Texas near the convention center? I stayed at The Texican Court directly across the street from the festival and loved it.
If you're into outdoor sculptures or have time to see a live production, check out the Irving Arts Center while in town and connect with the Irving Convention and Visitors Bureau for more info on the area.
Related Posts