Chasing Finger Lakes waterfalls is an absolute must and if you're visiting Steuben County, there are two state parks with stunning waterfalls not far from each other. Pursuing them makes a great day trip from Corning or Hammondsport.
The lesser-known rustic and wild side of the Finger Lakes begs to be explored, so get off the beaten path and check it out!
We also love Watkins Glen which is about an hour away.
Letchworth State Park
Open daily, year-round. $10 entrance fee between 9 am-5 pm. 1 Letchwork State Park, Castile, NY Website
There are three major waterfalls in Letchworth State Park, the "Grand Canyon of the East". The Genesee River flows through this scenic gorge canyon with Upper Falls, Middle Falls, and Lower Falls cascading over towering cliffs.
You can make a full day of it by hiking the 14-mile out-and-back Gorge Trail (Trail #1). The moderately challenging trail passes by the three main waterfalls and Inspiration Point. There are also some nice picnic spots along the way.
Or you can drive to the separate waterfall parking areas for a much shorter hike. Since I wanted to visit two state parks in one day, I parked near each of the natural wonders I wanted to see.
Upper Falls
My first stop was at Upper Falls, a thundering 70-foot horseshoe cascade with a scenic railroad bridge spanning the gorge above it. If you're lucky, you may catch a train chugging by.
Genesee Arch Bridge Trailhead Parking Lot: Short walk to the top of Upper Falls and the railroad bridge. For the expansive view of Upper Falls, you'll need to descend the stairs (and climb them on the way back).
Upper Falls/Middle Falls Main Parking Lot: Short walk to Upper Falls overlook, short hike to Middle Falls. If you'd like to view Upper Falls from the top and get a closer look at the bridge, you can hike up the trail, climb the stairs, and descend on your return to the parking lot.
Middle Falls
If you're parked in the Upper and Middle Falls parking lot, to see Middle Falls, follow the footpath to the left. Your first view will be from the top as it spills over the cliffs.
A panoramic view of the 107-foot-tall cascade opens up as you continue along the trail. It's the tallest of the three main waterfalls and, arguably, the most impressive of all the Finger Lakes waterfalls.
Lower Falls
To reach Lower Falls, drive to the Lower Falls parking area and look for the trail sign. Skip the "easy view" walk; it's not worth your time. I recommend heading directly for the steps on the left.
Once you've descended the 100+ steps, you can head toward the waterfall's base. Keep in mind you'll need to return up the stairs on your return.
At 70 feet, Lower Falls isn't the highest, but it sure is beautiful.
Before leaving the park, be sure to stop at Inspiration Point. From this location, you can see both Upper and Middle Falls. It's truly a gorgeous vista of these lovely Finger Lakes waterfalls.
Have Lunch at Glen Iris Inn
The Glen Iris Inn, the former estate of William P. Letchworth, overlooks Middle Falls and is a fabulous spot to stop for a bite while visiting Letchworth State Park. (Open daily for breakfast, lunch, and dinner through late October.)
Once you've taken in the view of Middle Falls from the overlook (don't miss it), you can relax and enjoy a delicious meal at Caroline's.
The woodwork inside the inn is exquisite!
I ordered the pizza with spinach, banana peppers, mozzarella, and asiago cheese and my friend ordered a Monte Cristo sandwich. We both loved them!
Stony Brook State Park
Open daily, year-round. $9 vehicle entrance fee. 10820 Route 36 South Dansville, NY Website
Visitors to Stony Brook State Park can hike the rim, gorge, or nature trails, but if Finger Lakes waterfalls are top of mind, I recommend hiking the Gorge Trail. This scenic trail is inside the rugged canyon with a series of waterfalls ranging from gentle trickles to giant cascades.
The trail starts out fairly wide and flat and you'll be walking on the rocks along the creek bed, not gravel or dirt paths. At times you'll also be climbing steps.
I happened to visit Stony Brook State Park on a rainy afternoon so there were just a few other visitors. It was very peaceful, but the rocks were extra slippery. Even when not raining, the rocks are always wet, so wear sturdy shoes with good treads.
(Side note: My hiking boots were comfortable straight out of the box and never needed breaking in. I LOVE them!)
The three main waterfalls are smaller than those in Letchworth State Park, but the serene and rugged setting makes them especially enchanting.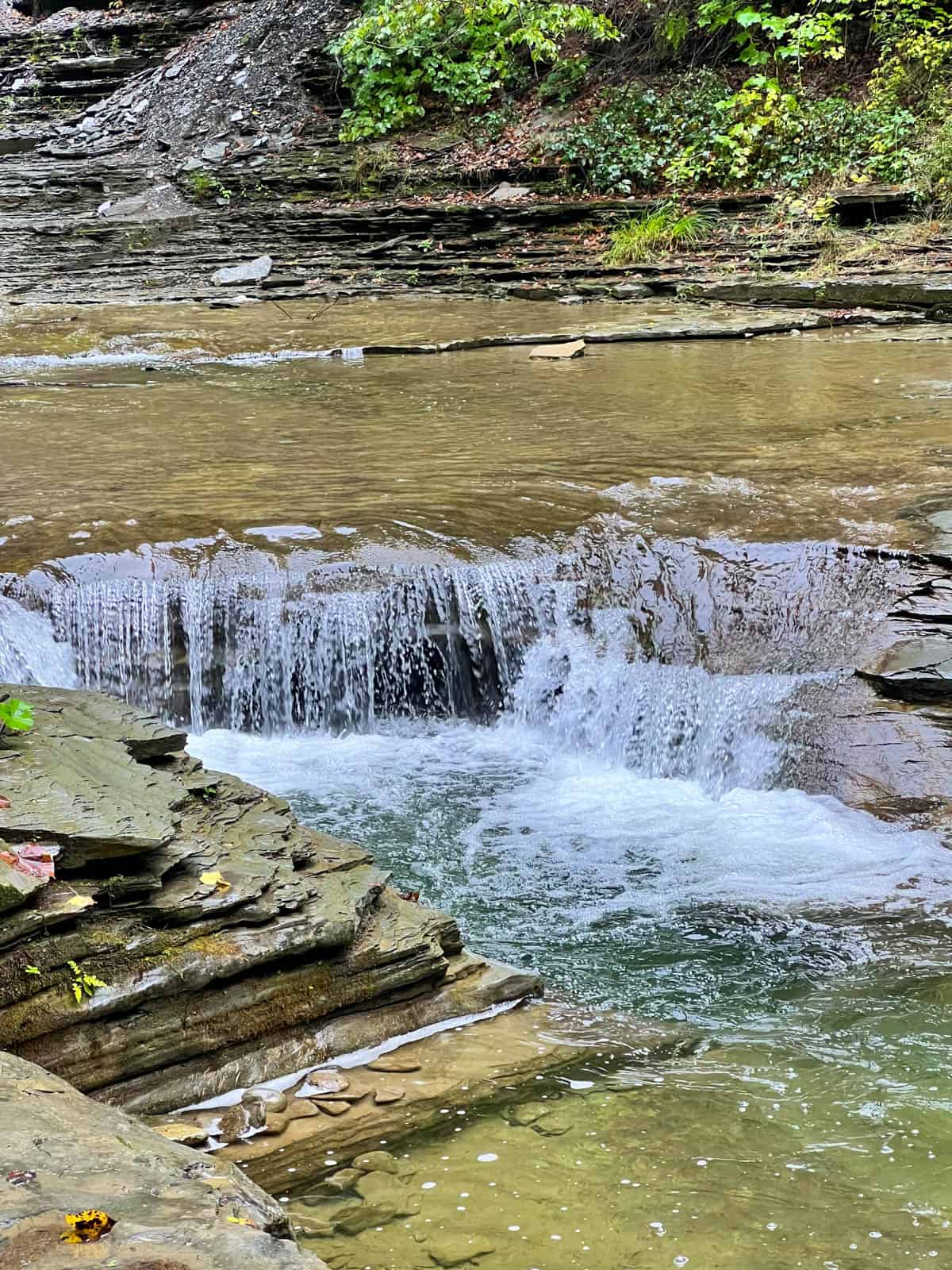 There are also some very picturesque stone bridges spanning the creek along the way.
If you're feeling ambitious and energetic and don't mind climbing hundreds of steps, you can hike back to the parking area via the West Rim Trail.
Honestly, I wish I had retraced my steps and hiked back through the gorge again, but if you want a good staircase workout, you'll find it on the West Rim.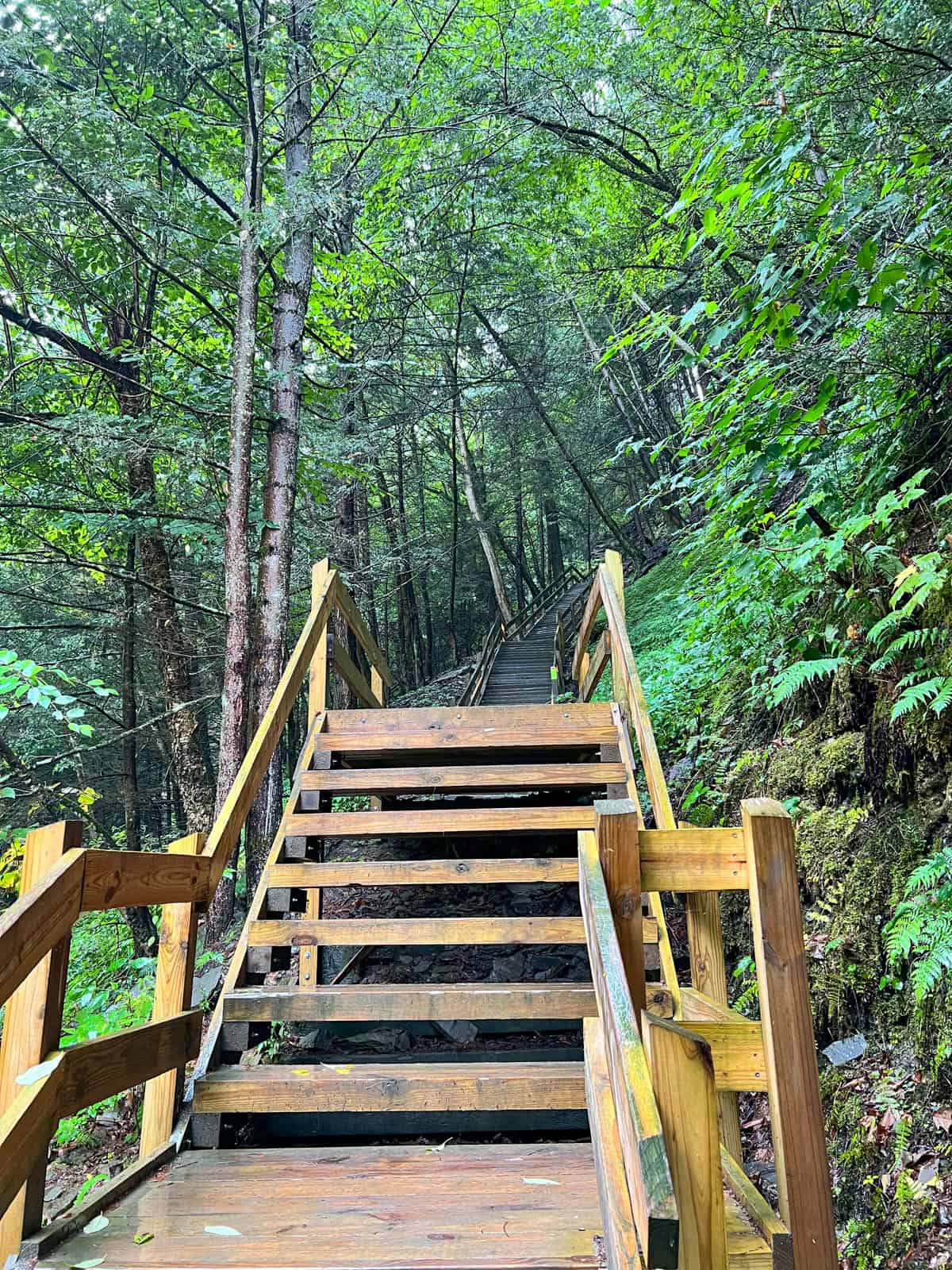 FitzPatrick Farm Market and Deli
Open Mon-Sat 10 am – 6 pm 8637 New York Highway 36, Arkport, New York Facebook
This family-owned roadside farm market is perfect for a snack after your hike through Stony Brook State Park. Along with lots of fresh produce, you'll find gourmet goodies, bakery treats, and bulk spices for sale—I bought maple cinnamon syrup! Or pick up a sandwich at The Spot!
For more ways to get rustic and wild when visiting Steuben County and the Finger Lakes region, check out fingerlakesrusticwild.com. and corningfingerlakes.com