Fall was the perfect time to visit Corning New York. While every day was warm and sunny during our trip, there was a mercifully cool breeze that made strolling around town comfortable. And all this in addition to the changing colors of the leaves? Forget about it. Just lovely.
If you're visiting the Finger Lakes or even just passing through, make sure you spend some time in Corning. With a charming, artsy downtown with plenty of locally owned shops, restaurants, and galleries, proximity to the eleven Finger Lakes and surrounding vineyard-studded hillsides, and two incredible museums, Corning truly has something wonderful for everyone.
On our first morning in the Finger Lakes, we headed north of Corning to Keuka Lake to do some paddleboarding and kayaking.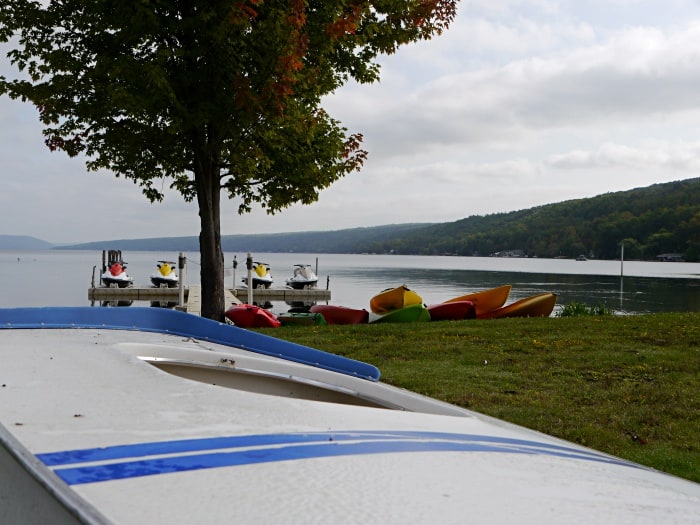 Since I'd been kayaking a few times before, I decided to challenge myself by giving paddleboarding a shot this time. I'm glad I did! It was a little scary standing on top of a tiny floating board way out in the middle of a lake, but it was fun to try something new (and it was a good delt workout, too).
I also took the opportunity to get a little yoga in. I kinda love showing off my newfound headstand skills!
After returning to shore, our lakeside adventures weren't over yet — we drove around to another side of the lake for a seaplane ride at Finger Lakes Seaplanes in nearby Hammondsport, NY.
This plane seats a pilot and three passengers, and it takes off and lands right from the water! We boarded dockside and headed up into the friendly skies for a gorgeous view of the Finger Lakes area.
Upon returning to earth, it was time for a little refresher — a midday wine tasting at the Dr. Konstantin Frank Vinifera Wine Cellars, also located in Hammondsport.
The winery's namesake, Dr. Frank, was a European immigrant, and the first person to successfully grow European grapes in the cold upstate New York climate. No one believed he could do it, but Frank had a PhD in viticulture, years of experience growing the same grapes in Ukraine, and of course, plenty of determination. In 1962, just four years after buying his first plot of land on Keuka Lake, his first vintage was released.
You know how "they" say you should swirl your wine glass to aerate the wine before you taste it? Something about opening up the wine. Well at Dr. Konstantin Frank's we learned another aeration technique…
Apparently you can lay your wine glass on its side and roll it back and forth to accomplish the same thing you would by swirling it…and make yourself look really cool and knowledgeable in the process. Would def recommend as a party trick.
If the name Corning has been ringing a bell, it's probably because you're thinking of Corning Incorporated, the company which manufactures Gorilla Glass and many other specialized glass products, and which founded the Corning Museum of Glass in 1951.
Our visit to the Corning Museum of Glass was easily my favorite stop of this trip, and I could have spent several more hours exploring. Definitely set aside about half a day when you visit. The museum was founded to tell the story of glass, spanning from its earliest uses to today's modern art.
To showcase the beauty of glass in all its forms, the museum has soaring ceilings and huge windows to bring in as much light as possible.
Live glassmaking demos happen daily, and we were fortunate enough to watch one. At the end of the show, the glassmaker even raffled off one of his previously created pieces to a lucky audience member. (Sadly, not me.)
See that glass pumpkin in the foreground above? At the end of our museum visit, we each had the opportunity to make our own (with the help of a trained glassmaker)! Here's Liz blowing hers:
When you visit the Corning Museum of Glass, make sure to save some time to browse the stunning gift shop before you leave. It catches your eye right as you enter the museum, but save the pleasure until the end — maybe you'll find a new favorite artist during your visit and can support them by making a purchase from their collection in the gift shop.
See what I meant about Corning being the destination with something for everyone? Outdoor sports, beautiful vistas, wine, art — asking for more would be a little selfish, no? They certainly don't call it America's Most Fun Small Town for nothing.
Make sure Corning New York is on your agenda if you're visiting the Finger Lakes region, and remember to check out Corning on the web for further trip planning information!
Related Posts