There are so many Door County restaurants worth trying that I could fill an entire article with those alone. But if you really want to taste the best of Door County, you need to visit more than just restaurants.
So, let's take a culinary road trip through Door County and stop at some of the iconic foodie favorites, hot new arrivals, and hidden gems you simply can't miss. Ready to sip and munch? Let's go!
Sturgeon Bay
Renard's Artisan Cheese
2189 County Road DK
Website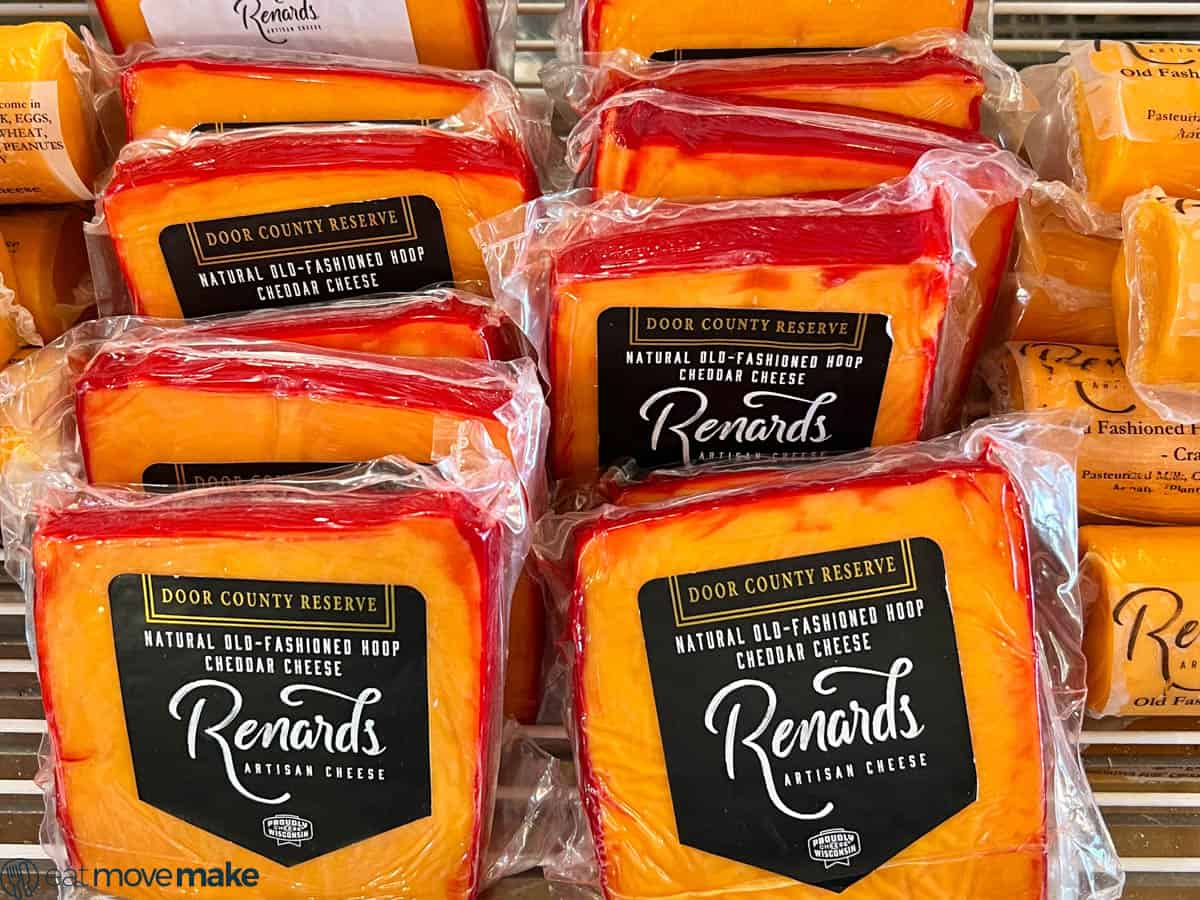 Renard's Cheese, Door County's oldest cheese store, is an absolute must, and you may want to make it your first stop as you drive onto the peninsula—eat at Melt Bistro—and your last stop before leaving—grab some cheese curds to go!
So about that bistro…
Perhaps the triple cheese mac n' cheese with Cheddar, Parmesan and Gouda is what you're craving.
If a sandwich is more your style, the gourmet sammies are scrumptious. I devoured the honey truffle triple cheese grilled cheese melt!
And you HAVE to order some of the fresh cheese curds; they're so fresh that they squeak as you bite into them.
Of course, the fried cheese curds are ridiculously delicious too. I think you need both!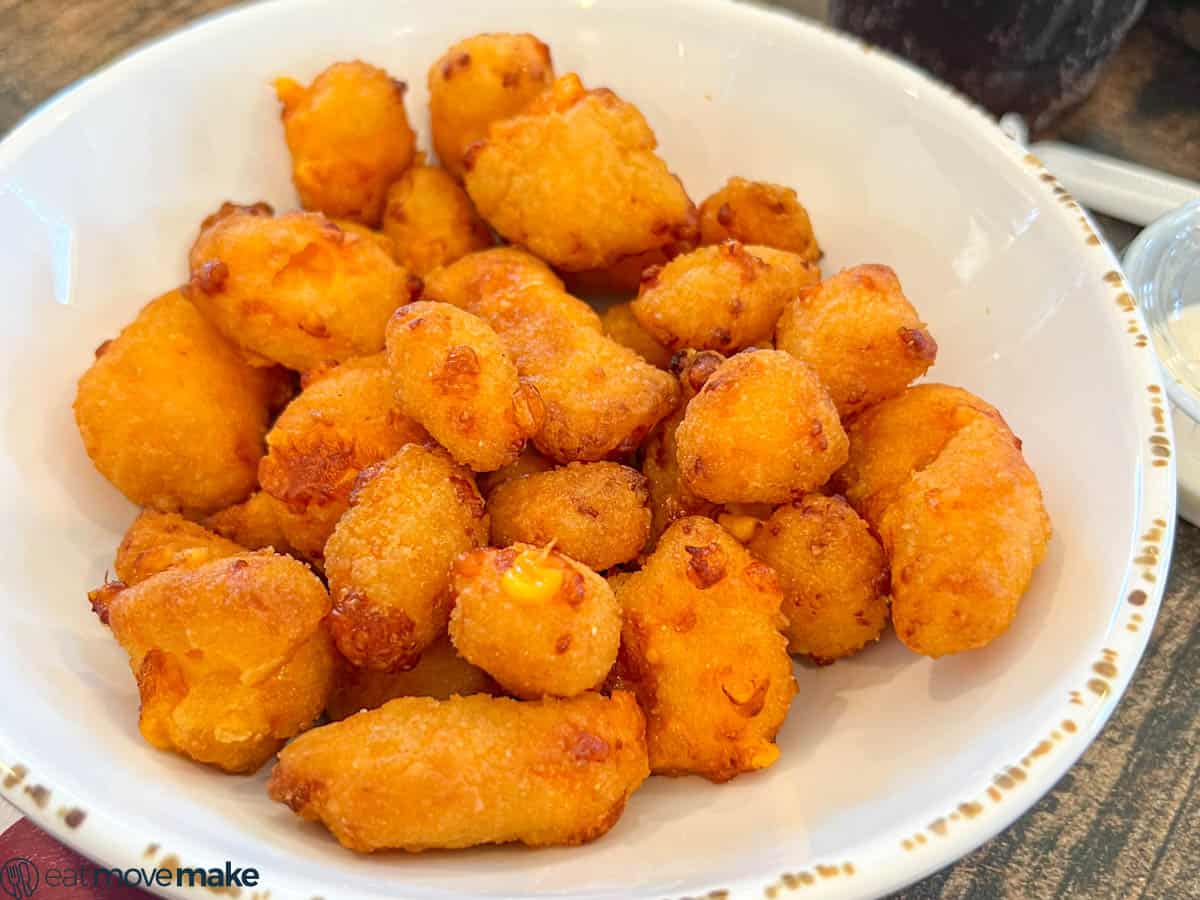 If you have any room left after lunch, try some of the cheese samples—Cherry Cheddar!— in the shop or get a scoop of ice cream. And save time for shopping so you can bring your cheesy favorites home with you. There's nothing like handcrafted Wisconsin Cheese!
Plan ahead: Visiting in 2023 and beyond? You can take a cheese factory tour at the Algoma location.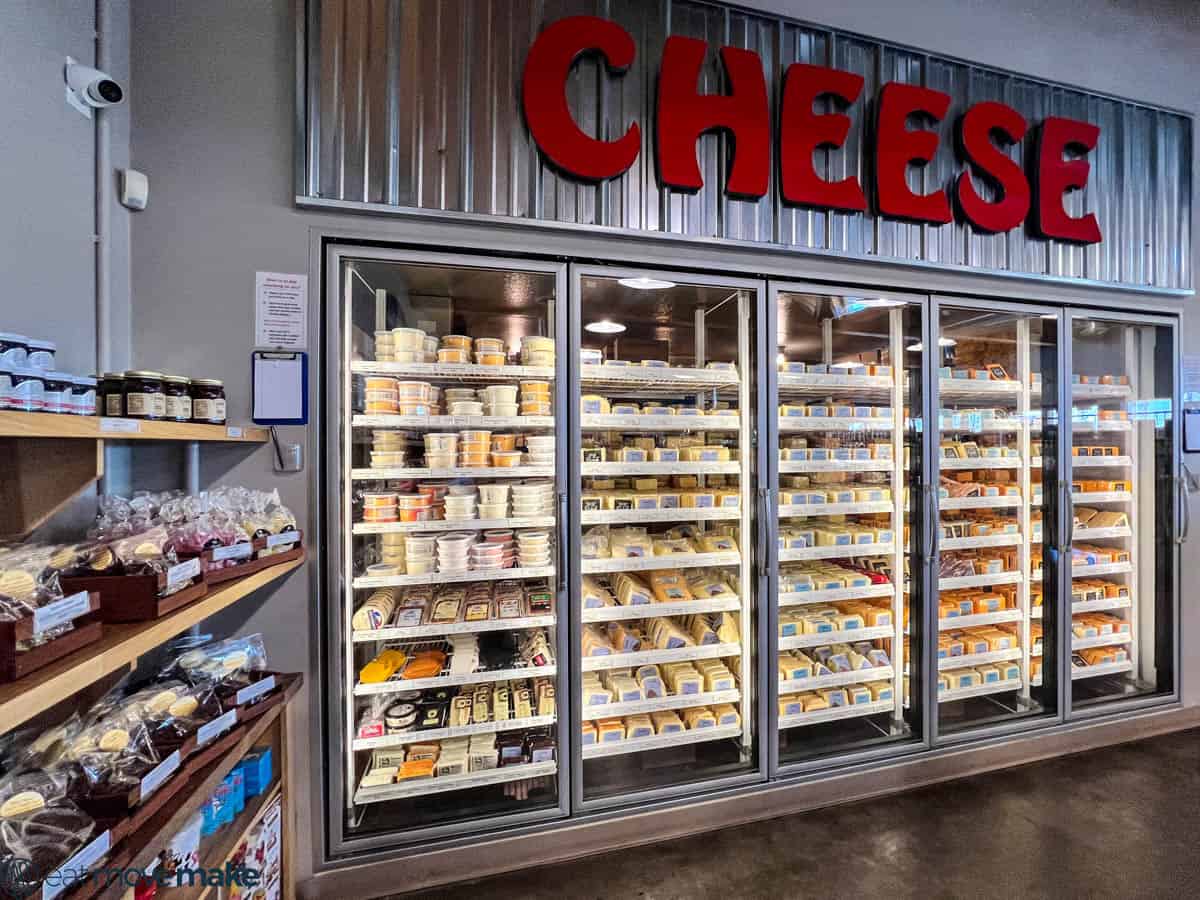 Door County Candy
12 North 3rd Avenue
Facebook
Craving your favorite childhood candies? You'll likely find them in this old-fashioned candy store in downtown Sturgeon Bay. The selection of candy is incredible!
If you love homemade fudge—the sea salt caramel is sinfully good. Love samples? Try a sample before choosing which kind you need to bring home.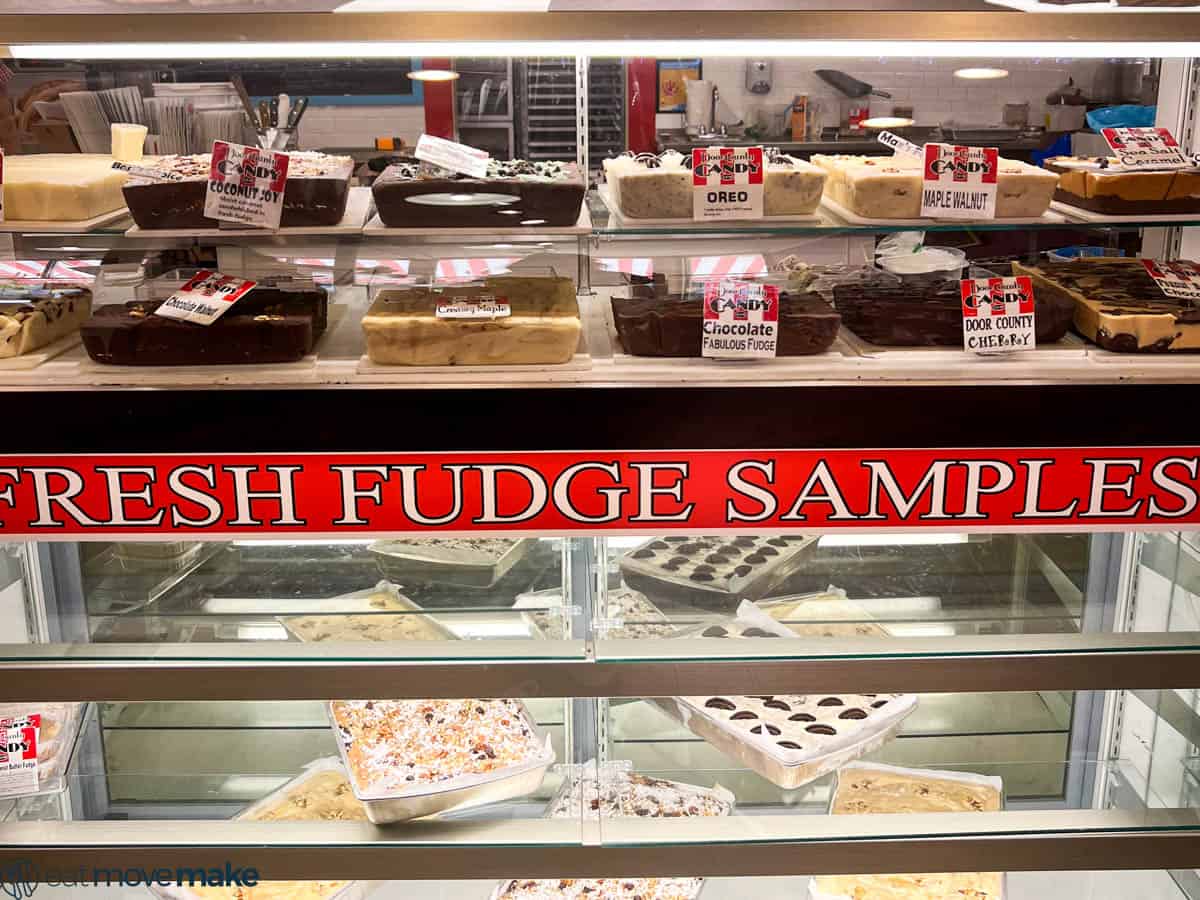 The store also has delectable gourmet popcorn, chocolates, ice cream, and oodles of salt water taffy in every flavor imaginable. (If you like spicy, try the chili mango taffy.)
Door 44 Winery
5464 County Road P
Website
If you're looking for a unique and memorable wine country experience, you'll find it at Door 44. Come for Music by the Vines, Sunday FunDay, a Vineyard and Winery Tour, or stop in for a tasting.
Door 44 and its sister winery, Parallel 44, sit at 44° North Latitude—the same latitude as the famous Bordeaux and Tuscany wine regions.
Unlike its European counterparts, Wisconsin's winter sub-zero temperatures call for "cool climate grapes," and the winemakers at Door 44 and Parallel 44 are pioneers with these varietals.
WHAT TO TRY: New to white wine? Try the refreshing fruit-forward La Crescent. New to red wine? Try the fruit-forward Nouveau Rouge, a customer favorite. My personal favorite is Petite Pearl, a dry red.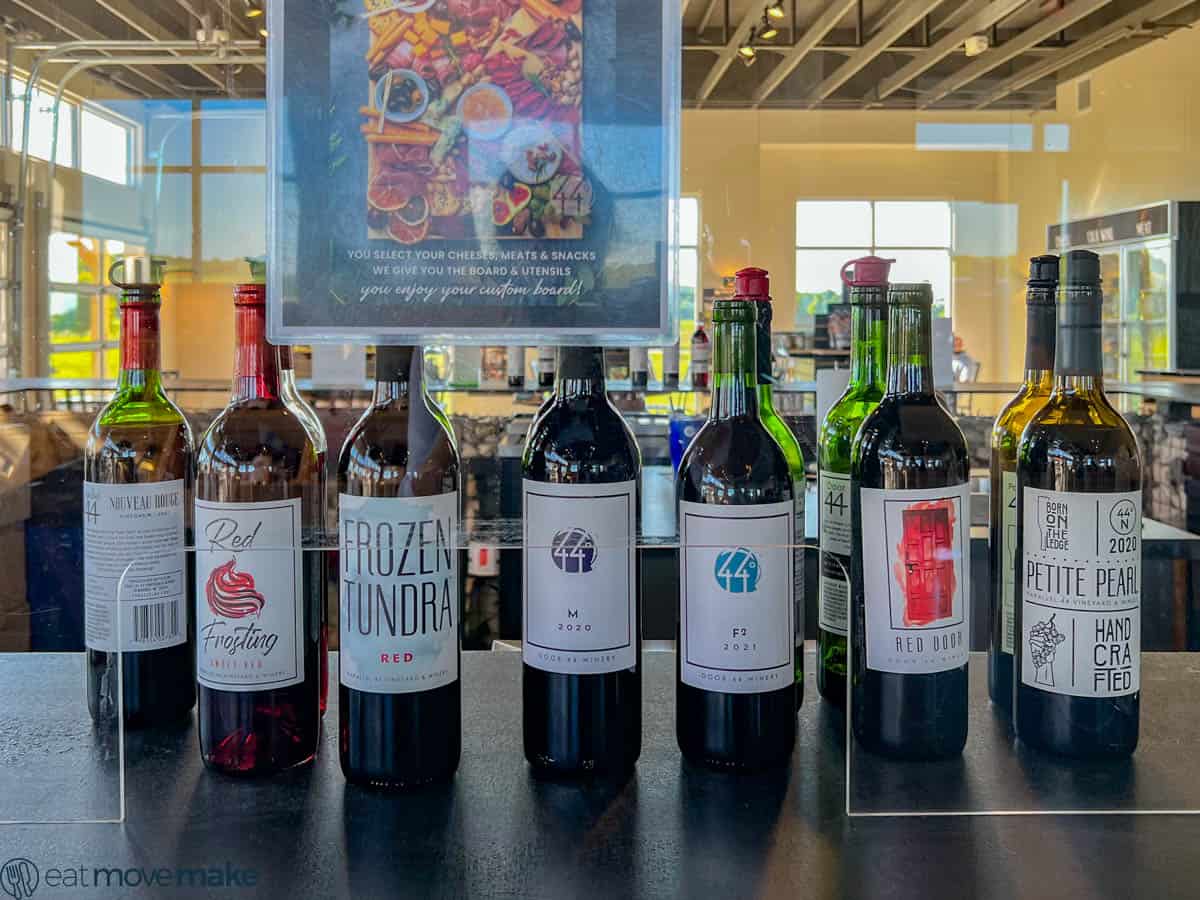 Egg Harbor
Mezzanine Rooftop Restaurant
7821 Horseshoe Bay Road, Egg Harbor
Website
The fresh, creative menu at Mezzanine Rooftop makes this spot extra appealing. Mezzanine is one of the newest restaurants in Door County, and its locally sourced menu has roots in Door County cuisine but with an elevated twist.
For starters, the Wisconsin cheese and charcuterie board, smoked whitefish dip, and fried cheese curds are a solid bet. The lavender-cherry chutney served with the cheese curds is fantastic!
I chose the pesto linguine with sunflower toast for my entree and loved it—so creamy with a bright, herbaceous flavor.
And for dessert, we shared a piece of cherry pie (of course) and some lavender creme brulee. Delicious!
One lovely bonus to eating at Mezzanine Rooftop Restaurant is, well, the rooftop. The lake view is beautiful at any time, and if you come for dinner, you can enjoy the sunset.
One Barrel Brewing
4633 Market St.
Website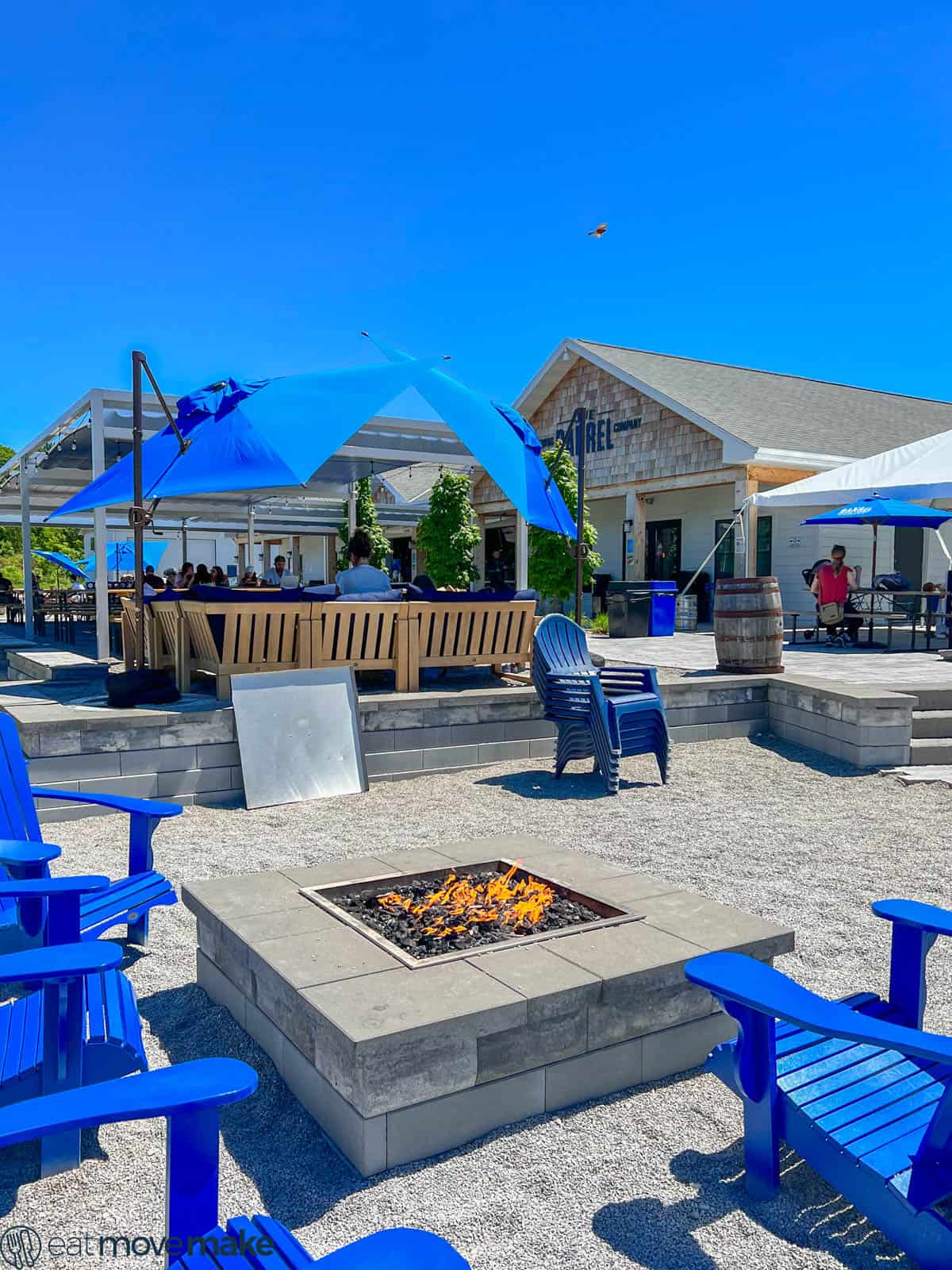 If you're looking for the perfect easy, approachable beer, you'll find it at One Barrel Brewing, and you can enjoy it in the brand-new indoor taproom or sit outside in the multi-tiered beer garden.
Either way, this is a place you'll want to stay and relax for a while.
Up North is a light, day-drinking beer, and if you're sticking with a cherry theme, try the DC Trolley Red, which is the light beer brewed with a touch of Door County cherry juice for a subtle hint of cherry flavor.
But the hard cider options are well worth a sip too. The Rosé Cider is a breezy summer cider made with Wisconsin apples and rosé grapes.
And if you like a dark beer, try the Breakfast Beer with its coffee-forward profile.
Pizza Bros
(Located inside One Barrel Brewing)
You'll definitely want to order a pizza to go along with your brews, because, DANG, Pizza Bros. pizza is good! The pies are cooked in a wood-fired pizza oven resulting in the perfect amount of char on a light and chewy crust. They're finished with house-made sauces, cheese, and a mouthwatering selection of classic and creative toppings.
Treat yourself!
Fish Creek
The Cherry Hut
8813 WI-42
Open seasonally May-October
Website
Originally called Ray's Cherry Hut—a sign and historical photos are inside—this roadside destination has been a favorite for Door County visitors since 1950.
These days, the store is much more than a roadside market, though; it also has a kitchen, wine bar, and taproom. Kids and pets will both enjoy the outdoor games and green space.
The kitchen serves family-friendly fare like deli-style sandwiches, craft hotdogs, street tacos, and nachos.
At the wine bar, you can try one of the private label wines ranging from cherry to lemon, both of which are very popular. There are also four gluten-free draft ciders you can taste.
If they have the hopped guava hard cider when you visit, give it a try—it's very good!
Try one of the single-barrel craft brews in the open-air taproom and enjoy a seat inside or out in the beer garden. All six of the flagship beers are also sold in cans to go, so take your favorite brews home with you.
Love beer memorabilia? There's an impressive collection of old beer cans on one wall of the taproom.
Sara's Artisan Gelato
4192 Main St.
Website
The gourmet gelato at this scoop shop is all made from scratch using traditional Italian techniques and local Wisconsin milk and cream. The gelato is also made with real fruit, pure nut pastes, and top-quality French chocolate.
Sara's serves traditional gelato flavors like pistachio and espresso and experiments with more ice cream-inspired flavors like cookie dough, toasted coconut, unicorn cake batter, and lavender vanilla bean.
Flavors are rotated to keep things interesting, but if the Amerena Cherry is available when you visit, at least sample it. It's phenomenal!
DC Chocolate Design
9341 Spring Road, Unit A6
Website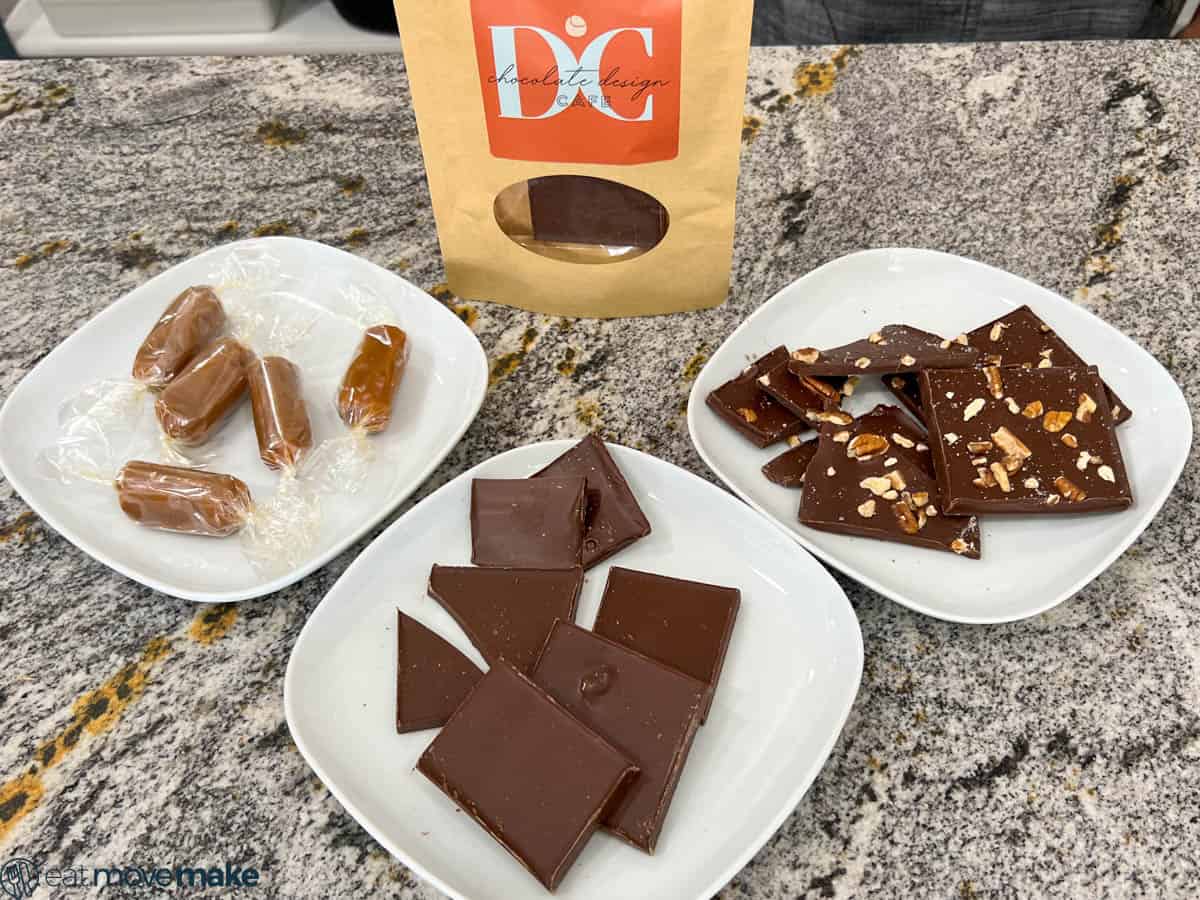 This magical "chocolate factory" specializes in handmade truffles, bars, and molded chocolates. Everything is made in small batches using high-quality dark and milk chocolate and Door County ingredients.
The owner showed us how she paints and fills the truffle molds. Their showstopping designs entice you at first glance when they pop out of the mold.
They also have an online shop, so if you're worried about your chocolate melting before you get home, you can order more later.
Don't leave without trying at least one of their handmade truffles. The bourbon ganache is out of this world!
They also serve coffee drinks, so grab a cup of joe and some chocolates and relax in their cozy seating area.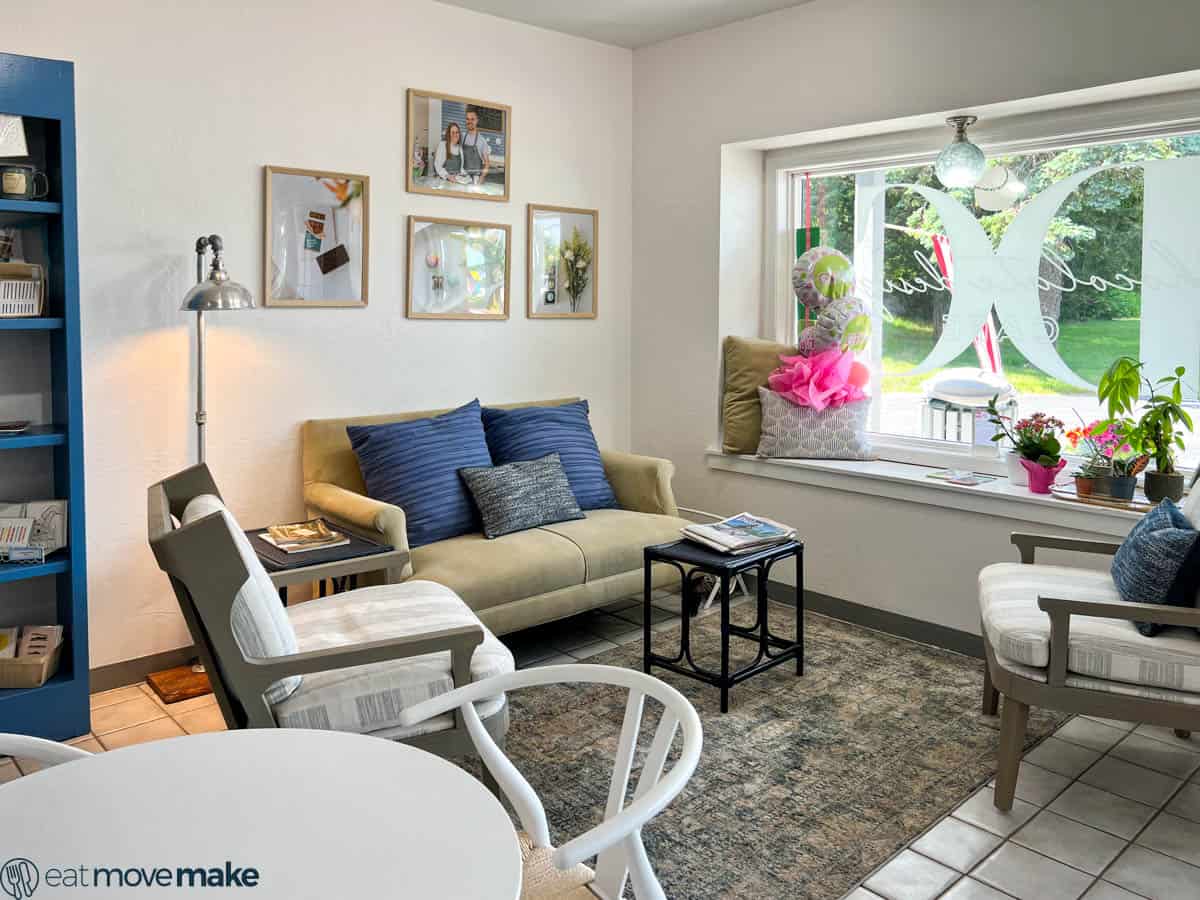 Ephraim
Wilson's Restaurant & Ice Cream Parlor
9990 Water St. S.
Website
This classic Door County restaurant with its old-fashioned soda fountain has been a favorite since 1906 when it opened as an ice cream and candy shop.
Wilson's serves typical diner fare of burgers and sandwiches in a colorful, vibrant atmosphere with mini jukeboxes on the tables.
Favorites include the fried whitefish sandwich, BLT, nachos supreme, and pulled pork which is cooked in Wilson's home-brewed root beer; speaking of which, you'll want to order a glassful or a float to wash your meal down.
Don't forget a side of fried cheese curds!
One of the biggest reasons to visit Wilson's is dessert. Make sure to save room for ice cream after your meal. A single scoop fills up an entire parfait glass!
Sister Bay
Al Johnson's Swedish Restaurant
10698 N. Bayshore Drive
Website
This Swedish family-owned restaurant is a Door County landmark with goats grazing on its sod-covered rooftops (weather permitting, late May – mid-October). Check out the goat cam to see what they're up to.
But the fun doesn't stop outside. Head indoors to eat (but keep in mind wait times can be very long, so plan ahead.)
When your server arrives dressed in a dirndl, apron, white stockings, and clogs, you can't help but be transported to Scandinavia. The charming Nordic vibe is echoed through the restaurant's wood carvings and rosemaling as well.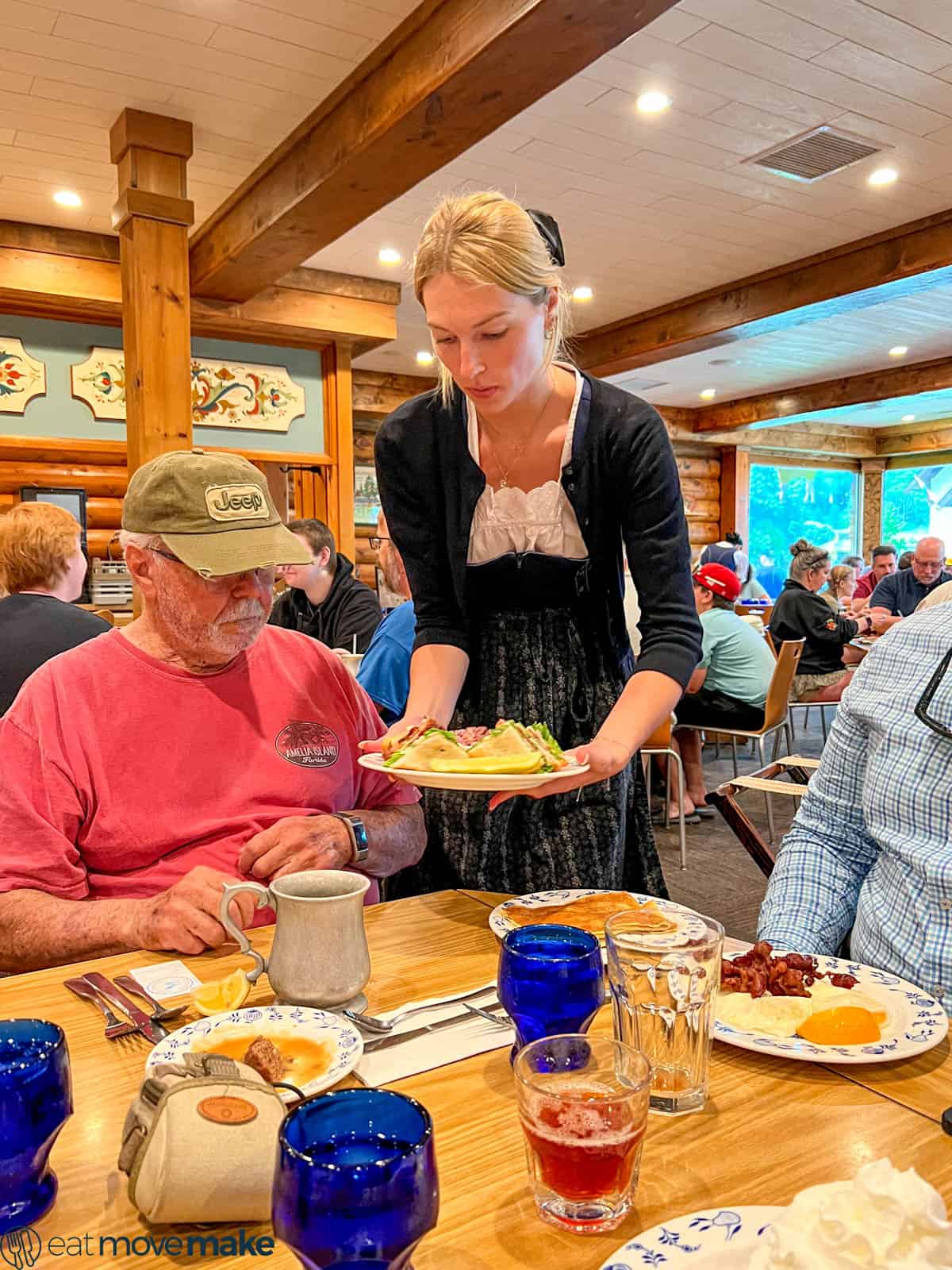 The Swedish pancakes are one of the most popular menu items and can be served with lingonberries (my choice), strawberries, or cherries.
But make sure you try the Swedish meatballs too. Spoon some lingonberries on them for an extra special treat.
Before or after you eat, shop in the Butik for Scandinavian-inspired souvenirs, clothing, food, and gifts.
If you're not quite ready to leave Al Johnson's after your meal, relax in the Stabbur Beer Garden outside, play some lawn games or stop in the new retail store south of the restaurant for more shopping.
Ellison Bay
Kick Ash Coffee and Bakery
12001 Mink River Road.
Website

What was once a church is now home to this fabulous bakery and coffee shop where they make their own gluten-free small-batch artisan granola and roasted coffee.
The business name is a play on their last name of Ash, and many of their drink names play off the church theme: The Trinity, The Pulp-it, and The Communion are just a few. Gotta love that sense of humor!
We took a little tour of the basement where the coffee is roasted, and the bakery items are all made.
As for the granola, the maple pecan granola started it all, but the cherry almond is a top seller (for obvious reasons). The dark chocolate cherry is a newer fave as well.
Savory Spoon Cooking School
12042 Highway 42
Website
Taking a cooking class while on vacation is such a fun idea! Check the class schedule and sign up for a few hours of edible entertainment.
The cooking school is located in the restored 1879 village schoolhouse, and classes are taught by Chef Janice Thomas from mid-June through the end of October.
Our menu included Rhubarb Cherry Golden Raisin Chutney, Parmesan Cream Crackers, Sweet Pea Guacamole with Crostini, Focaccia Bread, and a Rhubarb Honey Refresher Drink.
Chef Thomas made the focaccia bread and beverage herself. Then she outlined the details of the other recipes so we could choose which one we'd like to make.
We divided into three workstations, each making something different, with all the spoils to be shared in a big feast at the end of class.
Throughout the experience, you'll learn helpful cooking tips and ideas to help you in the kitchen. It was a lot of fun and eating everything in the end was the best reward.
Island Orchard Cider
12040 Garrett Bay Road
Website
Island Orchard Cider specializes in French-style ciders made using apples and pears grown on their Washington Island family orchards.
In my opinion, the best part about their ciders is that they're on the dry side. They're light, crisp, and refreshing without that sickly sweetness so often found in hard cider. If you thought you didn't like cider, try a few; you may be very surprised.
Grandma's Swedish Bakery at Rowleys Bay Resort
1041 County Road ZZ
Website
When you walk into Grandma's Swedish Bakery with all the warm aromas emanating from the baked treats, your appetite is going to go through the roof. Good thing because you'll definitely want to try more than one of the pastries.
Grandma's is famous for its cinnamon rolls and pecan rolls, but there's plenty more to tempt you, including fruit-filled cream cheese turnovers and made-from-scratch homemade bagels.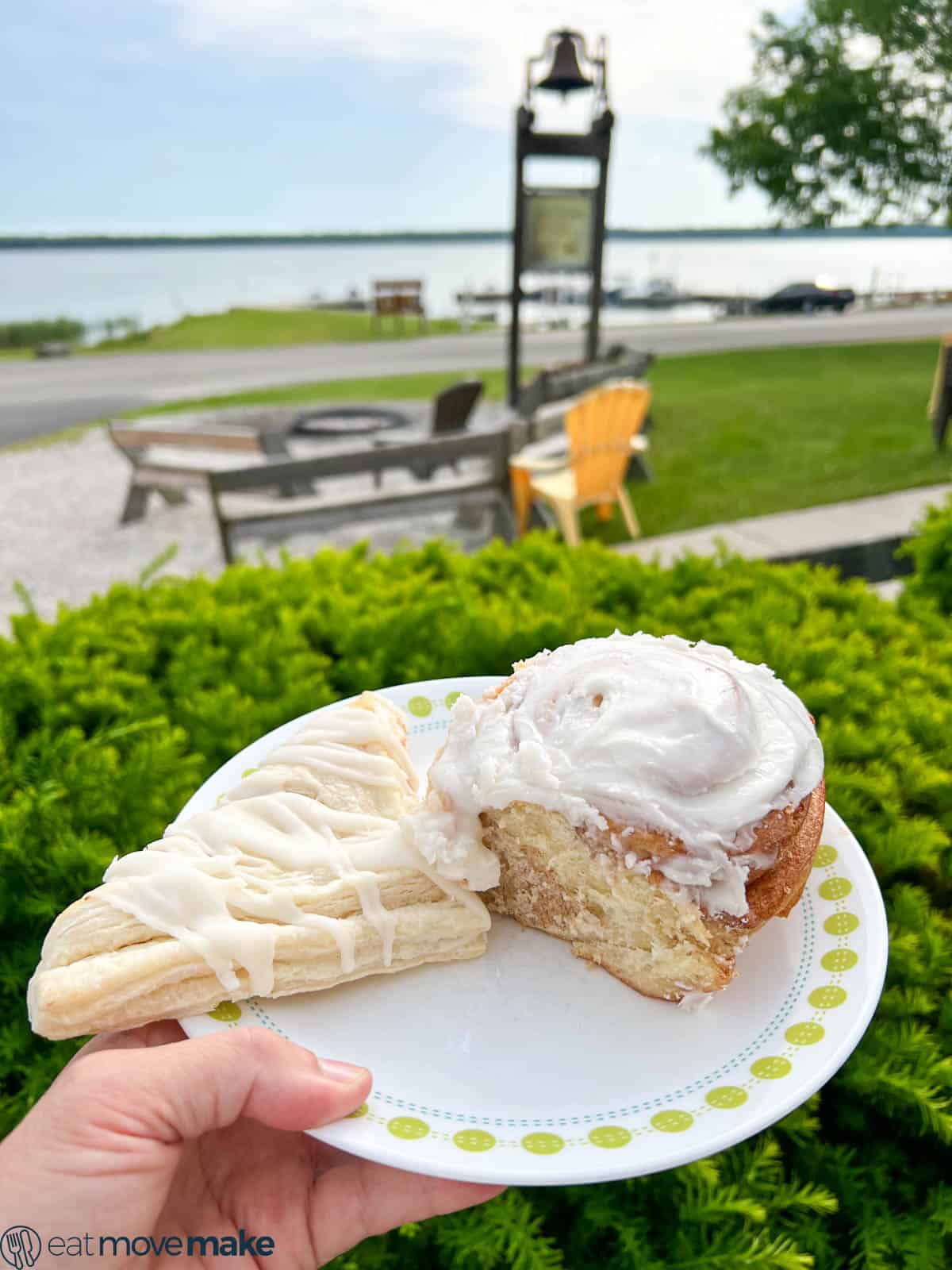 The secret to the deliciousness? Authentic Swedish recipes passed down through generations.
After enjoying your bakery treats, take a peek around the resort. It was established in 1948, and the original commissioned paintings of Bugs Bunny (before the character was trademarked) are still on display.
Bailey's Harbor
Harbor Fish Market and Grille
8080 Highway 57
Website
Two words: Lobster Boil. This three-course meal is wildly popular at Harbor Fish Market and Grille—more than 60 lobsters are served each night during the summer season!
You'll see the lobster pot boiling over the wood fire outside, and lobsters come and go all night long.
The lobster boil dinner starts with a cup of Maine lobster bisque. The entree arrives with a two-pound lobster, red potatoes, corn on the cob, New Zealand mussels, and steamed clams. But save room for dessert; the homemade Door County cherry bread pudding is a must-eat.
Although the lobster boil is tempting, the regular menu options are too. Good luck deciding!
While you wait for your meals to arrive (or after you're done), be sure to stroll down to the waterfront behind the restaurant and enjoy the sunset.
All of these Door County restaurants and foodie stops will keep you busy for days. Pick your favorites from the list or try them all!
For more info on the Door County, Wisconsin area, log on to the official Destination Door County website at https://www.doorcounty.com/.