The perfect way to get a feel for Door County is to take one of the "Old Time" Door County Trolley Tours. It's an ideal starting point for your adventures on the peninsula.
Door County Trolley Tours currently has 16 trolley tours, but if you can't decide which one to take, begin with the 90-minute Narrated Scenic Tour.
The scenery is magnificent! Not only does it take you to cliffside vistas overlooking the islands, but you'll also learn legends and lore, a little history, and discover some of the best places to wine and dine in the county.
Scenic Trolley Tour Highlights – Fun Facts and Pretty Views
About Those Cherries
Approximately 13 million pounds of cherries are grown annually in Door County: 95% are Montmorency tart cherries; 5% sweet cherries.
Wisconsin is the 4th largest grower of cherries in the United States. Michigan is first with 60 million a year, Washington State second, and Utah third.
Peninsula State Park
We spent a good portion of the tour in Peninsula State Park (Wisconsin's most popular state park). One of the reasons for its popularity is the Sunset Bike Path, a 9.6-mile crushed limestone trail running through the boreal forest, cedar wetlands, and meadows out to the beach.
Our guide told us that the winding roads through Peninsula State Park were designed to encourage visitors to meander and take their time.
There are also miles of hiking and biking trails, snowshoe trails, cross-country ski trails, and rugged off-road mountain bike trails. In the winter, the upper roads are closed to cars but open to snowmobiles.
We hopped off our trolley at Sven's Bluff Overlook (one of the most photographed spots in Door County).
The sweeping view of Green Bay and its coastline is magnificent.
Our trolley tour also took us past the 65-foot Eagle Tower. Visitors may climb the stairs to the top or take the 800-foot ramp to the observation deck.
The view is scrumptious from up there. (This may be something you want to come back and explore later.)
More Fun Facts About Door County
The Niagara Escarpment is a massive limestone cliff ridge running from New York State (its name comes from the cliffs of Niagara Falls) through Ontario, Michigan, Wisconsin, and Illinois. It's the very foundation of Door County.
Fish Creek was the first big tourist destination in Door County, and early visitors arrived by steamboat.
When National Geographic published a photograph with a feature entitled "Wisconsin's Door Peninsula, A Kingdom So Delicious" in 1969, Door County exploded into a wildly popular USA travel destination.
Door County has 11 lighthouses, four of which can be toured.
Legend has it that Door County's name comes from the narrow and treacherous strait between the northern tip of the peninsula and Washington Island. The unpredictable waves and currents and underwater rocks caused many a shipwreck and death over the years. As a result, the passage was dubbed Porte Des Morts (Death's Door, in English), and the name, though shortened to just 'Door,' stuck.
Summer theater is alive and well in Door County, with two outdoor theaters showing live performances all season long.
Typically the second or third week of October is the prime leaf-peeping season, and in Door County, the vibrant colors last longer—up to two weeks.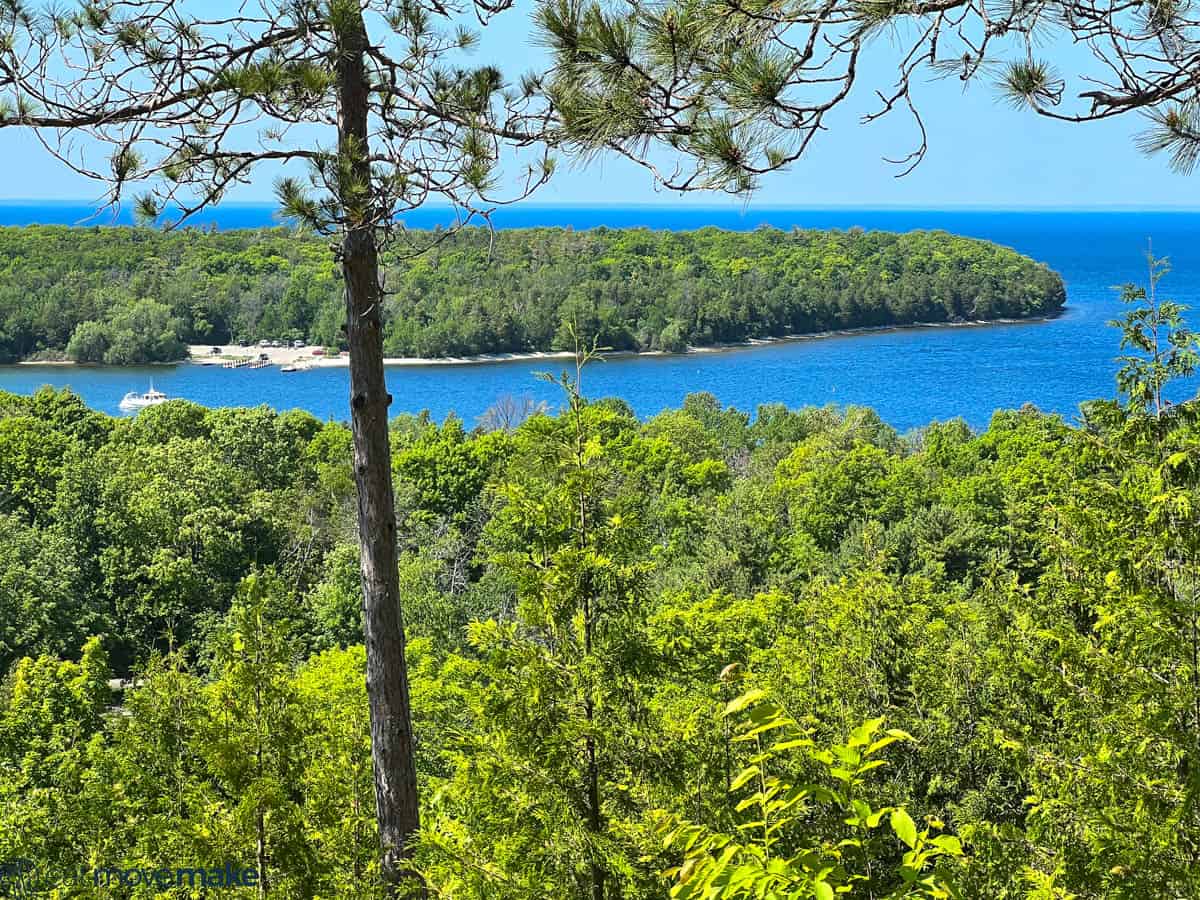 Our trolley ride took us through several charming villages, and our guide shared lots of fun facts and history about each one, as well as recommendations on where to eat.
We learned about seafood boils, supper clubs, farm markets, and more. Here's a tip for whitefish fans: At the Post Office restaurant, they'll ask you if you want your fish de-boned!
At the end of the tour, he mentioned the many other Door County Trolley Tours available: food and drink-themed, ghosts, true crime (the six most gruesome murders in the county), a lighthouse tour, holiday-themed, and a shortened family ride for those with young children.
Door County Trolley Tours
8030 Wisconsin 42, Egg Harbor
Website
Trolley Tour Options
Narrated Scenic Tour
Premier Wine Tour
Ghost Tour
Wine, Spirits & Brew Tour
Lighthouse Tour
Family Ride – a brief 30-minute ride for families with young children
Murder & Mayhem Tour
Uncorked Wine Tour
Cocktail Tour
Bloody Mary & Brunch Tour
Haunted Pub Crawl
Holiday Pub Crawl
Spring Blossom Tour
Winter Wine Tour & Sleigh Ride
(NEW) Shoreline and Charcuterie Dining Car Experience
(NEW) Murder on the Trolley Express