Beginning about mid-August through mid-November, apple picking in North Carolina is in its prime. This is because there are so many apple orchards in Hendersonville, NC, making it the ideal apple picking destination in the state. The city is also home to the annual Hendersonville Apple Festival in early September.
Since there's nothing better than a fresh-from-the-orchard apple, I do my apple picking NC mountains-style, and this year, I visited three different Hendersonville apple orchards. Each offered a distinctly unique farm experience with at least one do-not-miss reason to visit.
I've listed these three apple orchards in Hendersonville, NC, in the order I visited them, which also happens to go from simplest to most extravagant. Visit Hendersonville did the hard work creating my itinerary; I just showed up as a guest. Reach out to them for help; they're an excellent resource.
McConnell Farms
177 Old Dana Rd., Hendersonville
Website
McConnell Farms, a third-generation family farm, is a relaxing and quiet countryside escape. It's not a theme park farm; sometimes, that's precisely what adults need.
The farmstand has fruit, specialty veggies, honey, jelly, chow chow, salsa, sparkling cider, and two kinds of apple butter: regular and no sugar added. I brought the latter home, and I see why it's the top seller of the two—just DELICIOUS.
There's also a covered pavilion where you can sit and enjoy the view while you munch on your farmstand treats.
Yes, they sell apple cider donuts with cinnamon sugar (and make them for 11 different farms). They also make a fabulous blueberry donut dipped in lemon sugar! Sadly, they didn't make donuts the day I visited—they made ice cream—so I didn't get to try the donuts, but I did try the ice cream. More on that later.
By the way, if they have fresh figs, get them! McConnell Farms is the fig capital of fig farms; trust me. Nobody in the area knows more about figs than Danny McConnell, and he's growing nearly 70 varieties to find the tastiest and best figs for the climate and soil in western North Carolina.
His fresh figs sell so quickly that there's always a list of customers waiting! We were lucky there were some berry figs on the farmstand when we arrived, so we bought and ate them first thing. They have a mild strawberry flavor.
Tip: Figs only last a couple of days after harvesting, so the farmstand is where you should buy them to ensure they're at their best.
McConnell Farms also grows baby ginger (along with regular ginger). Baby ginger doesn't have to be peeled, is less fibrous, and has less "heat" than traditional ginger. It can be stored in the freezer too.
Also on the property is one of the biggest, if not the biggest, holly trees in North Carolina. (Just a little fun fact.)
#1 Reason to Visit McConnell Farms
The ice cream! The creamy and rich homemade ice cream served here is the absolute BEST. The strawberry ice cream has always been their top seller—I tried it, and it's delicious—but the other creative gourmet ice cream flavors will positively wow you.
Flavors rotate, but there are at least a dozen to choose from, and you can always order more than one kind at a time. We tried FOUR.
My favorite was the Lemon Diane, and my boyfriend loved the Brandy Maple Fig, but you can't go wrong with any of them. Scrumptious!
Sky Top Orchard
Sky Top Orchard is full-on agritourism and is typically what I think of as a family-friendly farm.
Visitors can shop in the market for already picked fruit or take a walk out to the orchard to pick their own. We took some frozen apple cider slushies to the orchard to keep us cool and refreshed.
The mountains behind the orchards make for a memorable experience (and great photos.)
We picked a peck of apples and ate a lot of them over the weekend in Hendersonville, but when we got home, I made apple cinnamon donut bites, apple butter oatmeal bars, baked apples, taffy apple salad, and mini butterscotch apple cakes. Believe it or not, I still have apples left for applesauce too!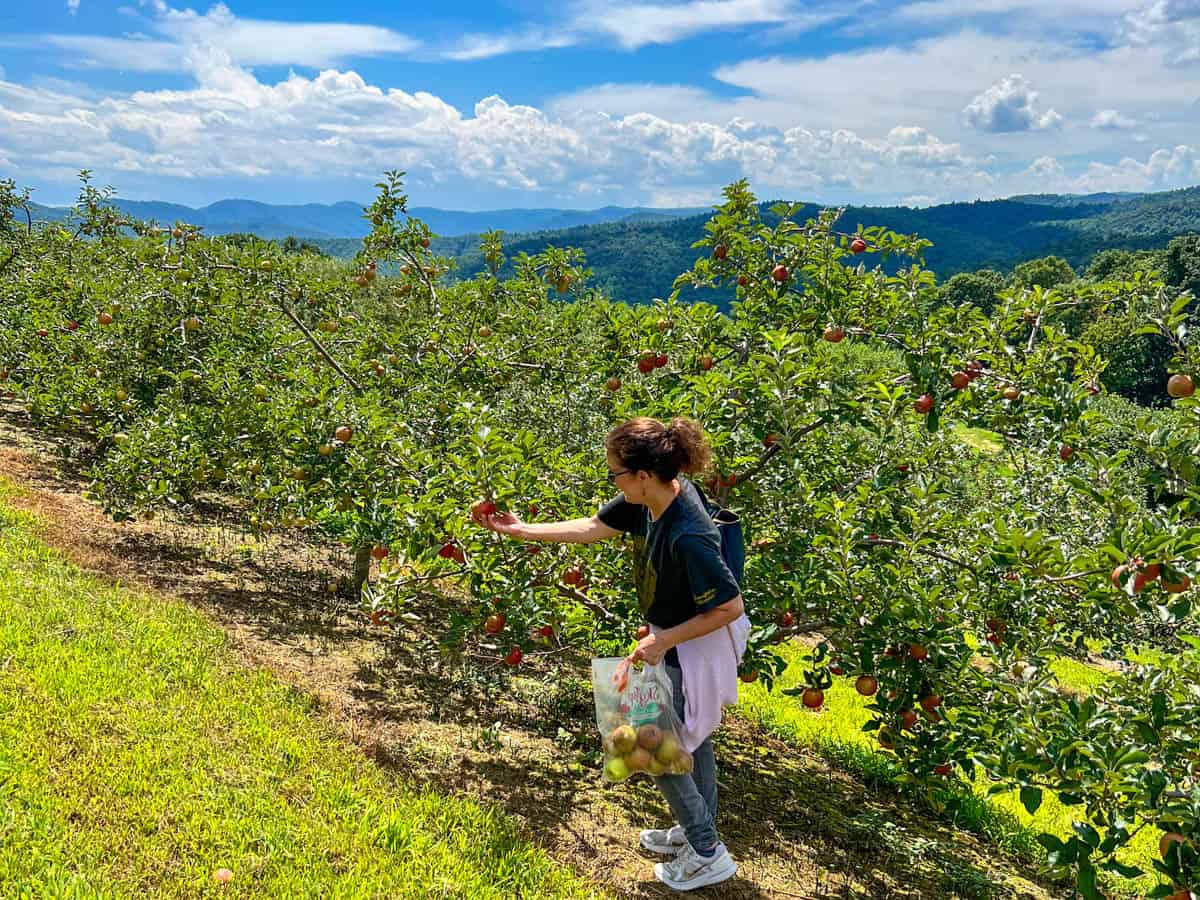 Sky Top Orchard also has a variety of activities to keep kids busy during a visit. Families can take a tractor-pulled wagon ride, or kids can hop on the Bee Train. In addition, there's an animal area, a bamboo forest, a playground, a gem mine, and the very popular apple cannon.
There's also a cute "How Tall This Fall" height chart where kids can take photos and see how much they've grown since their last visit to Sky Top.
#1 Reason to Visit Sky Top Orchards
Apple Cider Donuts! If you love them, this is where to get some of the very best, and be sure to try them HOT! Of course, you can buy a dozen in the bakery to take home, but there's nothing like a fresh one warm from the oven. Be prepared for a line, though—the donuts are the biggest reason people visit Sky Top Orchards.
Jeter Mountain Farm
1126 Jeter Mountain Road, Hendersonville
Website
Jeter Mountain Farm is the epitome of farm agritainment as it has everything both kids and adults could want. You could spend an entire day here and never get bored!
We started with a visit to the coffee shop. Yes, they have a coffee shop! They've thought of everything.
Then we stopped by the bakery window for a breakfast of freshly made apple cider donuts. We washed them down with our apple cider slushies.
Next, we lined up for a wagon ride to the apple orchard and the flower fields.
The view on the ride is stunning!
We also got a peek at the future hedge maze—an exciting new alternative to the corn maze.
Honeycrisp apples were the u-pick option of the day, so we picked as many as we thought we could eat over the next few days. (Honeycrisp apples are delicious, but their storage life is relatively short.)
Along with apples, u-pick options include blackberries, raspberries, blueberries, and elderberries, and they'll let you mix and match your quarts! (Elderberries are a separate thing.)
This was our first time picking blackberries, and I'm not sure I'll ever buy them at the grocery store again. Freshly picked blackberries are the BEST.
After picking fruit, we dropped into the hard cider taproom, where you can order a flight of four flavors, a tasting of all seven flavors, or a pint glass of your favorite!
Most of the ciders were on the dry side (yay!), but there were a few sweet options too.
Next, we stopped back by the bakery for a couple of the apple hand pies. They were light, flaky, hot, and stuffed with a tasty apple filling.
If we had any room left in our bellies, we would have ordered a BBQ plate at the 1813 Smokehouse. I told you Jeter Mountain Farm has everything.
After a quick stop in the market for fresh apple cider and a mix-and-match 4-pack of hard cider to go, we hit the road.
Pro Tip: Jeter Mountain Farm is very, very busy on Saturdays. If you want a primo parking spot next to the action at the top of the hill, arrive 10-15 minutes before they open. Otherwise, you'll need to park in overflow parking down the hill, and you'll have to walk back up the hill to start your farm adventures.
#1 Reason to Visit Jeter Mountain Farm
The flower fields!
Take a wagon ride out to the flower fields, where you can cut a bouquet of zinnias and sunflowers to take home with you. The rows and rows of blooms with a mountain backdrop also make for stunning photos.
Our experiences at these three Hendersonville NC apple orchards were all unique; we loved each for different reasons.
Hendersonville Apple Festival
Mark your calendars for the 2022 Hendersonville Apple Festival, September 2-5 (Labor Day Weekend), with a street fair, food court, live entertainment, carnival, and much more. Events schedule here.
More Apple Orchards Hendersonville NC & Nearby
For more details on the below orchards, I recommend this All About Apples guide from Visit Hendersonville.
Apple House & Owenby Orchards
Coston Farm & Apple House
Creasman Farms
Freeman Orchards
Grandad's Apples 'N Such
Henderson Farms
Holt Orchards
Jimmy Nix & Sons Apple House
Justus Orchard
Linda's Plants & Shrubs
Lively Orchards
Mountain Fresh Orchards
Odell Barnwell & Sons
Owenby's Fruit Stand
Pilot Mountain Pears
Stepp's Hillcrest Orchard
Twisted Apple Orchard