There are a lot of wonderful Christmas towns in the US, but a Fredericksburg, Texas Christmas is especially unique.
Fredericksburg, the heart and soul of Texas Hill Country, overflows with authentic German heritage and warm Texas hospitality throughout the year, but the magic of Christmastime is simply unforgettable.
You have to experience it for yourself, and I hope these tips and ideas will help you make the most of your visit!
Fredericksburg's Christmas Nights of Lights
The highlight of any Fredericksburg, Texas Christmas visit is an evening at Marktplatz for the Nights of Lights celebration.
Marktplatz is nestled in the middle of the historic downtown, and from mid-November through early January, there's a nightly holiday show at 6 p.m. The 10-minute program highlights the town's German heritage with an audio presentation and music, ending with the festive lighting of Marktplatz.
German Christmas Pyramid
The centerpiece of Fredericksburg's Christmas celebration is the towering 26-foot-tall Christmas Pyramid carousel with five levels of intricately carved wooden characters.
The Christmas Pyramid—called Weihnachtspyramide—symbolizes Fredericksburg's lasting German heritage and is on display every holiday season. The iconic decorations are traditionally part of German Christmas markets, and tabletop versions are often displayed in homes.
The origin of Christmas pyramids began with miners in Germany's Ore Mountains. When the mining industry withered, displaced miners began handcrafting beautiful wooden Christmas pyramids, nutcrackers, and cuckoo clocks, turning it into a business. We continue to enjoy that legacy today.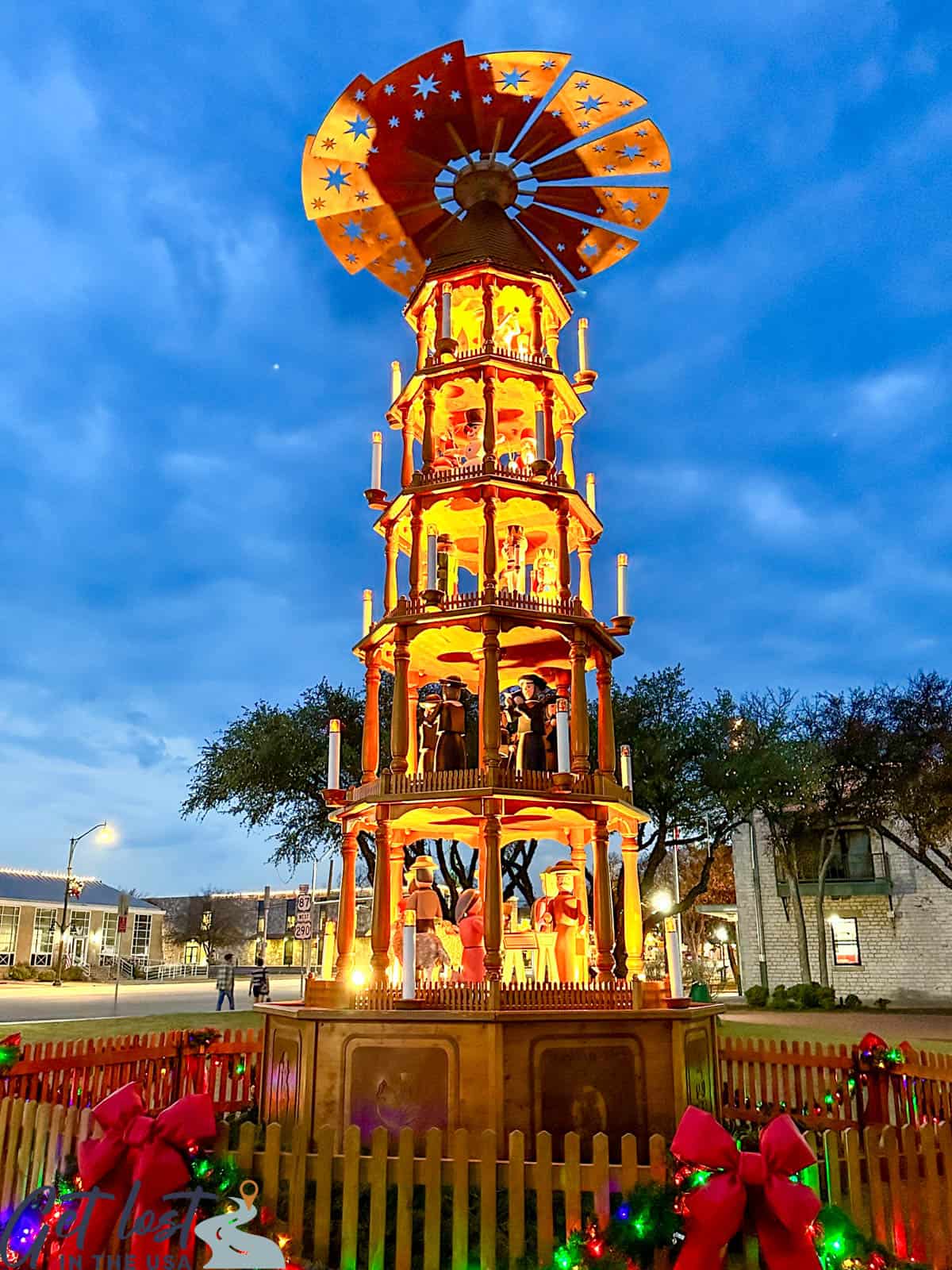 Vereins Kirche
Fredericksburg's most iconic structure lies in the center of Marktplatz and is a replica of the original building that was demolished in 1897. The Vereins Kirche Museum inside tells the fascinating history of the structure and the town of Fredericksburg.
Eisbahn Outdoor Ice Skating Rink
'Tis the season for ice skating, even in southern Texas! Seasonal music and holiday lights add ambiance to the experience, so bring the whole family and take to the ice for some holiday fun.
A $15-day pass includes skate rental and allows you to come and go as you please.
Holiday Shopping
Stroll along Main Street's more than 150 unique gift shops, galleries, tasting rooms, restaurants, and museums. Store windows and light poles are festively decorated, and business owners are warm and welcoming.
A few of our favorite shops:
Seasons – Anything and everything holiday-related.
Flying Cow Tallow – Handcrafted natural organic beauty products.
Pritzer Sweet Shop – Authentic German bakery items. (The apple strudel is *chef's kiss*.)
Chocolat – Handmade chocolate treats, including "spirited" liquid center chocolates. And don't miss the English Toffee.
La Bergerie Market – A beautifully curated wine bar.
The Grasshopper – German Christmas pyramids, beer steins, nutcrackers and gifts.
Take In A Holiday Show
Named "Best Theatre in the San Antonio Region" by BroadwayWorld.com, the Fredericksburg Theater Company presents professional quality musicals, comedies, and dramas. This year's Miracle on 34th Street main stage production is a heartwarming holiday classic retold in the tradition of a live 1940's era radio broadcast.
For live-music fans, the Rockbox Theater presents live-music shows, including tribute bands, original artist series and more in a state-of-the-art venue just off Main Street.
Other Fredericksburg, TX Christmas Events
Santa Fly-in at Gillespie County Airport (Dec. 17, 2022)
LBJ Holiday Tree Lighting at Lyndon B. Johnson State Park and Historic Site (Dec. 17, 2022)
Light the Night Christmas Parade – 1st Friday of December
Insider Tips For Visiting Fredericksburg, TX
Visit Mid-Week, If Possible
Fredericksburg is a popular year-round weekend destination, so plan a trip between Sunday and Thursday for a more relaxing vibe. You'll avoid heavy crowds, find parking more easily, experience shorter restaurant wait times, and enjoy better lodging rates!
Start at the Fredericksburg Visitor Center
When you arrive in town, head to the Visitor Center in historic downtown; it was named one of the best small-town visitor centers in Texas! I recommend watching the 10-minute video highlighting the best things to do in Fredericksburg, and the staff will help you craft the perfect itinerary based on your interests.
Fredericksburg CVB website https://www.visitfredericksburgtx.com/
Read Next: