Chetola Resort at Blowing Rock is one of the most beautiful places to stay in the Blue Ridge Mountains of North Carolina.
The 78-acre resort, whose Cherokee name means "haven of rest," is tucked in a serene wooded landscape and offers a luxurious getaway with world-class amenities.
Chetola Resort also offers plenty of recreational activities, such as hiking, kayaking, clay shooting, and fly fishing—it's an Orvis-endorsed fly fishing lodge. And for the more relaxation-minded, the Chetola Resort Spa is ready to cater to your every indulgence.
Chetola Mountain Resort Accommodations
There are three accommodation options at Chetola Resort (with details below):
Chetola Lodge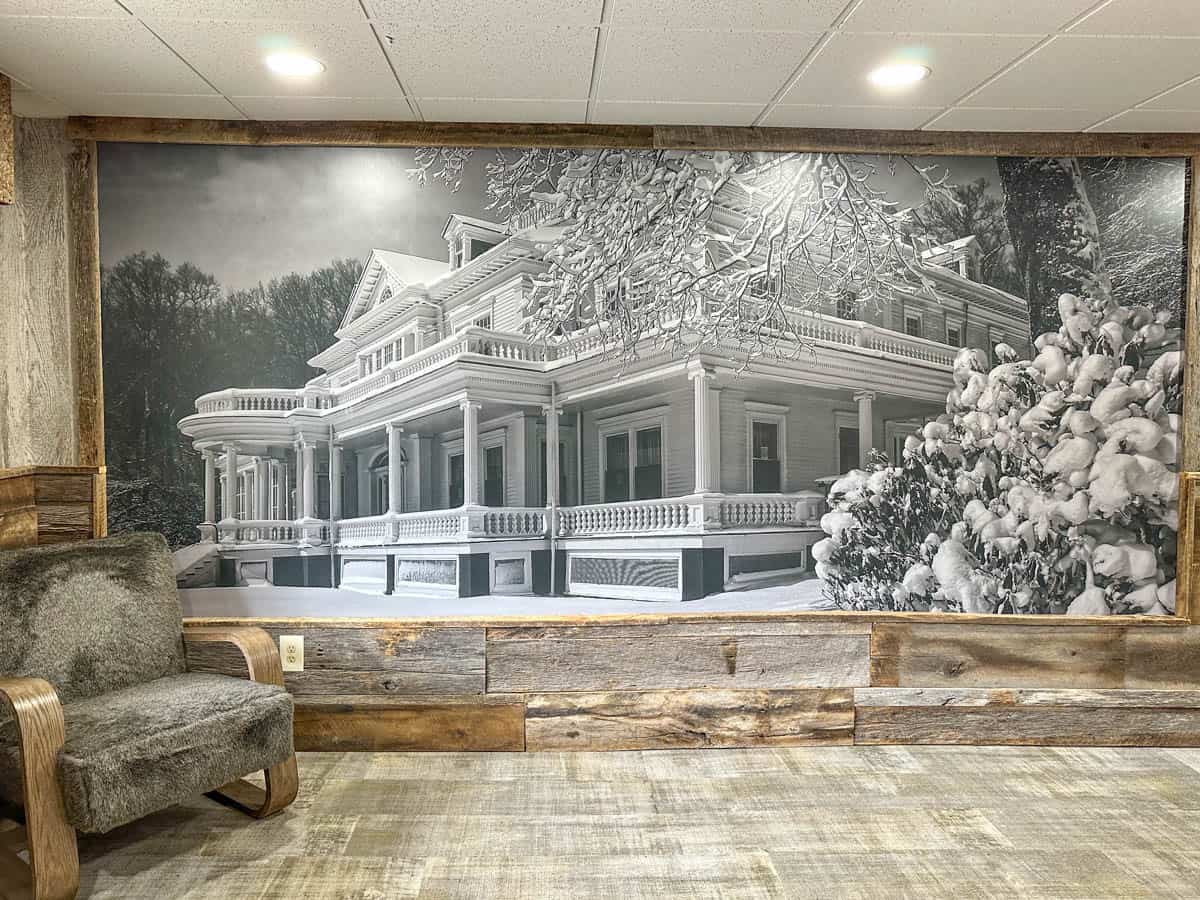 The newly renovated main lodge offers the most hotel-like experience and weaves natural elements from the outdoors into its modern and rustic decor. With barn wood accents and oversized photographs that span entire walls, guests are immersed in the natural beauty and spirit of the mountains.
I stayed as a guest of Chetola Resort in a third-floor Deluxe Lakeview guest room with a balcony. I was enamored with the elk photograph (seeing elk in the wild is fantastic), plush beds, nature-inspired linens, and the many thoughtful details in the room's design.
Bob Timberlake Inn at Chetola Resort
The Bob Timberlake Inn may suit you perfectly if you prefer a bed-and-breakfast vibe. The personal innkeeper hosts a complimentary cheese and wine reception daily, bakes fresh chocolate chip cookies, and keeps a butler's pantry stocked with water and soda.
Guests enjoy a private parlor, library, exclusive entry, and complimentary breakfast.
The eight rooms are located in the estate's manor house, and the elegant period furnishings (personally selected by Bob and reflective of Chetola's Golden Age) are from the 1920s to the 1940s.
Chetola Premier Condominiums
Chetola's spacious 1, 2, 3, or 4-bedroom condominiums might be just what you need to enjoy the perfect "home away from home" experience. The larger living areas and kitchens are roomy gathering spots, and the bedrooms (each with a bathroom) allow for needed privacy.
Units are scattered throughout the estate's property, but guests can access all resort amenities (except housekeeping).
Keep in mind that Chetola-managed condos are not pet-friendly. (However, Chetola Lodge IS pet-friendly.)
Timberlake's Chetola Resort Restaurant
Timberlake's is one of the best restaurants in Blowing Rock. The upscale menu was inspired by Bob Timberlake and stays fresh and inventive thanks to the culinary expertise of head chef Scott Ottinger.
Breakfast, lunch, and dinner are all served at Timberlake's, and since the restaurant is open to the public, you'll need to make reservations to ensure you don't miss out.
Note: For reservations, call 828-295-5505.
We ate there three times throughout our weekend stay, and while the dinner menu was the most chef-driven and exciting meal, everything we ate was outstanding—with very fresh ingredients—*chef's kiss*(!!)
Breakfast at Timberlake's
Lunch at Timberlake's
Dinner at Timberlake's
Chetola Resort Fly Shop
The Fly Shop & Coffee Lounge is a retail space inside the Lodge with a vast array of Orvis gear. There's also a fresh coffee bar and a relaxing area to gather with friends and family.
Chetola Resort Spa
The full-service Chetola Spa offers a variety of pampering treatments, including massages, facials, body wraps, and nail treatments. (I indulged in a hot stone pedicure during my visit, which was terrific.)
There are five treatment rooms (one for couples!), and the pool, Jacuzzi, and sauna are adjacent to the spa.
The spa's relaxation room is the ultimate mountain escape. It's so cozy that I could have spent an afternoon sans treatment and been perfectly content.
The plush couches, double lounge chairs, glowing fireplace, and Swan Bar with complimentary tea, coffee, and water…it's paradise.
Chetola Sporting Reserve
One of the many fabulous perks for Chetola guests is access to all the outdoor recreational activities at the private Chetola Sporting Reserve: gun, rifle, and pistol ranges, sporting clay course, 5-stand clay station, archery range, and Orvis fly fishing excursions.
Outdoor enthusiasts won't want to miss it. Reservations should be made in advance through Chetola Resort.
Chetola Sporting Reserve is approximately a 20-minute drive from Chetola Resort, with stunning views. (Make sure you get directions for the scenic route—there's a more direct route, but trust me… the scenic route with overlook pull-offs is worth it.)
I was excited to try shooting clays for the first time at the 5-stand clay station. I wore protective earplugs (provided), followed specific safety protocols, and was guided through the process step by step.
The expert guide stayed next to me the entire time, and although I never got my posture quite right—I tended to bend my knees too much—darned if I didn't blast those clays to smithereens.
There were a variety of automatic traps, each with a different flight pattern, and I gradually progressed from the easiest to the trickier ones. It was an absolute blast (pun intended).
The rifles I shot with at Chetola Sporting Reserve were top-quality, so the recoil was far less than expected. However, I did experience muscle soreness for a few days afterward. Worth it.
On-site Recreation
Highlands Sports & Recreation Center (open 9 am – 10 pm daily) has a fitness gym and classes, hot tub, dry sauna, ping pong tables, board games, puzzles, DVD rentals and trail strollers.
Maintained Hiking Trails and Guided Hikes
Fishing Clinics
8 Acre Lake Stocked with Brown & Brook Trout
Fishing Rods & Bait
Paddle Boats/Kayaks/ Paddle Boards (available May – October)
9-Hole Disc Golf & 3-Hole Practice Course
Lawn Games: Cornhole, Volleyball, Spikeball, Kan Jam, and Ramp Shot
Horseshoe Pit
Playground
Sunbathing Deck
Chetola Resort Festival of Lights
From Thanksgiving weekend through WinterFest in late January, the public is invited to stroll or drive through Chetola Resort and around Chetola Lake to see a festive holiday display of nearly 30,000 lights.
Book a Stay at Chetola Resort at Blowing Rock
185 Chetola Lake Drive
Blowing Rock, NC
Make a Reservation!
Nearby Attractions
Blue Ridge Parkway – One of the most stunning drives in the country, with easy access to spectacular scenic vistas.
The Blowing Rock – A cliffside rock formation with sweeping panoramic views.
Town of Blowing Rock – One of North Carolina's most charming mountain towns.
Tanger Outlet – A name-brand bargain shopper's paradise!
More to Explore