The Harmony Inn, built in 1856, was once the home of Austin Pierce, a banker, mill owner and railroad magnate. When his fortune failed, he sold the beautiful Italianate home to the Zieglers who turned it into a hotel and saloon and expanded its size.
Fast forward through a few more owners and add in the craft brewing expertise of North Country Brewing, and the historic and haunted Harmony Inn continues to delight guests on a daily basis with its delicious food, rustic charm, and haunted happenings.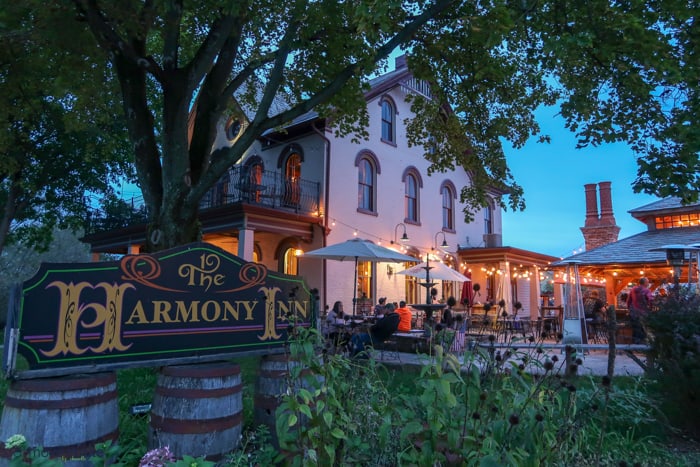 I visited The Harmony Inn as part of a hosted press trip.
The Harmony Inn Menu
I doubt you could go wrong with any of the authentic German dishes or American fare served at The Harmony Inn, but I recommend you start with the fried soft pretzels (called Brezlen on the menu). They're unlike any other soft pretzel I've had. The texture reminded me of a donut, but the taste was all pretzel. They're soft and fluffy rather than tough and chewy, and they're served with a side of homemade beer cheese and Black Bear mustard.
If you love a good burger, try the Girl from the North Country burger topped with bacon, BBQ sauce, cheddar cheese and onion crisps and made with your choice of protein: Angus, pasture perfect, chicken, or impossible). I'm an Angus girl, so that's what I had, and I devoured the entire sandwich along with a side of the house potato pancakes and applesauce.
With a huge selection of beer on tap including favorites from North Country Brewing Company, good luck deciding which one to wash your meal down with! Did I mention there's also a whiskey cave, specialty cocktails and wine available too?
The Harmony Inn Hauntings
Truth be told, it's highly unlikely you'll experience anything while dining at The Harmony Inn, but it sure does add to the fun of eating there. I know I was hoping to witness a shadowy apparition, feel a cold chill up and down my spine or capture an unexplained figure or orb in one of my photos. Sadly, none of that happened, but you never know, right?
If you get the chance, explore the other rooms of the restaurant and view the certificate of haunting.
There's also a photo behind the bar with two men and behind them in the mirror's reflection you can see the silhouette of a man in a black suit from the wrong time period. Explain that one!
Many of the employees have fascinating stories to tell of unexplained happenings in the building, and they are so much fun to hear, so be sure to ask about them.
One such tale tells of children having been quarantined in the attic with typhoid (or something similarly contagious) and someone dying, so now the sound of laughter, running up and down the stairs and slamming doors can be heard. An employee swears he saw a little girl in the attic one night, and yes, he practically fell down the stairs trying to get out of the building, and never went back into the attic again.
Another interesting story concerns this loose brick in the dining room. The manager, who regaled us with his most memorable haunted tales, told us he found an old collection of toy soldiers and mini toys behind it and moved them. For several months afterward, the toy soldiers would appear around the restaurant: in the kitchen, on the stairs or up in the office. Obviously, he was freaked out, so he put them back behind the brick and it all stopped. Coincidence?
I removed the brick to see what was behind there and I found money! Not wanting to disturb anything, I put the brick right back in and left everything alone, but many customers leave little notes and other trinkets inside the opening.
Whether you believe in ghosts or not, the stories are fun to hear and certainly add to the ambiance of an already wonderful restaurant.
If you're in the Pittsburgh area, Butler County is about a 30-minute drive and a visit to The Harmony Inn is well worth your time!
Besides, who can resist a restaurant with a mustache?
Make plans to visit The Harmony Inn in historic Harmony, PA and connect with the Visit Butler County Tourism and Convention Bureau to turn your getaway into a weekend's worth of fun!
The Harmony Inn
Website
230 Mercer St. Harmony, PA 16037
(724) 452-5124
Hours: Monday – Thursday | 11AM – 11PM
Friday – Saturday | 11AM – Midnight
Sunday | 11AM – 10PM
Pin this post about The Harmony Inn!
Related Posts