I received a complimentary stay (excluding valet parking) at the Ivey's. My opinion is solely my own.
If ever there was a luxury boutique hotel straight out of dreamland, the Ivey's Charlotte is it. Seemingly fit for royalty, the Charlotte Ivey's Hotel has 42 luxurious guest rooms on two floors and is one high-falutin', fancy-schmancy place. Everything from the lobby to the guest rooms to the lounge is exquisitely designed, and the decor is like a gallery of curated art.
It's perfect for a special occasion, romantic date (hint: Valentine's Day) or weekend getaway you'll never forget. The Ivey's truly is that remarkable. There's absolutely nothing else like it in Charlotte.
When we arrived at the Ivey's hotel for the weekend, we dropped our car with the valet and walked into the most beautifully decorated check-in area I've ever seen. Everywhere we turned, something was fascinating to look at, and I couldn't stop taking photos. The sparkling custom chandeliers alone…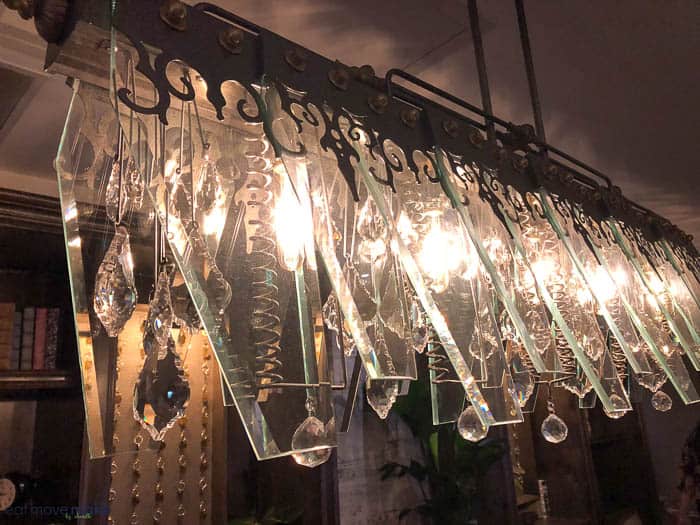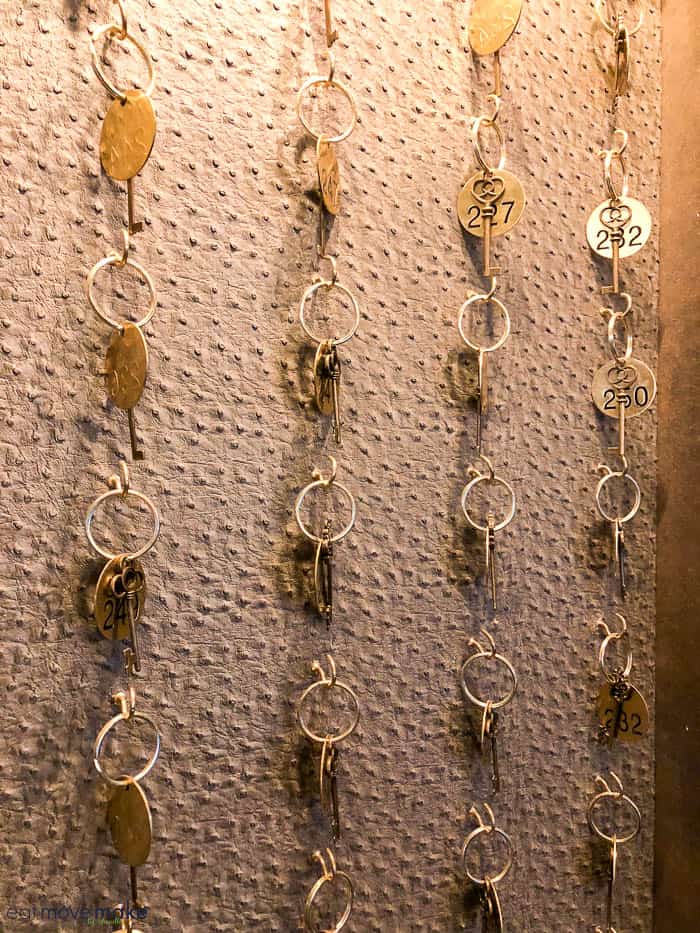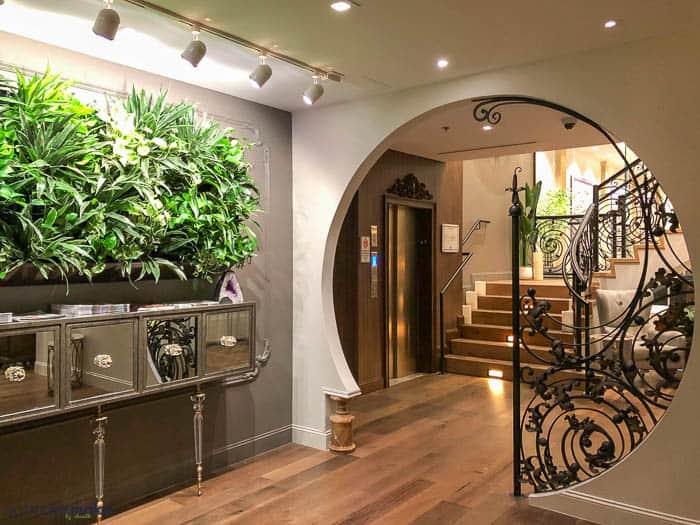 There are four types of guest rooms available at the Ivey's (Superior Atrium, City View, Balcony Suite and Executive Suite) and I had the pleasure of staying in a city view room which wowed me from the moment I opened the door.
When I laid eyes on a vintage map of Paris and the reclaimed French oak floors I nearly cried, and the eclectic blend of midcentury modern and art deco furniture in rich shades of plum won my heart completely. The room exuded pure elegance, and I felt like I was living a dream.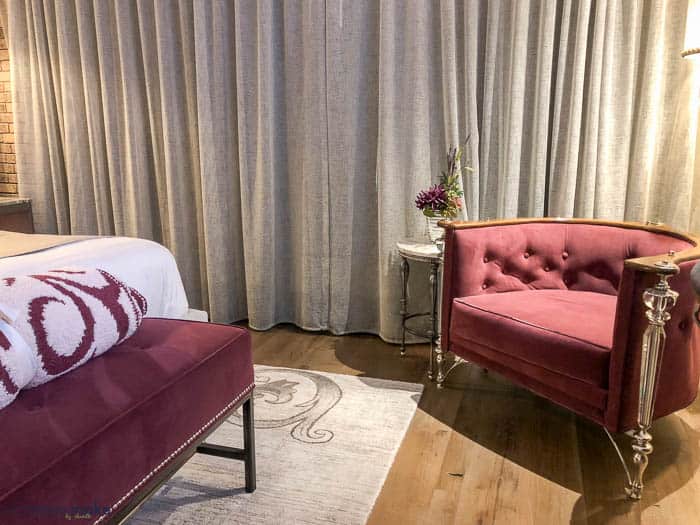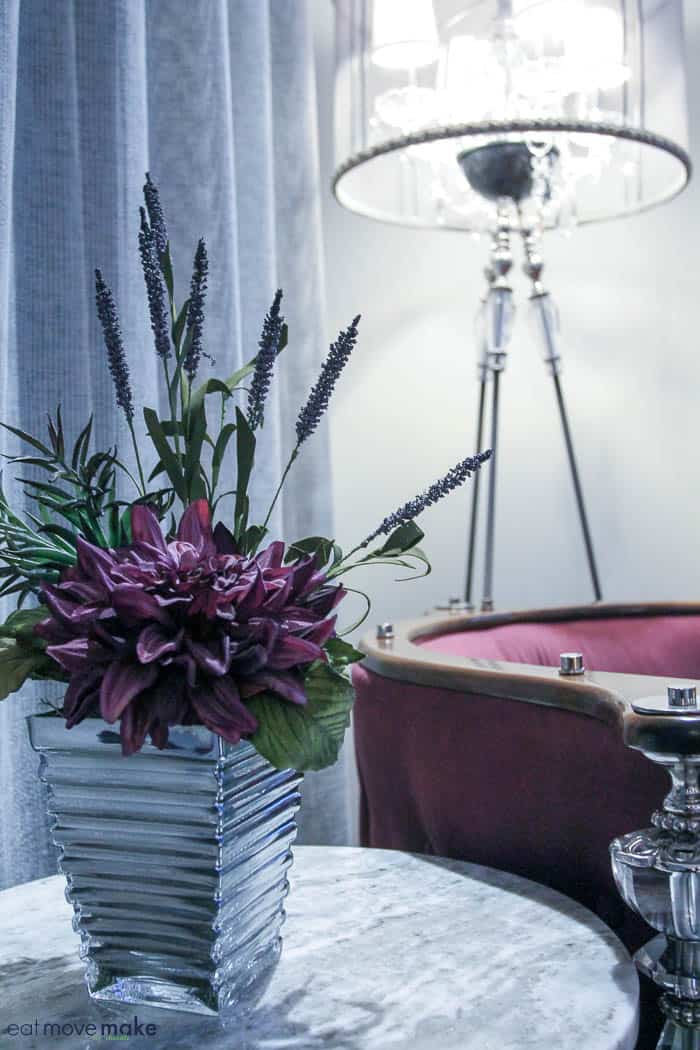 Seamlessly blending with the vintage furnishings and accessories were modern conveniences like an enormous flat screen TV with an HDMI port, Bose sound system, iHome docking stations and plenty of USB ports and plug-ins for charging. Also notable was the Lutron Lighting technology used for things like "do not disturb" status – so much cooler than a hanging sign. (You'll notice them in the hallway pic below.)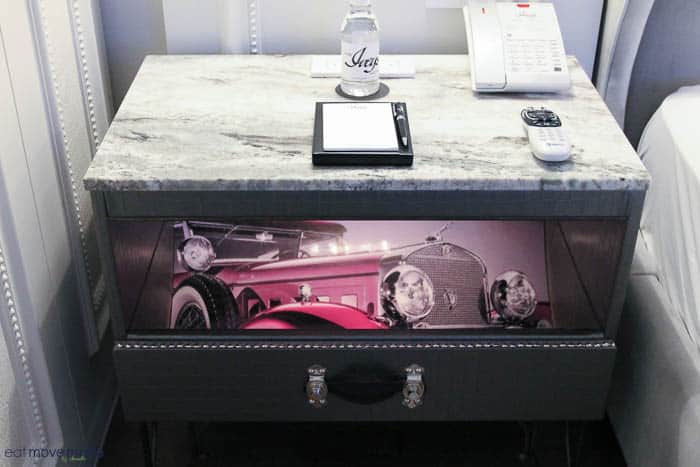 And the bed was plush, cozy and oh luxuriously soft. If only every hotel had such delicious bedding…
The bathroom had a giant tub and separate walk-in shower, a huge counter (thank you!) and cozy robes and slippers. And the toilet was top of the line with a dual flushing option.

I really didn't want to leave my room (ever,) but the hotel just begged to be explored. Even the hallways felt ultra posh with the deep purple carpeting and fabulous vintage French posters. No detail was overlooked in the Ivey's hotel… anywhere.
As I wandered about, it felt as if I was on an upscale treasure hunt. There were so many one-of-a-kind curiosities, including well over a hundred deconstructed clock pieces scattered throughout the hotel.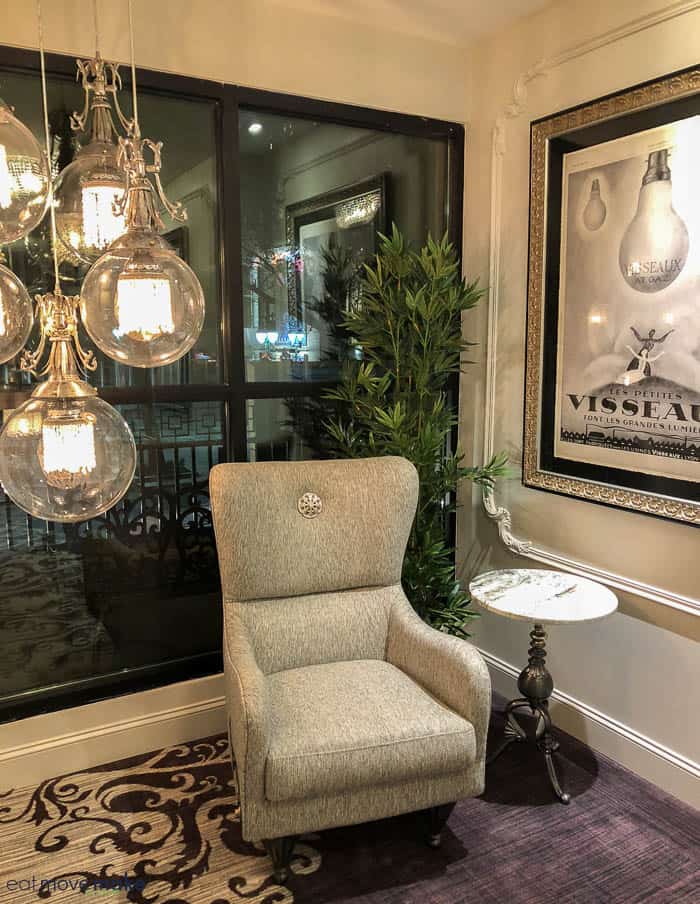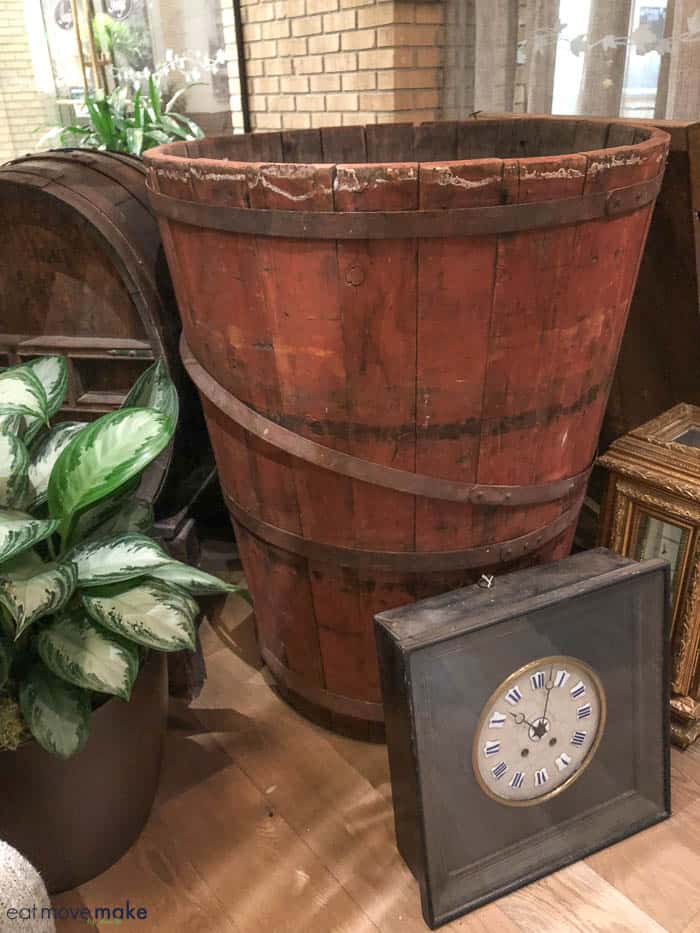 One of my favorite spaces was a common gathering area just off the front entrance with three huge wall panels showcasing the building's historic beginnings as J.B. Ivey's Department store. In its heyday, it was one of the Southeast's most prestigious shopping destinations, and the adaptive reuse of the building preserves the splendor.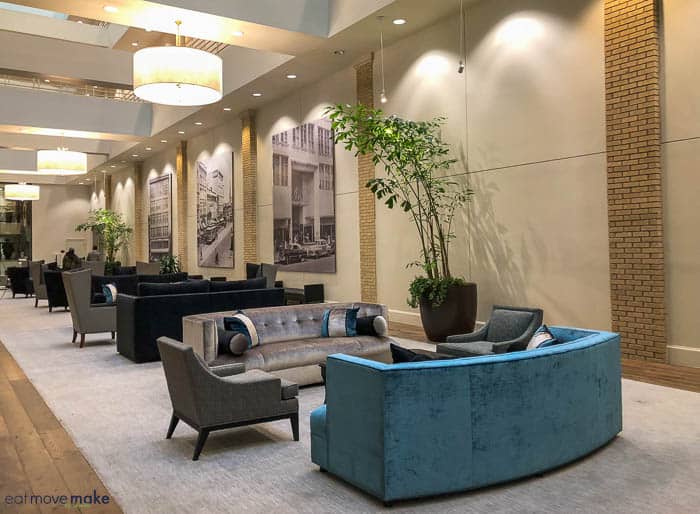 Another cozy spot for guests to spend time was in the Library Lounge on the second floor with its rich ornate wood furnishings, vintage books and treasures and intimate seating. A daily complimentary continental breakfast was also served for guests in the library with the most delectable pastries.
The hotel is located right in the heart of uptown so you won't have any problem finding interesting places to eat and things to do, but a fabulous restaurant option for brunch, lunch or dinner happens to be in the same building as the hotel – 5 Church (at the corner of 5th and Church, get it?)
This classy and upscale steakhouse with an upper loft has a relaxed vibe with infinitely fascinating light fixtures and decor, including a ceiling painted with all 13 chapters of The Art of War.
But let's talk food…
Our server started us with a bowl of sun-dried tomato hummus and chips to nosh on while we looked over the menu, but in a restaurant specializing in steak (the chef's specialty is a prime "60-second" NY strip seared and served rare,) one orders steak, and that's exactly what we did. My guy had the NY strip (cooked medium) and I had the filet mignon (well done). Oh my goodness, the meat melted in our mouths. It was tender and delicious, and the Yukon gold potato mash was a superb accompaniment.
After dinner, we walked next door to Sophia's Lounge (named after Queen Charlotte) for artisan cocktails and a shared dessert. It's absolutely beautiful inside, equally as lovely as 5 Church but with a much more relaxed and chill vibe. Seating arrangements beg for cozy conversations with friends; it would be easy to tuck up in Sophia's for hours. One thing to note… guest numbers are limited to retain the ambiance, so you'll need to make reservations.
In our case, we stayed long enough to polish off three creatively mixed cocktails and an apple and pear tartlet perfectly sized for that tiny bit of space left in our stomachs after our great dinner.
And then we walked up this impossibly gorgeous staircase which led to the second floor of the hotel (fortuitously near our room) and called it a night.
I could go on and on about the Ivey's Charlotte, but it's just one of those idyllic places you have to see with your own eyes to believe.
Treat yourself to the night (or weekend) of your dreams and stay at the Ivey's Hotel in uptown Charlotte. You deserve it. Visit the website to book a stay.
More Travel Escapes