I had the pleasure of going kayaking in Fripp Inlet when visiting Beaufort, South Carolina, and there's simply nothing better than gliding quietly through the water with a paddle in hand. It's the ultimate relaxation.
Fripp Inlet lies between Fripp Island and Hunting Island, and it's all part of the Sea Islands, a tidal and barrier island chain. If you're familiar with barrier islands, you probably know that there are huge expanses of salt marsh inside them, and that means kayaking!
We took a guided tour with the very laid back and friendly Eric Gibbons of The Kayak Farm. While the bulk of his business is simply kayak rentals, he does guided tours upon request.
Eric let us paddle at our own pace, and periodically we would meet up at certain areas to chat a bit. He shared some really interesting facts about the marshland habitat and about dolphins (because we saw a TON of them). Since it was so quiet and peaceful while kayaking in Fripp Inlet, we could hear dolphins breathing every few seconds. Pretty amazing!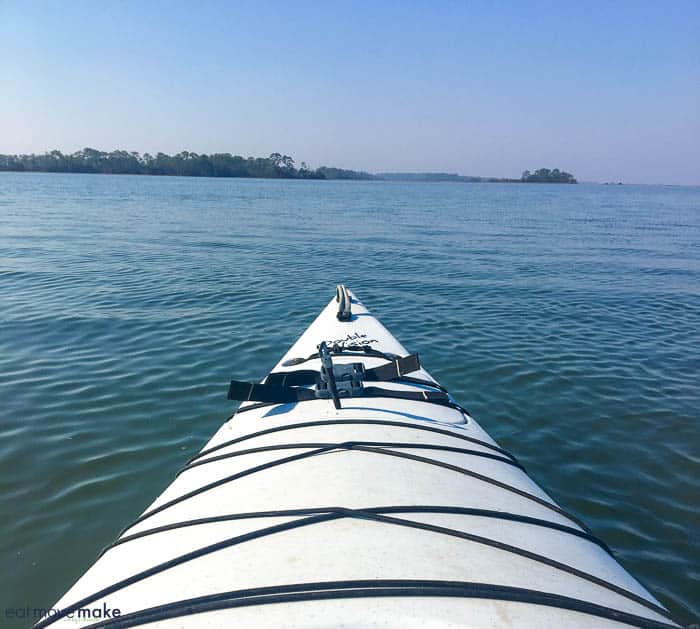 Eric also spotted a cannonball jellyfish in the water, and let us have a closer look before sending it back on its way. Apparently, it's one of the most common jellyfish, but the stingers are so small, that they can't really hurt you.
Still not touching one… just saying.
Eric also told us about the grasses that make up salt marshes. The shorter grasses are found closer to islands in the higher marshes, and the taller smooth cordgrass, called Spartina Altonaflora, is further from shore.
What I didn't know is that it's a deciduous perennial, so in the spring, new growth pushes up and knocks the old growth into the water where it breaks down into nutrients (making the perfect habitat for shrimp and oysters). It's also a rhizome with subterranean stems, so what looks like lots of plants is actually one plant!
My friend Pam and I opted for a tandem kayak so we could chat while we paddled. It was really fun, but there's one thing to note. They're even more stable than single kayaks, but there's a price. They're super heavy, and even though two people are rowing, it definitely takes a lot more effort to move them through the water.
If you're visiting Beaufort, kayaking should be on your must-do list, and I highly recommend kayaking in Fripp Inlet. It's such a serene, natural and unspoiled place — great for the soul.
For more information on the area and kayaking Beaufort SC, visit http://www.beaufortsc.org/
Related Posts