Beaufort, South Carolina (pronounced byoo-fert) is the quintessential southern town, and I dare you not to fall in love with it (if you haven't already). All of downtown Beaufort SC has been designated a National Historical Landmark, and it's made up of a laid-back waterfront with quaint shops and restaurants, and a historic residential neighborhood with stately antebellum mansions shaded by moss-draped live oaks.
I visited Beaufort for the first time late last fall, and there was so much wonderful there that I can't fit it all into one post, so I thought I'd start with the downtown waterfront area. Who can resist the allure of the water?
Henry C. Chambers Waterfront Park runs right alongside the winding Beaufort River, and the view is sensational, so you'll find yourself spending quite a bit of time there. The gentle coastal breezes are ultra pleasant as you stroll along the riverfront walkway. There's also a lot of green space and plenty of shaded areas to sit and swing while watching boats and barges travel the intracoastal waterway.
Connecting downtown Beaufort to Lady's Island and the outer sea islands is the Woods Memorial bridge, one of only 9 swing bridges remaining in South Carolina. It's a treat to watch it swing sideways as it lets large watercraft through. In the movie Forrest Gump, when Forrest was running across the country, that was the bridge he ran across (only they pretended it spanned the Mississippi River).
Another fabulous way to explore the downtown Beaufort SC waterfront is to take an afternoon or sunset cruise with Captain Dick's River Tours.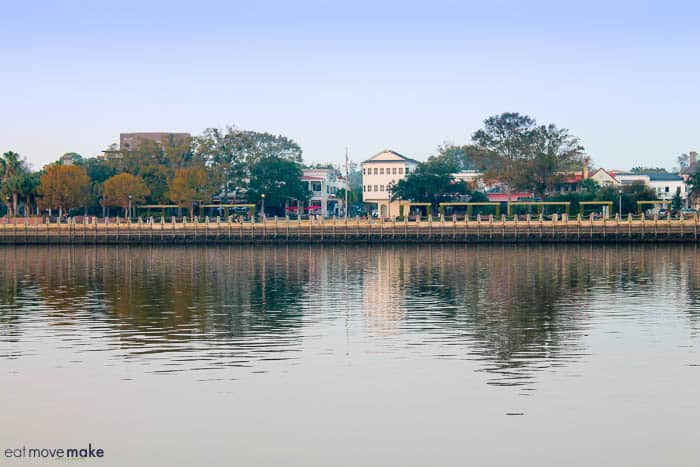 I took the evening cruise, and we got a good look at some of the Old Point historic waterfront mansions, some of which were used as movie locations.
On our cruise we also saw the popular Beaufort sandbar which only appears in low tide. In the summer, boats anchor nearby and the sandbar is packed with people.
Of course, the highlight of the sunset cruise was the sunset itself. In spite of the haze drifting in from the North Carolina wildfires, it was gorgeous!
From land, make sure you catch a sunset over the marina too. It's magnificent!
There are also several waterfront restaurants to enjoy (post to come), and there are lovely water views from the Anchorage 1770 Inn. From the main porch, you'll have an expansive view of the marshlands, and from the 4th floor porch, you'll have a marvelous view of the boats in the river.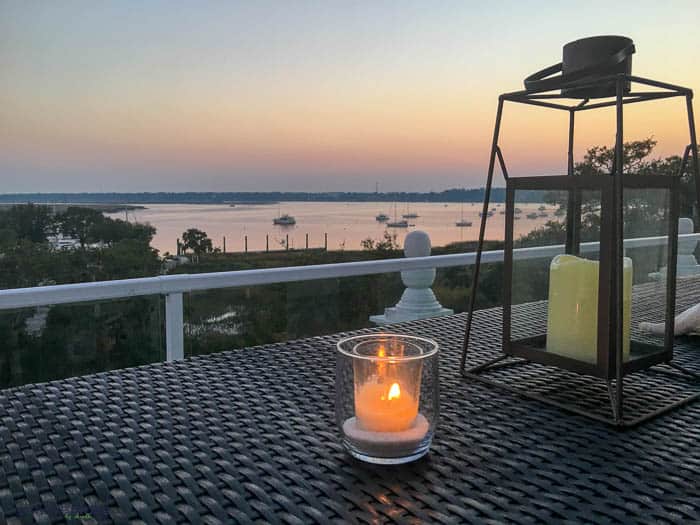 There's more to Beaufort than just an amazing waterfront though. It oozes small town charm and southern hospitality, and it's one of the few historic southern towns that has stayed true to its roots since its founding. Beaufort is just Beaufort all year long, and that's what gives it such special appeal. It's a true hidden gem in South Carolina Lowcountry.
Related Posts