On the morning of day three my daughter and I got up and walked over to Jimmy J's Cafe on Chartres Street for breakfast, a mere hop from the J.W. Marriott hotel. (Location, location, location)
It was a tiny little place but clearly a local favorite because we got there just in time to nab the last table. It had a really funky, artsy vibe and the made from scratch food was delicious!
She ordered an omelette with home fries, and I ordered buttermilk pancakes with blueberry compote and a side of bacon. It was so good!
With bellies happy and full, we strolled over to the Audubon Butterfly Garden and Insectarium on Magazine Street to immerse ourselves in the world of creepy crawlies.
I was expecting to feel super squeamish since I can't stand bugs, but the yuck factor was surprisingly quite low. The exhibits were really interesting and so well done, more fascinating than repulsive.
That being said, cockroaches will always be the very definition of gross to me. I shudder.
I'm glad I saw them early in my visit though, because it made the rest of these fellas a lot more likable.
There were also lots of interactive displays and activities for kids (and twenty-something's). My daughter was scooping up bees to make honey in this game! Be sure you go to the multi-sensory show. It's less than ten minutes long but it's full of surprises and we found ourselves laughing a lot!
She also insisted on making friends with this baby alligator in the Louisiana Swamp gallery.
Once we'd thoroughly explored the insect world, we entered the Butterfly Garden exhibit where winged creatures flutter and fly all around you. If you're lucky, they'll land on you!
Whether you have kids or not, the Insectarium is definitely well worth visiting.
It was already lunchtime by the time we left, so we walked along Convention Center Boulevard to look for a restaurant, and stopped at the Grand Isle Cafe.
Even though she was scared, my daughter tried oysters for the very first time in a fried oyster salad. I was told I was boring for ordering a grilled chicken salad but hey, I like what I like!
After lunch we walked over to the Audubon Aquarium of the Americas which sits at the edge of the Mississippi River, and we spent a couple of hours visiting our friends in the waterways.
I have a fascination with sea horses. They're just the weirdest, most interesting oddballs!
Speaking of oddballs…as if the albino color wasn't freakish enough, that eyeball is just so….unnerving.
Doesn't everyone love spending time watching the penguins? They're so cute!
I was pretty darn proud of my daughter for going through the exotic bird displays with me. She's terrified of birds!
After a couple hours in the aquarium, we went back to the hotel for an afternoon nap and a swim in the hotel pool, something my daughter looked forward to every day!
After we woke up, we were ready for dinner and walked to Cafe Beignet on Bourbon Street. They have live music almost all the time and it was super relaxing to listen to it while we ate dinner. We each ordered a po' boy to which we were becoming slightly addicted! Mine was roast beef, hers was shrimp.
This little guy stopped by to see if we had anything to share. (That's not bird poopy doopy on the table, by the way; it's powdered sugar from beignets.)
After dinner, we hightailed it away from Bourbon Street to some of the quieter streets. That's when we spotted La Divina Gelateria (on St. Peter Street) and since neither of us had ever tried Italian ice cream before, we had to do it!
The gelato was silky soft, super creamy and dense, and the flavor was BAM! Have you ever tried gelato? Do it!
The last thing on our agenda for the day was to try absinthe for the first time. The night before when on the Haunted History Tour, we'd seen a cozy little corner bar called Pirate's Alley Cafe and Absinthe House, so that's where we decided to go.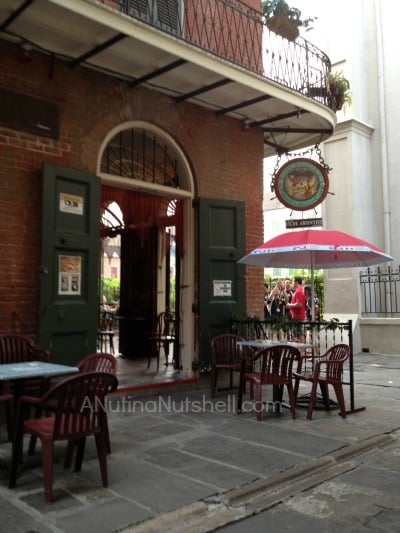 The absinthe fountain sits right on the bar which incidentally is fully pirate-themed (duh…the name of the place). It's totally cheesy, but somehow feels right when on vacation.
The bar maiden knew her stuff. She told us all about the history of absinthe, described the process of making it and warned us about the legend of the green fairy. (Absinthe is 100 proof. Yowza.)
There's a really chill vibe in the bar which made it a comfortable place to hang out, but my daughter and I took advantage of the cozy outdoor seating area in the alley. We enjoyed the summer evening as we slow-sipped our drinks (absinthe is best sipped, trust me).
Actually, we didn't finish them completely, cuz we were all responsible and stuff. Or sleepy.
Next up: Day Four