There is such a wide array of fun things to do in downtown Frederick, Maryland that visitors can't help but fall in love with every bit of this modern yet perfectly preserved city. I began to picture myself living there — that's how much I liked it. (Oh, don't worry North Carolina, I'm yours for life. I'll just keep visiting Frederick on the side.)
Allow yourself a few days to really experience Frederick, and if you plan on visiting nearby Washington D.C., Baltimore or Gettysburg, you'll find that Frederick makes an affordable hub from which to spoke out.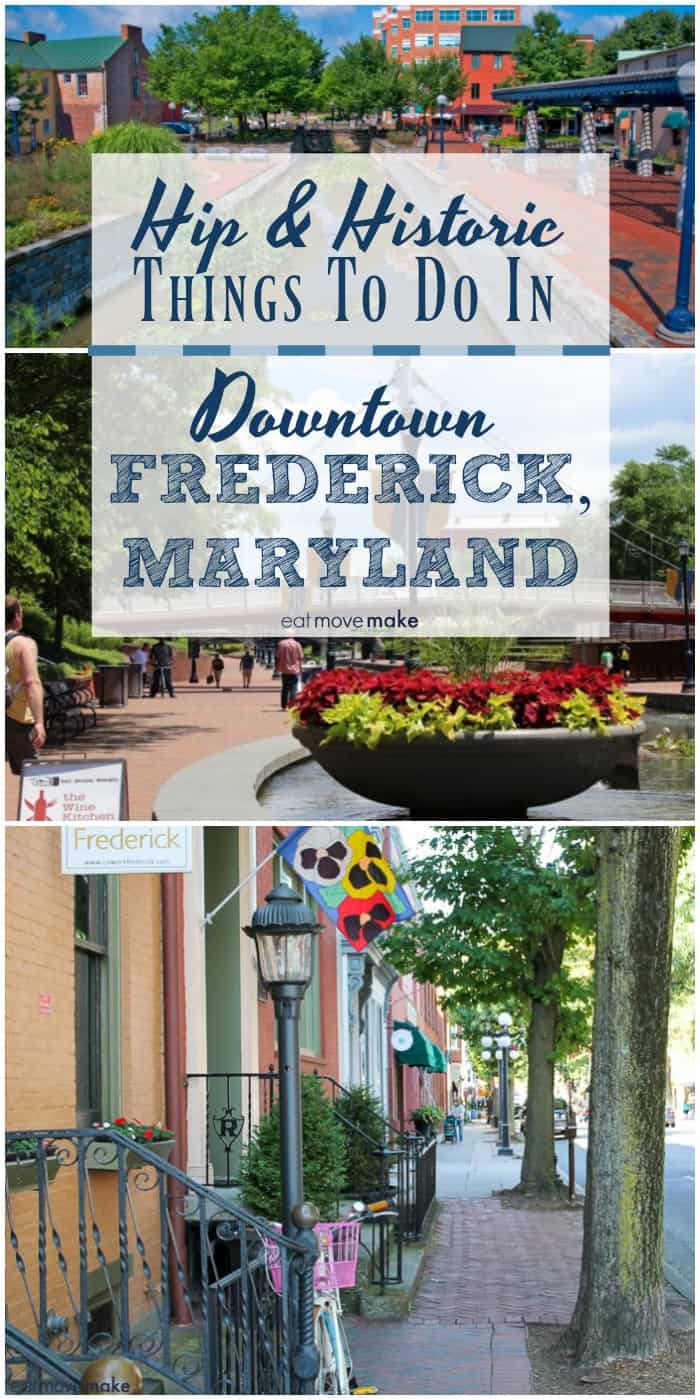 Get oriented.
When you arrive in downtown Frederick, stop at the visitor center to pick up brochures and maps for all the fun things you'll see and do. If you haven't decided what to do yet, this is the place to figure it out! There's a great film with lots of ideas and plenty of interpretive exhibits so you can hone in on your interests. The visitor center is open daily from 9-5:30 pm, has free 3-hour parking and is located right next to the train station — another reason Frederick is a great hub and spoke city.
Tip: Take a self-guided walking tour or arrange for a guided walking tour (ask at the visitor center for a map or a tour) to really see Frederick's history and architecture come alive through stories and legends. After all, you're walking the same downtown Frederick streets once walked by Benjamin Franklin, Abraham Lincoln, Robert E. Lee and Francis Scott Key, so the stories are pretty incredible.
Relax in the park.
Just steps from the Visitor's Center, you'll already be in one of the prettiest parts of downtown Frederick — Carroll Creek Park. A 1.3-mile waterway flows through the middle of the park surrounded by winding walkways, artistically designed bridges and luscious landscaping.
What began as a flood control project has quickly become the heart of Frederick, and you'll see people strolling, biking and enjoying this park at all hours of the day.
Art and utility are woven together beautifully in Carroll Creek Park, so keep your eyes open for surprises!
While you're there, be sure to take a closer look at the Community Bridge with its "trompe l'oeil" painting technique. What appears to be an old stone bridge is actually an illusion; it's ordinary concrete that was carefully painted to look like stones. It's a true work of art!
Admire the clustered spires.
If you haven't noticed already… look up while you're walking, and you'll spot a skyline of clustered spires – one of Frederick's most defining characteristics and something that begs to be captured in photographs.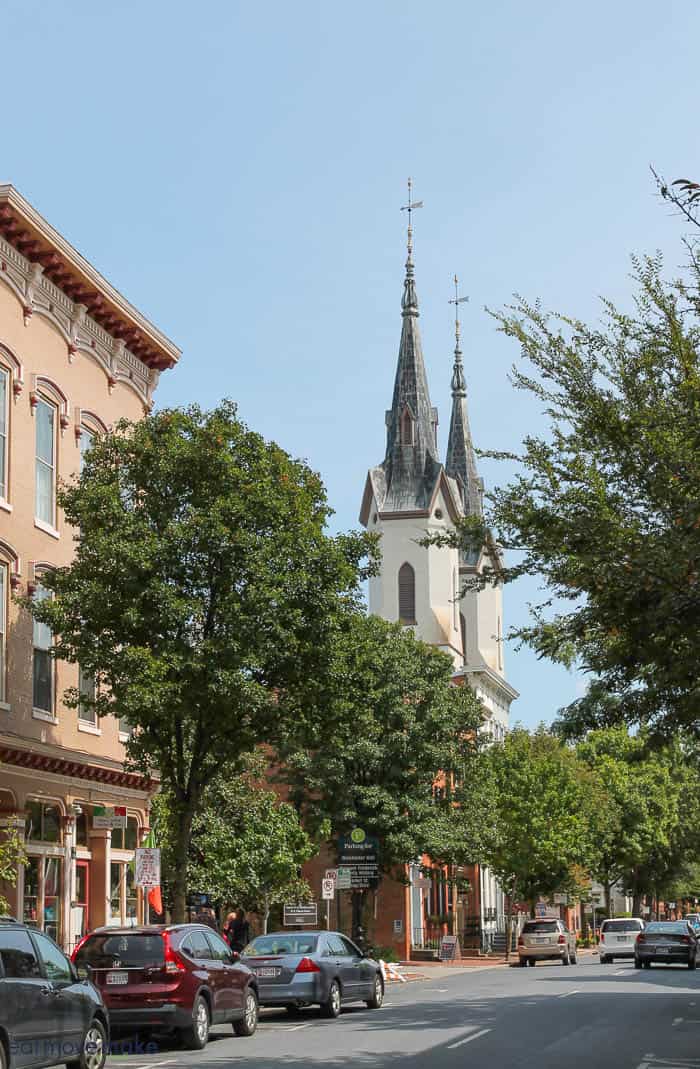 Wander the historic downtown district.
There are several "Angels in the Architecture" fresco paintings downtown, and we happened upon one called "Earthbound". See if you can find them all.
You'll also see numerous front door decorations like this cast iron greyhound which has been sitting on this front stoop since the 1800's. It was a knock-off of a famous artist's sculpture which is now a centerpiece in the Boston Museum of Fine Arts. Legend has it that Confederate troops once stole the statue with plans to melt it down for bullets. Alas, it's just a tall tale, but an interesting one!
Keep your eyes open on the sidewalk for these old carriage steps. I know they're probably a tripping hazard, but they're a neat reminder of the past.
Frederick's first courthouse built in 1862 ( now City Hall) sits in what has to be one of the prettiest courthouse squares I've ever seen. This was once the site where citizens burned effigies of British officials in protest of the Stamp Act.
The new courthouse (a few blocks away) has the statue of John Hanson out front who is sometimes referred to as the first president of the United States. In fact, he was the first president of the Continental Congress under the Articles of Confederation. Who knew?
Follow in the footsteps of Francis Scott Key.
There are six wayside exhibits in the area commemorating Francis Scott Key's life and the "Star Spangled Banner" which he wrote during the War of 1812.
Across the street from the park is the building which once housed Key's law office.
You can also visit the Francis Scott Key monument and gravesite at Mount Olivet Cemetery.
Visit the National Museum of Civil War Medicine.
Even if you're not a history buff, I promise you'll find this Civil War medicine museum fascinating! Frederick played a vital medical role during the war as most of its churches became hospitals for wounded soldiers.
You'll see that in spite of horrific conditions during the war, the medical care given to patients was state of the art for the time, and in fact, has led to many of the tools, theories and treatments we use today including the EMS system.
Catch a show at the historic Weinberg Theater (Weinberg Center For the Arts).
Originally called the Tivoli, this grand movie theater was built in 1926 and had a Wurlitzer pipe organ which played alongside silent movies. It also became the first public building in Frederick to have air conditioning thanks to a good tip on a racehorse.
Even if you don't have time to see a show, stop by to look at the beautifully preserved box office. The inside of the theater is just as elegant and luxurious, so I hope you get the chance to see that too. Perhaps you can get tickets to one of those silent movies accompanied by the Wurlitzer.
Go shopping.
There are so many cute independent specialty shops to explore all throughout downtown Frederick, so if you're looking for something unique, you'll definitely find it here. Check out One of a Kind, Retro Metro, Relish Decor and the cute shops of Everedy Square & Shab Row.
Taste the best gin you've ever had. 
McClintock Distillery is producing some really tasty spirits, and they have the only gin I've ever tasted and liked. In fact, I bought a bottle of their gin, white whiskey and vodka to take home with me. They're doing some really cool things in their distilling process, so be sure to ask for a tour when you stop in for a tasting.
Too early for spirits? No problem. Get a pop!
Stop into the Pop Shop where you can choose one of over 400 flavors of soda pop and delicious farm-made ice cream. I recommend you combine the two in a float!
Grab a bite to eat.
If you love pizza or burgers try Brewer's Alley, a casual eatery with a cozy outdoor patio. I can vouch for the delicious Margherita pizza!
Tip: Before or after your meal, ask to see the painting in the back dining room of Confederate General Julep Early and the Civil War ransoming of Frederick for $200,000. The ransom was paid to avoid the city being burned down – a very real threat at the time. They even got a signed receipt for the payment, and it took the city a century to pay the banks back for the loan. Isn't history fascinating? Also worth seeing is the giant dinosaur mural on the parking garage behind the restaurant. Kids will love it!
There's no shortage of great food in Frederick, believe me! The Wine Kitchen overlooks Carroll Creek (bonus points for that) and has a warm and welcoming rustic-chic decor. You can't go wrong with the fried green tomatoes as a starter, steak as an entree (my filet mignon was perfect) and the superb blueberries 'n cream dessert!
Another great downtown Frederick restaurant is the Tasting Room, a restaurant and wine bar with an extensive menu. I had a Caesar salad and the incredibly delicious cauliflower stew.
As you can probably tell, the list of things to do in downtown Frederick, Maryland is seemingly endless. Immerse yourself in beautiful architecture, rich history, the great outdoors (my next post), modern, fun eateries, shopping and spirits. Hip and historic Frederick has everything you need for a fabulous two or three-day getaway!
For more information on the area and help in planning a trip, reach out to VisitFrederick.com
More to Explore