The perfect place to stay in the nation's oldest city is the city's oldest inn – the St. Francis Inn. Nestled in a quiet corner of St. Augustine's historic district, the St. Francis Inn offers a cozy escape, romance, plush accommodations, amazing food and more amenities and hospitality than you could ever ask for.

My stay was part of a hosted press trip but all opinions are my own.
Enter the courtyard of the St. Francis Inn where lush tropical plants and a koi pond with a babbling fountain coax you to sit, relax and enjoy the serene beauty of this magical place.
The courtyard is sheltered with high coquina stone walls and iron gates, reminding guests that its fortified design was essential for protection during St. Augustine's tumultuous early years. Read more about the inn's history here.
Now it's simply a sanctuary with lots of nooks and crannies in which to tuck in and chill out any time of day or night.
ST. FRANCIS INN ACCOMMODATIONS
The St. Francis Inn is unique from other lodging options in so many ways, but one key difference is that guests can choose to stay in the main inn, the Wilson House next door, a cottage or the 1894 House (a few blocks away). There's also an adults-only sister property available – Casa de Suenos and three beach cottages on St. Augustine Beach.
I stayed in Saffron's Suite, a spacious three-room suite located on the first level of the Wilson House just across the one-way cobblestone avenue and facing the St. Francis Inn.
Each of the suites in the Wilson House has its own porch or balcony. I spent time in one of these red rocking chairs on my porch every morning and evening.
My extremely spacious three-room suite on the first floor opened to a sitting room with a queen-sized sleeper sofa, TV and working fireplace. It also had a second smaller sitting room which opened to a bedroom with a queen-sized bed, TV, desk, dresser, fridge and microwave.
The full bathroom had a 2-person whirlpool tub and shower and was in the most beautiful shade of blue!
QUENCH YOUR THIRST AT THE ST. FRANCIS INN
As a tea lover, I found my happy place in the St. Francis Inn. The variety of Stash teas was incredible but there were also several loose-leaf teas and sweet and unsweet iced tea.
The St. Francis Inn is killin' it with the tea!
There was also a specialty coffee bar, hot cocoa and water, but I was blown away by the tea because most places don't put much effort into their tea selection.
BREAKFAST AT THE ST. FRANCIS INN
Stroll in anytime between 7:30-9:30 AM (7:30-10:30 AM on weekends) and help yourself to the breakfast buffet of goodies. You're welcome to sit in the dining room, grab your plate, and head outdoors to a cafe table in the gardens.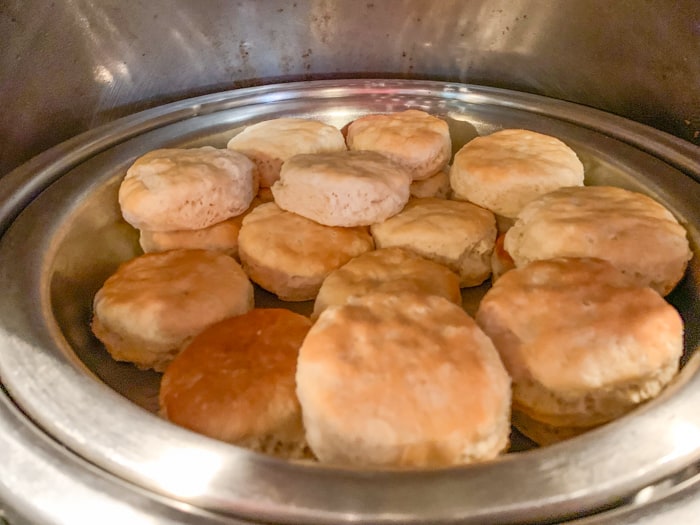 SOCIAL HOUR AT THE ST. FRANCIS INN
Come and enjoy a refreshing beverage and a selection of appetizers and snacks every afternoon in the main dining room between 5-6 pm. The appetizer changes daily but there are always fresh veggies and a housemade dip. Grab a cup of coffee, hot or iced tea, soda or water and enjoy. Wine, beer and cocktails are also available for purchase.
If you're starting to think about making your dinner plans for the day, it's a great time to mingle with other guests and share local favorites. Some of the best restaurants are discovered through word of mouth.
NIGHTLY DESSERTS AT THE ST. FRANCIS INN
Unwind from your busy day exploring St. Augustine with a sweet treat. Each evening from 8-9:30 PM, guests can help themselves to a varying selection of tantalizing freshly baked desserts. On my first evening, I was delighted to discover chocolate cupcakes with vanilla frosting, almond fudge-topped shortbread and all the fixings for s'mores at the courtyard firepit.

SWIMMING POOL
Take a dip in the inn's 80°F heated pool any day of the year. It feels wonderfully secluded!
GO FOR A BIKE RIDE!
Guests of the St. Francis Inn are free to explore St. Augustine with one of the complimentary bicycles available for use.
FREE TICKETS TO THE LIGHTHOUSE
All guests receive tickets good for complimentary admission to the St. Augustine Lighthouse and 50% off on admission to the Oldest House Museum.
FREE BEACH ACCESS
Guests of the St. Francis Inn can spend the day on St. Augustine Beach and enjoy off-street parking and the comforts of beach towels, chairs, umbrellas, a refrigerator and a private bathroom with shower.
---
There's so much to love about the St. Francis Inn, including owners Margaret and Joe Finnegan. Not only are they warm and welcoming, but they also love to swap stories and chat about the inn's history. (Ask about ghosts!)
They're always available but never invasive and pesky, as some guests prefer less mingling and more privacy.
The St. Francis Inn is the perfect St. Augustine bed and breakfast for everyone.
Pin this post as a reminder to stay at the St. Francis Inn on your next visit to St. Augustine!
Book a stay at the St. Francis Inn in St. Augustine!
279 George St. St. Augustine
Website
Love Florida? Check out more of my Florida travels! Daytona Beach is just an hour away!
Other Unique Places to Stay in the USA