I recently had the chance to sail as a guest on the Norwegian Bliss inaugural cruise from Los Angeles before it began its highly anticipated Alaska summer voyages.
It was a quick two-day whirlwind adventure, but it gave me the opportunity to experience cruising for the first time ever, and I'm pretty sure the Bliss has spoiled me for life.
I was a little nervous since I was both a first-timer and traveling solo, but I wound my way through the port check-in process and followed the crowds aboard the most gigantic and lavish ship I could ever have imagined.
By the numbers, she weighs 168,028 gross tons, measures 994 feet long by 136 feet wide and can carry 4,004 passengers and 1,716 crew members. The ship is a small city, to be sure.
And it's absolutely stunning!
It even has its own shoppable art gallery, and it's well worth a stop. The artwork is exquisite!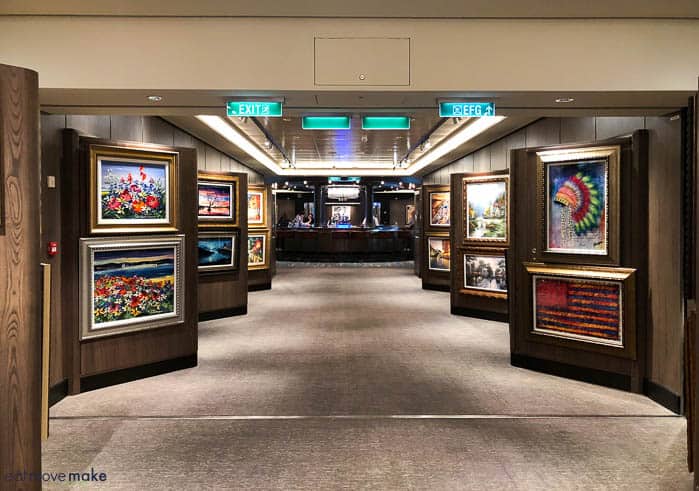 It would be a while until staterooms were ready, so I cozied up in a chair with a cold iced tea and got my bearings.
Shortly thereafter, my stomach started rumbling so I wandered to one of the complimentary restaurants – Taste. Its twin, Savor, sits directly opposite it.
It was my goal to prove I could have fun on a cruise without overindulging on calories, so I was thrilled to see so many delicious options that fit into my eating plan. In fact, I continued to lose weight on the cruise! (The key was willpower and staying active. More on that later.)
When I arrived at my stateroom (a mini-suite on deck 13), I was delighted! Not only did I have a really large and comfy bed, I had a balcony with two chairs, a couch, desk, and a bathroom with double sink, shower and counter space.
There's a key insert on the wall near the bathroom which allowed the lights and power switches to work, so I just popped my key in when I entered the room and took it out right before leaving. What a great way to conserve energy!
There are 2,043 guest staterooms from which to choose, so you can choose a higher or lower deck and a smaller or larger room according to preference. I would definitely book a mini-suite again. I found it to be the perfect amount of space with lots of natural light (a must for me).
I loved sitting out on the balcony with a cup of hot tea and a book. The first morning I woke up on the ship, I was rewarded with an unexpected visit from a lone seal swimming way out beyond the coast of Ensenada. It was a big highlight for me!
Since we were at sea for the entire inaugural cruise, I had plenty of time to explore the entertainment, food and fun on the Norwegian Bliss.
Make a splash.
There's no shortage of water fun aboard the Norwegian Bliss, and I watched thrill-seekers slip-slidin' away on the two waterslide options. They could race side-by-side on inner tubes through the Aqua Racer or blast individually through two loops extending over the side of the ship on the high-speed Ocean Loops slide.
For more sedentary water relaxation, sink into one of the six infinity hot tubs or cozy up on one of the many lounges with a great book and a cocktail. That's where I hung out.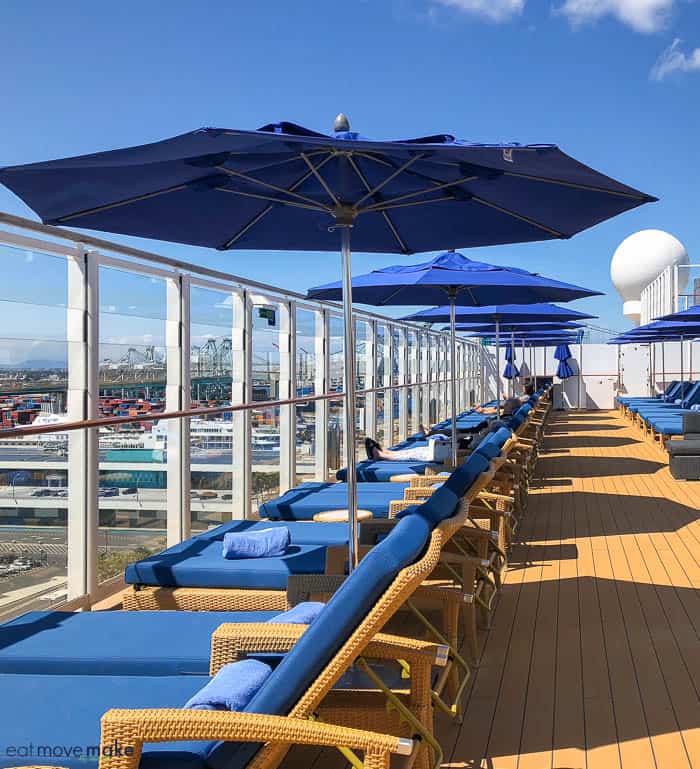 Go, speed racer, go.
The longest race track at sea and the first one on a North American-based ship had me revving my engine and swerving around hairpin turns across two deck levels in a competitive and thrilling race to the finish line. For just $9.95, drivers donned balaclavas and helmets and raced in silent, electric motor cars (fueled with revving engine soundtracks) and iit was an absolute adrenaline rush!
Zap your neighbor.
If you've always played laser tag in the dark, try a game of open-air laser tag in an abandoned space station-themed setting atop the Norwegian Bliss. Each $5 five-minute play session is crazy amounts of fun, so don't be surprised if you want to play again and again and again. I couldn't stop laughing the whole time. It was a blast!
Get zen.
A visit to the Mandara Spa offers the ultimate in pampering and relaxation with 24 treatment rooms, salon, barbershop, thermal suite and thermal beds, a hydro- therapy pool, whirlpools, steam room, dry sauna, Sanarium, Salt Room and NCL's first-ever Snow Room.
It's impossible not to relax there.
Another amazing relaxation spot is on the "Waterfront". The Bliss spotlights the sea with outdoor boardwalk areas and seating extensions of several restaurants and bars so guests can dine, sip a mojito or cool off with a cup of gelato while enjoying spectacular ocean views.
It just doesn't get better than this, does it? It was one of my favorite places to be on the ship.
Let Bliss entertain you.
Boredom, shmoredom. If you're bored on the Bliss, then you're not really on the Bliss because there's so much to do, you can't possibly find time to do it all. Between the active thrills I've already mentioned, and the sit-down shows I'm about to mention, you'll only have time to sleep if you make a point of it. (I managed a solid eight hours of sleep per night, so I know it can be done.)
There are several Broadway-style shows to choose from including the Tony Award-winning smash hit musical, Jersey Boys in the main theater. Just try not to tap your foot and sing along with Frankie Valli and The Four Seasons.
On alternating nights in the main theater, catch the production of Havana!, a hot and spicy 1950's era Cuban-inspired musical. The drum rhythms, the costumes, the dancing… so much fun!
Also worth seeing is the interactive Happy Hour Prohibition – The Musical where guests 21 and over will sip five featured cocktails while enjoying a slightly racy show at a New Orleans speakeasy.
Other entertainment options include a Beatles cover band in The Cavern Club, stand-up comedy at Social and a silent disco! I would have loved to check out the silent disco, but my eight hours of sleep was calling.
Eat all the things.
One of the things that always scared me about cruising was the thought of formal dinners. While I occasionally enjoy the chance to dress up (and there were many people who did just that), I'd much rather not, and I appreciated that I felt comfortable in casual resort wear at all times on the ship. And… guests have the freedom to eat when they want with freestyle dining— they don't have to follow a set meal time.
Restaurants included in the freestyle dining plan include the main dining room (The Manhattan Room), two smaller twin dining venues (Taste and Savor), a buffet restaurant (Garden Cafe) and a pub-style restaurant (The Local).
If you're feeling adventurous and want to try one of the premium specialty restaurants (at an additional cost), make your reservations early. They get booked up quickly. I know this because I wanted to go to Q, the new Texas smokehouse BBQ joint, but it was completely full. Next time…
I did enjoy an amazing meal at Teppenyaki, a Japanese steakhouse with food cooked to order table-side.
The following night I had dinner at Food Republic where everything was ordered by touch-screen and served tapas-style. I suggest you stagger your orders. We didn't realize everything would come out so quickly, so we could barely fit it all on the table!
My favorite dish was the Mexican street corn.
If you have a sweet tooth, you'll want to visit Coco's for the dreamiest of sweet confections. I had amazing willpower so I stuck with just a taste before letting everyone else devour it.
Other specialty restaurants offer Mexican, Italian, steak, seafood, French cuisine and of course, American fare at a Norwegian favorite, Margaritaville at Sea. The Bliss truly has a restaurant for every palate.
Sip at sea
I can't talk about a cruise without at least mentioning cocktails, and there were plenty of places to have a drink aboard the Bliss: lounges, poolside bars, nightclubs and the popular Sugarcane Mojito Bar.
Savor the view.
Along with the Waterfront, I spent time in the Observation Lounge with its floor-to-ceiling windows spanning 180-degrees. I could only imagine the view one would experience upon sailing into Alaska. The lounge even had interactive screens identifying the outside scenery, and since you'll likely want to spend a chunk of time there, you'll probably be happy to hear it has a full-service bar with snacks.
If you book a suite in The Haven, NCL's luxurious ship-within-a-ship concept, there's a private two-story observation lounge with an expansive view just like the one the ships' officers experience from the bridge. I didn't stay in The Haven, but I got a sneak peek of its Horizon Lounge and suites. Wow, is that ever the way to sail if you can swing it!
If you can't tell by now what to expect when cruising on the Norwegian Bliss, then I simply can't help you. 😉 Think you can do it all and still save time for shore excursions? I'll bet you can!
I knew NCL's cruise game was strong (check out my daughter's cruise on the Norwegian Getaway) but until I experienced being on a cruise myself, I didn't truly "get" cruising. Now I understand why people love taking cruises.
Dear Norwegian Cruise Lines, your newest ocean liner is slaying it. Bliss is indeed, bliss.
Pin it!
More Travel Adventures