Having never been to Myrtle Beach before, or South Carolina at all for that matter, I count myself as lucky that my first experience included a stay at Sea Watch Resort.
From check in to check out, my boyfriend and I felt positively spoiled and were able to fully relax after a whirlwind month of dieting, competing, graduating, and more.
When we walked into our oceanfront suite at Sea Watch, we were greeted by this cheerful display of welcome goodies. The note told us to check the fridge for a special treat – a beautiful cheese and fruit plate!
While we were in fridge-checking mode, we unpacked all of the food we brought along with us on the trip. Both of us are frugal, so we toted along plenty of things to eat, but amazingly, we didn't touch any of it because we dined like kings at all the fantastic restaurants that graciously hosted us over the weekend.
If we'd needed to cook, we certainly could have, because the kitchen included a fridge, microwave, oven, dishwasher, coffee maker, toaster, and as you can see below, lovely granite countertops.
Once we got everything put away (typical type-A people), we stopped to admire the beautiful ocean view. Because of the way Sea Watch Resort is designed, every single room in its North Tower has a patio with a full view of the ocean!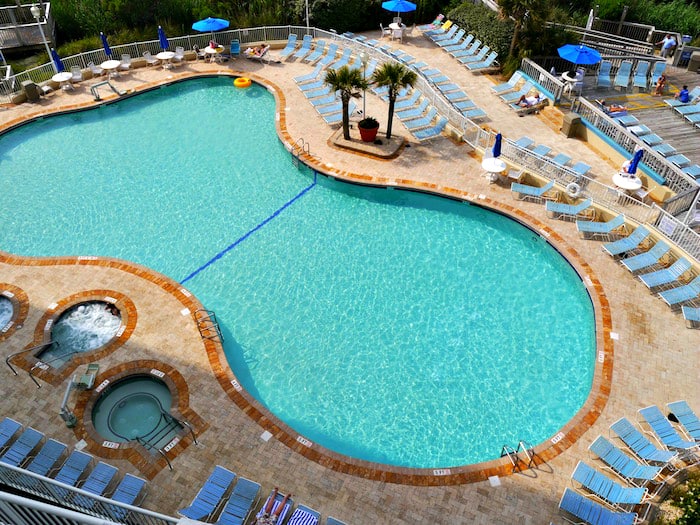 We got into Myrtle Beach in the evening on a Thursday, ate dinner, and then headed right down to the pool and hot tub area for a night swim. The resort includes multiple pools, hot tubs, and lazy rivers, and as you saw above, a tiki bar! We FULLY took advantage of the tiki bar.
The next morning after breakfast, we decided to spend the day at the beach. We brought towels (which can be checked out from the front desk – totally complimentary as long as you return them), our portable speaker, and some Yuenglings and camped out for a few hours, enjoying the sand and sea until it was time for lunch – stay tuned for a post about all our Myrtle Beach eats! The beach was delightful and only one of us got sunburned. (Hint: it wasn't me.)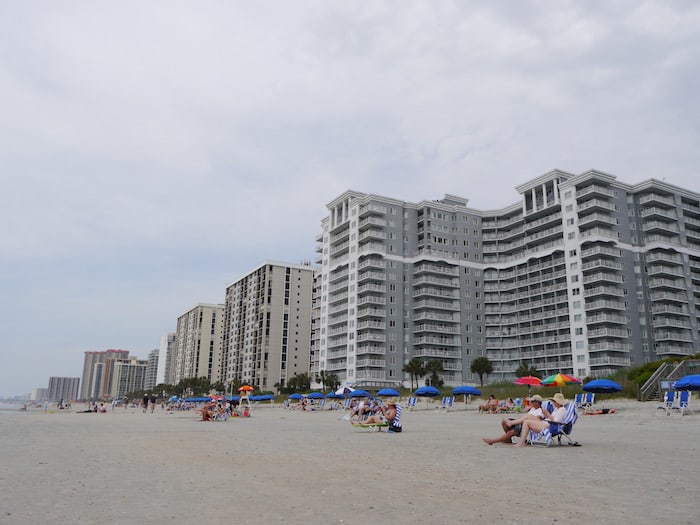 We could not have asked for a better resort experience for our first trip to Myrtle Beach! Thank you, Sea Watch, for your hospitality and complimentary stay. You truly are the friendliest place on the beach.
You, too, can stay at Sea Watch and be a beach bum like we were! Sea Watch had an equal split of couples vacationing alone and families vacationing with kids, so it would be a good choice for whatever kind of beach trip you're taking.
You can book your room at Sea Watch or at any of the other VMB resorts at VacationMyrtleBeach.com!
Related Posts