Are you ready for an adventure? Imagine yourself biking on the stunning Virginia Creeper Trail, one of the most incredible rails to trails experiences in the U.S. You may have some questions holding you back, but fear not – I'm here to help you out!
Which Creeper Trail sections are easy vs. challenging, where are the trailheads, what's the scenery like… we've got the answers to help you start planning the best Creeper Trail Virginia experience!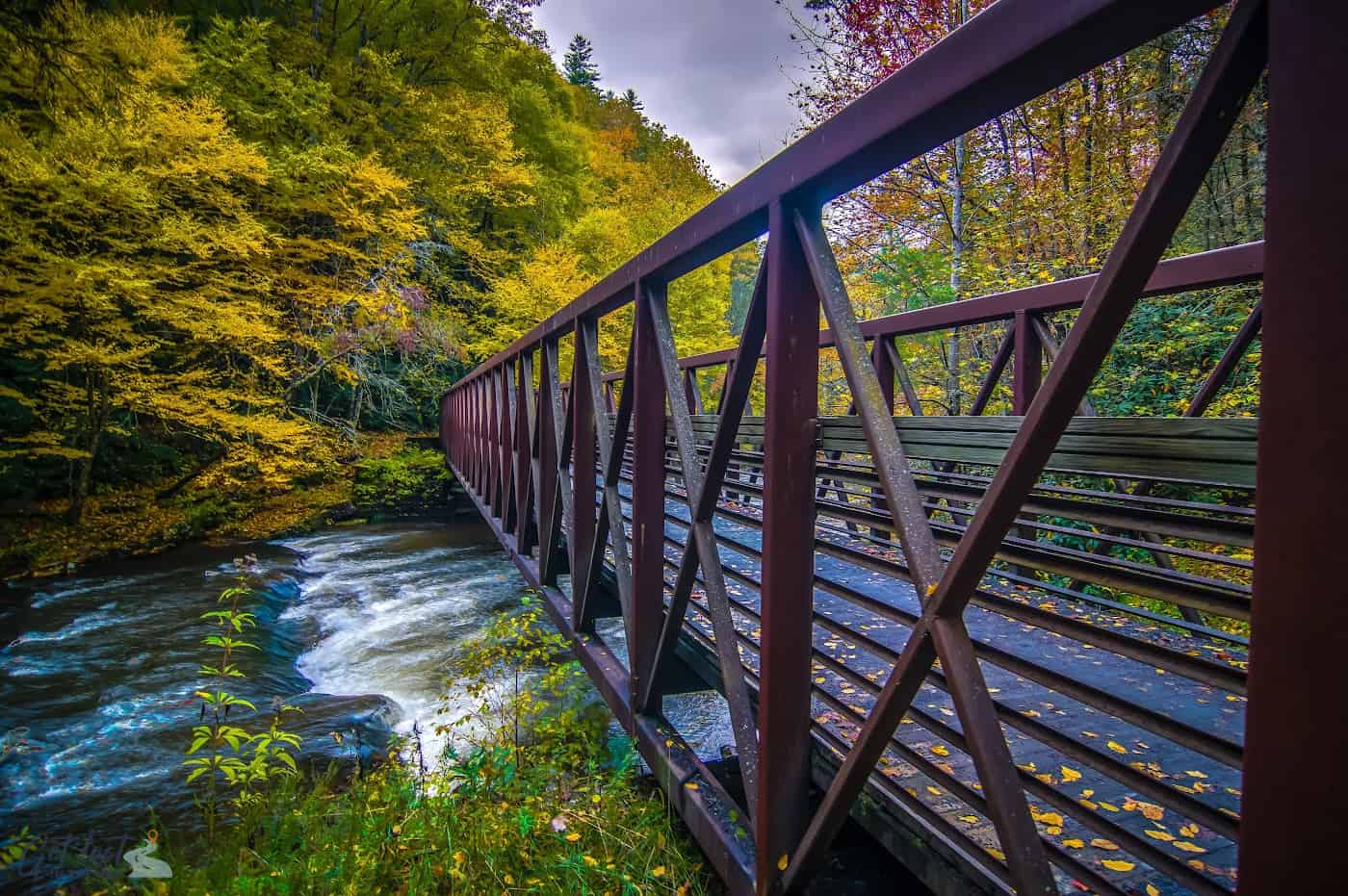 What is the Virginia Creeper Trail?
The Virginia Creeper National Recreation Trail is a shared-use trail spanning 34.4 miles from Abingdon, Virginia, through Damascus, VA, and on to White Top Station in the Mount Rogers National Recreation Area (near the Virginia-North Carolina border).
How Did the VA Creeper Trail Get Its Name?
The Virginia Creeper Trail gets its name partly because of the native climbing vine but mostly because the trains crept up the mountain.
Which Trail Section Should I Ride?
Lower Trails
Abingdon to Alvarado Station (8.4 miles) – Alvarado Station is on the way to Damascus, so if you're looking for a shorter ride, it's perfect. There's a lovely winery near Alvarado Station that makes the ideal stopping point.
Abingdon to Damascus (17 miles) – Riding from Abingdon to Damascus is mostly downhill, with a gentle grade that makes it an easy ride for all skill levels.
Damascus to Abingdon (17 miles) – Riding from Damascus to Abingdon involves a gradual uphill climb, which can be more challenging, especially for beginners.
Upper Trails
White Top Station to Damascus (17 miles) – This is the most popular trail section, as it's mostly downhill. So, if you're looking for a fun family bike ride with plenty of coasting, this is the trail. However, it's the busiest section of the trail—weekends, especially—so keep that in mind when planning.
Damascus to Whitetop Station (17 miles) – This is a steady uphill climb. It's the most challenging trail section.
Trailheads and Access Points
Virginia Creeper Trail Welcome Center – Abingdon Trailhead- 300 Green Spring Road, Abingdon, VA 24210
Watauga Trailhead – 24350 Watauga Road, Abingdon, VA 24211
Alvarado Station – 21198 Alvarado Road, Abingdon, VA 24211
Damascus Town Park – 301 S Beaver Dam Ave, Damascus, VA 24236
Straight Branch Trailhead – Near 25738 Jeb Stuart Highway, Jefferson National Forest Damascus, VA 24236
Taylors Valley Trailhead – 23530 Taylor Valley Road, Jefferson National Forest, Damascus, VA 24236
Creek Junction Trailhead – 21285 Creek Junction Road, Jefferson National Forest, Damascus, VA 24236
Green Cove Station – Green Cove Community Center, 41221 County Road 600, Jefferson National Forest, Damascus, VA 24236
Whitetop Station – Whitetop Gap Road, Whitetop, VA 24292 (note this is NOT Whitetop Mountain but the community of Whitetop, VA)
Biking the Lower Section: From Abingdon to Alvarado Station
The best reason to bike the lower section is that it's the most scenic part. You can see out to White Top Mountain and the rolling hills of the Appalachians.
We got set up for bike rental at the Virginia Creeper Trail Bike Shop—they also have a shuttle service—then we pedaled over to Mile Marker Zero at the Virginia Creeper Trail Welcome Center.
Here, visitors can use the restroom, get a trail map, water, and merch and see the "Old Mollie," a fully restored steam engine.
The scenery on the lower segment of the Virginia Creeper Bike Trail is stunning from the jump, especially in the fall, with the changing colors. Riding over the crackling leaves and smelling that distinctly fall scent in the air is blissful.
The vista changes from wide-open farmland pastures to tree-shaded forests to curving railroad trestles and whispering creek beds. It's a true feast for the senses.
The trail is mostly level, and you'll be able to coast regularly, but there are a few sections where you need to push those pedals a bit more. Unfortunately, something was wrong with my bike (it continuously slipped gears on its own), so I'm pretty sure I exerted far more energy than I would have on a fully tuned-up bicycle. (The silver lining was that I lost three pounds that week.)
No rule says you have to bike without stopping, so we often stopped to rest and drink water, admire the scenery, and take photos.
The trail passes through private property, but as long as you stay on the path, you're not trespassing. As you ride through the farms, you'll notice lots of grazing cattle, and there are several cattle gates that you'll need to stop, open, and close securely behind you.
At one point, we came upon the "Unlawful," a cabin alongside the bike trail. Locals gave it the nickname because, somehow, the property line of the cabin is identical to the cabin walls, so everything outside the walls (porch, steps, and landscaping) is separate property owned by someone else. How crazy is that?!
Much of the trail's scenic beauty is in the wide-open spaces, but it's also quite lovely under the canopy of leaves in the forest.
Keep your eyes open for the Virginia Creeper vine snaking across some trestles.
We crossed twelve trestles on our journey, and Trestle #12 had an incredibly fantastic view as it spanned the South Holston River.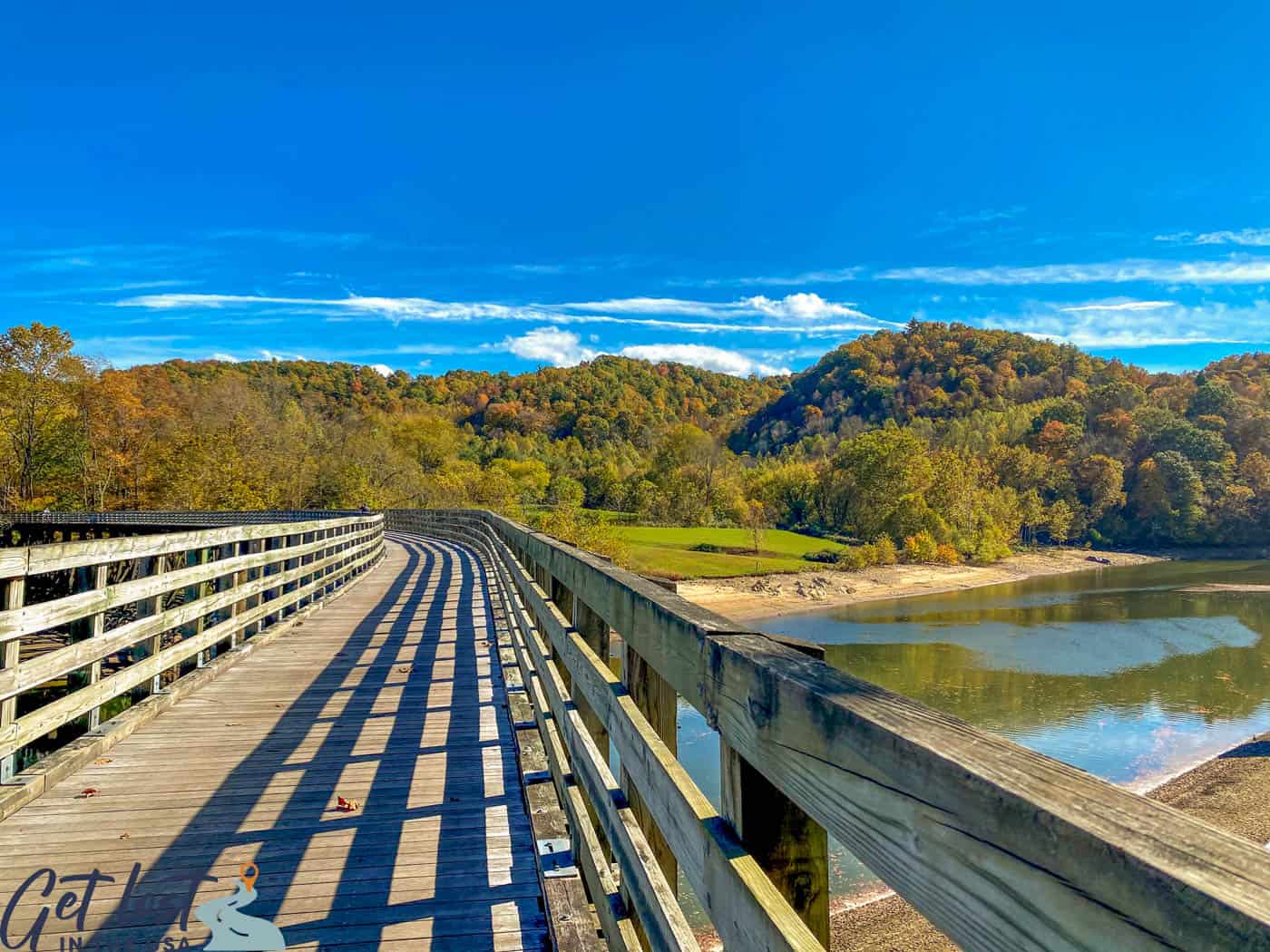 There are a total of 47 trestles across the entire Virginia Creeper Trail.
If you stop at Alvarado Station, as we did, you'll have biked 8.4 miles from Abingdon. It's an idyllic place to stop and have a little picnic.
Or you can bike over to nearby Abingdon Vineyards for a wine tasting while you relax your legs and enjoy the creekside view.
Abingdon Vineyards is also very pet-friendly. You'll almost always see happy dogs playing but may encounter horses too. We did!
It's also fairy friendly; the kids will love this cute little fairy door.
The current owners are from California and have put a fresh, inventive Napa-style spin on Virginia wine, and the results are delicious.
Visit the Abingdon Vineyards website for hours and info on all the fun events (live music, cooking classes, bloody Mary brunches, wine club parties, book club, a holiday wreath workshop, and more). There's always something merry being planned.
Frequently Asked Questions
What is the Virginia Creeper Trail trail surface?
Mostly gravel.
When is the best time to bike ride on the Virginia Creeper Trail?
Fall is the most picturesque season.
Where is the best place to start on the Virginia Creeper Trail?
Start your bike ride at The Creeper Trail Welcome Center in Abingdon. Free parking is available near the trailhead, and you can rent bikes from the Creeper Trail Bike Shop, just two blocks away. Alternatively, you can arrange a bike rental and shuttle service to White Top Station if you want to do the White Top to Damascus downhill ride.
For help planning a trip to the area, visit the Abingdon CVB website at visitabingdonvirginia.com.
More Fun in Virginia