Wytheville (pronounced WITH-VILLE), a charming small town in the Blue Ridge Mountains of Southwest Virginia, is the only city in the world bearing its name. That uniqueness carries over into its one-of-a-kind personality. There are so many fun things to do in Wytheville, VA!
Eye-catching scenic views, quirky finds, rich history, a delightful downtown, outdoor adventures, and delicious eats abound in this ideal stopover-and-stay location near the Blue Ridge Parkway (30 minutes from the Fancy Gap entrance).
Wytheville is a great place to visit in the Blue Ridge Mountains!
My stay was hosted by VisitWytheville, but my article and opinions are solely my own.
Facts about Wytheville
Great stopover-and-stay location at the crossroads of two major Interstates. (I-77 and I-81)
Main Street is located on "The Great Road" that ran from Philadelphia to the Western frontier.
Originally called Evansham, the town was renamed in honor of George Wythe, a well-respected Virginia lawyer, professor, and signer of the Declaration of Independence.
Home of Edith Bolling Wilson, second wife of President Woodrow Wilson. Her childhood home, now a museum, is one of only eight First Lady museums in the country.
Annual Events
Chautauqua Festival in the Park – June (3rd week)
July 4th Celebration
Wytheville Wine Festival – July
New River Trail Challenge Triathlon – September
Mayhem on Main Street (Zombie 5k) – October
Big Walker Lookout
A visit to the iconic Big Walker Lookout is kicking off the list of the best things to do in Wytheville, VA. The beautiful views begin with your car ride on the Big Walker Mountain Scenic Byway, where you'll wind your way up to an elevation of 3,405 feet as you arrive at Virginia's oldest and highest attraction.
Here you'll have the opportunity to climb the 100-foot observation tower for an unparalleled panoramic view of majestic mountains, rolling valleys, and farmlands. On a clear day, you can see five different states from the tower (Virginia, West Virginia, Tennessee, North Carolina, and Kentucky).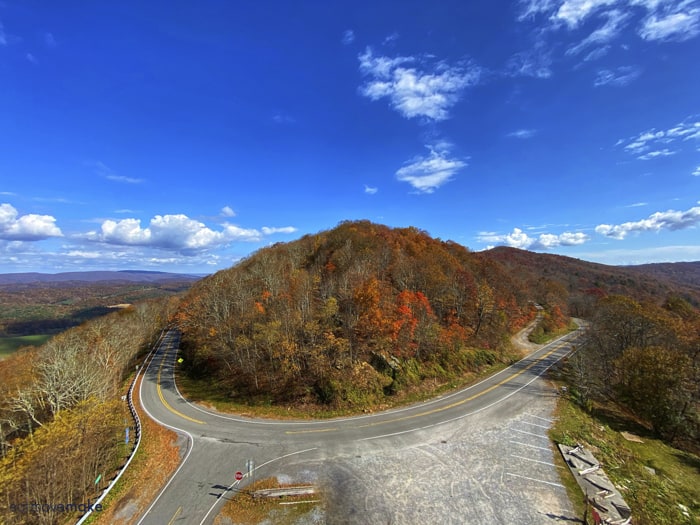 Reward yourself afterward with a visit to the country gift shop and a hand-dipped scoop of Homestead Creamery's luscious lemon ice cream.
Visiting on the weekend? Along with live musical performances (it's a Crooked Road-affiliated venue), the tower hosts weekend art demonstrations on the front porch to highlight local artists and crafters.
Edith Bolling Wilson Birthplace Museum
If you love historic sites, visit the Edith J. Bolling Museum to discover the fascinating story of Wytheville's own first lady, Edith Bolling Galt Wilson, a descendant of Pocahontas and the second wife of United States President Woodrow Wilson.
The first lady's birthplace museum showcases a collection of historical memorabilia, including her operator's license—she was the first woman to drive an electric car in Washington, DC.
Often referred to as the "first woman president" and the "secret president," Mrs. Wilson played a significant role in the white house during President Wilson's administration.
Also, part of the museum is Edith's actual birthplace and family home, where visitors can listen to short audio recordings in each room with entertaining tidbits about Edith's family history.
LOVE Signs Photo Ops
Wytheville's LOVEworks sign (200+ in Virginia) is unique and worth a photo stop. The wayside exhibit explains the symbology of the painted artwork.
L represents the influence of the railroad.
O showcases a hot air balloon, used in the town's elevated water tank in honor of the annual Chautauqua Festival.
V depicts the crossroads of two interstates, I-77 and I-81, and the branding theme of "Wytheville…There's Only One."
E honors the history of baseball in this community as it was played in Withers Park behind the LOVEworks display.
You'll also find Virginia LOVE signs attractions at Big Walker Lookout, Beagle Ridge Lavender Farm, and Wolf Creek Indian Village.
Giant Pencil
The giant yellow pencil suspended above the Wytheville Office Supply store on Main Street has been a fun roadside attraction and photo op for travelers since the '60s. If you love "oversized" oddities, make it a point to see this one!
Edith Bolling Wilson Mural
This 100-foot mural titled "From Wytheville to the White House" features scenes from the life of Edith Bolling Wilson, from birth to life as a first lady, to her last visit to Wytheville at age 88, and her death in 1961. The mural is located in an alley right off Main Street in downtown Wytheville.
Thomas J. Boyd Museum
The Thomas J. Boyd Museum, named after Thomas Jefferson Boyd, is known as the "Father of Wytheville." The museum showcases local history, including a poignant gallery on the 1950 polio epidemic that devastated Wythe County.
Other exhibits feature the area's natural resources, Civil War history, antique fire trucks, a vintage telephone switchboard, and the intricate wood creations of the late Harlan Clemons. There's also a general store and interactive exhibits for kids on the lower level.
Historic District Walking Trail
Pick up a printed historic walking tour brochure from the Wytheville Convention & Visitors Bureau or view it virtually and find out all about Wytheville's landmark buildings and local businesses.
The guidebook is exceptionally well done and contains interesting factual tidbits to read between tour stops. The tour consists of several loops; choose your favorite for a short walk or explore them all.
Haller-Gibboney Rock House Museum
This 1823 Federalist-style dwelling was home to Wytheville's first resident physician. It was later used as a Civil War hospital and is now a museum with period antiques and local historical artifacts. There's also an heirloom herb garden outside.
Wohlfahrt Haus Dinner Theatre
Enjoy dinner and a show at this German-themed dinner theatre; it's the only all-musical theatre in Virginia! The menu changes when the show changes, so it's always a new experience.
Outside the theater option, Wohlfahrt Haus offers a feast of German cuisine and classic American fare in the Matterhorn Restaurant & Biergarten.
Octagon Mansion
For ghost-seekers, the historic Octagon Mansion is reportedly full of paranormal activity and hosts various unique events and haunted happenings throughout the year.
New River Trail State Park
Suppose you're looking for some outdoor recreation: bike riding, horseback riding, paddling, tubing, fishing, or casual strolling—this 57-mile linear park in Max Meadows, VA, is where you need to be. The park has a fabulous rail trail that runs 39 miles along the New River. The unspoiled views will take your breath away.
Shot Tower
Climb the winding staircase to the top of this 75-foot tower where ammunition was made. Lead was melted in a large kettle, then poured through sieves of varying sizes where it fell into a kettle of water at the bottom, cooling into "shot." The river provided the necessary supply of water for the process. Tours of the Shot Tower are available on weekends.
Beagle Ridge Herb Farm
Known for lavender, herbs, and butterflies, this family-friendly farm located in a valley in the Blue Ridge Mountains has themed gardens, ATV tours, the "Flying Flowers" butterfly house, a butterfly-shaped lavender maze, a tearoom, and a delightful gift shop filled with herbal spa and culinary products made on site.
Beagle Ridge hosts a Lavender Academy with loads of special events and classes as if all that wasn't enough. Click here for the current schedule and learn more about the nature tours offered through Lick Mountain Excursions.
The Smallest Church
Wytheville's smallest church (at exit 73) is tiny! It's one of the smallest churches in the United States with just eight seats inside, but it's complete with a pulpit and is the perfect place to reflect and enjoy some quiet time. Also, don't miss the mini bell tower outside.
West Wind Farm Vineyard
Who wouldn't want to visit a fourth-generation homestead and family winery that cheekily welcomes stressed-out lawyers, tired old hippies, and Yankee tourists? When the wine comes with a view… it's even better.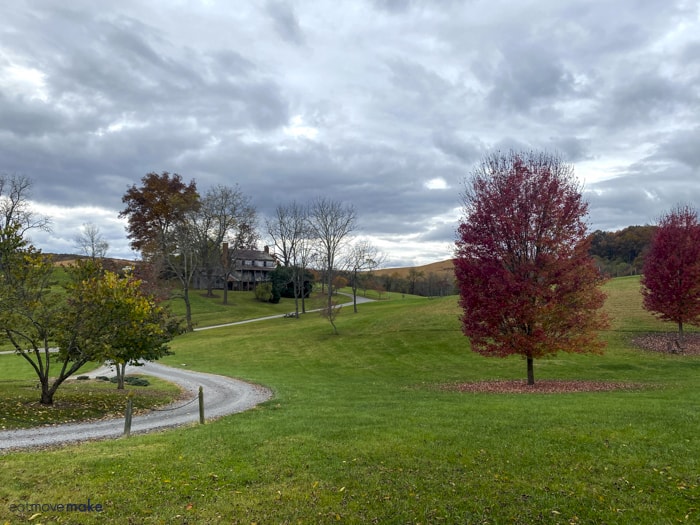 Antiquing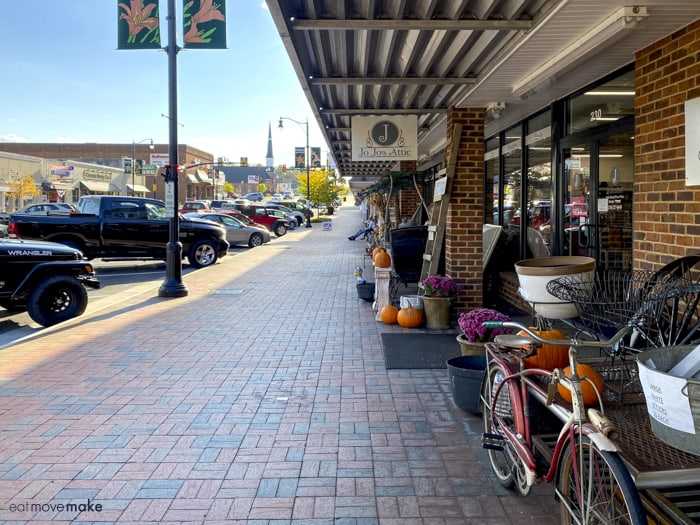 Spending time on Main Street in downtown Wytheville is magical on its own, but if you love searching for hidden treasures, pop into the antique stores and see what you can find. JoJo's Attic is a delight!
Out by the interstate? Don't miss the Old Fort Antique Mall at the junction of 1-81 and I-87. Look for the sign with the big black horse on top.
Fort Chiswell Animal Park
Grab a bucket of food and hop aboard the safari bus for an animal adventure you'll never forget. The narrated, guided tour takes you through the property while a menagerie of hungry and friendly animals comes to your window begging for snacks. It's a guaranteed ride full of laughs. Be sure to visit the petting zoo before or after your "safari ride."
Fort Chiswell Mansion
This stately manor has a commanding hilltop location quickly spotted from the Interstate. Although currently closed to group tours, it's well worth a drive-by. The mansion is listed on the U.S. National Register of Historic Places and is a Virginia State Historic Landmark.
Great Lakes to Florida Highway Museum
If you've ever made a road trip from the Midwest to Florida, you'll appreciate a stop at this blast-from-the-past icon located on Highway 21, yesteryear's primary route from the Great Lakes to the South.
Located next to the visitor's bureau, the museum includes the tiny old gas station with its single gas pump and a collection of vintage memorabilia inside. It's a fun stop!
Rose Cottage School of Art
Sign up for fine art and music lessons, summer camps, and paint nights, as well as monthly workshops hosted by regional artists. It's a fun way to explore the world of art while in Wytheville.
Wolf Creek Indian Village & Museum
Take a step back in time to the early 1500s and experience Native American life. The museum just reopened after undergoing renovations and offers guided tours daily Monday-Saturday.
Local Flavor from Local Authors
Wytheville was the boyhood home of William Gibson, award-winning Science Fiction author and "Father of Cyberspace." His 1982 short-story collection entitled Burning Chrome marked the term's first appearance.
Also from Wytheville, local author Rosa Lee Jude writes stories in several genres including time travel, fantasy and contemporary romance.
Where to Stay in Wytheville
If you love boutique hotels, I highly recommend the Bolling Wilson Hotel for its ideal location, themed decor in homage to First Lady Edith Bolling Wilson, and an abundance of luxurious amenities.
For B&B lovers, the Trinkle Mansion is the place to stay and includes a three-course breakfast. There are also a variety of chain hotels located by the interstate exits. And for camping enthusiasts, the Wytheville KOA Holiday Campground may be the perfect place to unwind.
Where to Eat
When you get hungry, there are some one-of-a-kind eateries with local flavor, including the Log House (see my post mentioned below) and Skeeter's World Famous Hot Dogs.
Skeeter's hot dogs were just a nickel when the restaurant opened in 1925. Although the price has changed, the old-timey atmosphere hasn't. You can still enjoy a "skeeter dog" at the vintage lunch counter, complete with spinning stools.
Still hungry? Check out my post on all the fun restaurants in Wytheville I tried during my visit.