Last fall, I had an absolute blast visiting Prince William County VA. It's located about 30 minutes outside Washington DC and is a wonderful escape from the fast pace of the city.
So, next time you find yourself in Northern Virginia, check out this list of fun things to do in Prince William VA. You'll have the best time there!
Little Goat Farm at the Lake
8954 Burwell Rd, Nokesville, VA
Website
Snuggling baby animals was at the top of my wishlist, and there's no better place to do it than at Little Goat Farm on Lake Manassas.
Visitors can snuggle and bottle feed the baby goats, cuddle the bunnies, and spend time with the llamas, chickens, and donkeys. (Note: You must make an appointment and purchase tickets in advance.)
You can also sign up for one of the popular goat yoga sessions. I've done goat yoga before, and it's hysterical!
There are also fresh eggs, produce, and flowers at the honor system self-serve produce stand and frequent open house farm tours.
We visited for a farm tour, but it was raining, so we only had a chance to take a quick peek around as we (and the farm animals) were anxious to get back indoors. Until next time…
Eugene's Sausage & Fries
5551 Merchants View Square, Haymarket, VA
Website
Hungry? Stop into Eugene's Sausage & Fries for the most delicious sausages and dogs topped with all the things! So whether you're craving a classic chili dog, Chicago beef, or a twist on a Reuben, you'll find them all and more at Eugene's. And everything is tucked inside a freshly baked pretzel roll.
For the ideal combo meal, be sure to add a side of fries. We loved the truffle fries and chili cheese fries with hand-shredded sharp cheddar. The fries come with your choice of dipping sauce: cilantro aioli, curry ketchup, or Battlefield (similar to Thousand Island).
There's also a great selection of local beers, including the iconic Delirium Tremens from nearby Leesburg in Loudoun County.
For dessert, you won't want to miss one of Eugene's hand-spun milkshakes topped with fresh whipped cream.
Yankey Farms
14039 Owls Nest Rd. Nokesville, VA
Enjoy an afternoon outdoors with a visit to Yankey Farms and take home some of their fresh farm market produce. Pick your own strawberries in the spring and your own pumpkins in the fall.
Yankey Farms is one of the few places in Northern Virginia where you can pick a pumpkin right off the vine in the growing fields.
Along with the huge selection of pumpkins and squash in the fall, there's a corn maze scavenger hunt, hayride, cow train, farm animals, and a kids' play area.
If you can't make it to the farm, the farmstand at 14841 Glenkirk Road has seasonal produce available in spring, summer, and fall.
MurLarkey Distilled Spirits
7961 Gainsford Ct., Bristow, VA
Website
If you're looking for a distillery out of the ordinary, this is it. MurLarkey is a whole vibe. You won't want to just come in for a tasting, buy a bottle and run; you'll want to linger and linger… and linger in the lounge-style tasting room.
But you'll need to make reservations. Yep, it's that popular. Reserve a one-hour seating for 2-6 people that includes two craft cocktails of your choice (per person) from a curated list of classics and seasonal specials. WORTH IT.
Not only are all the cocktails visually stunning, but as you bring the glass to your mouth, the aroma of the fresh ingredients wets your whistle before the first sip.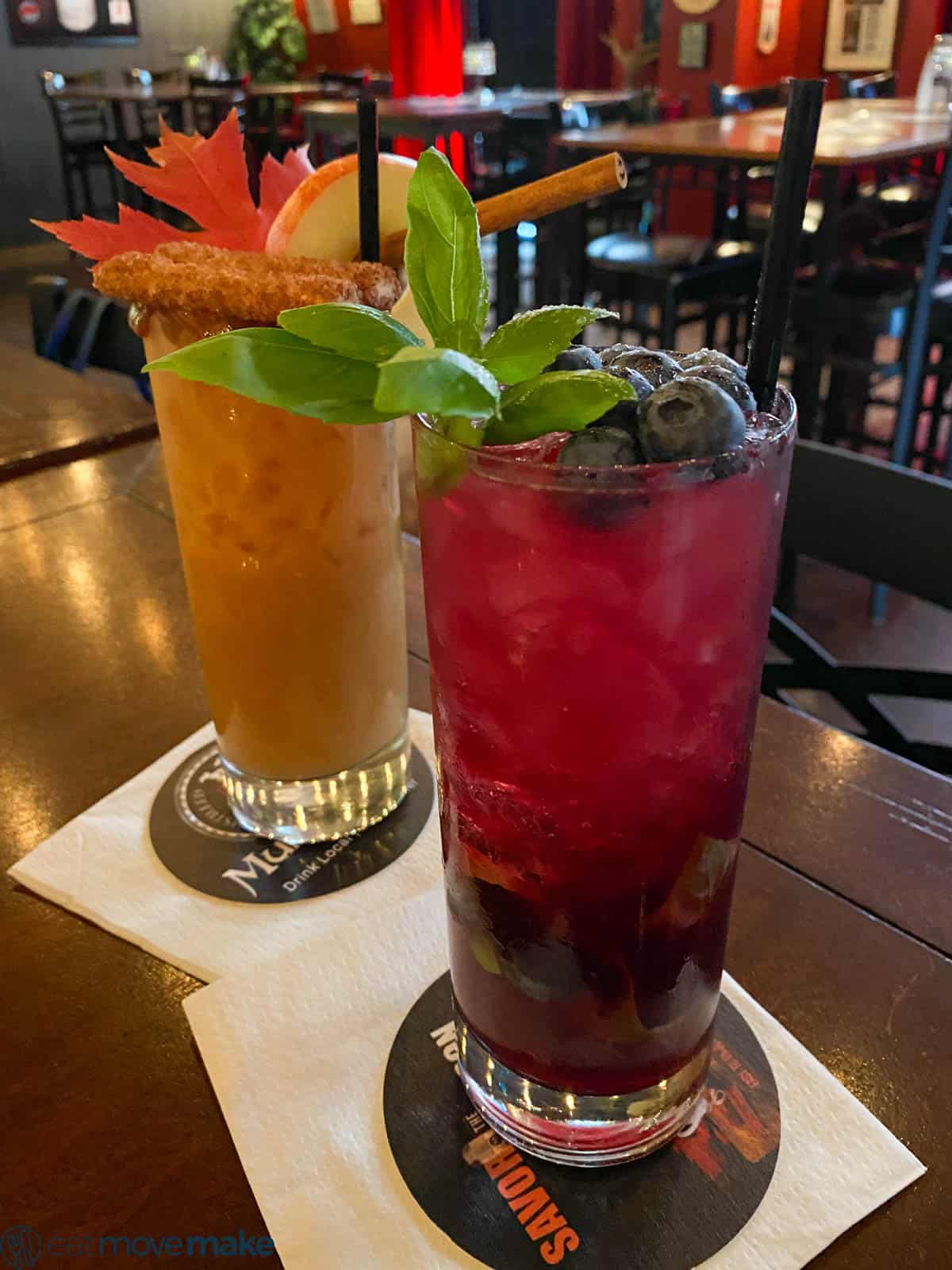 Owners Tom Murray and Mike Larkin (hence, MurLarkey) distill high-quality small-batch spirits using only the finest all-natural ingredients. It's a 100% farm-to-flask distillery.
Hands down, the best distillery I've ever visited. By a mile.
Master distiller George "Papi" Zwetkow is the brainchild behind the infusions and cocktails often serving "tasting room only" infusions. If they catch on, they're often bottled for sale later.
He also leads mixology classes where guests learn how to mix three specialty cocktails paired with light hors d'oeuvres.
Dinner, Drinks & Live Music at Farm Brew LIVE
9901 Discovery Blvd, Manassas, VA
Website
Northern Virginia's first destination brewery campus is all about great food, great drinks and a great time with friends.
Located on the site of the historic Thomasson Barn, the 10+ acre campus features craft beer, craft food and live local music on 'theYARD' outdoor music stage.
Choose from homestyle BBQ, food trucks, ice cream or the full-service Black Sheep restaurant located in the historic barn.
If you go to The Black Sheep: whiskey + wine + noshery, be sure to order the bacon tower as a shared appetizer; it's torched tableside!
I ordered the roasted squash salad for my entree and everyone shared three side dishes: butternut squash risotto, truffle mashed potatoes and three-cheese macaroni. Everything was incredible!
By the time we left, the evening's live music was underway outside. Farm Brew LIVE has it all. So much fun!
My Cravingz Bakery Cafe
7381 Sudley Rd, Manassas, VA
This family-owned bakery specializes in traditional Turkish pastries. Guests can come in for a simple coffee and baked treat or bring the whole family for an amazing Turkish-style breakfast/brunch.
The "Our Serpme" is a feast for 3-4 people but we didn't stop there. We added at least a half dozen other dishes to our meal. None of us had tried Turkish food before so given the opportunity to try so many classic favorites, we uncinched our belts and went in for the kill.
And we finished it off with Turkish tea and dessert.
Everything and I do mean everything, was delicious. We didn't even come close to finishing it all, but that just meant we got to nosh on it again later!
Generally, people will come in and stay for hours munching on their goodies and it's just as much a social occasion as it is a meal.
The cafe is a cozy and happy place so I can see why people enjoy lingering there. I highly recommend a visit.
The Farm Brewery at Broad Run
16015 John Marshall Hwy, Broad Run, VA 20137
Facebook
The Farm Brewery was originally a 52-acre farm designed as a commercial nursery for annuals and perennials. It later expanded to fruits, veggies, and beyond.
Now those crops provide inspiration for seasonal brewery creations, so the on-tap offerings are ever-changing. They even experiment with growing their own yeast strains.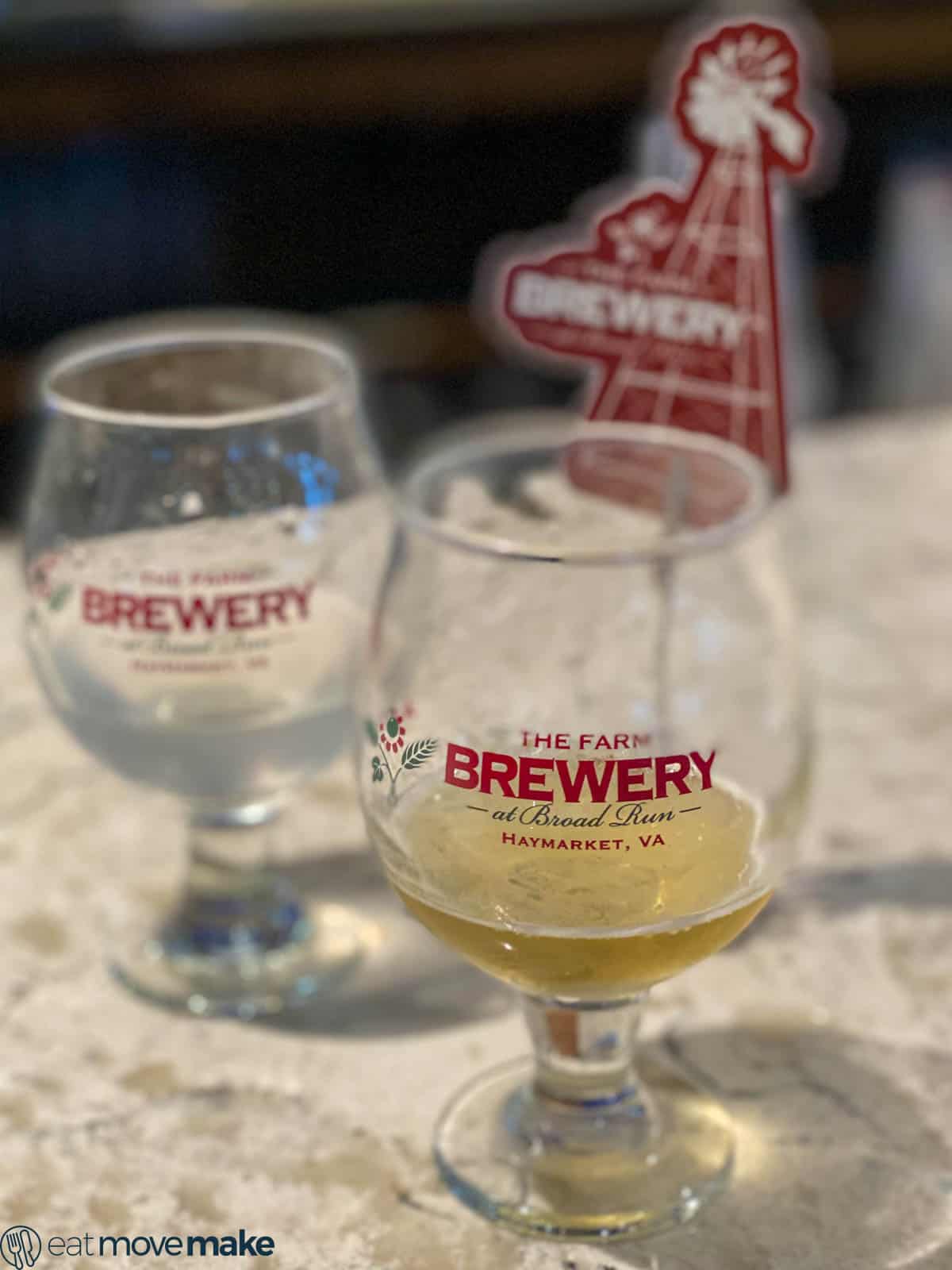 Grab your drink in the BrewBarn, a wonderful indoor hangout, or head outside to the beautifully landscaped beer garden and hop yard. The setting is absolutely gorgeous.
Beverages aside, there's even more fun to be had at the Farm Brewery. Sharp objects!
If you've never tried axe-throwing, you're in for a treat at the Big Axe Barn outside. The space is covered and protected in case of rain (it was pouring when I visited,) so it's a great activity even when the weather is meh.
I had never done it before but the expert guidance from the staff worked because I hit the target on my very first throw. Beginner's luck, for sure.
When the last axe is thrown, you'll want to stick around and enjoy one of the brewery's ales, lagers, ciders, or wines.
More Fun in Northern Virginia
For more info on Prince William County VA connect with visitPWC.com and for more information on Northern Virginia, please visit NorthernVA.org