Planning a trip to Lake Charles, Louisiana, and pondering over the perfect place to stay? I've got just the spot for you: the extraordinary Golden Nugget Lake Charles Hotel & Casino. Nestled on the waterfront in the heart of Lake Charles, the hotel is more than just a place to stay; it's an experience in itself.
The Golden Nugget Lake Charles is all about luxury, fun, and good vibes. From the moment you step inside, you'll be caught up in the lively atmosphere and irresistible energy throughout.
So, keep reading as I share details about my recent stay at the Golden Nugget Lake Charles in the heart of Cajun country.
First Impressions
Vegas, baby, Vegas. The Golden Nugget Lake Charles is all Vegas, Vegas, Vegas.. the energy, the vibe, the everything—it's the Vegas of the south. If you're looking for a fun luxury hotel in Lake Charles, this is where you want to be.
The lobby and casino are decked out in vibrant shades of orange, yellow, and red, and a constant stream of upbeat music adds to the energy. Who's ready to party?
My room wasn't quite ready when I checked in, but there was an Ice Bar right next to the registration desk where I could relax and wait. Not mad about that!
Lavish Accommodations: Golden Nugget Lake Charles Rooms
The Golden Nugget has two guest room towers: The original Gold Tower and the newer Rush Tower. The Gold Tower is located right off the casino floor and in the middle of the action, and that's where my Deluxe King with Pool View room was located. (My stay was courtesy of the hotel and Visit Lake Charles.)
The Deluxe King room was fresh, clean, and spacious, with both a couch and a banquette. The king bed was plush and comfortable, and I really appreciated its location in the center of the room, not too close to the window.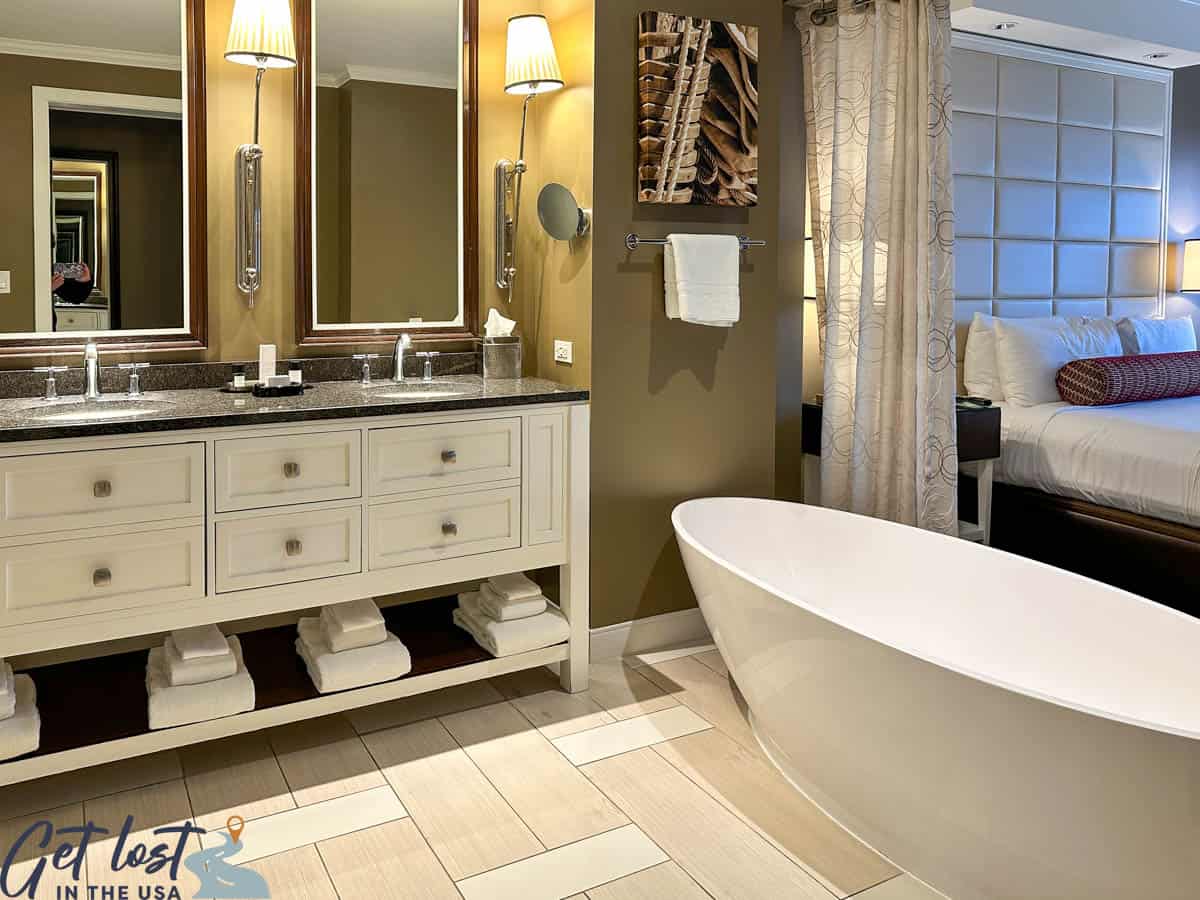 I also loved how the elliptical bathtub floated in between the vanity/toilet area and the bedroom and living space. If one wanted to bathe in the moonlight, the curtains could be left open. While I love the romance of a bath, I prefer the efficiency of a shower, and there was one of those in the room as well.
My side of the Gold Tower faced out over the pool, the bridge and the lake. The early morning and early evening sky shows were delightful.
Golden Nugget Lake Charles R&R
GOLDEN NUGGET LAKE CHARLES POOL: The Vegas-style pool complex is nearly a resort in its own right. The heated H2O pool has a waterslide, lazy river, daybeds inside and outside the water, individual cabanas, hot tubs, fire pits, and a swim-up bar.
THE SPA: Day passes are available for spa facilities such as the fitness center, steam room, sauna, and whirlpool. The fitness center is complimentary for hotel guests. Call beforehand for the latest policies.
Reservations may also be made for spa treatments such as massages, facials, nail treatments and salon services. I booked (and paid for) a peppermint pedicure and was very pleased with my experience.
More R&R Fun
Dining Delights: Golden Nugget Lake Charles Restaurants
From exquisite fine dining experiences to casual eateries, there's something to satisfy every palate at the dozen or so restaurants inside the Golden Nugget.
Pro Tip: The open hours for each restaurant vary; some are dinner only, some are weekends only, and it can be confusing. Look for the wall-mounted digital screens in the public spaces to find out at a glance which restaurants are open on the current day and their hours. (Reservations for evening-only restaurants are highly recommended.)
CLAIM JUMPER: (Casual, budget-friendly.) After I checked in, I wanted a quick sandwich before I explored the property. Since Claim Jumper is open from breakfast to dinner, I popped in for my favorite comfort food—grilled cheese. It hit the spot, and it was much better than I was expecting!
LILLIE'S ASIAN CUISINE: (Moderately priced.) For dinner, I wanted something light, so I ordered a bowl of vegetable noodle soup at Lillie's. It was perfect!
CHART HOUSE: (Sophisticated, high-end.) I'm not a huge fine dining fan, but I try to indulge in at least one high-end experience when I travel, and this time I opted for the Chart House. The waterfront seafood restaurant is not physically attached to the Golden Nugget; it's just across the parking lot at the Country Club with panoramic views of the golf course, lake and bridge.
I ordered the short ribs, and they were exceptional! We also shared crocks of macaroni and cheese and a hummus plate. I was extremely impressed with everything!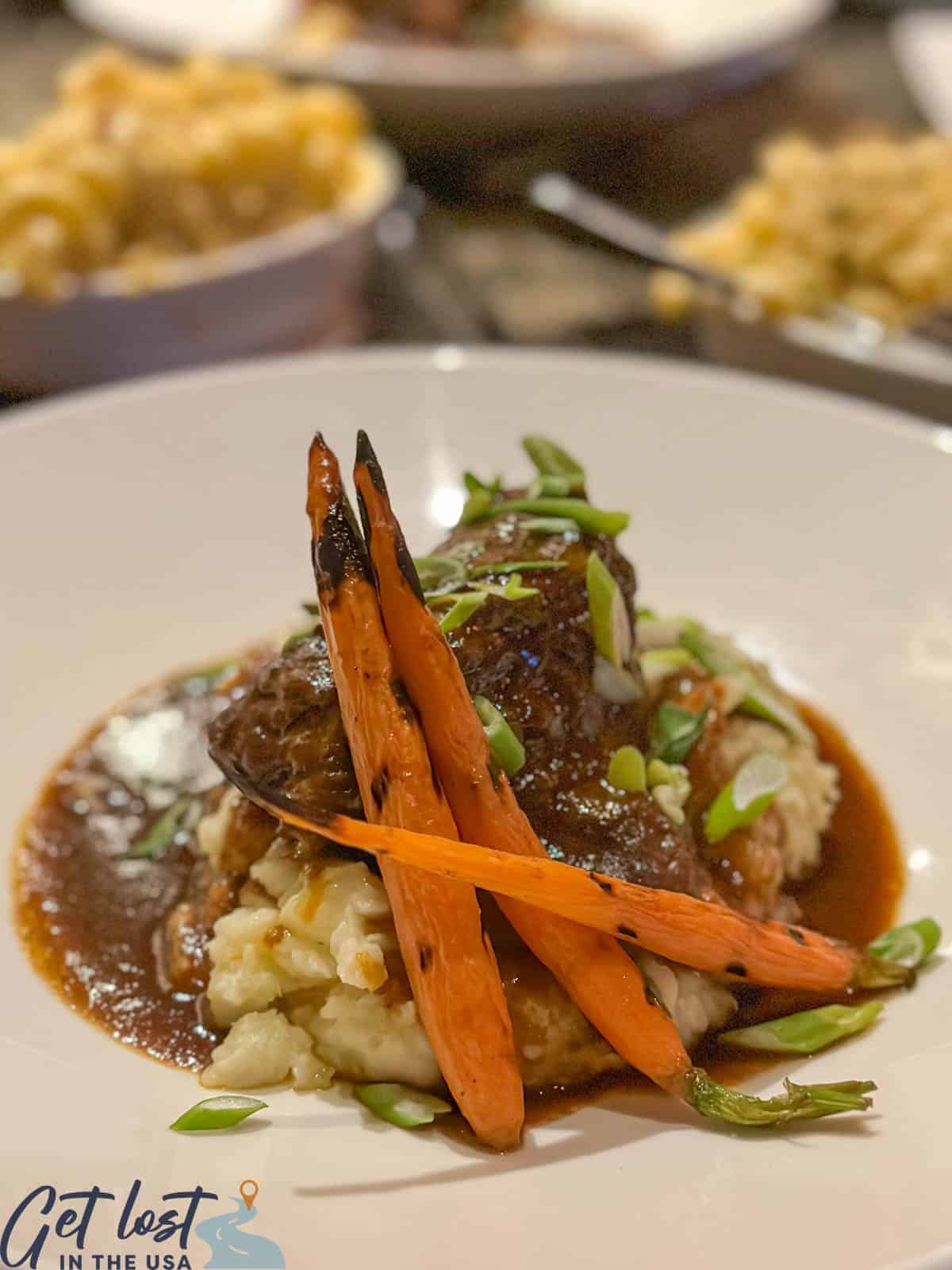 ALL GOLDEN NUGGET LAKE CHARLES RESTAURANTS
Vic & Anthony's Steakhouse
Saltgrass Steak House
Chart House
Landry's Seafood House
Grotto Italian Restaurant
Cadillac Mexican Kitchen & Tequila Bar
Lillie's Asian Cuisine
Bill's Bar & Burger
Claim Jumper
Claim Jumper Grille
DraftKings Sportsbook Bar & Grill
Entertainment Extravaganza
LIVE ENTERTAINMENT: Whether you're a fan of music or comedy or simply love being part of a live audience, the Golden Nugget has something for everyone. The lineup of Golden Nugget Lake Charles concerts features world-class performers in intimate indoor and outdoor venues.
CASINO GAMES: Games of chance include 1500+ slot machines, dozens of table games and some poker tables and VIP high-limit areas. Along with the games on the casino floor, there's also a DraftKings Sportsbook outside the casino—the largest sportsbook in Louisiana.
LUXURY SHOPPING: There are a number of high-end shops surrounding the casino with everything from bakery items (king cakes!) to clothing, jewelry, and accessories.
NIGHTLIFE: Relax with a cocktail in one of the chill bars and lounges or hit up one of the live-music venues for a higher-energy evening.
Additional Golden Nugget Lake Charles Hotel Info
Book a Stay: Check rates and availability
Valet parking is available. Free self-parking (garage or open lot)
Limited daily housekeeping. Full service upon request.
Pet-friendly (dogs up to 30 lbs)
Golf course, pickleball, pool with lazy river, cabanas and daybeds
Free WiFi, in-room safes
Book a Stay: Check rates and availability.
Golden Nugget's Golden Location: Exploring Lake Charles
Although you wouldn't really have to leave the property for anything, there are so many fun things to do in Lake Charles that you won't want to miss, so spend some time exploring the area. They don't call it "Louisiana's Playground" for nothing!
Two of my favorite things to do in Lake Charles: Travel the Creole Nature Trail for scenic wonders and wildlife viewing, and follow the Southwest Louisiana Boudin Trail for a taste of Louisiana's unique regional cuisine.
Other Lake Charles Hotels (Near Golden Nugget Lake Charles)
If you prefer a more reserved luxury Lake Charles hotel, consider the neighboring L'Auberge Casino Resort. The two adjoining properties are connected by a walkway and a shuttle service. Check the rate of L'Auberge.
A great budget-friendly option is the Hampton Inn in Lake Charles. It's just minutes from the airport and the casinos and includes free breakfast, WiFi, and parking. I stayed here myself the night I arrived.
Explore More of Louisiana
Keep Up with Get Lost In The USA on Social