Are you hungry? Natchitoches's restaurants serve some of the best Creole dishes in Central Louisiana.
Along with the famous Natchitoches meat pies—an absolute must-have—dig into favorites like crawfish étouffée, grits and grillades, gumbo, and red beans and rice.
So bring on the stretchy pants, and let's eat!
Lasyone's Meat Pie Kitchen
622 Second St., Natchitoches Facebook
Arguably the most well-known of all the Natchitoches restaurants, Lasyone's is famous for its meat pies—savory golden-brown pastries stuffed with a seasoned meat filling.
You can't visit Natchitoches without trying the legendary Lasyone's meat pie. And, if you like crawfish, I recommend you try the crawfish pie too.
For many people, Lasyone's meat pies are the gold standard. I can't disagree; the golden, flaky pie crust is perfection.
A Little History: James Lasyone, a local butcher, began his meat pie tradition by grinding the meat for wealthy women who wanted to make meat pies at home. But, ever the visionary, he saw the potential for a business.
With $50 cash, a gas burner, and a single iron pot, he devised his own meat pie recipe and opened a side window in his butcher shop to sell them.
By the way, the meat pies are still all handmade from scratch, and they make anywhere from 400 -1000 daily. (You can order them on GoldBelly!)
If meat pies aren't your thing (gasp!) I can also vouch for breakfast. The grits are dangerous, y'all.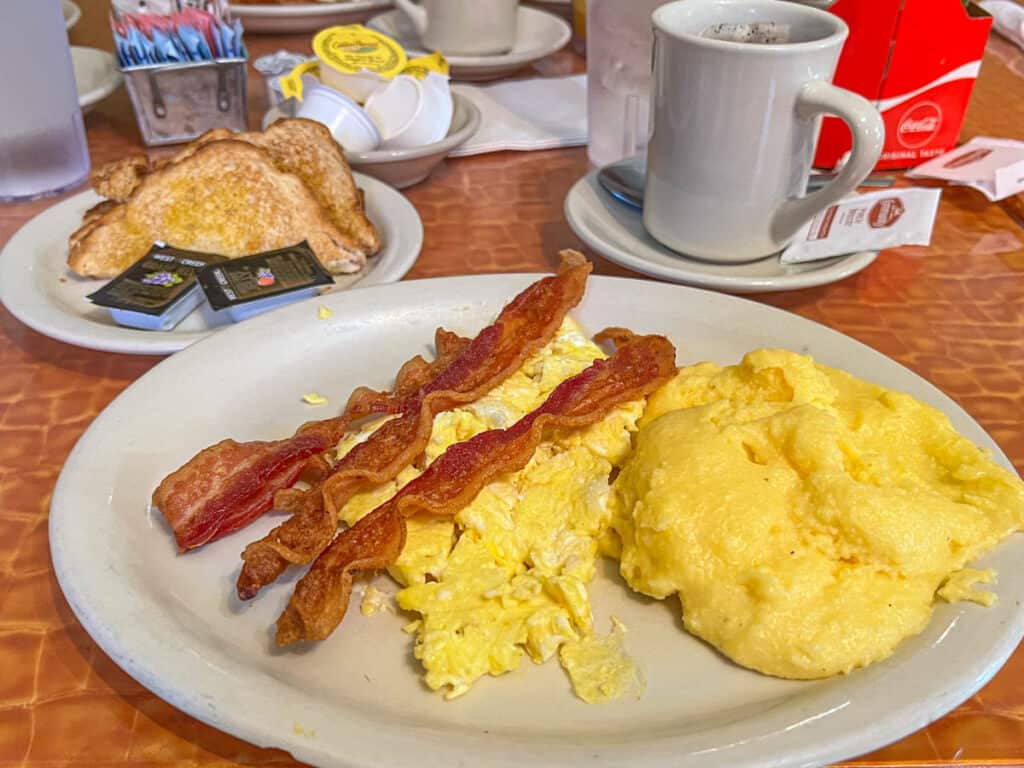 Merci Beaucoup
127 Church St., Natchitoches Facebook
The crowd-pleaser here is the Cajun Potato—a stuffed potato topped with flavorful crawfish etouffee and jumbo fried shrimp. The generous size is ideal for sharing.
If you love salads, customers can't get enough of the Church Street Salad—it's the most ordered salad at Merci Beaucoup. Fresh greens topped with the famous homemade orange dressing, roasted pecans, fresh fruit, and your choice of grilled or fried chicken strips.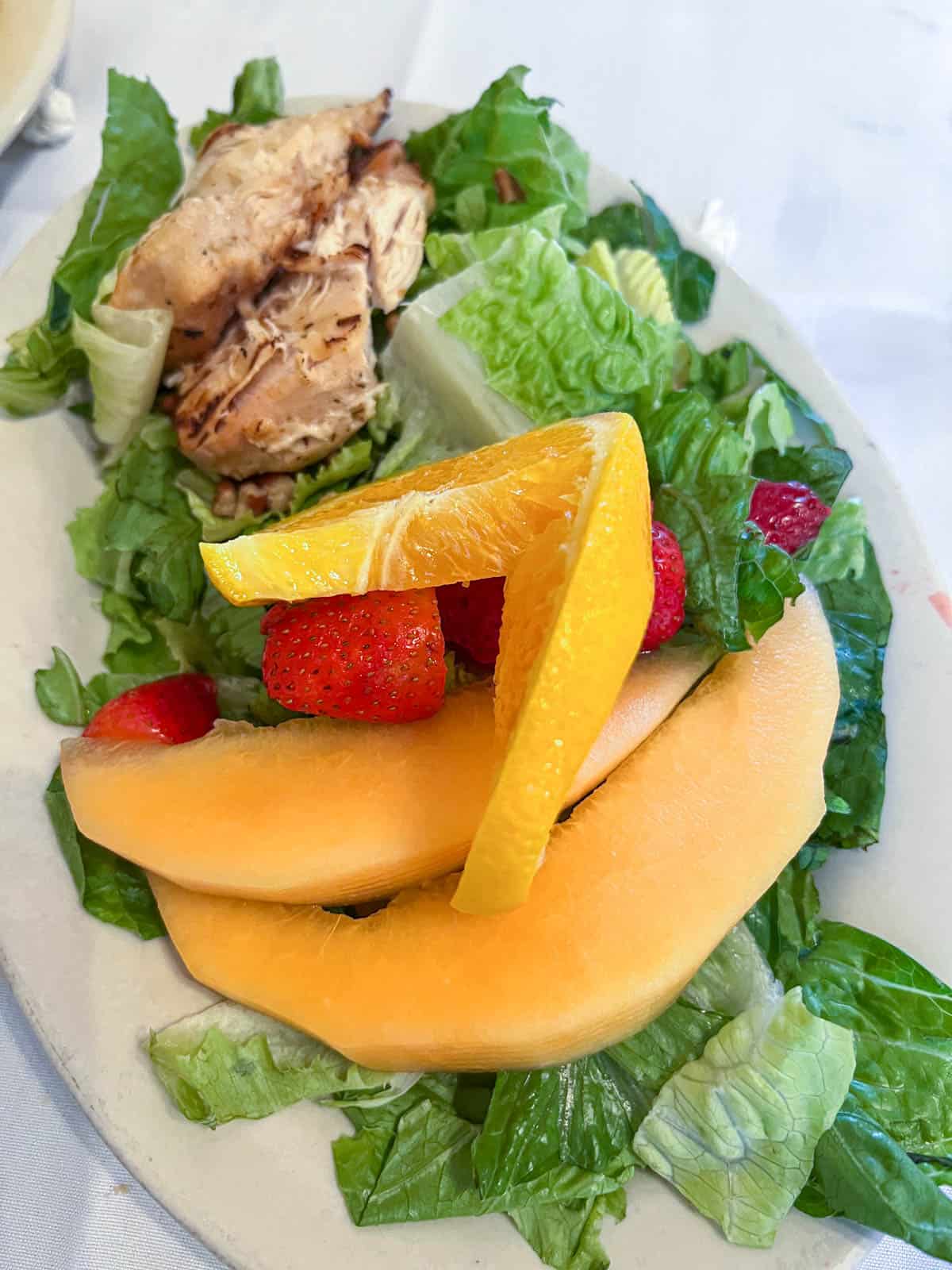 Mayeaux's Steak and Seafood
512 Front St., Natchitoches Facebook
You can't go wrong with Mayeaux for high-quality hand-cut steaks and a diverse variety of seafood options.
We started with mini meat pies because that's what you do in Natchitoches. Also, it was the weekend of the annual Meat Pie Festival—the more meat pies, the merrier.
For my entree, you'd think I'd have ordered a steak or fish—my friend ordered the redfish and loved it— but I can't get enough Louisiana red beans and rice with sausage. So, that's what I ordered, and wow, it was fabulous! Beautifully plated too.
Nakatosh Deli & Pub
584 Front St., Natchitoches Facebook
If you love muffulettas, this is the best restaurant in Natchitoches for them. And they're HUGE, so they're perfect for sharing.
Maglieaux's River Front Restaurant
805 Washington St., Natchitoches Website
Creole cuisine meets Italian at this beautiful riverside restaurant in Natchitoches. Enjoy an evening with live music on the patio, or sit inside for a more intimate experience.
In the mood for an appetizer? Try the shareable crawfish cornbread.
I can't resist anything with pesto, so I ordered the pesto mozzarella burger with an Italian cheese mix, prosciutto crumbles, and my beloved pesto.
Usually, it's served with fries, but I made a healthier swap for some green beans, and the meal hit the spot completely.
Flying Heart Brewing
108 Mill St., Natchitoches Website
(Locations in West Monroe and Bossier City too!)
Who orders a salad at a brewery? Someone who wants to feel better about following it with ALL the brewery bites. Wink, wink. (Also, their salads are super fresh and delish.)
We started with a jumbo pretzel, and it had just the right amount of salty, yeasty chewiness.
But the star of the show is their New York-style pizza. So get you some; you won't be disappointed!
We ordered the Bre-Pow (with braised marinated pork) and a Margherita. Sha-ZAM. Their 'za is out-of-this-world!
French Market Express
5109 University Parkway, Natchitoches Website
Part of the Gas Station Eats Trail (download a brochure here), French Market Express is a must-stop. Gas station on the outside, good eating on the inside.
Specifically, Louisiana yam cake. It's worth the stop, folks. While you can buy a full-size cake, the minis come in twosies, and after my first bite, I realized why. You can't stop at one. You need two. Or four. Or six.
If you prefer something savory, they have meat pies, breakfast sandwiches, po'boys, boudin, and beyond but make sure you try that yam cake! It's also a great place to stop for last-minute souvenirs; the gift shop is fantastic.
Quebedeaux's
Multiple locations. Website
Love cracklins and boudin? Quebedeaux's currently has locations in Alexandria and Pineville, but there are plans to open a restaurant in Natchitoches, so it deserves mention and is worth a stop.
At Quebedeaux's, they want the aroma to entice you, and their specially-made seasoning perfumes your senses as you eat.
Another thing setting Quebedeaux's apart from other restaurants is that they try to make everything without gluten, so their handmade meat pies are made with egg roll wraps instead of pie dough.
We sampled the boudin, chicken and pork cracklins, Pepper Jack boudin balls, and meat pies and we loved it all! If you visit, wear your stretchy pants!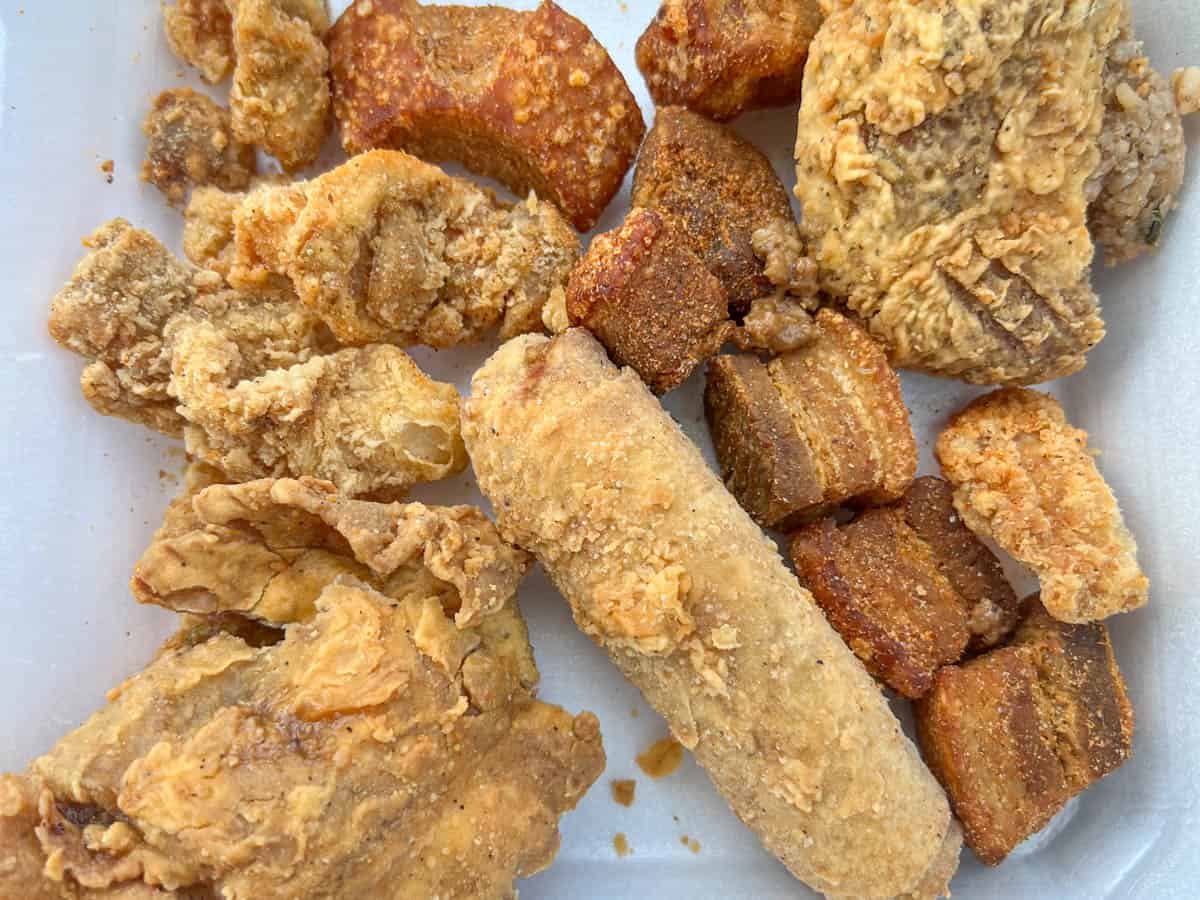 For more information on Natchitoches, visit https://www.natchitoches.com/