Mardi Gras season is just one of the many reasons I love Louisiana, and nearly every community celebrates it somehow, be it for a few days or more than a month. This year I drove to "Louisiana's Other Side"—Shreveport-Bossier City—to experience Mardi Gras festivities at the top of the boot.
Thank you to the Shreveport-Bossier Convention and Tourist Bureau for hosting me during Mardi Gras.
Mardi Gras is a French phrase for "Fat Tuesday," and it's essentially the last hurrah before giving up one or more of your vices during the Catholic holiday of Lent.
Mardi Gras has its origins with the arrival of Pierre Le Moyne d'Iberville and Sieur de Bienville. They called it Point du Mardi Gras when they landed in America and celebrated the event. This Carnival was repeated through the years, becoming the grand festival we know and love.
Shreveport's Mardi Gras parades are believed to have started after the Civil War, but the Great Depression ended the celebration for years. Then, in 1989, the Krewe of Gemini brought it back to Shreveport.
So here's what you can expect when you visit Shreveport for Mardi Gras. Laissez les bon temps rouler!
Trash Jackets
In Shreveport-Bossier, Mardi Gras trash jackets are a Carnival season tradition, and you'll see them everywhere. Tuxedo jackets with tails are adorned with pins, patches, and miscellaneous thingamabobs with significance to the wearer.
Krewe members usually sport pins with their Court position (Dutchess, Duke, etc.). Every jacket tells a different story, and there's no wrong way to decorate one. So get yourself a thrifted tuxedo and do it up for the next Shreveport Mardi Gras!
Purple, Green, and Gold
Purple, green, and gold represent justice, faith, and power, respectively, and you'll see the colors everywhere. So consider making the colors part of your wardrobe during Mardi Gras if you really want to get into the Carnival spirit.
Masquerade Balls
Every year, individual Krewes host themed Mardi Gras Balls, during which the elaborately costumed royal court is finally revealed to the guests. The evening is a giant celebration of costumes, music, dancing, food, and socializing. Many of the balls are invitation-only, but not all.
Parades and Floats
There are enough parades in Shreveport that you could catch more than one during your visit: Krewe of Sobek, Krewe of Harambee, African American History Parade, Krewe of Barkus & Meoux, Krewe of Centaur, Krewe of Gemini, and Krewe of Highland.
And the parades go on rain or shine, so dress appropriately! I experienced the full spectrum during the event this year – from bitter cold and rainy for the Krewe of Gemini Parade to pleasant and sunny for the Krewe of Highland Parade.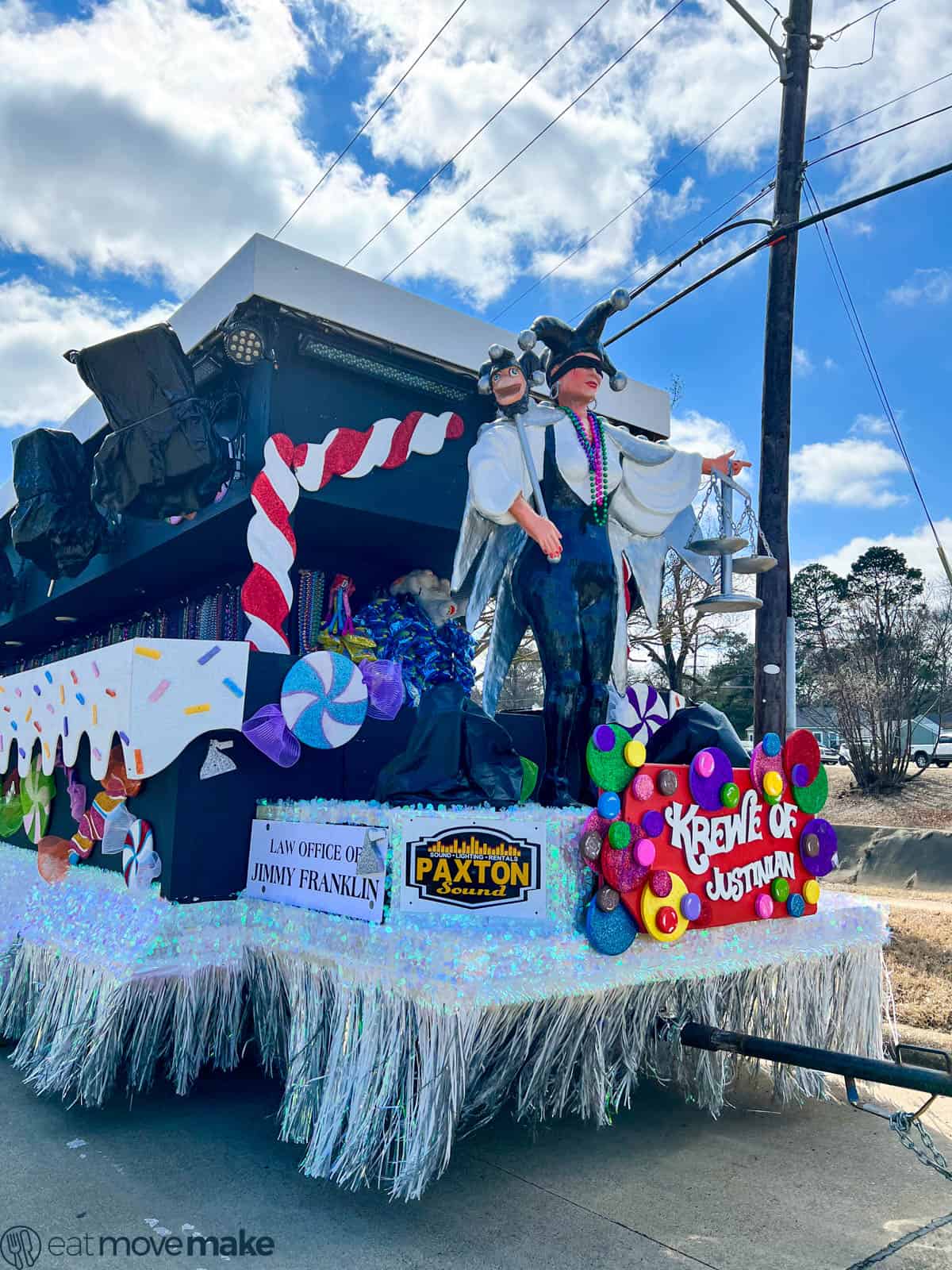 Parade Throws
Parade throws are a huge part of the Mardi Gras celebration. The iconic beads are the most recognizable and common throw (originally glass, now plastic), but you'll also see cups, doubloons, frisbees, stuffed animals, etc. Every parade is different!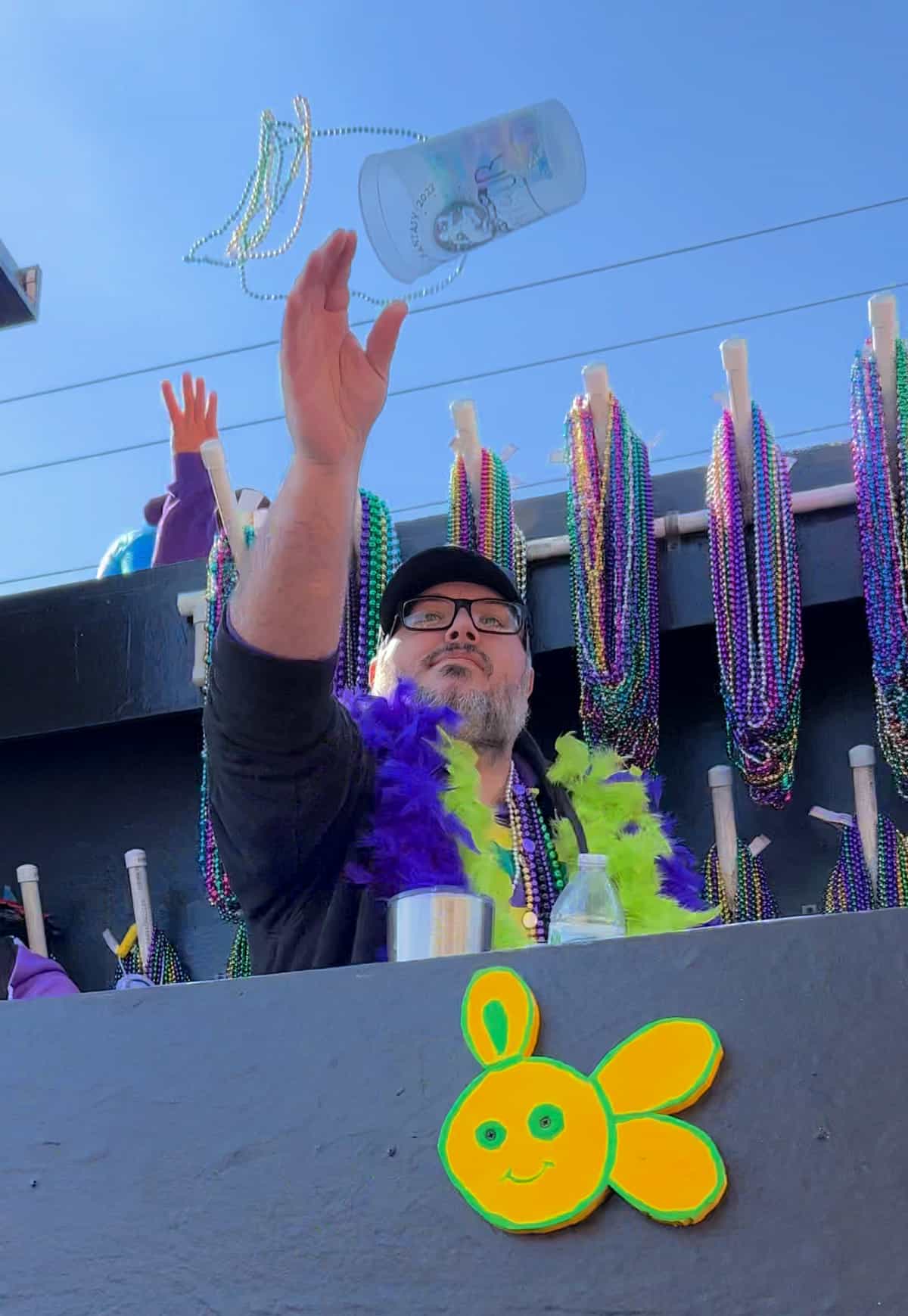 Eager hands want it ALL.
Tip: Bring a bag to carry all the throws you catch!
The Krewe of Highland Parade is known for tossing out cheeseburgers, hot dogs, moon pies, hula hoops, ramen noodles, and candy.
But, during the Krewe of Gemini Parade, I caught a box of razors, so it seems as if crazy throws are spreading to the other Krewes.
Parade Parties
There are all kinds of ways to celebrate the parades, even before and after the floats roll.
Many people tailgate during the pre-parade hours, there are various VIP parties, and the Krewe of Gemini invites the public to their den for a "float loading party" the day before their parade.
On parade day, when the floats line up in advance, parade-goers can walk along and see the floats up close and chat with krewe members.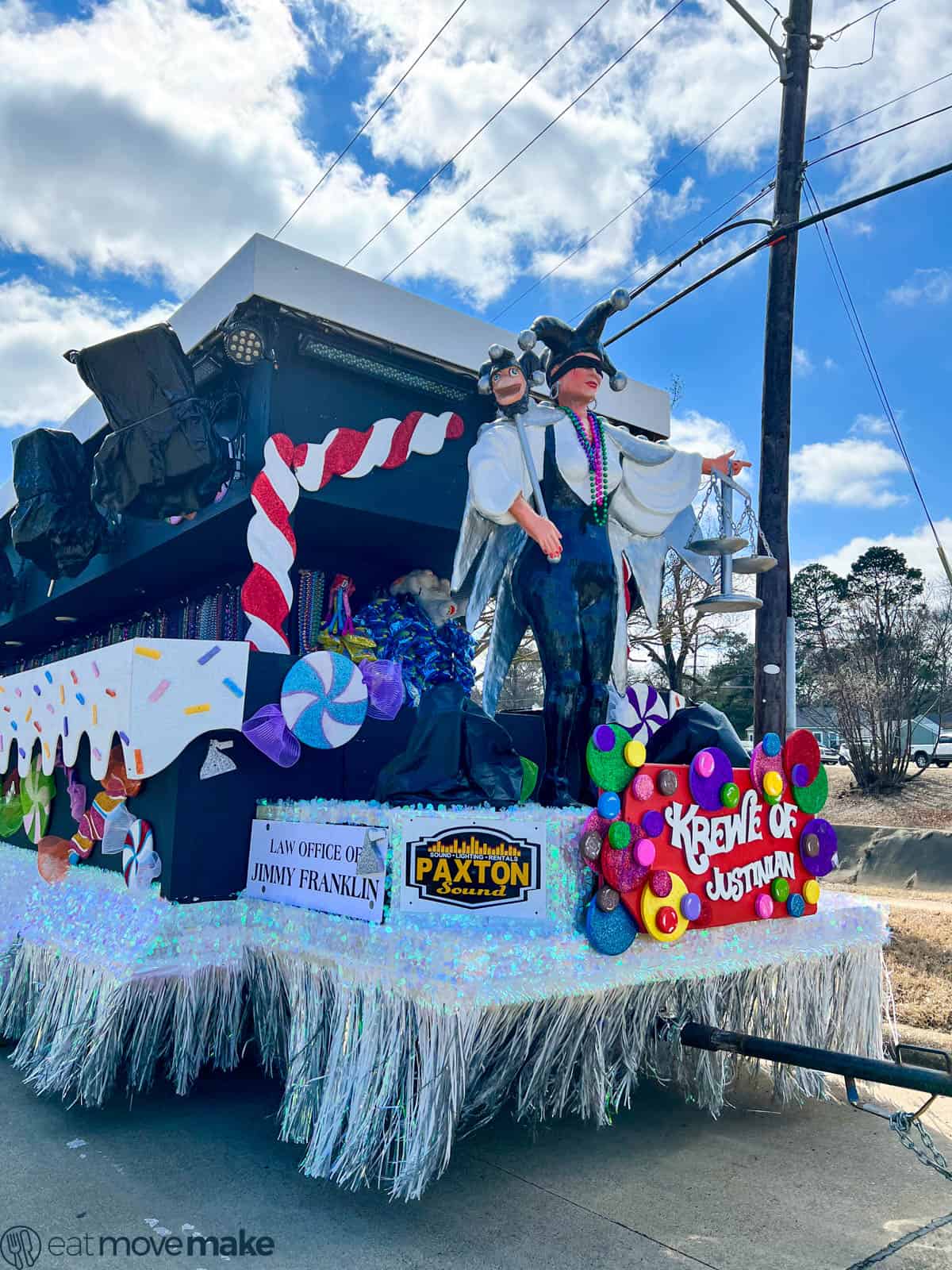 Where to Get Souvenirs
There are several unique places to shop for Mardi Gras take-homes but I was particularly impressed with the Enchanted Garden and Tubb's.
Enchanted Garden
You'll find the most incredible handcrafted Mardi Gras masks here, collectibles, ornaments, jewelry, clothing, and items for the home.
Tubb's Hardware & Cajun Gifts
There's a little bit of everything at Tubb's, including beads, boas, masks, clothing, crawfish pots, Cajun spices, and King Cake in various flavors.
King Cake
King cake is an essential part of any Mardi Gras celebration. The iconic "cake"—a cross between coffee cake and French pastry—is covered in lots of icing and loads of purple, yellow, and green sugar sprinkles.
Historically, king cakes are baked with a baby inside and good luck and prosperity are in store for whoever gets the slice containing the baby. However, most king cakes now come with a baby on the outside as a precaution against choking.
In Shreveport, you can find both the traditional style (Lowder Baking Company) and the moist cream cheese-filled style in various flavors (Lilah's Bakery, Tubbs Hardware & Cajun Gifts, and Julie Anne's Bakery).
Celebrating this year's Shreveport Mardi Gras was an absolute blast! Check out the Shreveport-Bossier Convention and Tourist Bureau website for more information: https://www.shreveport-bossier.org/
More Nearby Fun in Louisiana