Whether you believe in ghosts or not, the stories you hear during ghost walks are typically full of historical tidbits and entertaining lore. I've enjoyed many of them, so I was happy to go on the Huntsville ghost walk as part of the TBEX conference in Alabama this year.
It was different than other ghost walks I've taken because the stories come by way of a medium who visited the various "haunted" buildings in Huntsville. What you'll hear are the medium's experiences and follow-up research by the tour company. Unusual, but still entertaining.
Read Next: 17 Unforgettable and Unusual Things to Do in Huntsville AL
Our Huntsville ghost walk guide was Jacque Reeves, and although she didn't mention it, I found out she's the author of numerous historical books. Ghost tour cred.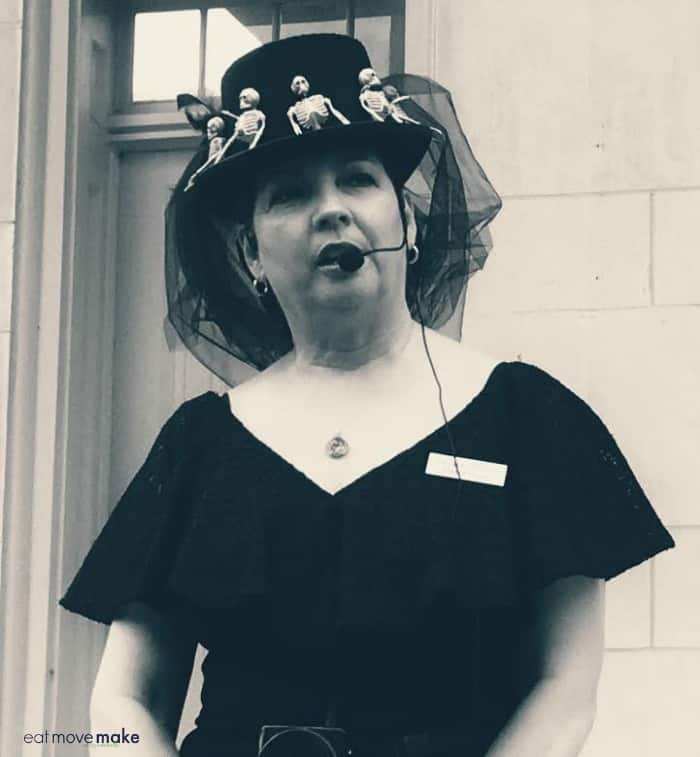 Most of our walk took place in the historic Twickenham district of downtown Huntsville, so seeing the beautiful Antebellum homes was nearly as fun as listening to the ghost stories. (Side note, the guide wears a microphone and speaker so everyone in the group will be able to hear.)
But let's talk ghosts…
Weeden House
The Weeden House, now a museum, had one of the most interesting stories, and by the reactions of the two dogs along on the tour, it was the most haunted of the bunch. Maria Howard Weeden, a renowned watercolor artist under the name of Howard Weeden, painted portraits of formerly enslaved people. Her family home was confiscated by the Union during the Civil War, and when they returned, it had been ravaged and their finances were in disarray. She began to sell her artwork to help make ends meet, including 5-cent postcards (which are worth a fortune now). She died of tuberculosis in the same room in which she had been born.
People have seen a woman walking and have heard a grandfather clock (without any working parts) chiming. It's also said to be a "weeping" house because there are areas where they can't get the paint to stick on the walls, either inside or out. Our guide told us the house is sad because of what happened during the Civil War.
Helion Lodge #1
Helion Lodge #1, the oldest Masonic lodge in Alabama is said to be surrounded by death. Members of The Knights Templar (the originating faction) took a vow of poverty, so the organization itself became very wealthy. The King of France and the Pope wanted the money themselves and tricked The Knights Templar into going to France under the guise of making peace. It was on Friday the 13th when they were arrested and tortured to death. When Grand Master Jacques de Molay was burned at the stake, he issued a prediction that the king and Pope would both be dead before the year was out. That proved itself true.
The original building extended to the left, but a tornado wiped it out, and all that remains are the staircase and doorway. People have seen ghosts of men in the building, and a ghost has been seen walking through that doorway from/to nothing. Spooky!
There were lots of other stories as well, but those two stood out to me. Whether any of the ghost tales are true or not, I have no idea, but it's more fun to believe them, right?
Ghost Tour Tips
Take two photos of everything. Use one as a benchmark and one to see if anything is different. You may spot a ghost or an orb, but don't expect it. Most people never see a thing, myself included.
If your camera stops working, that's the ghost's energy interfering. It will start working again when you move to a new location. I saw this happen to a friend of mine.
Ask in advance if pets are allowed. The Huntsville Ghost Walk is dog-friendly, and dogs are very sensitive to the paranormal, so bring yours along. The two dogs on my tour both reacted strangely at the same spot on the tour. Eerie!
Wear comfortable shoes made for walking, and keep a watchful eye out for sidewalk tripping hazards.
Research the tour options and make a reservation in advance. There are three walking tour routes from which to choose: Old Town Historic District, Twickenham Historic District, and Haunted Downtown. Also available seasonally is a Haunted Trolley Tour.
Be on time for the tour. Not only is it rude to keep other guests waiting, but tours often operate under strict city-arranged timelines as to when they'll be in certain places.
Tip your tour guide; it's common courtesy. Thank them for a job well done.
Have fun!
For more information on the Huntsville Ghost Walk, visit the Avalon Tours website.
Other Ghost Tours in the USA You May Enjoy