"Liz, you'll be riding Skipper."
I was excited, and I hoped Skipper was too.
Besties. Trail buds for life (or at least for the next couple of hours).
Skipper was about to take me horseback riding on the beach for the first time. In the Outer Banks, no less!
This story was inspired by a media trip I took to the Outer Banks. All opinions and experiences are my own.
My Outer Banks horseback riding experience took place with Equine Adventures. They're located on the southern end of Hatteras Island in Frisco and they offer two rides per day year-round. We took the late afternoon ride.
The coolest thing about riding with Equine Adventures is that their guided trail ride goes through a maritime forest that butts up against the dunes and it's really neat to see the habitats change as you move along the trail.
The horses know the way so all you have to do is relax and enjoy the sights, sounds and smells of the forest.
Along the way, we passed through several deep water areas but the horses didn't even blink. They just powered right on through it.
Before we knew it, the forest opened up to the dunes where sedge grass and sea oats grew wild and the ocean came into view.
Seeing that Carolina blue sky pop in contrast to the sandy beach never gets old. Ever.
When everyone made it onto the beach, those who wanted to canter took off in a group. I thought I was going to gallop along the shore with everyone else, but Skipper wasn't really all that into it.
Turns out I wasn't either.
So Skipper and I just meandered a bit and enjoyed the salty air, the wind in our faces and the gentle crashing of the waves.
Balm for the soul.
Horseback riding on the beach is heavenly.
After about 30 minutes on the beach, our fabulous trail guides took photos of us with our horses.
And then it was time to head back from whence we came.
On the way back, I spotted a snake slithering away from the trail and it looked venomous. Thankfully, Skipper didn't get spooked.
I've always enjoyed casual trail rides but horseback riding on the beach in the Outer Banks was my favorite horseback experience so far. It was magical!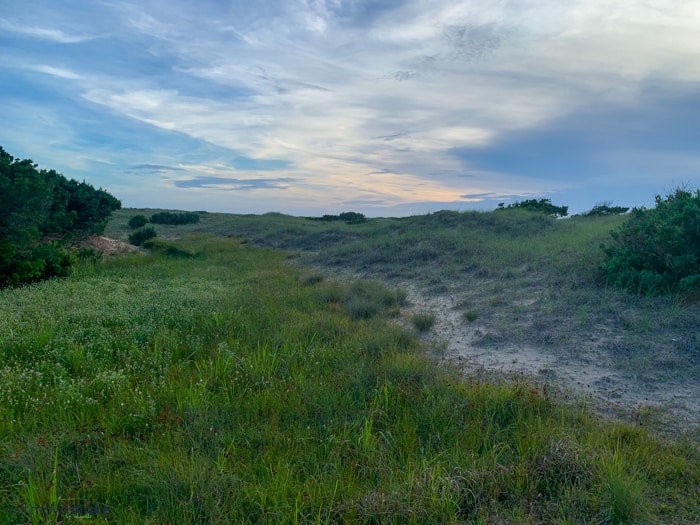 Know Before You Go
The ride is approximately 2 hours long but you should allow 3 hours for the entire experience and arrive early. If you're late, they'll leave without you.
Equine Adventures pre-selects horses based on your age, height, weight and riding experience so be honest about your riding ability (and your weight, lol) to ensure you're matched properly.
Your horse will sense fear so do your very best to relax. They also like to test you to see if they can get away with eating grass. It seems like a nice thing to do to let them have a quick bite, but it's a no-no. Let them know you're the boss and that you won't be stopping for snacks.
All riders will need to sign waivers.
Helmets are available for everyone but required for riders under the age of 16.
Wear closed-toe shoes and long pants to prevent chafing.
Wearing sunscreen and bug spray is recommended.
Loose items need to be left in your vehicle, but cell phones can be taken and used as cameras.
---
If you're planning a visit to the Outer Banks, you need to put a beach ride on your itinerary. It's amazing!
For more info on the Outer Banks, visit OuterBanks.org and print out the official Outer Banks Bucket List.
Pin this post to Pinterest!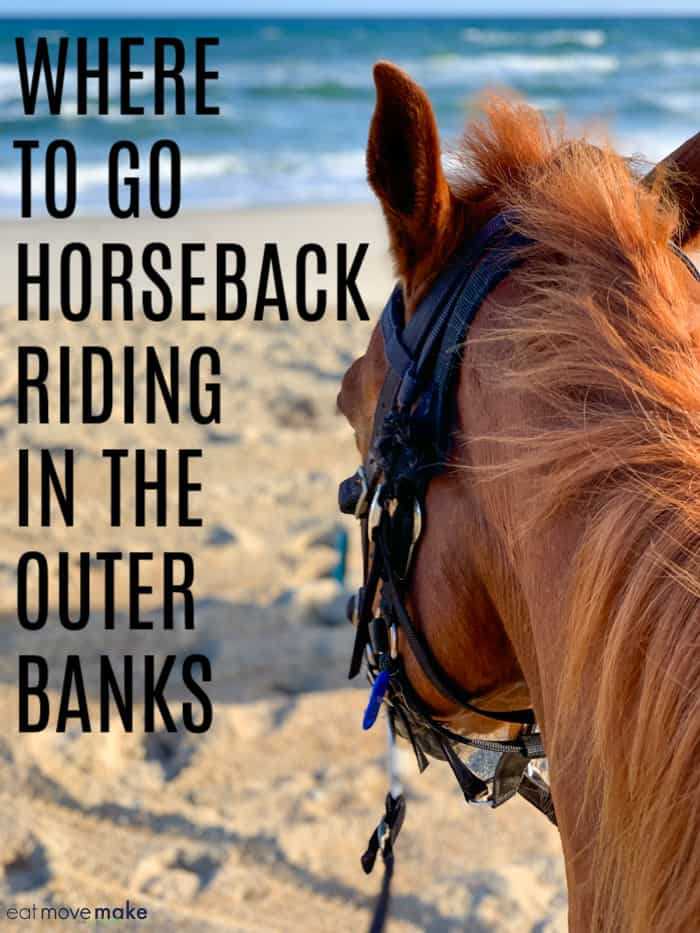 More About the Outer Banks