If you love adventure, add an Outer Banks hang gliding experience at Jockey's Ridge to your bucket list! I tried it for the first time last summer and it was incredible! Kitty Hawk Kites operates the largest hang gliding school in the country in the OBX, making it the perfect place to try hang gliding for the first time.
It might sound scary, but it really wasn't. Granted, I'm not afraid of heights, so I was excited, not scared, but here's the thing… beginners don't really go that high. In fact, the instructors are holding onto ropes attached to the glider so you don't have to worry!
Hang gliding in the Outer Banks was all types of fun just above the dunes. I promise you it's not like when I went hang gliding in the mountains (which was also amazing but I was way, way up in the sky).
This story was inspired by a media trip I took to the Outer Banks. All opinions and experiences are my own.
Outer Banks Hang Gliding at Jockey's Ridge
Prospective fliers meet at the Kitty Hawk Kites gliding school inside Jockey's Ridge State Park. The year-round winds over the tall dunes make for perfect flying conditions. It's so cool knowing you're gliding in the same skies Orville and Wilbur Wright flew in for their early aviation experiments.
You'll start out with a quick story chronicling the invention of the hang glider by Francis Rogallo. His first prototype glider wing was made from his wife's floral kitchen curtains.
Then the instructor explains how your hang gliding experience will go and you'll watch a safety video.
You'll learn how to clip into the harness, stand in a velociraptor stance at take-off, make small directional adjustments in the air and land on your feet.
There's a lot to take in, and you might worry you'll forget something important, but the instructors are literally by your side the entire time telling you exactly what you need to do and when, so don't worry.
After the training, we walked out to the dunes and up to the top of the dune we'd be launching from. Our lead instructor flew the glider for a demonstration and then we were up.
I was the first to go in my group and we ran through a list of safety checks to ensure I was harnessed and positioned properly. The checks are performed before every flight.
I got in my velociraptor stance and got ready to run.
We were lucky that the winds were great that day and I only had to take one or two steps before the wind lifted me up in the air.
It's all over pretty quickly but it's SO much fun!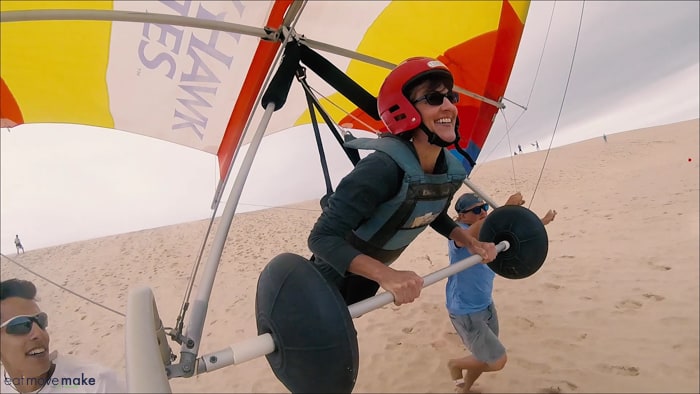 I even managed to stick my landing on the first try.
Immediately after my first flight, I walked right back up the dune to take a second flight.
Everyone goes twice in the beginning to encourage muscle memory, then fliers alternate a flight at a time.

In most cases, each person will take five flights, but I was really lucky there were just two of us in our group so we each took eight flights!
As my confidence and skill level improved, they began to let me go a little higher each time. Of course, I'm sure the wind had something to do with it too but I like to think I was improving and earning sky time rewards. 😉
I think the below pic shows me at my highest and you can see I'm tethered the entire time so it's a completely controlled flight.
I absolutely loved going hang gliding in the Outer Banks and I totally recommend it!
The instructors are incredibly well-trained, kind and encouraging even after having to run the glider back up the dune between every flight. They never stopped smiling and laughing with us.
If you're the tipping kind (and they definitely deserve it), plan ahead and bring something to thank them.
Watch me in action during my OBX hang gliding experience. So much fun!
After your Outer Banks hang gliding experience has ended, you'll have the option of purchasing a video package with corresponding still images and it will be delivered to you via email in a couple of days. I'm so glad I bought mine!
You'll also receive a flight certificate and documentation with date, location, glider type and flight conditions in case you decide to continue your training.
Know Before You Go:
Wear light, comfortable, stretchy clothes so you can move easily and run. I don't recommend shorts because the harness loops can ride up and make it uncomfortable. I wore stretch ankle leggings and it was perfect.
The sand can get ridiculously hot so wear sneakers and socks (or sand socks).
Bring several bottles of water per person. You'll go through it… believe me. There's no shade out there and if you don't have water, bring cash to purchase water from the vending machine.
Wear sunscreen and if your eyes are light-sensitive, wear sunglasses. The glare off the dunes can be intense.
You can bring a backpack with you to carry your water and phone and leave it by the launch point on the dunes.
---
Kitty Hawk Kites Hang Gliding School
302 Carolista Dr, Nags Head, NC 27959
Visit the website for more info and to book a reservation.
One of my favorite things about living in North Carolina is being so close to the Outer Banks and having the chance to do things like go hang gliding at Jockey's Ridge.
Every time I visit North Carolina's beautiful barrier islands, I check off a few more must do's from the official Outer Banks Bucket List (see and print it here), and other than eating local seafood (I hate seafood, sorry), I'm gonna check off all the things to do in the OBX, baby. And maybe even add some of my own extras!
For more info on the Outer Banks, visit OuterBanks.org
Pin this post to Pinterest!
Related Posts