I'd always heard Lucchese made some of the very best cowboy boots, but when I took a Lucchese factory tour and saw the boot-making process from start to finish, it became very clear why their boots are held in such high esteem.
We spent about 1 1/2 hours in the factory, and to say I gained an appreciation for the art of handcrafted boots would be an understatement. I was blown away by the attention to detail and quality. The company readily admits they sell an expensive product, but they can back it up.
Lucchese takes no shortcuts, that's for sure.

Lucchese History
Although you probably think of Lucchese and cowboy boots synonymously, Sam Lucchese actually began the company over 130 years ago by making cavalry boots for the U.S. Army.
In the 1940's, he was commissioned by the government to make a pair of boots representing every state in the country. Many of them are back with Lucchese, some are in museums and some are being held for ransom. <~~~ That's a joke. Kinda.
When the company began, customers would stand on "fit books" and have their feet traced. Sam would take measurements of those drawings and create a wooden last which he'd use to make a pair of boots.
Lucchese has a huge celebrity clientele, and they also make the official uniform boots for the Dallas Cowboy Cheerleaders. The largest pair of boots they've ever made was a size 25 for Andre the Giant.
It Begins with the Leather
At any given moment, you'll find two or three million dollars of skins in the Lucchese leather room, but 88-89% of that raw material is a secondary by-product of meat processing. In other words, the animals have already been skinned for another purpose.
They only accept top grade leathers, and it's all aniline-dyed (meaning the dye penetrates the entire skin, not just the outer layer). They work with cow, goat, ostrich, alligator, crocodile and many unusual skins like stingray, Indonesian python, sea bass, shark skin and once, even beaver tail.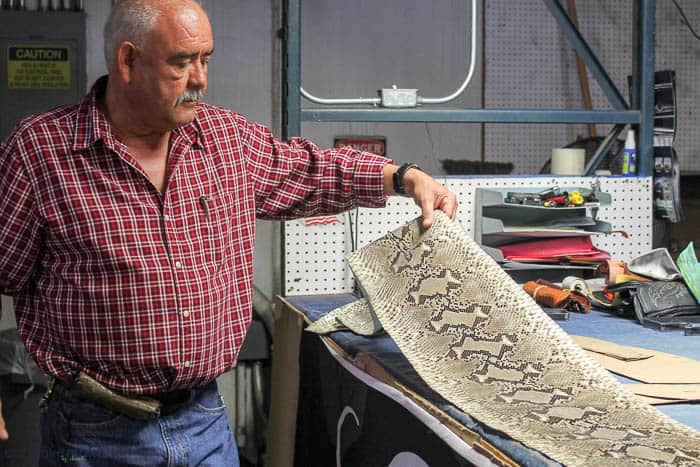 The Making of a Lucchese Boot
After an order is placed, they have to pull skins and match scales, size of scales, texture, pattern etc. and find two skins that resemble each other. The skins are then die cut punched into the 9 or 10 pieces needed for a boot, and Lucchese saves 100% of the scraps.
Once the leather is cut, the pieces enter the sewing area where a pattern is stitched onto the leather.
I was captivated by the assembly process. From attaching the hung liner (which allows toes to move freely without affecting the exterior boot), to smoothing the seams, forming leather around the lasts, adding steel shanks, using lemonwood pegging to hold insoles and outsoles together, stamping Lucchese on the sole and "ironing" the boots… every step was fascinating.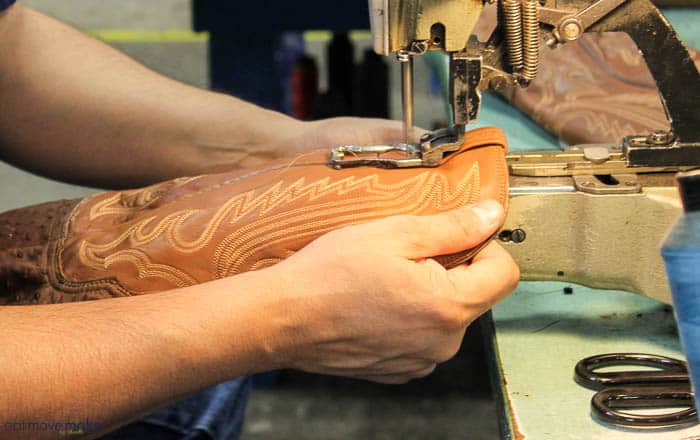 Master Boot Making
If the custom boot order requires complex stitch work, it will all be handcrafted by Fidel, a master boot maker, who has been at Lucchese for over 40 years. He'll hand place the paper patterns and hand-cut everything. On such intricate and detailed orders, Lucchese doesn't want to rush the process, so they won't estimate a completion date.
While a normal pair of boots takes about 6-8 weeks, there's no prediction on time with Fidel's highly skilled custom work.
Finishing Area
It's in the finishing area where the leather tonal values can be adjusted with lightening, darkening, buffing or adding a high gloss finish. Lucchese's signature color is black cherry, and we watched them deepen the red color to the customer's specifications.
What makes Lucchese boots so expensive?
They're Texas-made (USA-made), they pay an honest wage, and they don't try to rush the process of boot making. Lucchese is more concerned with quality over quantity, so employees have no quotas, no minimums, and aren't paid by the piece. They get a full day's wage regardless of the number of boots they make. They also have strict quality controls in place. If any defect is spotted, it's flagged and sent to the department to see if it can be fixed. If not, the boot needs to be remade. When I asked about the defect rate, he said it's about 18-19%, but they pride themselves on that fact.
I guess it's true that you get what you pay for, and Lucchese can stand proud that they're absolutely worth every penny.
PS. These boots were made for walkin' right on home to North Carolina with me. And so they did. I'm so grateful for the amazing behind-the-scenes Lucchese factory tour and for my first (but not last) pair of Lucchese boots.
Related Posts