If you're itchin' for a memorable fall outing with the family, hop in the car and head to Mike's Farm in Back Swamp, NC – a 30-minute ride from Jacksonville in Onslow County.
The family-friendly agritainment center has attractions for all ages, and during the Autumn months, it's an especially wonderful place. There is so much to see… and do… and eat!
Visit the petting zoo.
Who can resist cute farm animals? Stop by the barnyard to see chickens, goats, sheep, turkeys, ducks and donkeys. Bring a few quarters for feed too!
Take a hayride to the pumpkin patch.
Hop on a hay bale and enjoy a short wagon ride out to the pumpkin patch where you can pick your own pumpkin to bring home (priced by the pound). When you get back, wheelbarrows are available to help you get them to your car.
Visit the NC products barn.
This is the newest addition to Mike's Farm and it's incredible! With the goal of featuring products made in all 100 counties, this is the place to get a true taste of North Carolina.
Sip free samples of NC wine and purchase NC-made pottery, handcrafted foods, kitchenware, mismatched socks and more.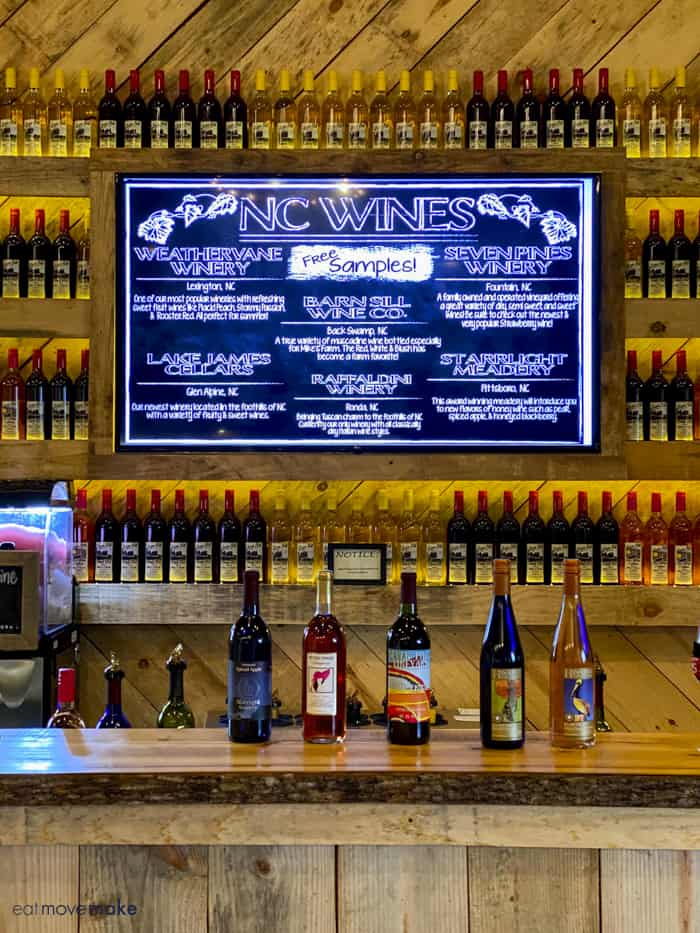 Visit the country bakery and gift shop.
Satisfy your sweet tooth with festive baked treats and homemade fudge.
There's also an enormous gift shop in the same building as the bakery with more Christmas decorations, stocking stuffer and holiday gift ideas than you could ever imagine.
Enjoy some good country cooking in Mike's Farm restaurant.
There's no going home hungry here! Food is served family-style and if you have room for seconds (or thirds), you're more than welcome to eat to your heart's content. But, save room for dessert!
Tip: Either line up right when the restaurant opens at 4pm or make reservations. It's a very popular place and the waits can be extreme.
Or grab something from a food truck and cozy up to an outdoor table.
If you didn't make restaurant reservations and don't want to wait in line, the food truck makes dinner easy. Packaged to go, you're free to take your meal to a cafe table, or picnic spot or bring it home with you.
Relax to some live entertainment.
Bring your own stadium chair or sit at one of the picnic tables with your friends as you enjoy live music on the lawn.
Christmas Events at Mike's Farm
The fun doesn't stop when fall ends either. Head to Mike's Farm for the nightly Festival of Lights hayride. The 30-minute holiday hayride takes guests past zillions of festive holiday lights, illuminated holiday scenes and a live nativity while enjoying special Christmas music all along the way.
Other Christmas events include a Ho! Ho! Christmas Show (includes dinner) and Supper with Santa.
Visiting Mike's Farm:
Mike's Farm
1600 Haw Branch Road
Beulaville, NC
Hours: Thurs-Sat 12:00 pm-8:00 pm (restaurant opens at 4pm)
Website
Onslow County, North Carolina is packed full of ways to have fun outdoors! Visit onlyinonslow.com for more fun ideas and check out my other posts on the area (with more to come).
Related Posts