In a season where "merry" is more welcome than ever, head to Duplin Winery in Duplin County, North Carolina for a day full of Christmas cheer and holiday fun.
Make merry and make memories with a Duplin Winery Christmas!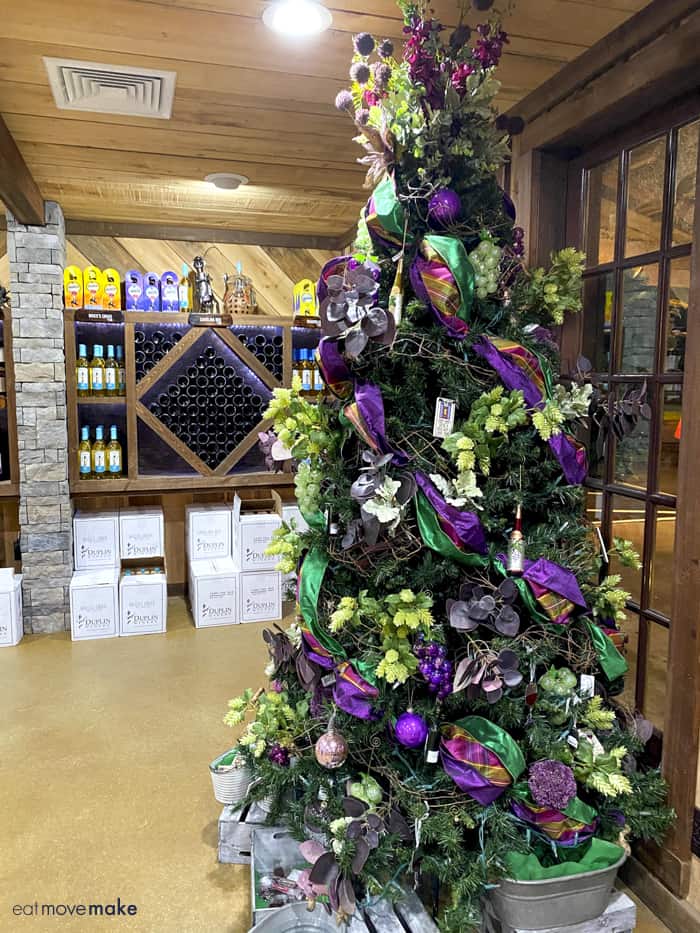 Thank you Duplin County Tourism for hosting my experience.
Start your visit with a wine tasting
Spring for the Deluxe wine tasting if you can! It's just $10 and includes samples of all the Christmas wines, a Sweetzer and a toasty, hot mulled wine. You'll also be served the house-made crackers and pineapple habanero cheese dip and you'll leave with a full glass of your favorite wine at the end.
Our tasting was hosted by a Grinch-masked wine expert who shared a bit of history along with tasting notes on each of the wines we sampled.
Although I'm not a sweet wine person (and sweet wines are Duplin's specialty), I tasted two dry wine varietals I really liked: Carlos and Burgundy.
There are four different tasting rooms at Duplin and tasting times are spaced out to allow for easy social distancing during the event.
Down Home Country Christmas Show
The Duplin Winery Christmas Show (which includes a delicious dinner) delivers plenty of Christmas cheer in a night full of festive songs and laughter.
Tickets may already be sold out for the year but mark your calendars for next year because the dinner show is a heck of a lot of fun. And the food is outstanding!
Guests are seated in The Bistro with their own party (no community tables due to Covid) and the room is decked in holiday finery.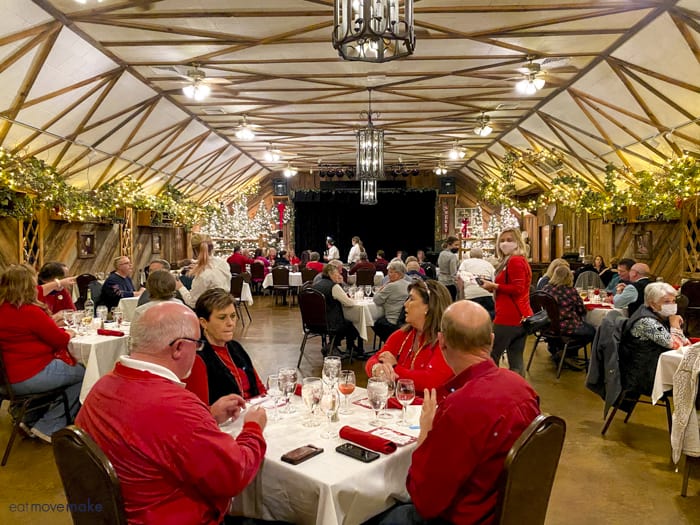 After dinner is served (I'll talk more about the food later), the family-friendly Christmas show begins. Several wonderfully talented singers join an equally talented band to perform classic favorites like "Let It Snow," "A Marshmallow World" and "Rocking Around the Christmas Tree".
My favorite part of the show was when five-time National Fiddle Champion, Curtis Lee showed off some hot fiddle licks during a rousing performance of "Orange Blossom Special".
Of course, there were plenty of laughs along the way with silly musical interludes from "The Dixie Hicks" and comedy with "Roadkill Rufus".
The evening ended with a rendition of "O Holy Night" that included an electric guitar solo and it was incredible.
The Down Home Country Christmas Show is a seasonal must-see but if you can't wait until next Christmas, get tickets to another dinner show event. Among others, there's a Golden Oldies show and a murder mystery dinner. Check the Duplin Winery events page for updates.
Christmas Dinner Show Menu at the Bistro
This ain't your mama's dinner show menu; the food served at the Bistro is top-notch. The menu will vary from show to show, but our Christmas meal included:
Garden salad with Muscadine Orange Poppyseed Dressing
Chicken Saltimbocca topped with a Muscadine Cranberry Salsa
Garlic Mashed Potatoes
Mixed Vegetables
Yeast Roll
Spice Cake with Muscadine Kisses Glaze
Wrap up your holiday shopping.
You'll find the makings for the perfect Christmas gift basket (or pick out a ready-made basket) in the retail store. Choose from a full selection of Duplin wines, sauces, dips, jellies, marinades, dressings, and other gourmet goodies. There are also ornaments and loads of interesting gifts in the shop.
Tuck in with a glass of wine and relax.
There are lots of socially spaced and cozy nooks in which to relax and enjoy some wine and conversation. Head out to the patio on a warm day with a Sweetzer or cozy up inside on a cold day with some mulled, spiced wine.
Have lunch at The Bistro.
If your visit falls between 11 am-3 pm, enjoy your lunch at Duplin's own restaurant. Choose from one of the many appetizers, salads and sandwiches and pair it with the recommended wine for a perfect meal.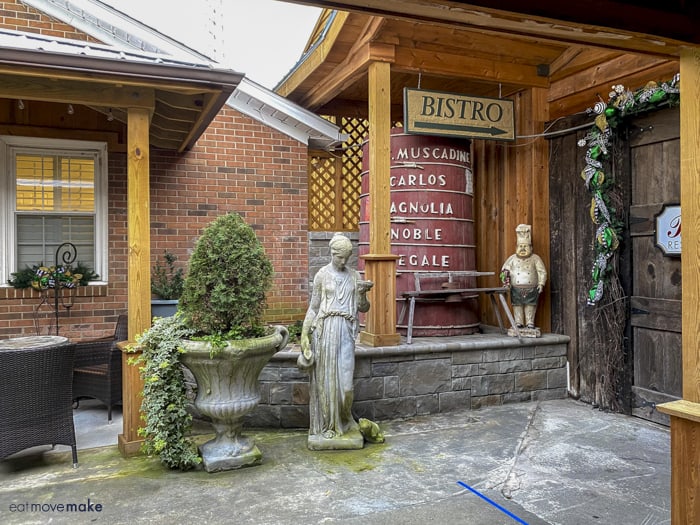 Duplin Winery
505 N. Sycamore Street
Rose Hill, NC 28458
• Gift Shop: M-F, 10 am – 5 pm. Saturday: 10 am – 6 pm.
• Wine Tastings: M-F, 10 am – 4:15 pm. Saturday: 10 am – 5:15 pm.
• The Bistro: M-Sat. 11 am – 3 pm
• Closed on Sundays
Website
For more ideas on things to do in Duplin County when visiting Duplin Winery, contact Duplin County Tourism for a visitor guide.
Related Posts