Onslow County, North Carolina offers endless outdoor fun and adventure possibilities, including the opportunity to go on a shrimping trip. Have you ever thought about seeing how shrimp are caught? Up close and personal?
It's an adventure you'll never forget!
When you take a shrimping excursion with Captain Tommie Jarman of Reel Livin' Fishing Charters in Sneads Ferry, you can help with the catch (or watch the pros at work). It's SO much fun!
Plus, the guests get the first 50 pounds of shrimp and any crabs that are bycatch.
Thank you to Onslow County Tourism for setting up and hosting this adventure.
The Captain and his mate, Danny took three of us out on the Faith and Hope in the late afternoon. We motored out to the New River and then we watched as the crew got ready for shrimpin'!
The towering arm frames swung out from the side of the trawler lowering their nets way down into the river bottom.
The trawler continued moving at about 1.7 knots for about 15 or 20 minutes as the nets dragged the water in search of shrimp. Jarman explained that the water flow works like a funnel to force the shrimp through the nets to the rear tail bags.
And when they open the tail bags up and the catch falls out, it gets crazy! Fish are flipping, crabs are crawling, water is squirting and scales are flying everywhere!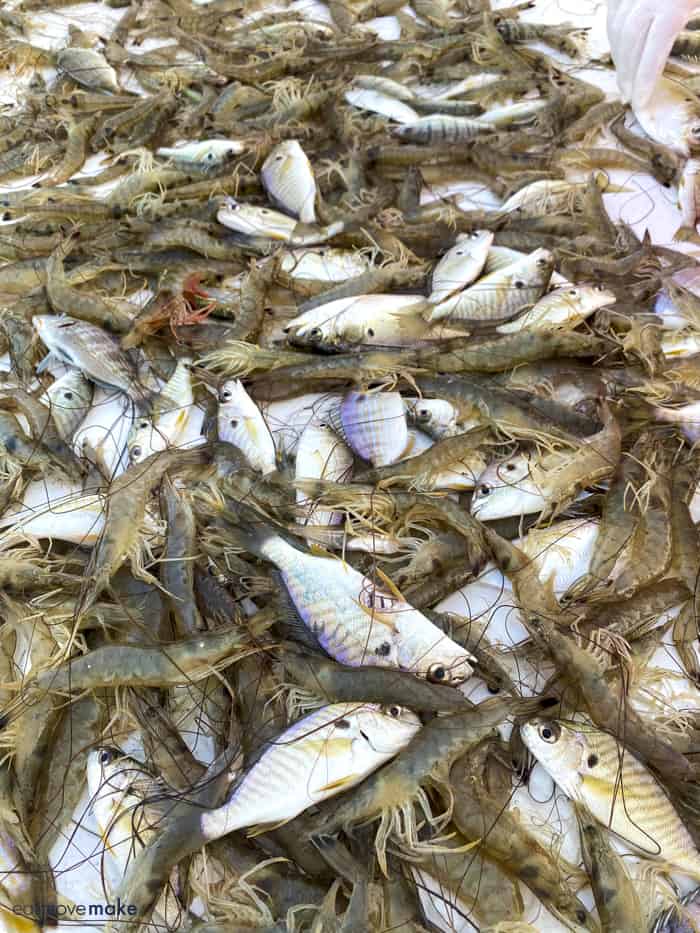 This is where you get to jump in and help if you want to! (Gloves are provided.)
The crabs are picked up with giant tongs and set aside, the fish need to be tossed back into the water and the shrimp are put into a big bucket.
Once we had everything sorted out, we dropped the nets again and repeated the process.
The darker it got, the fewer shrimp we caught… so after the second haul, we headed back to the marina.
To a shrimper, the night's catch was tiny, but to us… our big pail of shrimp seemed mighty impressive.
I highly recommend taking a shrimping excursion in Onslow County like this, even if you're squeamish (like me). It was a fascinating experience and a total blast!
Connect with Reel Livin' Fishing Charters on their Facebook page and for more info on the area, connect with Onslow County Tourism at onlyinOnslow.com