I admit it. I had a bad attitude about North Carolina wineries. It's just that my beloved home state of North Carolina is quite well known for a sweet wine I can't stand — muscadine wine. The scuppernong (one of its varieties) is our official state fruit. Blech.
But everything I thought I knew about NC wineries was turned upside down on my recent press visit to the Yadkin Valley. The exceptional wines produced there have earned the Yadkin Valley American Viticultural Area (AVA) the unofficial nickname, "Napa of the East", and based on the half dozen wineries I visited, it more than deserves to be compared to these beautiful wineries in Napa Valley. Not to mention the fact that many of the Yadkin Valley wineries have panoramic views of the beautiful Blue Ridge Mountains from their piedmont and foothill locations.
Jones Von Drehle (Thurmond, NC)
One of the Yadkin Valley's newer additions, this higher elevation winery has already been winning multiple awards. Their expert vintner who hails from the West Coast is committed to fruit first wines with subtle oaking. All Jones Von Drehle wine is produced from their own grapes. The view over the vineyards is fantastic, and if you're lucky, you'll be able to say hello to the friendly resident dog while enjoying your wine tasting.
My wine picks: Petit Manseng and Rock & Rail (Rock & Rail's name pays homage to the rocky soil and historic railroad heritage of the estate.)
Brushy Mountain Winery (downtown Elkin, NC)
This urban winery's owner and winemaker, Jason Wiseman, is very up front that he likes making wine, not growing grapes, though all of his fruit does come from with a 10-mile radius. Not having to keep farmer's hours allows him the time to focus completely on making the old world and Bordeaux-style wines.
The tasting room walls are covered with 1930's advertisements from when the building housed a 5 and 10 cent store, and the label of the blackberry wine (my favorite) pays homage to the cannery that followed. Brushy Mountain also hosts rotating entertainment.
My wine pick: Blackberry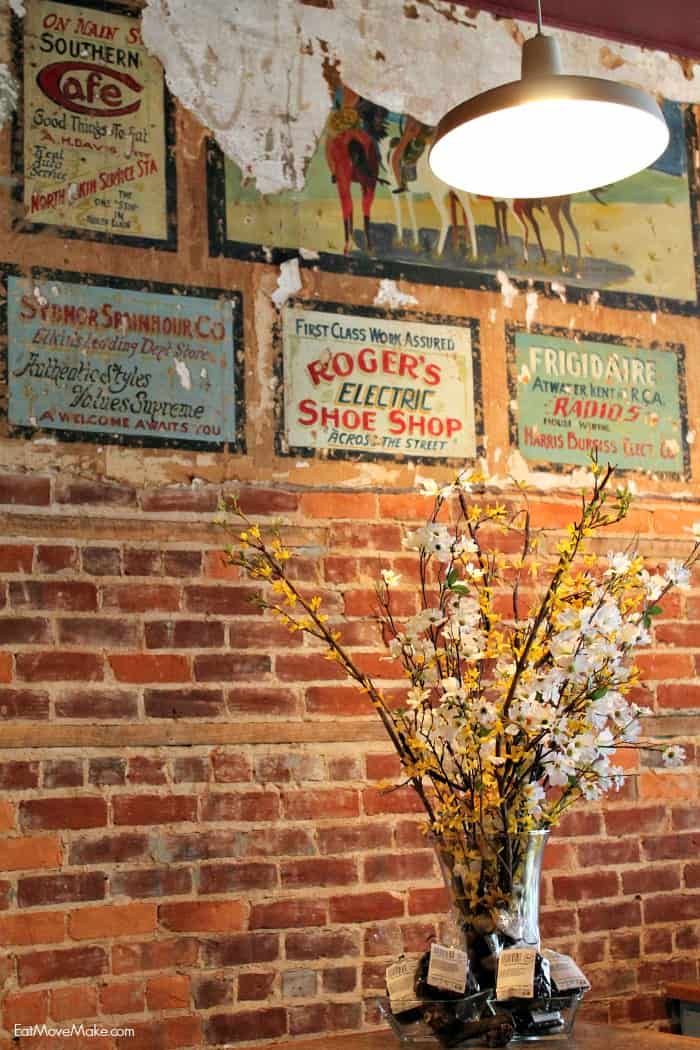 JOLO Vineyards & Winery (Pilot Mountain, NC)
The absolutely gorgeous views of the vineyards, lake and Pilot Mountain draw you in the moment you arrive. Indoors, the beautiful tasting room sits by the open kitchen, and at JOLO, your wine tastings are served in separate glasses according to varietal. (Trust me, I went to a Riedel wine tasting and the glass makes a huge difference in how a wine tastes!) If you have the chance to visit when the End Post restaurant is serving dinner, you'll find the food to be exceptional.
If you're wondering where the JOLO name come from, it's a combination of Joey and Logan, the children of owners JW and Kristen Ray.
My wine picks: Golden Hallows and Pilot Fog
Old North State Winery (downtown Mount Airy)
The winery is located in a historic building that once housed a general store. A dynamite explosion left the building abandoned for years, and later during reconstruction, the skeletal remains of a human arm were discovered in the walls of the basement. This haunted tale led the Old North State Winery to name and label one of their wines Restless Soul. I've been to this winery a couple of times, and really enjoy the casual, relaxed atmosphere of the tasting room and cafe.
My wine picks: Fish Hippie Bare Bones and Restless Soul (the #1 selling wine)
Shelton Vineyards (Dobson)
Owned by brothers, Charlie and Ed, Shelton Vineyards was once a dairy farm and is now the largest family owned vineyard in North Carolina. The 400 acre estate includes 90 acres of vines, and it's one of the most beautiful pieces of property we visited. Allow time to stroll the grounds and enjoy the landscaping outside. For a fine dining experience, you won't want to miss the Harvest Grill restaurant. All Shelton wines are produced from grapes they grow.
My wine picks: Bin 17 Chardonnay and Estate Chardonnay
Herrera Vineyards (Dobson, NC)
The newest winery in Surry County opened after four years of extensive renovations and landscaping on the former Black Wolf Vineyards. A beautiful waterfall and two terraces overlook the 42 acres of vineyards, and the indoor tasting room/restaurant space is just as striking with rich wood furnishings and iron fixtures. There were some really unique wines at Herrera, and if you are a muscadine wine fan, it can be found here.
My wine pick: Dry Riesling

You can find a complete list of Yadkin Valley wineries in NC and suggestions on where to stay and what to do in the area at www.YadkinValleyNC.com.
More North Carolina Travel