There are so many fun things to do in Virginia Beach, and I know this because I just took a little January jaunt there for the weekend.
Now before you gasp, "January at the beach? How could you? Why would you?", you need to know that I love being near the ocean, but not necessarily lying on the sand in front of it.
A sunbather, I am not, so it doesn't matter what time of year I go.
Even in the dead of summer, I'd still be looking for Virginia Beach attractions beyond the beach. Besides, there are always rainy days, right?
So if it's not the perfect beach day weather and you can't sunbathe (or you're like me, and you just don't want to), I've got you covered with these Virginia Beach activities.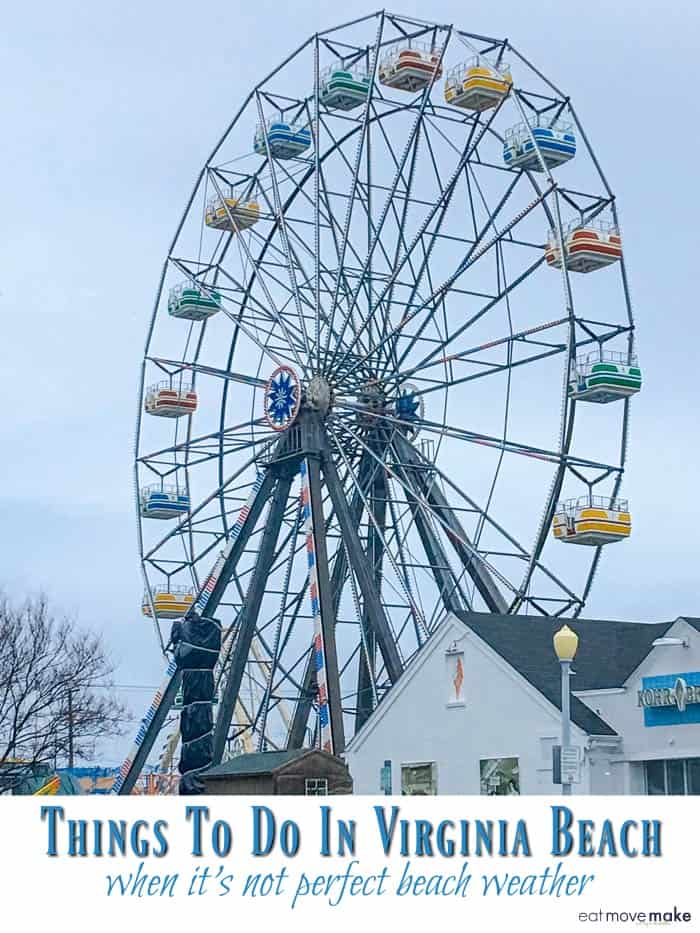 Stroll the boardwalk
It's right next to the beach, so you can walk for 3 miles and gaze lovingly at the ocean as you walk.
If you simply can't resist the surf, there are lots of entry points along the walkway. There are also plenty of surfers out on the water, and they're always fun to watch.
Go on a public art scavenger hunt
There are at least a dozen art installations along the boardwalk, and more scattered throughout the city.
The most colossal of these is the bronze statue of King Neptune, towering 34 feet above Neptune Park.
Visit Dewitt Cottage/Atlantic Wildfowl Heritage Museum
While strolling the boardwalk, take a few minutes and stop at DeWitt Cottage, which is the oldest historical structure left on the Virginia Beach oceanfront.
It was built in 1895 by Bernard Holland as a beach house wedding gift for his bride, but she didn't like the sound of the waves (whaaaaat?)
He sold it several years later to Cornelius DeWitt, who later sold it to the city of Virginia Beach as a historic landmark.
The museum contents celebrate the rich history of wildfowl and duck hunting that took place in Back Bay, Currituck Sound and Virginia Beach in the late 1800s-early 1900s.
The main floor has a fantastic exhibit of wildfowl carvings and decoys; on certain days, a working carver is also on site.
The upper floor has exhibits on the history of Virginia Beach and one of the local hunt clubs.
Before leaving, be sure to walk around the front to the courtyard, see "The Mallards" statue, and peek into the window of the first stand-alone library in Virginia Beach.
Website Open daily, except holidays. 1113 Atlantic Avenue Virginia Beach
Visit Cape Henry Lighthouse
You get a two-fer when you visit Cape Henry Lighthouse because there are two lighthouses!
Visitors can climb and take a tour of the old lighthouse, but the new active lighthouse is right across the street, so be sure to snap a photo of that after seeing the old one up close.
Since the lighthouse is located at Fort Story, an active military base, vehicles are inspected, and visitors must present a photo ID at the main gate. You may also be asked for copies of your vehicle registration and proof of insurance.
(Website) Open daily 10am-4pm. Admission Fee. 583 Atlantic Avenue Virginia Beach
Go indoor skydiving at iFly Virginia Beach
The most surprising thing to me about indoor skydiving is that there's no falling sensation.
It feels more like you're balancing above a giant blowing fan, and it's fun!
Flights in the wind tunnel are only a minute at a time for beginners, so there's literally nothing to fear. It's exhilarating!
(Website) Open daily. Admission Fee. 2412 Pacific Avenue Virginia Beach
Do some sipping at Chesapeake Bay Distillery
Visit the vodka tasting room where you can pick four vodka sips for $7.
The distillery crafts and bottles Blue Ridge Vodka, Chick's Beach Rum and Ghost Pepper Flavored Vodka from locally sourced ingredients, and the results are top quality.
(Website) 437 Virginia Beach Boulevard Virginia Beach
Visit the Old Coast Guard Station Museum
Once an active life saving station, this oceanfront museum features the rescue equipment used by surfmen as they searched for shipwrecks off the coast and attempted to save the crews.
Admission includes a fascinating tour of the main gallery, and tours continually circle the exhibit so just join in when you arrive. It's well worth a visit.
(Website) Open Tues-Sun. Admission Fee. 2401 Atlantic Ave. Virginia Beach
Spend an afternoon at the Virginia Aquarium
An excellent Virginia Beach attraction for families as there are a lot of hands on exhibits for kids, including a touch tank.
Visitors will explore a variety of animals, such as jelly fish, sharks, river otters, Komodo dragons, loggerhead turtles and a rare Tomistoma freshwater crocodile.
There's also a wonderful nature trail overlooking the marshlands outside.
(Website) Open daily. Admission Fee. 717 General Booth Blvd Virginia Beach
Take the Whales & Wildlife Sea Adventure boat trip
I definitely recommend it because there are aquarium experts on board who provide running commentary about the wildlife you see throughout the 2-2 1/2 hour trip.
They make no guarantees that you'll see any whales, of course, but they do their best to find them.
It was extremely foggy on the day we went out, and conditions were awful for spotting anything.
However, we did catch sight of an adult humpback whale's spout and fluke! We also saw some wonderful sea birds and a couple of bald eagles who nest near the aquarium.
There is plenty of seating along the outside of the boat and you can stand if you hang onto the rails. If it's windy and chilly, the interior is heated and has restrooms and a snack bar.
(Website) Tours Wed, Fri, Sat, Sun. Admission Fee. 717 General Booth Blvd Virginia Beach
This is by no means an exhaustive list of things to do in Virginia Beach, but these are the things I actually did myself and highly recommend!
If you have any other Virginia Beach attractions you'd suggest, let me know. I'm definitely going to visit again!
Check out visitvirginiabeach.com for more destination information, and check out my post with some amazing eats in Virginia Beach and more great restaurants in Norfolk VA (just 20 minutes away).
More Coastal Fun to Explore
Beach Housin' in the Brunswick Islands North Carolina