If you're into great food, the riverfront, historic landmarks, arts and culture or just fun, quirky attractions, you'll love Louisiana's capital city. There are so many things to do in Baton Rouge! 
I've been to Baton Rouge twice so far, and on my most recent trip, I stayed in one of the downtown Baton Rouge hotels overlooking the Mississippi River and within walking distance of some of BR's best attractions.
Walk along the Mighty Mississippi River.
The Baton Rouge River Walk was made for strolling, jogging and biking, but the spectacular views are one of a kind so you may want to sit awhile and watch the boats sail by or catch a sunset.
If you're lucky — ask your hotel concierge for the time — you'll hear the steam calliope on the American Queen playing a tune as it heads out of port in the late afternoon.
Day or evening, it's a beautiful place to be.
Visit the Baton Rouge "Bean".
It's actually called "Sing the River", but its reflective surface immediately calls the famous Chicago bean sculpture to mind. The fun sculpture along the Mississippi River levee lights up at night and plays music in tune with the rise and fall of the water.
If you're on the river walk, you can't miss it!
Tour the USS Kidd.
Also along the river walk is the USS Kidd and Veterans Museum where visitors can take self-guided tours of the destroyer.
An excellent virtual tour of the USS Kidd is available if the museum is still closed due to health concerns.
Tour Louisiana's old state capitol.
Perched atop a bluff overlooking the Mississippi River, this exquisite cathedral-esque building is an ideal example of Gothic Revival-style architecture.
The stained-glass dome of the rotunda is breathtaking as is the grand spiral staircase and woodwork.
Free audio tours of the capitol and its artifacts are available, and there's also a "Ghost of the Castle" 12-minute 4D presentation ($3 fee) hosted by the ghost of Sarah Morgan that brings the building's history to life… or should I say death?
Tour Louisiana's new state capitol.
This magnificent 34-story art deco capitol building draws visitors as much for its beauty as for the lore surrounding Huey P. Long's murder inside its walls. You can even see bullet holes from the assassination.
Be sure to go up to the observation area on the 34th floor for an extraordinary view of Baton Rouge.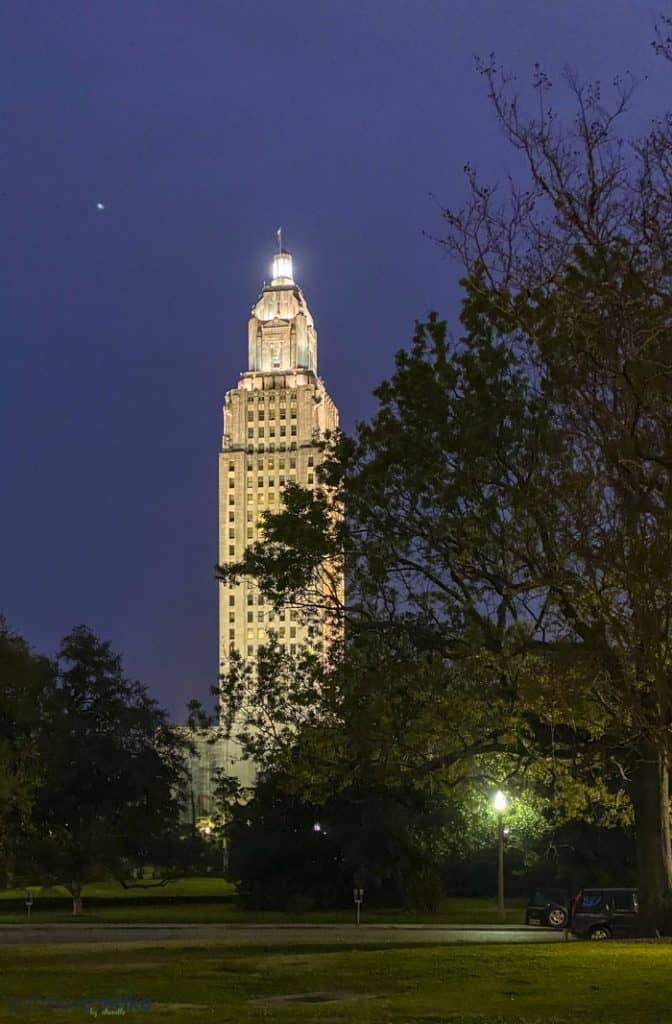 Visit Mike the Tiger at LSU.
As a cat person, I'll never miss the chance to see a cat of any kind, but for many LSU fans, it's the fact that Mike is the university's official mascot that matters.
Mike hangs out daily in his fancy habitat across from the stadium. (He even has a live cam so you can check in on him from home.)
He was lazily sleeping in on a Sunday morning when I stopped by to see him. What a beauty.
Just outside the habitat is a Mike the Tiger sculpture with all kinds of photo-op potential.
Catch a performance of Southern University Marching Band's Human Jukebox.
Watching the Human Jukebox in a precision marching band performance is incredible!
Their choreographed maneuvers are perfectly timed to the music they're playing and you won't be able to stop yourself from moving right along with them.
Check the schedule and don't miss this amazing band.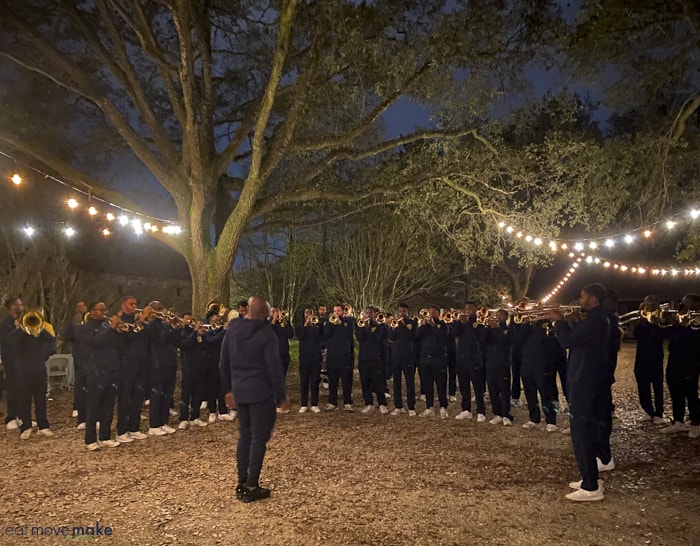 Visit the LSU Life Museum 
Step back in time to rural Louisiana in the 18th and 19th centuries. Visitors can explore an immense and finely curated collection of artifacts and a reconstructed village, including slave cabins, an overseer's house, a church, a jail, a school, a blacksmith, outhouses, a smokehouse, and so much more.
I really loved the wall sketches inside the big barn. Don't miss those when you're walking through!
My visit coincided with a special event so I could experience some hands-on history.
I feel certain my future is not in blacksmithing, but it was fun to try!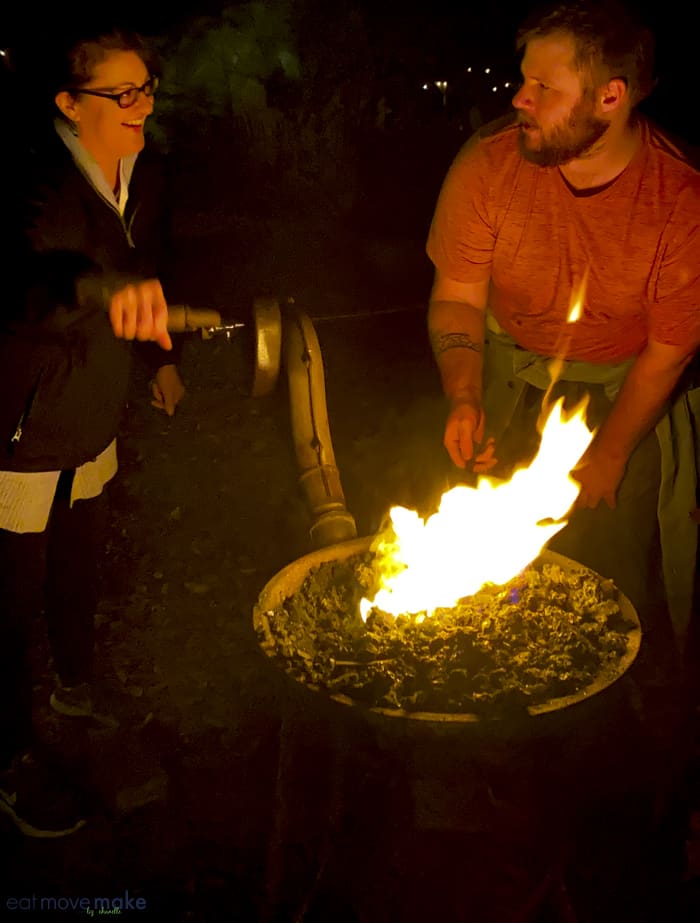 But, playing the washboard to Zydeco music… that I can see a future in.
See what's on tap at Rally Cap.
Baton Rouge's newest brewery serves up brews with a baseball theme. Sixteen taps on a cool stainless steel bar backdrop serve up hoppy brews like First Pitch and Exit Velocity in a taproom designed for the community.
Whether you're catching a game on one of the ten big-screen TVs or playing one of the many board games available, it's a great place to hang out while sipping on some home-crafted suds.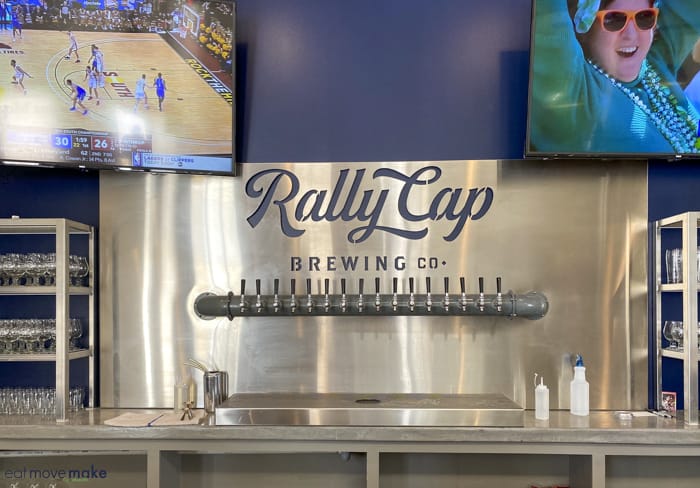 Get your yoga on tap.
What could be better than sippin' on a cold beer while stretching and relaxing into your favorite yoga moves? Not much, I'm thinkin'. 
Stop into Tin Roof Brewing Co. every Wednesday evening for a beer and take it with you to the yoga mat. That's right. Plop your beer right next to you on the lawn while you take part in a free basic yoga class.
Have dinner at L'Auberge Baton Rouge.
L'Auberge Baton Rouge is gorgeous! Even if you visit just to walk through and ogle it all, it's worth a trip.
The restaurants are absolutely beautiful and since the resort sits on the Mississippi River, the views are fabulous.
Of course, the casino will beckon you with its games of chance, so if you drop a quarter in the slots while you're there, who could blame ya?
By the way, its sister property, L'Auberge Lake Charles was where I stayed when visiting Lake Charles for Mardi Gras and it was tremendous.
Visit Magnolia Mound Plantation
You can't go to Louisiana without visiting a plantation, so while in Baton Rouge, make sure to stop and see Magnolia Mound, a 1791 Creole-style manor home. Originally a four-room home built of bousillage and cypress beams, additions over time include a rare tongue-and-groove cove ceiling and Federal-style woodwork.
Also on-site is the reconstructed outdoor kitchen and several period outbuildings: slave cabins, overseer's cottage, pigeonnier, and a rare three-seat outhouse.
Take a food tour.
Eat your way through historic downtown Baton Rouge on one of the sightseeing, food & art tours presented by Enjoy Baton Rouge.
You'll enjoy Cajun, Creole, Louisiana, New American, seafood, specialty drinks and cocktails during your 3 1/2 hour eating and walking tour with lots of Louisiana historical tidbits peppered throughout.
Visit Capitol Park Museum.
Feel the soul of the Bayou State as you explore thematic exhibits on Louisiana's history, industry and culture. The museum takes up two floors, allowing plenty of time to see it all. 
My favorite exhibits: Louisiana's music legacy and all things Mardi Gras.
Immerse yourself in a 4K planetarium show.
For the ultimate entertainment, visit the planetarium inside the Louisiana Art and Science Museum (included with museum admission). The full-dome shows are geared to various ages and interests — from Big Bird and dinosaurs to Apollo 11 and America's musical soundtrack — there's something for everyone.
While in the museum, don't miss the OmniGlobe and Randell Henry's Soupcon gallery.
The museum has a permanent collection but also keeps things fresh by rotating out exhibits. On my last visit, I caught an amazing color and sound exhibit.
If it's Halloween season, visit the 13th Gate… if you dare.
This may be the most epic haunted house you'll ever experience. The actors and sets are perfectly horrific in every way you can imagine. Some of the scenes and special effects are delightfully spooky and others are downright gruesome.
You'll hear as many screams as you will laughs — it's incredible! AND it's a HUGE haunted house with both indoor and outdoor areas to explore. It took my group about 45 minutes to walk through the whole thing and I laughed the entire time. It was so much fun!
Be prepared for long lines but there are characters outside the venue to frighten you silly (and give you perfect photo ops) while you wait.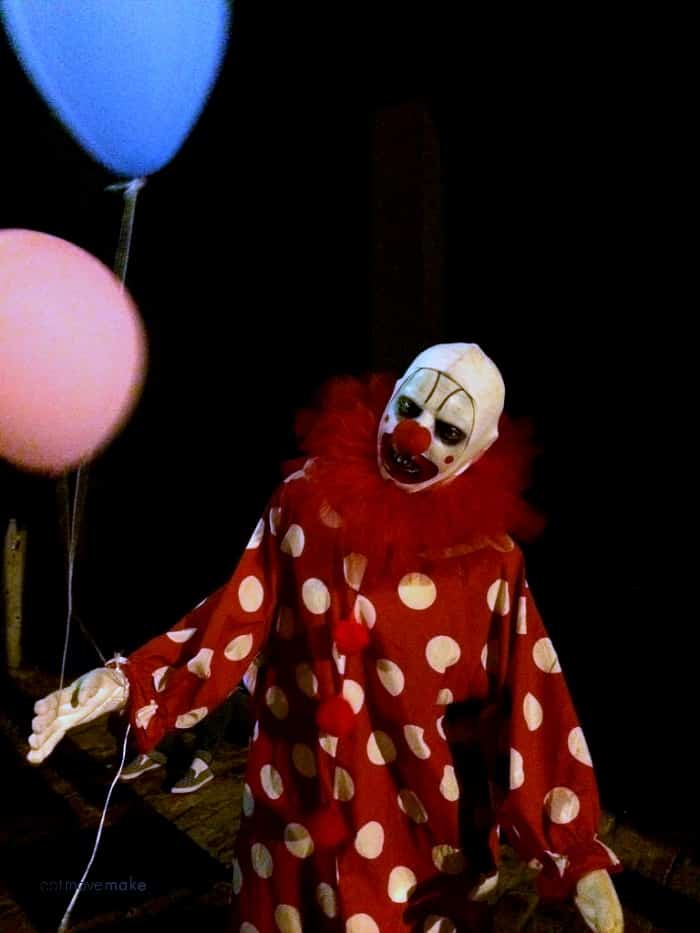 Check out the street art.
Nothing expresses the heart and soul of a city better than street art as this triumphant mural (below) on the side of Hotel Indigo in downtown Baton Rouge shows.
If you love murals and art installations, the Walls Project is bringing one-of-kind community-driven art to the city and it's amazing.
There's also a walkable HeART Trail designed to encourage people to get out and exercise. The trail begins at the riverfront, winds through the Capitol grounds, into Spanish Town and then back to Beauregard Town.
Markers along the way range from small hearts on trees to full-scale murals. Just follow your heart!
Reach out to VisitBatonRouge.com for more info on the area and to start planning a future visit and remember to call ahead or check websites before visiting attractions to make sure they're open.
Things to Do in Baton Rouge 
Related Posts