Regarding plantation tours in Louisiana, Frogmore Plantation is a rarity. Rather than showcasing a grand mansion, Frogmore Plantation tours highlight the cotton crop and the culture surrounding it, beginning with the antebellum era and continuing through modern-day practices.
This working cotton plantation is located near Ferriday, Louisiana. It's just across the Mississippi River from Natchez, making Frogmore Plantation a perfect addition to both central Louisiana travel plans and Natchez Trace itineraries.
FROGMORE PLANTATION
This story was inspired by a media trip I took to Baton Rouge and Central Louisiana. All opinions and experiences are my own.
Tours begin at the old general store which serves as both museum and gift shop.
Visitors can purchase tickets to their choice of tours: Cotton: Then and Now or The Plantation Civil War and there are also several group tour options.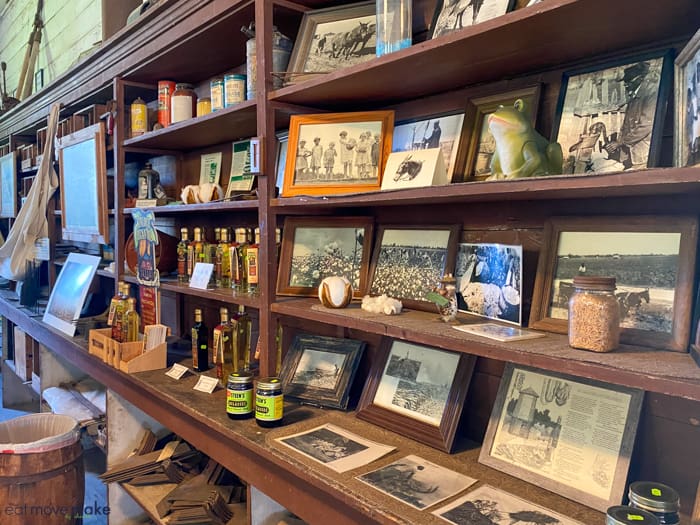 We began our journey back in time inside St. James Baptist Church, an 1800s plantation church with original pews.
Our guide related the history of Louisiana, Frogmore Plantation, slavery and sharecropping culture, and how early congregations gave birth to gospel music.
To bring the musical history to life, three wonderful vocalists sang a range of songs including "Old Man River", "Swing Low, Sweet Chariot" and "Down By the Riverside".
Throughout the program, there were opportunities to sing along and play the tambourine.
We walked over to a row of outbuildings when we left the church. (Golf carts are available for those who need them.) The smokehouse and pigeonnier are reconstructed; the rest of the buildings are authentic structures moved from other plantations and restored.
Our guide toured the buildings and talked more about plantation and slave culture. Slavery and cotton were completely intertwined and it's not glossed over at Frogmore. Guides also relate how slavery evolved into sharecropping, which was essentially slavery under another name.
One of the cabins was set up as a slave cabin on one side and a postbellum sharecropper cabin on the other side.
We also talked about the typical food you'd find on a plantation.
And we walked over to a hand-pegged cypress dogtrot which served as the overseer's cottage.
Our guide demonstrated how to wear a cotton-picking sack and how to pick cotton from the boll. She said to position fingers between the burrs, squeeze firmly and pull the cotton tuft out.
She made it look easy but it was a brutal, painful, hot and miserable experience for the slaves, especially since they were expected to pick an extraordinary amount each day.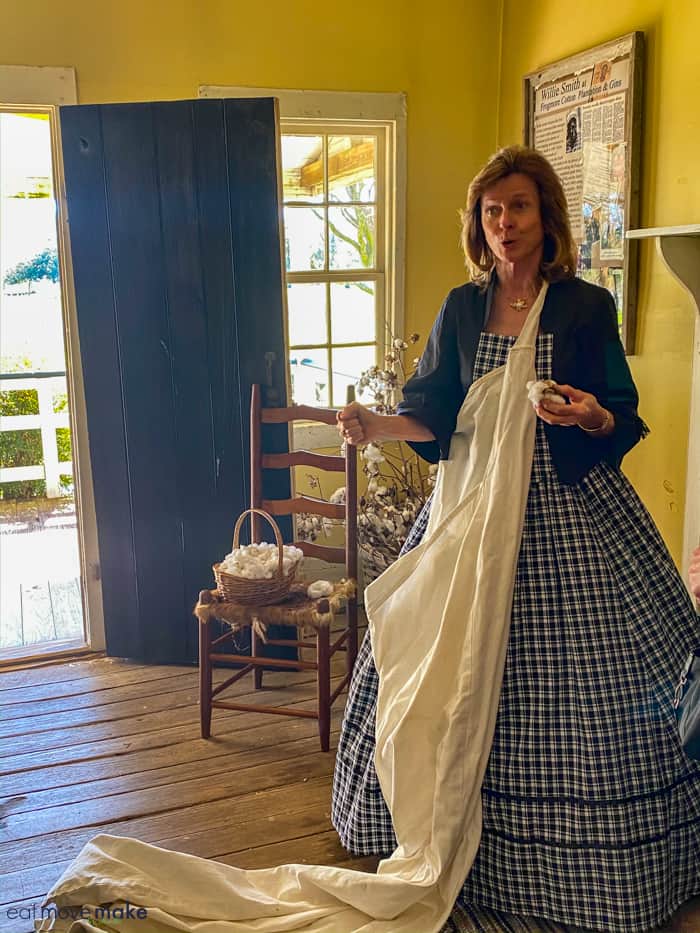 We were invited to walk out to the cotton fields and get up close to the cotton bolls but since it had just rained, they weren't really puffed out so there wasn't much to see.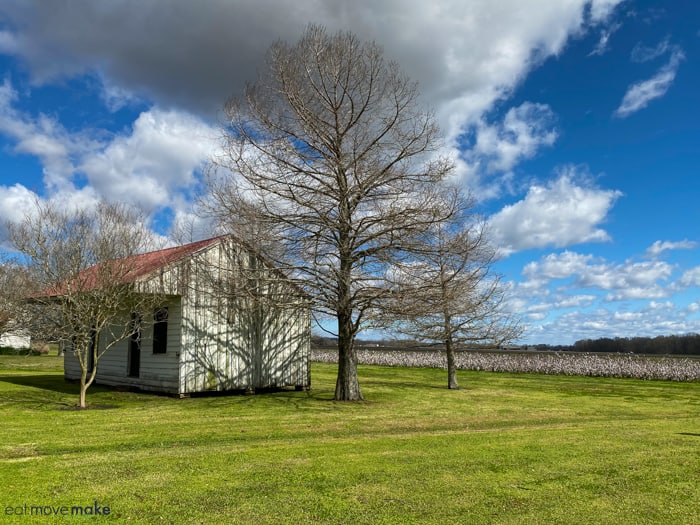 Next, we made our way over to the 1850s gin house to see Robert Munger's 1884-patented steam cotton gin (listed on the National Register).
The invention revolutionized Eli Whitney's original cotton gin by adding suction to pull the cotton into the building and move it continuously through the steps of the ginning process.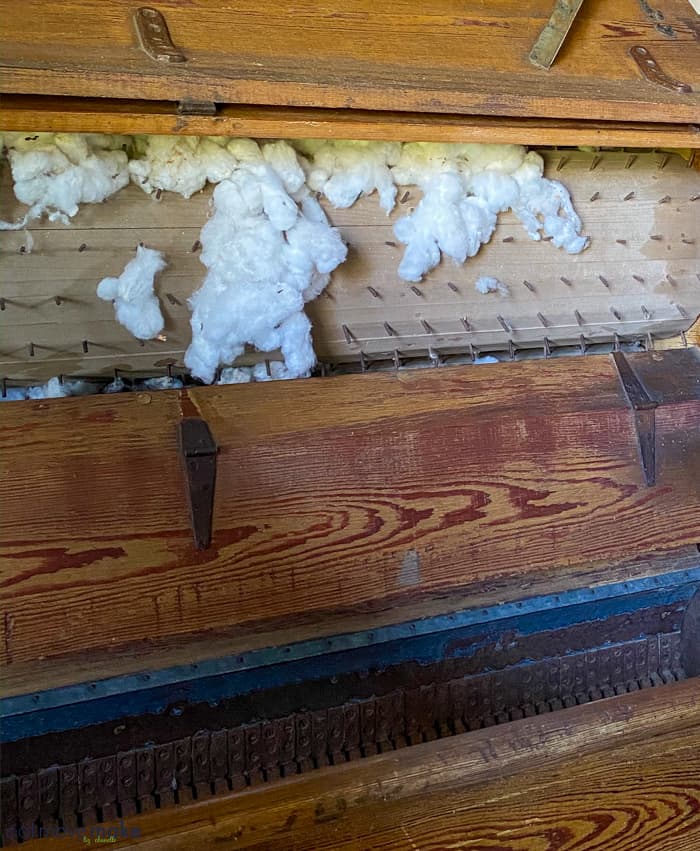 To help us truly appreciate cotton ginning, we were each given a piece of unginned cotton so we could work on removing the seeds, an extremely laborious chore.
It would take all day for one person to remove the seeds from a single pound of cotton but Munger's cotton gin could gin 50 pounds a day.
We also saw how cotton bales were pressed and fastened in a cotton press, allowing cotton farmers to go from 3 bales daily to 12-18 bales daily. Each bale weighed about 400 pounds and was fastened with burlap straps.
After the tour, guests were invited to drive to the nearby modern operation to see how cotton ginning is done today. The process is simulated in the off-season, but Frogmore Plantation gins 900 bales a day during the fall cotton harvest and nothing goes to waste. The seeds are sold and used in paper currency, cosmetics, oil, x-ray film and processed foods.
Visiting Frogmore Plantation and learning about cotton production and cotton culture is a fascinating and one-of-a-kind antebellum plantation experience.
Frogmore Plantation
Website
11656 U.S. Hwy 84
Frogmore, LA 71334
Hours change seasonally. Check website or call 318-757-2453 for tour times and prices.
More Travel Ideas