I've only been skiing once in my life, and that was back when skiing was pretty much the only thing people did on the slopes. Nowadays, there are tons of snow-related activities to enjoy, and Western North Carolina attracts thousands of snow enthusiasts to its quaint and charming Blue Ridge Mountain villages every winter. I visited one of these villages, Banner Elk, over the summer and fell completely in love with it.
Banner Elk, a perfectly picturesque mountain town of about 1,100 people is a hidden gem for most of the year, and perhaps that's why it remains so unspoiled. But, it deserves to be visited all year round, and the best way to soak up its high country magic is to get outdoors. There's something about the cool, clean crispness of mountain air that makes one feel alive (even when it's not ski season!)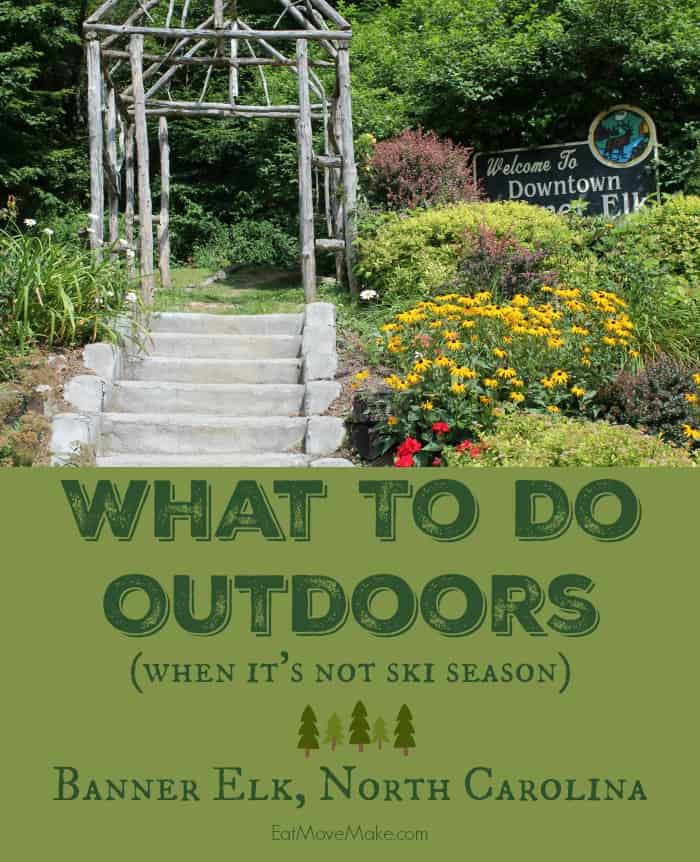 Climb a mountain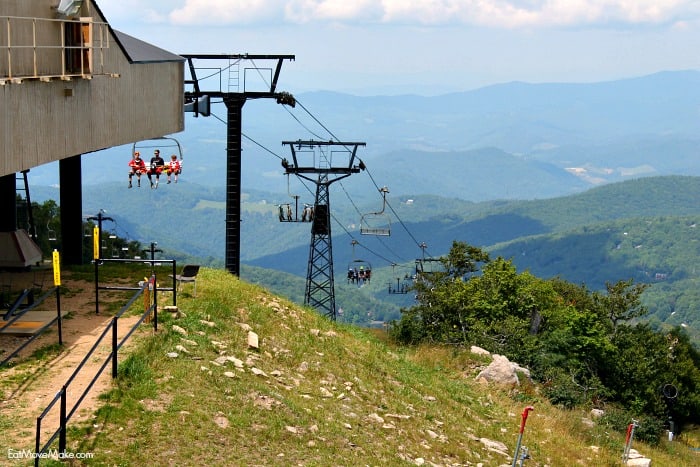 There's nothing like the Blue Ridge Mountains in the summertime, and the best way to see them is to go high altitude. Head up to Beech Mountain Resort where for just $12, you can purchase a lift ticket and enjoy the spectacular vista on your way up, down and from the top. Stay a while at the top and enjoy a beer with your view from the 5506′ Sky Bar deck. (Website)
Bike down a mountain
Mountain bike enthusiasts can cruise down the mountain trails to their heart's content when they purchase a day pass. The chair lifts are equipped with racks to get the bikes to the top, but it's up to the riders to get their bikes to the bottom. If I were a few years younger, I'd totally do it. Actually beginner biking terrains are being added, so that everyone (not just hardcore bikers) can enjoy the sport! (Website)
Visit a working alpaca farm
Take a tour (offered daily) of Apple Hill Alpaca Farm, and you'll never think of a farm in quite the same way again. Not only will you have the chance to get up close to the alpacas, llamas, cats, chickens, dogs, goats, horses, miniature donkeys and a very special pig named Mr. Pickles. but you'll feel really connected to the animals and the outdoors. The farm sits atop Valle Mountain in an apple orchard, and the view is absolutely exquisite. The animals aka family members (all of whom have names except the chickens) are so well loved and cared for. You'll witness them receiving many hugs and friendly scratches. This is a must-visit for all ages. Be sure to visit the gift shop before you leave where you can purchase socks or yarn made from the wool of your favorite friends.(Website)
Go for a stroll
You'll find locals, second-homers and visitors alike enjoying the beautiful Banner Elk Greenway walking trails. With several loops of varying lengths to choose from and more in the works, it's a great way to spend some time outside in a beautiful, peaceful place. (Website)
Get out on the water
Visit Wildcat Lake for a bit of the beach while you're in the mountains. The serene lake setting is a throwback to the summers of yesteryear with its old-fashioned fishing pier, swimming dock and canoes for paddling. The 13-acre lake begs visitors to take non-motorized boats out among the lily pads and explore. Lifeguards are on duty during the summer, and the lake is stocked for fishing. (Website)
Learn about wildlife rehabilitation
If you have a soft spot for animals, you won't want to miss making a visit and/or taking a tour of the May Wildlife Rehabilitation Center on the campus of Lees-McRae College. The center rehabilitates and cares for orphaned and injured animals in the hopes of successfully releasing them back to the wild.
When I was there, they were working with a baby bobcat and a paralyzed goose in the medical facilities, and during the presentation, we were able to see a barred owl and a hawk. It's quite moving to hear the students talk about the animals they care for, and the ones they've been lucky enough to see completely rehabilitated. (Website)
These are just some of the many things to do in Banner Elk outdoors, but I hope it intrigues you and gives you a taste of what's there. I've fallen in love with this very special spot in high country, and I wouldn't be surprised if you do too. I hope you'll visit!
You'll find more visitor information at bannerelk.com, and be sure to check out my post on Artisanal, a restaurant in Banner Elk you have to taste to believe. If you're visiting in the fall, don't miss Autumn at Oz, a Wizard of Oz festival in an abandoned theme park on Beech Mountain!
More USA Travel Fun